..
The situation on 8 November 2021
..
The Fake News
Received on 8 November 2021
FRONTLINE HEALTHCARE WORKERS KNOW BETTER
Must watch.
3000 South Australian health workers protest.
30 out of 38 patients in ICU are vaxed.
Most hospitalisations are vaccine injured.
Myocarditis raging among vaxed.
Massive government/ media coverup.
Their words, not mine. This video will be deleted by Facebook before too many get to see it. Here's your chance to wake up.
..
The Guardian
Deaths among the double vaccinated: what is behind the Australian statistics?
A small number of people become severely unwell with Covid even if they are fully vaccinated, but the data suggests they mostly suffer from other conditions as well
.
Melissa Davey Medical editor@MelissaLDavey
Wed 20 Oct 2021 04.16 BST
n Tuesday, there were 356 Covid-19 patients being treated in intensive care wards throughout Australia. Of those, 25 were fully vaccinated.
While the data points to the extraordinary efficacy of Covid-19 vaccines in preventing people from becoming severely unwell, being hospitalised and dying, it does raise the question: why do a small number of people become seriously ill and, in rare cases, die, despite being fully vaccinated?
An intensive care unit staff specialist at Nepean hospital in Sydney, Dr Nhi Nguyen, said those who are fully vaccinated and die tend to have significant underlying health conditions. Being treated in intensive care, where people may be on a ventilator and unable to move, added to any existing frailty, especially in elderly people, she said.
"If we think about intensive care patients in general, whether they are there due to Covid-19, pneumonia or any other infection, we know that those who have underlying disorders, those who are frail, and those with co-morbidities will have a higher risk of dying from whatever the cause of being in intensive care is," she said.Advertisementhttps://15984de81ef43489956a8d8680f04968.safeframe.googlesyndication.com/safeframe/1-0-38/html/container.html
"Being fully vaccinated against Covid protects you from getting severe disease, yes, but it doesn't completely protect you from getting Covid. So if you are someone with chronic health conditions, what might be a mild disease or mild infection in a young person or a person who is in good health, will have a greater impact on you."
She said this was why the Australian Technical Advisory Group for Immunisation (Atagi) had recommended boosters for those people who are severely immunocompromised. On Wednesday the government said it intended booster shots to be rolled out to the aged care sector within weeks, and to be available to the whole population by the end of the year.
"We don't have the final data on this yet available, but there will also be a proportion of patients who have Covid, but they are already dying for another reason," Nguyen said. "They may be fully vaccinated, they have a mild form of Covid, but maybe it's brought out more severe heart failure, which they had previously."
.
Prof Allen Cheng, the director of the infection prevention and healthcare epidemiology unit at Alfred Health, said only a small number of deaths had occurred in fully vaccinated people.
"I understand they have been mostly in older people over 70 years of age, with some in aged care facilities," he said.
The impact of the vaccine in reducing deaths among elderly people had been significant, Cheng said. Last year, before a vaccine was available, the mortality of people in their 80s with Covid was about 30%, he said.
Cheng said it was likely that given Australia's extraordinary vaccination coverage the bulk of people who became severely unwell or died with Covid-19 from now were fully vaccinated.
"At some point, there will be more people with infections that are vaccinated than those that are not vaccinated," he said. "As a simple thought experiment – if everyone is vaccinated, then the only cases we would have would be in vaccinated people."
https://www.theguardian.com/society/2021/oct/20/deaths-among-the-double-vaccinated-what-is-behind-the-australian-statistics
..
Jeremy McAnulty's mistake
Nobody in ICU fully vaccinated: how one small mistake became fodder for conspiracy theorists – video
Click on this link for the video:
https://www.theguardian.com/world/video/2021/jul/30/nobody-in-icu-fully-vaccinated-how-one-small-mistake-became-fodder-for-conspiracy-theorists-video
.
News GP
---
Unvaccinated patients dominate COVID deaths and ICU
---
---
20/09/2021 4:55:09 PM
Most people who have died from COVID-19 in NSW had not received a vaccine, while no one under 70 has died having received two doses.
Less than 2% of people admitted to intensive care in New South Wales in the first 11 weeks of the recent outbreak were fully vaccinated, the latest NSW Health weekly surveillance report shows.

The document, which gives a breakdown of the vaccination status of all those who enter the hospital system with COVID-19, also shows that none of the 15 fully vaccinated patients who died of the disease were under 70.

The latest report covers the week from 29 August until 4 September, the most recent period for which official data has been released in the state at the centre of the largest COVID-19 outbreak so far in Australia.

It indicates 4654 people were hospitalised due to COVID-19 from the beginning of the outbreak in June until that time, of which around 9% (441) were treated in ICU.

Of the total admitted to hospital, 153 (3.3%) were confirmed as fully vaccinated, while 844 (18.1%) were partially vaccinated and the rest (3657) were unvaccinated, or their vaccination status was unable to be established.

In total 284 unvaccinated people (64.4%) had been treated in ICU during the latest outbreak up to 4 September. Seventy patients (15.9%) who received intensive care were categorised as partially vaccinated, while eight (1.8%) were fully vaccinated.

The remaining 79 people treated in ICU had an undetermined vaccination status.

Professor Dimity Pond, an honorary professor of general practice at the University of Newcastle, said the figures in the surveillance reports correspond with expectations about the vaccines.

'That's the kind of pattern that we've been seeing where the deaths are very largely in people who aren't vaccinated,' Professor Pond told newsGP.

'It's really hard data. It can't be interpreted in any way other than vaccination means that you're less likely to die.'

https://www1.racgp.org.au/newsgp/clinical/unvaccinated-patients-dominate-covid-deaths-and-ic
..

Stuff.co.nz
Covid-19 Australia: In the ICU where only Maria is vaccinated, others die in disbelief
Melissa Cunningham17:07, Nov 07 2021
In the middle of a row of unconscious coronavirus patients, Maria Roessen is a rare and wondrous sight.
The 66-year-old Australian woman is dressed in a pale blue hospital gown and sitting perched up in a chair in the intensive care unit in Melbourne's Sunshine Hospital under a bubble-shaped plastic hood with monitors attached to her chest and a tube hanging under her nose.
She is weary-eyed, ashen faced and wearing a pair of bright orange and white socks.
"It's been hell," she says, pausing to take another deep, wheezy breath. "I thought I was going to my maker."
As residents in the state of Victoria revel in newfound freedom following the world's longest lockdown, behind the sealed off doors at the hospital's Covid-19 ICU unit, the care is relentless.
But healthcare workers here are no longer just fighting a war against coronavirus, they are now battling a never-ending scourge of misinformation about the disease.
Increasingly, the vast majority filling the hospital are severely ill unvaccinated people, some who remain adamant that Covid-19 does not exist even when they are succumbing to the virus.
Others come to the realisation too late that the deadly virus is real, begging for a vaccine before being hooked up to a ventilator, unsure whether they will regain consciousness.
"It has been incredibly challenging and distressing," Western Health intensive care director Craig French said.
"Patients and their families have expressed the belief that they don't have Covid, it's not real to them, even though they are critically ill or somebody they love is very, very sick."
On Thursday afternoon, Roessen was the only patient in the coronavirus ICU ward who was well enough to be interviewed when The Sunday Age visited.
She was also the hospital's first patient to be admitted to the intensive care ward who had been fully vaccinated, something she is certain saved her life.
She suspects it was her "bad lungs" weakened by a previous pulmonary embolism, which left her critically ill, when the virus invaded her body.
She was taken to hospital by ambulance 10 days ago. Her husband and daughter, both infected with the virus and fully vaccinated, quickly recovered at home.
"If I had not been double vaccinated I would be dead. There are no two ways about it," Roessen says as a nurse takes her blood pressure.
https://www.stuff.co.nz/world/australia/300448306/covid19-australia-in-the-icu-where-only-maria-is-vaccinated-others-die-in-disbelief?cid=app-iPhone
..
AAP FactCheck
Australian vaccine death claims are a data dupe
AAP FactCheck September 8, 2021
The Statement
Several social media posts claim that more than 400 deaths have been caused by COVID-19 vaccines in Australia, pointing to data from the country's medicines regulator as purported proof.
A video shared on Facebook by an Australian user shows a man using the Therapeutic Goods Administration's (TGA) Database of Adverse Event Notifications (DAEN). The footage shows the narrator searching for all adverse events reported for people who received Comirnaty (Pfizer), Spikevax (Moderna), Vaxzevria (AstraZeneca) or Janssen vaccines for COVID-19 from the start of 2021 to August 12.
The search results show 48,001 adverse events reported during that period and 456 deaths reported following vaccination.
"There's been 456 deaths in less than eight months because of the vaccine … this right here is more than COVID deaths this year alone," the man says (video mark 1min 59sec).
At the time of writing, the August 26 video had been viewed more than 46,000 times and shared more than 3,300 times.
A similar claim has been circulated as a meme listing numbers of COVID-19 deaths and purported numbers of "COVID-19 vaccine deaths" and adverse events in Australia between January 1 to August 24.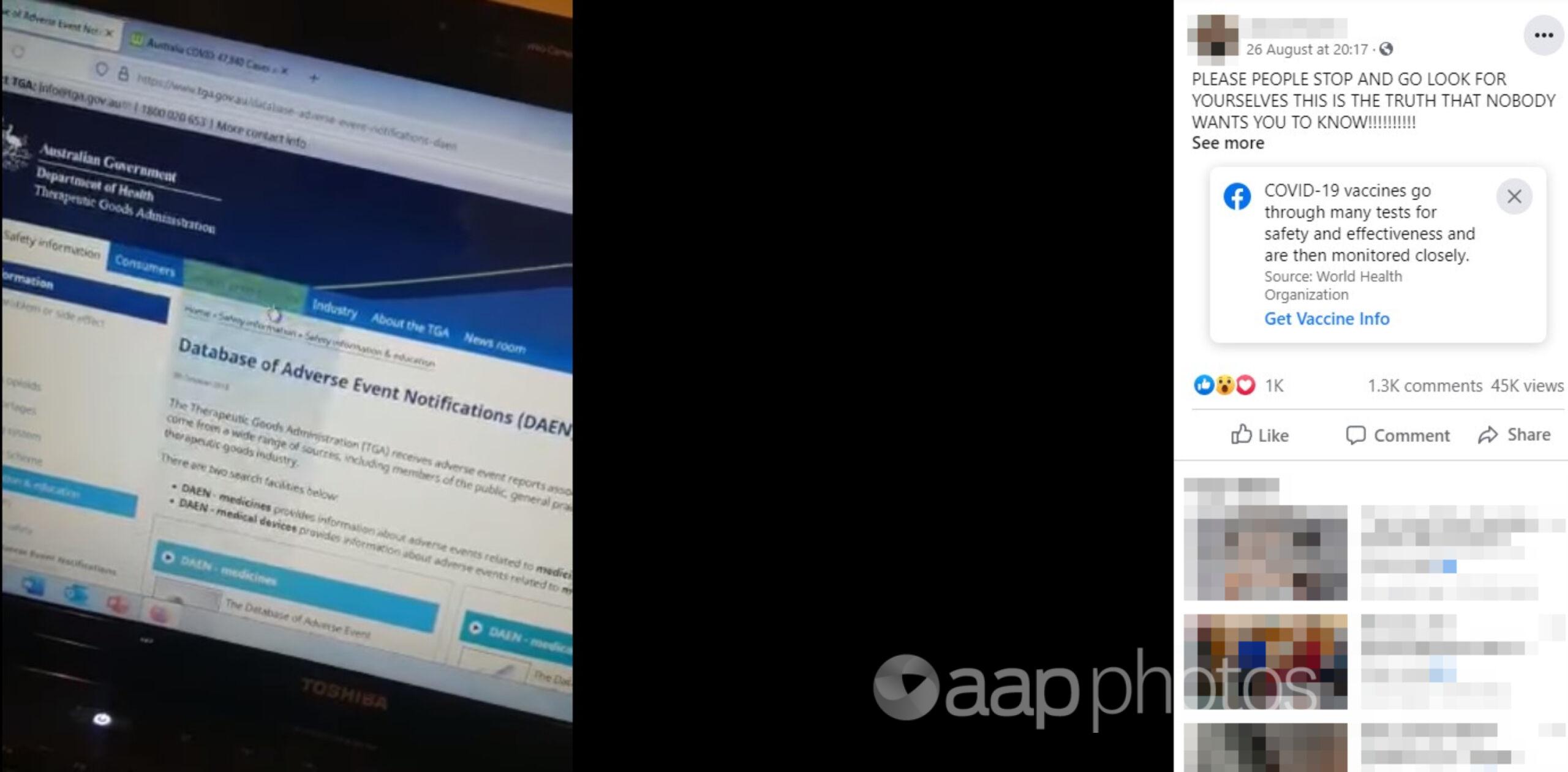 The Analysis
The figures included in the posts show deaths following vaccination reported to the TGA's vaccine adverse events database, however only a small number of the cases have been causally linked to COVID-19 vaccines, according to the medicines regulator. Naturally occurring deaths among the recently vaccinated are to be expected given the large numbers of people receiving the injections.
In addition, the TGA states that the most common adverse events reported following COVID-19 vaccination are mild and expected, such as pain at the injection site.
According to the TGA's September 2 weekly COVID-19 vaccine safety report, 495 reports of deaths following vaccination had been received and reviewed since the beginning of Australia's vaccine rollout.
Of these, the TGA found nine were linked to immunisation. All occurred following the first dose of the AstraZeneca vaccine – eight were cases of blood clots with low blood platelets, or thrombosis with thrombocytopenia syndrome (TTS), while one was a case of immune thrombocytopenia.
A spokeswoman for the TGA told AAP FactCheck the medicines regulator reviewed all reported deaths in people who had received the vaccinations.
"Reporting and publication of an adverse event report in the DAEN, including death, does not necessarily mean that it is related to the medicine or vaccine," she said in an email.
The spokeswoman added that as the number of vaccinated people increased, so did reporting of adverse events and deaths with a coincidental association with vaccination.
"This does not indicate a link between vaccination and the fatalities reported. Review of individual reports and patterns of reporting does not suggest the vaccines played a role in these deaths," she said.
More than 19 million COVID-19 vaccine doses had been administered by August 29, according to the TGA report. A spokeswoman later added that around 78 per cent of the deaths reported following vaccination had occurred in people aged 65 years and older. This figure is in line with the age makeup of deaths among the general population before the pandemic.
.
While adverse event reporting is generally voluntary in Australia, the TGA says it is mandatory for vaccine suppliers to report all serious adverse events suspected of being related to their vaccines.
The TGA previously told AAP FactCheck that anyone could report an adverse event but around four in five cases were typically logged by health professionals or state and territory health services.
Similar false claims regarding large numbers of COVID-19 vaccination deaths have been circulated based on misinterpretations of the US VAERS database and the UK's Yellow Card scheme.
.
The Verdict
The posts falsely claim that COVID-19 vaccines have caused more than 400 deaths in Australia. Rather, the figures cited are for all reported deaths following vaccination, the vast majority of which had been assessed as being unconnected with the injections.
The medicines regulator and experts say some naturally occurring deaths following vaccination are expected due to the scale of the COVID-19 vaccination rollout. Most of the adverse events reported following vaccination have been mild and transient.
False – Content that has no basis in fact.
Updated November 2, 2021 14:40 AEDT: Adds further information from the TGA about the age makeup in deaths reported following vaccinations.

https://www.aap.com.au/factcheck/australian-vaccine-death-claims-are-a-data-dupe/
..