..
Health Impact News introduces us to Dr Igor Shepherd who offers us another aspect of conspiracy theory: The Covid-19 pandemic is fake. It is being used by a communist global government that will be ushered into existence; one that cannot be voted out. Vaccines? "Biological Weapons of Mass Destruction" that will wipe out large numbers.
Founded in 2011, Health Impact News is an alternative medicine, holistic, and nutrition website. They are published by Sophia Media and Brian Shilhavy is the Managing Editor. According to their about page they "cover stories that impact your health, but that the mainstream media seldom covers."
Dr. Igor Shepherd believes that this is a fake pandemic used by a communist global government that will be ushered into existence; one that cannot be voted out.
..

Embattled state health official quits
By Morgan Hughes Casper Star-Tribune Via Wyoming News Exchange
Dec 11, 2020
CASPER – A Wyoming Department of Health doctor who at an event last month suggested COVID-19 was created by Russia and China to spread communism across the globe has resigned from the state agency, a department spokesperson said via email Wednesday.
Dr. Igor Shepherd was the readiness and countermeasures manager for the Wyoming Department of Health.
At a Nov. 10 event in Loveland, Colorado, Shepherd shared a debunked conspiracy theory about the forthcoming COVID-19 vaccine, saying it had been developed as a biological weapon and would reprogram a person's immune system.
Shepherd was introduced as a health department employee.
"The Wyoming Department of Health has accepted Igor Shepherd's resignation. We decline to comment further on this personnel matter," Wyoming Department of Health Spokesperson Kim Deti said via email Wednesday morning.
Deti has stressed the department cannot discuss personnel matters, repeating the comment Monday in a press briefing regarding the state's newly imposed mask order.
During that briefing, she made a short comment saying Shepherd did not have a medical role with the department and was not on the COVID-19 leadership team.
Dr. Shepherd was on the team crafting the state's COVID-19 response, Deti told the Star-Tribune last week. "In his role with the department he has certainly been involved" in the state's COVID-19 response, Deti said Dec. 3, "but has not had what would be considered a leadership role in Wyoming's response."
Shepherd had been employed with the department's Public Health Division since 2013.
The speech Shepherd gave was to a group opposed to Colorado's public health measures.
In recordings of the event, members of the audience could be heard agreeing with Shepherd and supporting his claims.
His claim that the vaccine is a biological weapon comes from the debunked conspiracy theories about messenger RNA, or mRNA.
Shepherd told his audience the substance hadn't been tested, which is untrue.
It has been tested for decades in the U.S., according to the Centers for Disease Control and Prevention, and has been used in early-stage clinical trials for new Zika virus and influenza vaccines, among others.
New technology and deeper research, helped by unprecedented global cooperation, has made mRNA vaccines contenders in the fight against COVID-19, according to the CDC.
None of the research suggests mRNA can alter DNA structure or reprogram a person's immune system.
While Shepherd's claims about the vaccine have been disputed by health and government officials as well as medical research, skepticism about the COVID-19 isn't novel.
Thirty-six percent of respondents to a University of Wyoming poll said they probably or definitely would not take the vaccine.
The survey was taken in mid-October, and the results published Wednesday.
A separate poll conducted in November by the university's Survey and Analysis Center shows more skepticism toward the vaccine now than when the pandemic first emerged.
In March, more than 80% of respondents to that survey said they would be very or somewhat likely to get the vaccine once it became available.
In a November poll asking the same question, just over 62% of respondents answered similarly. Trust in a vaccine is up from its lowest point, though; in September, fewer than 57% of poll respondents in Wyoming said they would likely accept a vaccine.
https://www.wyomingnews.com/news/embattled-state-health-official-quits/article_8ee8a460-baaa-5fe8-89ec-25f21ff101d7.html
,,
Health Impact News
COVID Vaccines "Biological Weapons of Mass Destruction" says Wyoming Medical Doctor and Manager for Wyoming's State Public Health Department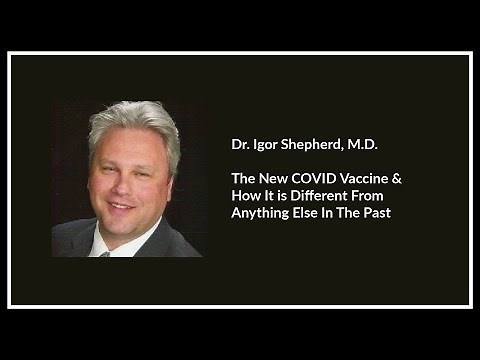 Dr. Igor Shepherd's Talk About the Horrors of a 'Covid' Vaccine
by Gary D. Barnett
GaryDBarnett.com
Dr. Igor Shepherd is a medical doctor/manager for Wyoming's State Public Health Department/Preparedness Unit, and is on the Covid response team.
I was able to have a conversation with Dr. Shepherd after he did a talk for "Keep Colorado Free and Open" [recently].
Dr. Shepherd wrote to me, and I was able to get a copy of his important talk. He has taken great risk to do this talk about the horrors of this new 'Covid-19' vaccine, so I recommend that all watch and listen.
It is a fairly long talk and questions are answered at the end, but it is worth every minute of your time.
He calls them "Biological Weapons of Mass Destruction."
Dr. Shepherd was born and raised in the Soviet Union, and became a Military Doctor in St. Petersburg, Russia, and studied under the Strategic Rocket Force.
He is an expert today on bio-weapons, Chemical, Biological, Radiological, Nuclear, and high yield Explosives,(CBRNE) and Pandemic preparedness.
His view is that these vaccines are very similar technology to the bio-weapon RND used to develop viral weapons. He fully understands that the plan of depopulation and mandatory vaccinations will be at our doorstep very soon, and is shocked that the American people are so passive concerning this enemy takeover.
He believes that this fake pandemic is the means by which a communist global government will be ushered into existence; one that cannot be voted out.
I agree with this thinking, as this technocratic takeover and economic destruction will be communistic in nature.
Read the rest here:

https://healthimpactnews.com/2020/covid-vaccines-biological-weapons-of-mass-destruction-says-wyoming-medical-doctor-and-manager-for-wyomings-state-public-health-department/
..