…
OLICE have arrested and remanded for four days a man who issued a death threat against lawyer Syahredzan Johan on Facebook.
Kuala Lumpur deputy police chief Roslan Bek Ahmad confirmed the arrest of the suspect who works as a storekeeper and security guard.
https://www.themalaysianinsight.com/s/176312?utm_source=dlvr.it&utm_medium=twitter
..
..
..
..
Lawyer | Columnist | Political Secretary to
| #perpaduan My tweets are my own, they do not represent my firm, party or MP.
..
..
..
'I'll separate head from body' – Lawyer threatened over Zakir Naik criticism
Civil liberties lawyer Syahredzan Johan will lodge a police report on a death threat he received online over his criticism of Islamic preacher Zakir Naik.
In the offending message, which Syahredzan said he received last night on Facebook, the sender threatened to separate the lawyer's head from his body.
This follows Syahredzan, the political secretary of Iskandar Puteri MP Lim Kit Siang, criticising the India-born preacher for calling on Chinese Malaysians to leave the country.
Sharing a screengrab of the message on his Twitter feed last night, he said: "So I got this on Facebook. Not sure what powers he thinks I have."
The message read: "You chase away Dr Zakir Naik, I will find you till I get you and I will separate your pig head from your body… this I swear on Islam and the Malay race."
However, in a later message, the same sender claimed to have received a warning from "Indian boys (budak-budak India)" over the threat to Syahredzan.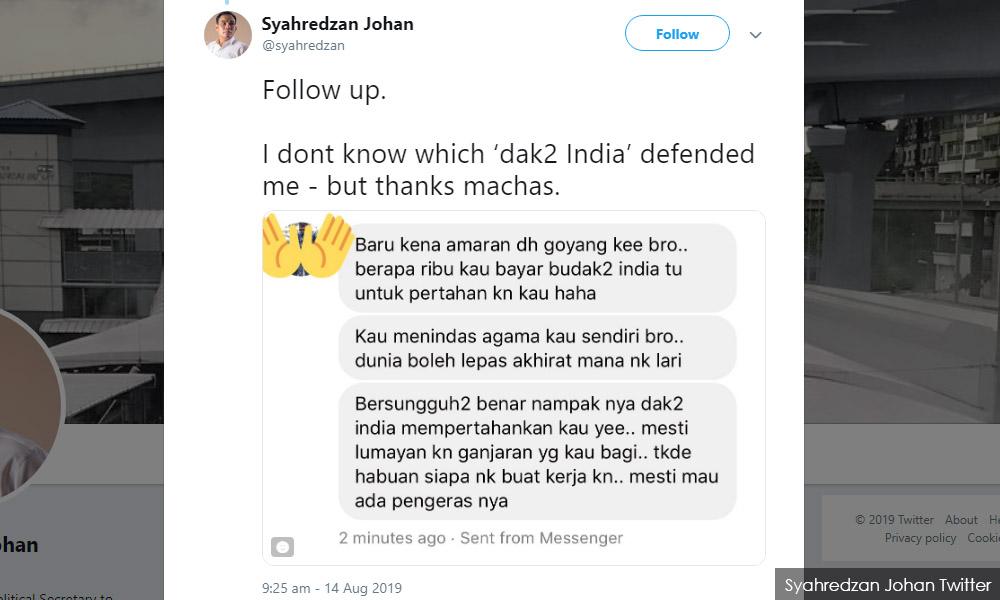 Syahredzan informed Malaysiakini that he will be lodging a report over the threat at the Dang Wangi police station later today.
"I'm surprised that someone would go so far as to say such things. I did not even ask for Zakir to be deported or extradited. I only suggested that his permanent residence be revoked.
"Hopefully they are mere empty threats from an emotional supporter," he said when contacted today.
In a statement yesterday, Syahredzan called for Zakir's PR status to be revoked over recent comments deemed insulting to both Chinese and Indian Malaysians.
"It is clear Zakir cannot be allowed to remain in Malaysia. Even so, there are those who express concern that should he be sent back to India, he would not get a fair trial.
"Some even express concern his life could be in danger should he return to his native country," his statement read.
"To prevent any unwanted situation (from arising) should he be sent back to India, the (Malaysian) government should cancel his Malaysian PR as soon as possible.
"That way, Zakir can, on his own, find another country that can give him protection, and leave Malaysia," his statement read.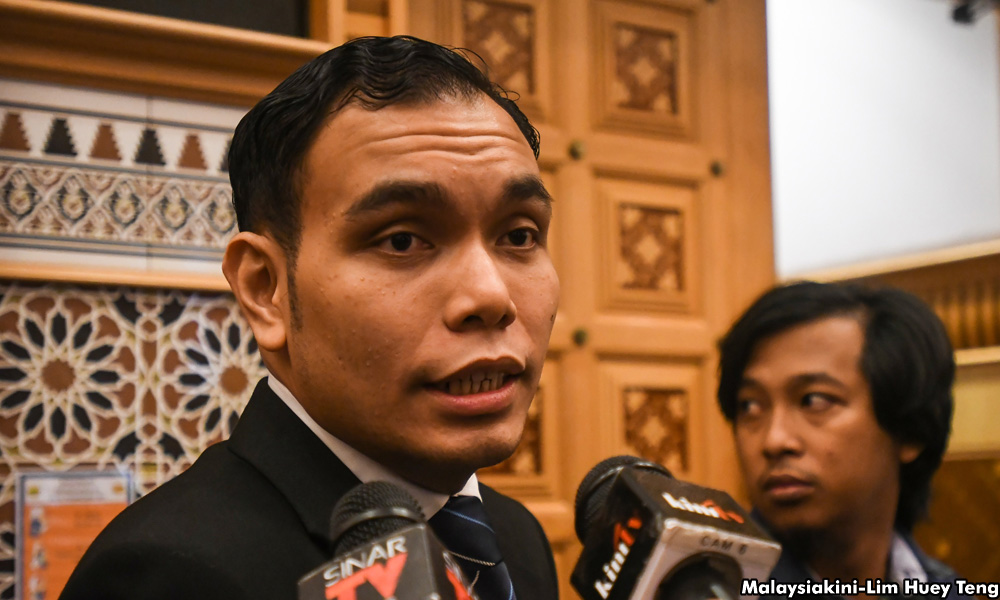 Syahredzan (photo) added that while Article 10(1)(a) of the Federal Constitution ensures freedom of expression, that right is only reserved for citizens.
"The constitution does not give the right to freedom of expression to non-citizens.
"It does not mean non-citizens cannot speak out. But… their rights are not protected," he said.
Zakir, who was granted PR status by the BN government in 2012, angered many when he described Chinese Malaysians as "old guests" in Malaysia.
"You know someone called me a guest. So I said, before me, the Chinese were the guests. If you want the new guest to go first, ask the old guests to go back.
"The Chinese aren't born here, most of them. Maybe the new generations, yes," he said during a dialogue hosted by the Kelantan government on Aug 8.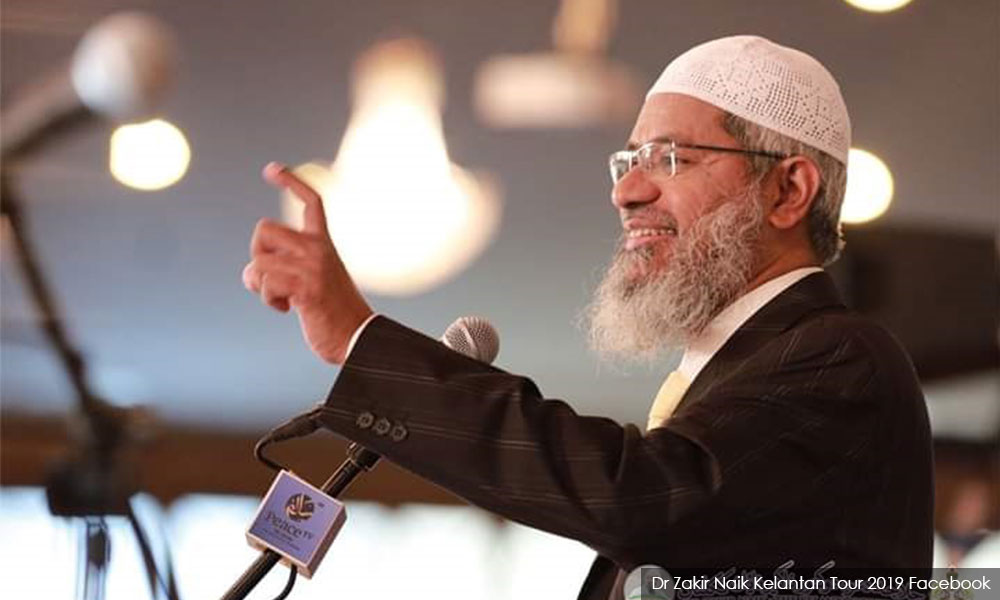 Zakir (photo) had earlier courted controversy when seemingly questioning the loyalty of Hindu Malaysians at the same event, claiming they were more loyal to Indian Prime Minister Narendra Modi than to Prime Minister Dr Mahathir Mohamad.
The preacher later claimed to have been misquoted, saying he was referring only to members of the community believing in India's charges against him for money laundering and terrorism.
He has, however, denied any wrongdoing.
Mahathir has repeatedly refused calls for Zakir to be extradited back to India, saying there is a risk the latter could be killed.
The premier also said Zakir could stay as long as he does not break any local laws.
https://www.malaysiakini.com/news/488021
..
..
..