…
6 March 2019
..
Najib the Troll misfires.
Check the share prices for those companies Khazanah pegang lah, pre GE14 and now. Nilai pun dah jatuh. Itu pun tak tau. Bodoh piang dah lah korup Jibbai.
Quote Tweet
Mohd Najib Tun Razak 

@NajibRazak
Selepas nilai aset bersih Khazanah jatuh RM25 bilion pada tahun lepas, Azmin Ali menyeru Rakyat Malaysia untuk lupakan isu ini sahaja. Dia kata kita tidak patut tuding jari lagi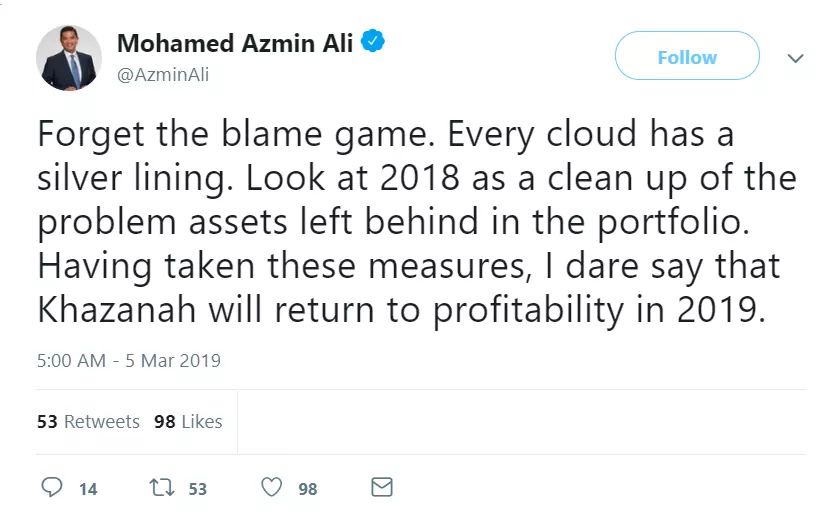 ..
Najib and Azmin trade barbs over Khazanah's RM6bil loss
PETALING JAYA: A public tiff on social media has erupted between former premier Datuk Seri Najib Razak and Economics Affairs Minister Datuk Seri Mohamed Azmin Ali over the RM6bil loss recently reported by sovereign wealth fund Khazanah Nasional Bhd.
It all started with a Facebook posting by Najib on Tuesday (March 5), where he claimed that Khazanah Nasional Bhd had never suffered losses during his premiership and when he was its chairperson.
"In the 10 years I was PM and chairperson of the company, Khazanah never suffered losses," he said.
He added that during his tenure as prime minister, the net asset value of Khazanah went up RM82.3bil (224%) from RM33.7bil at the end of 2008 to RM116bil at the end of 2017.
He pointed out that since Pakatan Harapan took over, the value of Khazanah Nasional Bhd had dipped by RM25bil to RM91bil.
"RM25bil isn't a small amount. It can pay nearly all 1MDB debts or half of the ECRL cost, which is RM55bil.
"It's okay, the RM91bil left in Khazanah is still a big amount. There are still many national assets that can be sold. Sell again when it's cheap," he said.
Najib's remarks appeared to have irked Azmin, who landed a series of sarcastic remarks on Twitter on Tuesday (March 5).
"Trouble these days is some politicos, often failed ministers, babble first and check later. End up meludah ke langit, terkena muka send
According to Azmin, the losses incurred by Khazanah was caused by a review of its assets and investments made before the Pakatan government took over last May.
He pointed out that Khazanah-owned Malaysia Airlines suffering the heaviest loss of RM3bil, attributing this to the failure to implement its turnaround plan.
"Investments made over the last few years into the airline before Pakatan took over have to be impaired. Tell me about impaired reasoning!" he said.
Azmin, reiterating that Khazanah's losses were caused by "impairments" on investments made prior to May 9, 2018, said the blame game over the issue must stop.
"Forget the blame game. Every cloud has a silver lining.
"Look at 2018 as a clean-up of the problem assets behind the portfolio. Having taken these measures, I dare say that Khazanah will return to profitability in 2019," he said.
Read more at https://www.thestar.com.my/news/nation/2019/03/06/najib-and-azmin-trade-barb-over-khazanahs-rm6bil-loss/#qUwhtGY8q8bGqgFg.99
…

Shahril hanya dilantik CEO Khazanah Ogos 2018 ganti Amok. RM3B kerugian terdiri dpd MAS yg tidak list diKLSE & merosot zaman 
@NajibRazak 
2014 & Khazanah buat bailout plan dgn RM6 billion "restructuring". Nak tipu siapa Khazanah tak rugi dibawah Najib?
Khazanah lost RM9 bil in 2 years, under pressure to perform
With Khazanah Nasional making an average annual return of below 1%, and the EPF making over 5% annually, some are lobbying for changes in its management and investment strategy, says report.
..
29 November 2017
Free Malaysia Today 
@fmtoday
Khazanah lost RM9 bil in 2 years, under pressure to perform
KUALA LUMPUR: Khazanah Nasional lost RM9 billion, in value, of public money over two years from 2014.
This has resulted in additional pressure on Khazanah to show higher returns to boost government coffers, according to a report in The Straits Times (ST).
The report said that senior state officials were lobbying for changes to the sovereign wealth fund's management and investment strategy.
The report said the net worth adjusted (NWA) of Khazanah had dipped since 2014 from RM111 billion to RM102 billion. The NWA's tabulation, it said, was unclear but that it largely measured the current value of Khazanah's portfolio plus dividends returned to the treasury.
"In short, it lost 8% of its value or RM9 billion in public wealth over two years," the report added.
The last time Khazanah declared a dividend lower than this year's RM650 million was in 2011.
The bulk of the government's direct business investments is managed by Khazanah, which has returned an average of just RM825 million in dividends annually over the past four years, from its RM145 billion worth of assets. This, the ST report said, amounted to less than 1% return a year between 2013 and last year.
According to the report, there is a push by some within Prime Minister Najib Razak's "vast circle of advisers" to change Khazanah's investment strategy, especially since the fund's managing director, Azman Mokhtar, is due to leave in mid-2019, after a 15-year run at the helm.
https://www.freemalaysiatoday.com/category/nation/2017/11/29/khazanah-lost-rm9-bil-in-2-years-under-pressure-to-perform/
…