…
change.org
14 March 2019
Requesting Pakatan Harapan govt to sack Tan Sri Nadarajah and Batu Caves Management
For decades , Mahamariamman Devasthanam Chairman Tan Sri Nadarajah and his committee mismanaged temple fund and properties
Updates
Tamil Maran Velayutham started this petition
Reasons for signing
Janaki Subrmaniam
·
10 months ago
Mohana Krishnan
·
10 months ago
View all reasons for signing
…
..
PETALING JAYA: A viral video linking Batu Caves temple chairman Tan Sri R. Nadarajah to a room filled with stacks of euro bills amounting to €4bil in Cameron Highlands is not true.
The 29-second viral video circulating on social messaging application WhatsApp, showed a stockpile of €500 notes stacked on top of a hydraulic lifting trolley, as well as stacks of bills in other denominations.
Footage from the video also showed some of the money was half burnt, and even a part of the wall was charred.
The text accompanying the video in the WhatsApp message said that €4bil was found in a man's house in Cameron Highlands.
It added that when police came to check the house, the wife of the man had tried to burn it, but failed to destroy all the money.
"This house belongs to Tan Sri R. Nadarajah. (The) money is part of our taxes, Jib (former prime minister Datuk Seri Najib Tun Razak) and cronies," the text continued.
A Google Reverse Image search of the video found that it had previously been linked to Nigerian scammers, allegedly corrupt leaders in Nigeria, Cameroon, Italy and even embattled Russian senator Rauf Arashukov, who was arrested over his alleged role in ordering two contract killings.
Read more at https://www.thestar.com.my/news/nation/2019/03/11/video-of-room-filled-with-stacks-of-euro-bills-supposedly-belonging-to-batu-caves-temple-chairman/#ldVYd62s5I7hjRem.99
…
5 March 2019
..
Good JOB,, MACC,, RAIDED BT CAVES CHAIMAN TS NADARAJAH,, 👍👍👍,,, https://t.co/NLLwKrFEkh
..
Dakwaan seleweng dana: Tan Sri antara 3 pemimpin kuil direman
PUTRAJAYA: Tiga individu termasuk seorang bergelar Tan Sri dibenarkan direman tiga hari bagi membantu siasatan berhubung pembangunan sebidang tanah dimiliki kuil Sri Mahamariamman Devasthanam di Jalan Bandar, Kuala Lumpur.
Perintah dikeluarkan Majistret Nik Muizuddin Nik Muhammad di Mahkamah Majistret di sini, hari ini.
Difahamkan, ketiga tiga individu berkenaan termasuk seorang pengurusan tinggi juga bertanggungjawab menguruskan kuil Hindu di Batu Caves, Selangor.
Penahanan mereka bagi membantu siasatan Suruhanjaya Pencegahan Rasuah Malaysia (SPRM) berhubung pembangunan sebidang tanah milik kuil Sri Mahamariamman Devasthanam di Jalan Bandar di ibu negara.
Pagi tadi, sepasukan pegawai penyiasat SPRM menyerbu rumah pegawai tinggi berkenaan, selain menggeledah pejabat pengurusan kuil di Batu Caves.
Sebelum ini, seorang pemimpin PKR menggesa SPRM menyiasat pengurusan sebuah kuil berhubung dakwaan penyelewengan dana kerajaan dan penderma.
Kuil di Jalan Bandar itu adalah yang tertua di Kuala Lumpur dan diuruskan Lembaga Pengurusan Kuil Sri Maha Mariamman Devasthanam.
Lembaga berkenaan turut menguruskan Kuil Batu Malai Sri Subramaniar di Batu Caves dan Kuil Kortumalai Vinayagar di Persiaran Maybank.
https://www.bharian.com.my/berita/kes/2019/03/537495/dakwaan-seleweng-dana-tan-sri-antara-3-pemimpin-kuil-direman
…
The Leaders 
@leadersonline1
MACC officers raided the house of a Batu Caves temple committee senior official here. Several officers went to the official's house in Kota Damansara to check on some documents. It is believed that the temple official was taken away by the MACC officers for questioning.
#MACC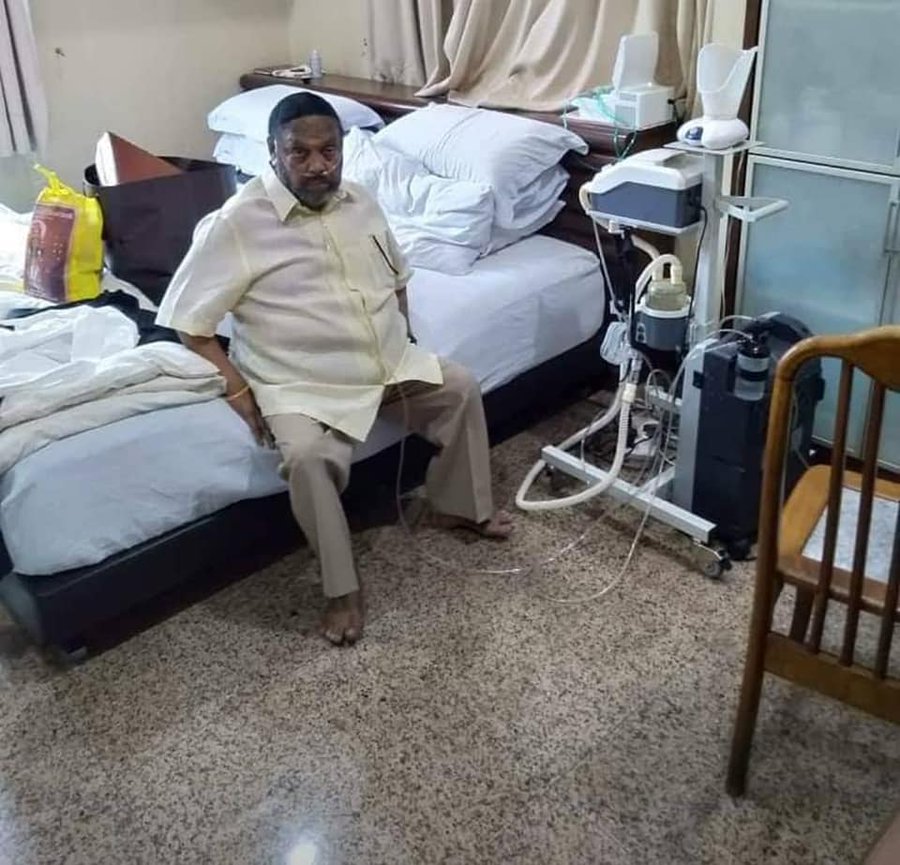 ..
MACC arrests Batu Caves temple committee official https://t.co/VEdEJw9u5J https://t.co/qtBHh2Kp2t
..
The raid is believed to be linked to the development of land belonging to the Sri Mahamariamman Devasthanam temple. https://t.co/IiXdSSudaC
..
Rumah ahli Jawatankuasa Kuil Batu Caves diserbu SPRM https://t.co/0xS903GTIs
..