—
Excuse my England. Trying to speak Malinglish since some minister thinks our English to be better than Singaporeans' Singlish…

—
Star
28 June 2016 | MYT 11:16 AM
Grass cutter stumbles across sunbathing crocodile
http://www.thestar.com.my/news/in-other-media/2016/06/28/grass-cutter-finds-crocodile-sunbathing/?utm_source=dlvr.it&utm_medium=twitter
—
A CROCODILE in Port Dickson! In the sea! Really?
—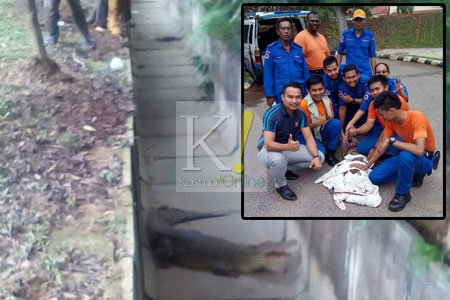 —
Buaya tembaga sepanjang dua meter dipercayai tersesat di dalam longkang di Melaka Perdana ditangkap anggota JPAM negeri, 11 pagi tadi
—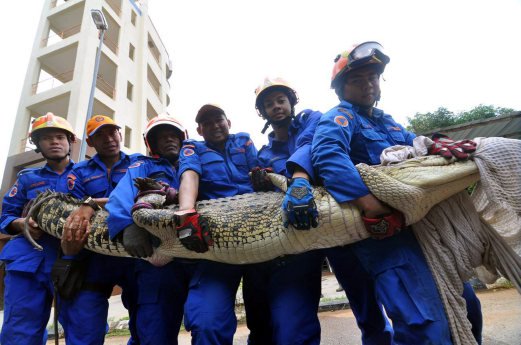 …
MALACCA: A two-metre long crocodile, believed to have lost its way in the monsoon drain in Melaka Perdana, Ayer Keroh, was caught by members of the Malacca Civil Defence Department (JPAM) this morning.
The reptile, weighing about 80 kilogrammes, was caught at 11am after a grass-cutter doing work in the area stumbled upon the animal, Harian Metro reported.
State JPAM director Effendy Ali said seven personnel were involved in the capture of the reptile.
"Our men took about 30 minutes to capture it. We had to subdue it first as it was behaving aggressively,
http://www.nst.com.my/news/2016/06/155035/two-metre-long-crocodile-found-malacca-monsoon-drain
—
鋤草工人一度還以為是四腳蛇……
http://www.chinapress.com.my/?p=726615
⬇看更多⬇
iOS: http://apple.co/1REIed2
Google Play: http://bit.ly/22TaTTH…
迷途鱷魚現身溝渠內,割草工友誤以為是四腳蛇!一名割草工友今早10時45分在愛極樂的甲板路,即靠近馬六甲柏達納的溝渠內,發現一隻鱷魚。
—
—