—
21 June 2016
…
Stop encroachment on our land, 500 Orang Asal tells Perak gov't
…
21/6/2016, 10pagi, Jaringan Kampung Orang Asli Negeri Perak (JKOANP), KENRAK dan SPNS menyerahkan memorandum bantahan kepada MB Perak,memorandum ini diterimadan ditandatangani oleh setiausaha sulit MB.
Antara tuntutan OA mendesak kerajaan negeri supaya mengiktiraf tanah2 OA mengikut geran komunal .
Menghentikan segala aktiviti yg melibatkan dan yg memusnahkan kg2 OA.
Membuat perbincangan melalui proses I-MABT terlebih dahulu dlm proses yg melibatkan tanah2 OA.
—
—
Stop encroachment on our land, 500 Orang Asal tells Perak gov't
Chris Lau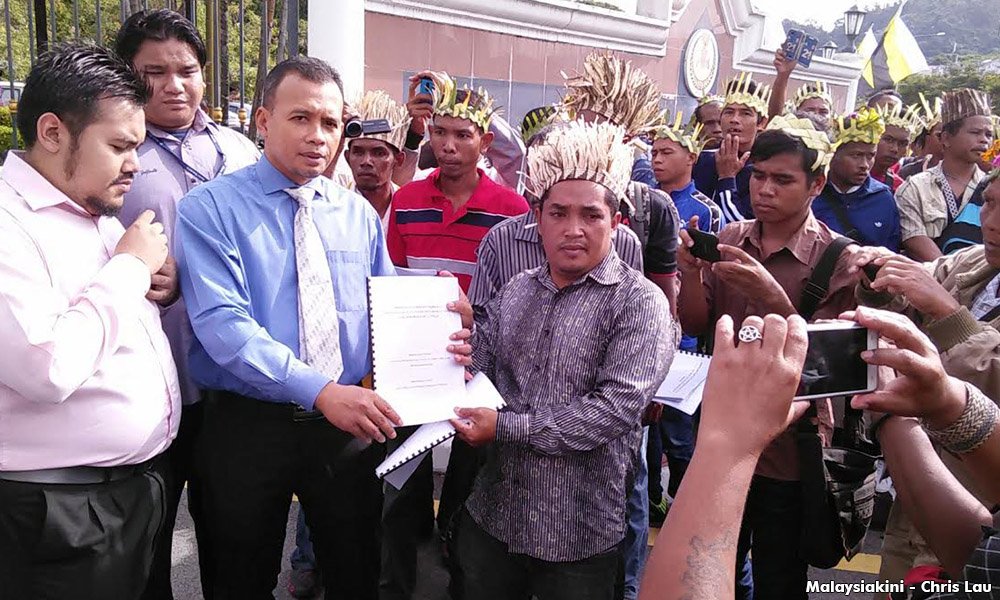 …
About 500 Orang Asal from Perak traveled to the State Secretariat building in Ipoh this morning, to protest against encroachment by the government and private companies into their ancestral tanah adat land.
They lamented that their tanah adat was not only encroached upon, but remained unrecognised by the state government.
"Thus the Orang Asli (seem to) have no rights to their land," said Rizuan Tempek, a representative of Jaringan Kampung Orang Asli Perak.
Rizuan said the government should consult the indigenous people if they wanted to gazette their land for whatever purpose.
Travelling to the state capital in nine buses, the group also handed a memorandum to Menteri Besar of Perak Zambry Abdul Kadir on the matter.
"Approximately 500 people joined the event. We used our own money. Those who used their own transport, paid their own way, as did those who rented the buses," he added.
Chairman of Jaringan Kampung Orang Asli Perak, Bah Jali A/L Bah Jit, said the community expressed their concern on:
– The encroachment into their land by government, private sectors and individuals which is threatening to erode the economic, spiritual, historical, social-cultural wellbeing and daily sustenance of the Orang Asal.
– The lack of efforts to develop Orang Asal land and community resulting in their continuing poverty.
– Accusations against Orang Asal of supposedly encroaching into government land, when in fact it has been Orang Asal land for generations, even before the existence of the country.
He also lamented that until today, the status of Orang Asal tanah adat land remains unsolved and in limbo, as more and more of their forest are parceled off for government or private commercial use.
Less than 30 percent of Orang Asal land are protected under state law, while the other 70 percent though gazetted, is considered government land or state reserve land.
"From the government, they don't really have the titles to the land. The titles and their adat land seem to belong to Perhilitan (Department of Wildlife and National Parks).
https://www.malaysiakini.com/news/346147?utm_source=dlvr.it&utm_medium=twitter
—