…
19 July 2018
The Straits Times‏Verified account @STcom
Malaysia issues arrest warrants for ex-1MDB executives
KUALA LUMPUR (BLOOMBERG) – Malaysian investigators are said to have issued arrest warrants for two former executives of troubled state fund 1Malaysia Development Bhd, or 1MDB, according to a person with knowledge of the matter.
The Malaysian Anti-Corruption Commission (MACC) is seeking 1MDB's ex-general counsel Jasmine Loo Ai Swan and former executive director Casey Tang Keng Chee, according to a person familiar with the matter who asked not to be identified as the matter is private.
The country's renewed investigation into missing funds at 1MDB recently resulted in former premier Najib Razak being charged with several counts of criminal breach of trust and corruption, as police said they seized more than 1.1 billion ringgit (S$370 million) of cash and items linked to the case.
.
Loo and Tang have not been charged with any wrongdoing, and it isn't clear what suspicions underpin the warrants. Attempts to reach their representatives weren't successful. A representative for the MACC declined to comment.
https://www.straitstimes.com/asia/se-asia/malaysia-issues-arrest-warrants-for-ex-1mdb-executives
…
29 June 2018
JASMINE Loo Ai Swan and Casey Tang Keng Chee were paid US$5.9 million and US$5.0 million respectively with money that originated in 1Malaysia Development Bhd (1MDB).
The 45-year-old Loo was the legal counsel for 1MDB while Tang, 53, was an executive director in charge of investments.
According to the US Department of Justice (DoJ), Tang had an account with BSI Bank in Lugano, Switzerland, under the name of Totality Ltd. On Dec 22, 2010, US$5.0 million was transferred to that bank account from one held by Good Star Ltd with RBS Coutts Bank.
Good Star, which was owned by Low Taek Jho or Jho Low, had illegally received US$700 million of 1MDB money on Sept 29, 2009. The money was part of US$1.0 billion that was to have been invested in a joint venture with PetroSaudi International.
The DoJ says Tang, together with the then 1MDB CEO Datuk Shahrol Halmi, had made "material misrepresentations and omissions" to Deutsche Bank Malaysia in order to divest US$700 million to Good Star.
.
The DoJ says Jho Low brought Tang to Switzerland on Oct 28, 2009, to meet RBS Coutts' bankers, where the latter confirmed that 1MDB was a founding investor of Good Star and that the US$700 million was for investing in real estate and private equity.
This was, of course, not true.
.
Loo was the main 1MDB executive who dealt with Goldman Sachs on the issuance of three bonds totalling US$6.5 billion in 2012 and 2013. She had also worked for Jho Low at UBG Bhd.
According to the DoJ, some US$5.0 million from the 1MDB funds banked into the Falcon Bank account of Blackstone Asia Real Estate Partners in Singapore was transferred to Loo's bank account (under the name of River Dee International) at Falcon Bank in Zurich in December 2012.
The beneficial owner of the Blackstone account was Eric Tan Kim Loong, an associate of Jho Low who operated several accounts through which US$2.36 billion of stolen 1MDB money was laundered.
Tan was also the beneficial owner of the bank account of Affinity Equity International Partners Ltd. On July 1, 2014, Affinity Equity sent US$999,975 directly to Loo's account at Falcon Bank in Switzerland. The wire was processed through a correspondent account at JP Morgan in New York. Loo represented to Falcon Bank that the remittance was in connection with a joint venture that River Dee had just entered into with Affinity Equity for "joint investments".
The whereabouts of Tang and Loo, who are now wanted by the Malaysian Anti-Corruption Commission, are not known.
– http://www.theedgemarkets.com
http://www.malaysia-chronicle.com/?p=118910
…
28 July 2016
…

…
http://ln.is/com/Uw3Pb  1MDB Officer 3 has been identified Jasmine Loo wanted by Bank Negara for questioning allegedly received US$5 million
…
—
Bank Negara issues 'wanted' poster for former #1MDB execs Casey Tang, Jasmine Loo http://bit.ly/1KogxXT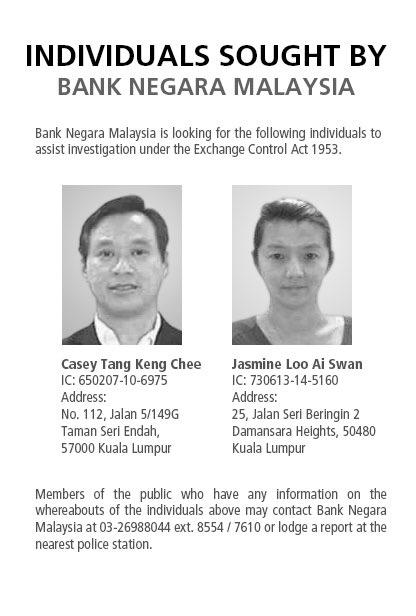 KUALA LUMPUR, July 24 ― Malaysia's central bank is seeking the aid of two people who previously held senior executive positions in state-owned 1Malaysia Development Berhad (1MDB), which is now under investigation for suspected corruption by a multi-agency government task force.
In a posting on its Facebook page today, Bank Negara Malaysia (BNM) released a "Wanted" poster carrying details of the duo to "assist investigation under the Exchange Control Act 1953".
It urged anyone with information on Casey Tang Keng Chee, 50, and Jasmine Loo Ai Swan, 42 to contact them or file a report at the nearest police station.
"No rewards offered on the information provided for the above individuals," BNM said in the statement.
According to past news reports, Tang was 1MDB's  business development executive director for three years, which ended in March 2011.
…
—
Free Malaysia Today
Ex-1MDB execs on BNM's 'Wanted' poster
KUALA LUMPUR: Bank Negara Malaysia (BNM) has posted a "Wanted" notice seeking former 1Malaysia Development Berhad (1MDB) executives Casey Tang and Jasmine Loo in connection with investigations on the scandal-ridden government-owned company.
In a poster appearing on its Facebook page, the central bank announced it was looking for Casey Tang Keng Chee, 50, and Jasmine Loo Ai Swan, 42, in investigations under the Exchange Control Act of 1953.
It called on members of the public with information on the whereabouts of the two to contact the bank or lodge police reports.
—
Casey Tang and Jasmine Low are sought in investigations under the Exchange Control Act.
—