—
Malay Mail Online
Seditious to make KL safety cautions about 'extremists', police say after Low Yat riot
A screen capture of false information spread through social media with warnings of ethnic clashes following the Low Yat Plaza incident. ― Courtesy of the Royal Malaysian Police's Facebook page 
KUALA LUMPUR, July 16 ― The Sedition Act 1948 may be used against those who caution the public to be careful at certain spots in Kuala Lumpur and against people planning racial attacks in the aftermath of the Low Yat riot, the police said today.
Police spokesman ACP Datin Asmawati Ahmad said the police have noticed messages on social media alleging of plots to cause ethnic clashes, as well as warnings to the public to stay away from certain spots in Kuala Lumpur out of concern of attacks by "extremists" after the weekend violence at Low Yat Plaza in the city centre.
"Legal action can be taken against them under the Sedition Act 1948 and the Communications and Multimedia Act 1998," Asmawati said in a statement.
"All these news are false and spread by irresponsible quarters and intended to destroy the racial harmony and public peace in this country. The incident that happened at Low Yat Plaza only involved two parties and has nothing to do with racial issues at all," the head of Bukit Aman's Corporate Communications added. –
See more at: http://www.themalaymailonline.com/malaysia/article/seditious-to-make-kl-safety-cautions-about-extremists-police-say-after-low?utm_medium=twitter&utm_source=twitterfeed#sthash.9WeHis08.dpuf
—
12:37PM Jul 16, 2015
Malaysiakini
Social media posts on unrest all false: police
Social media posts on unrest all false: Police http://www.malaysiakini.com/news/305323  @PDRMsia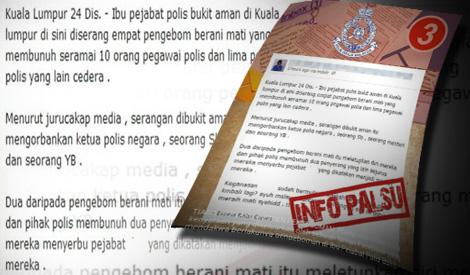 …
Do not be fooled by false warnings about extremist attacks and racial riots on social media following the Low Yat Plaza incident, the Royal Malaysian Police (PDRM) advised the public today.
Police said they were issuing the advisory as they have been detecting many false messages about such attacks and riots in the aftermath of the Low Yat incident over the weekend.
"All these are false and are spread by irresponsible individuals aiming to ruin the racial and public harmony of this country," Inspector-General of Police secretariat assistant head (corporate communications) ACP Asmawati Ahmad said in a statement.
The public should not believe any information from unverified sources and should instead refer them immediately to the authorities for further clarification, she added. She also warned that legal actions could also be taken against those spreading these false messages under the Sedition Act and the Communications and Multimedia Act.