—
See this report:
Did Datuk Abdul Rahman Dahlan get SCAMMED? Sarawak Report: Your editor never worked for Sarawak Report…
—
—
Malaysiakini
Jul 15, 2015

By Radzi Razak
Video, email claim S'wak Report forged docs
#FLASH Video, email show Sarawak Report 'forged' docs http://www.malaysiakini.com/news/305256  @sarawak_report @mpkotabelud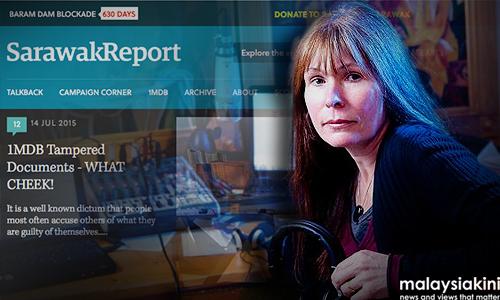 A police report has been lodged against Sarawak Report for purportedly falsifying documents pertaining to 1MDB and colluding with opposition lawmakers.
This was revealed by BN strategic communications director Abdul Rahman Dahlan, who urged the authorities to take action.
Apart from this, the minister said police were also given a video confession from an ex-editor of Sarawak Report as well as an email allegedly from the London-based whistleblower website's editor Claire Rewcastle.
In the email dated March 1, 2015, Rewcastle purportedly wrote: 'Thanks! Yes it was quite a job!.. Sitting up night after night cleverly forging all those documents!!!!'
…
The police report, sighted by Malaysiakini, was lodged by one Ramesh Rao Krishnan Naidu, an NGO leader, and was made before noon in Petaling Jaya today.
The report mentions that Ramesh travelled to Kuching to meet one Lester Melanyi, who had confessed to be involved in the falsifying of documents along with Rewcastle.
…
Malaysiakini has contacted Rewcastle and is awaiting her comments.
http://www.malaysiakini.com/news/305256
—
Star
Wednesday July 15, 2015 MYT 5:41:51 PM
Rahman Dahlan: I've seen video confession of persons involved in plot to topple Najib
PUTRAJAYA: Datuk Abdul Rahman Dahlan has dropped a bombshell, saying he has seen a video confession by individuals allegedly involved in falsifying information contained in media reports on 1MDB.
The Barisan Nasional director of strategic communication said an individual in possession of the video made a police report in Petaling Jaya over the matter earlier Wednesday.
Abdul Rahman said the complainant claimed to have substantive evidence of malicious intent on the parties involved in executing a mission dubbed "Mission to Criminalise Datuk Seri Najib and 1MDB".
"The video confession also implicates several Opposition leaders who conspired with Claire Brown and Sarawak Report in the malicious plot.
…
Speaking at press conference here, he said the complainant also handed a copy of an email allegedly written by Brown to the police.
Abdul Rahman claimed that in the email dated March 1, 2015, Brown wrote; "Thanks! Yes it was quite a job! Sitting up night after night cleverly 'forging' all those documents!!!".
http://www.thestar.com.my/News/Nation/2015/07/15/Rahman-video-plot-topple-najib/
—
Ex-S'wak Report editor reveals Clare-Brown "tampered" with documents as part of plot to topple Najib: Rahman Dahlan
 July 15, 2015
(NST) – A former editor of the Sarawak Report has reportedly come forward alleging a conspiracy to bring down Prime Minister Datuk Seri Najib Razak and the 1Malaysia Development Board.
According to Barisan Nasional strategic communications director Datuk Abdul Rahman Dahlan, the unnamed editor reportedly gave a video confession, provided in a police report lodged this morning, offering "solid evidence" of the conspiracy.
In the video, the editor alleged that Sarawak Report founder Clare Rewcastle-Brown, a British national, had forged documents used to defame 1MDB in several exposes published by the site.
The editor was also said to have named several people, including prominent opposition politicians, among those involved.
Abdul Rahman, who declined to name the editor or the person who lodged the police report, said the report also included a copy of an e-mail purportedly written by Brown.
"I quote: "Thanks, yes it was quite a job sitting up night after night forging all those documents."
"It is not clear what she is referring to by "all those documents" but many have cast doubt on the veracity of the 1MDB documents published by the Sarawak Report," Abdul Rahman said.
http://www.malaysia-today.net/ex-swak-report-editor-reveals-clare-brown-tampered-with-documents-as-part-of-plot-to-topple-najib-rahman-dahlan/?utm_source=twitterfeed&utm_medium=twitter
—