—
Referring to Ambiga:
"This country cannot be polluted by elements which would invite the wrath of God," Tee said, claiming that Ambiga's own house would be rocked by an earthquake.
Referring to Teresa Kok:
"Unlike a group of ultra kiasu leaders with slit eyes, straight black hair, who use the name of white people and colour their hair," he wrote. "They then forget themselves and act 'whiter than white'!"
Free Malaysia Today
Tee labels Ambiga and Teresa "hypocrites"
KUALA LUMPUR: Controversial preacher Ridhuan Tee Abdullah spewed vitriol in the direction of former Malaysian Bar President Ambiga Sreenevasan and DAP's Teresa Kok today, branding the former a witch (nenek kebayan) and accusing the latter of behaving "whiter than the whites".
Referring to a call purportedly issued by Ambiga to Sinar Harian for Tee's weekly column to be terminated, Tee accused her of not doing her research, which he said rendered her nothing more than a "lawyer buruk" (bad lawyer).
He went on to claim that his Sinar Harian article did not say anything about dressing in loincloths to enter their places of worship. That statement, he said, came from the ultra kiasu's own social media.
"Please investigate properly who the real racist is – me or the ultra kiasu?" (Ultra kiasu is a term which Tee commonly uses to describe the DAP).
"When we defend our rights, we are branded racist," Tee wrote, "but the speeches of the ultra kiasu are classified as in defence of human rights. What sort of jungle thinking is this?"
Lampooning Ambiga for her vision of a new Malaysia, Tee said, "Malaysia is Malaysia. What old version Malaysia are you referring to? The Taliban?"
"Is the new Malaysia a wholly liberal Malaysia, without a sense of local identity? Without cover of the Malay Canopy?" Tee queried.
Malaysia can never escape its Malay-Muslim identity, Tee said, adding that if there were efforts to liberalise Malaysia, there was bound to be those who rise up in opposition.
…
He claimed that Kok had seemingly challenged him on the dress code issue when she published a photograph of herself with members of the Iban community recently.
"She thought she was smart."
"In the end, the photograph was self-mocking," he declared.
"FB users criticized her," he said, adding that the Iban community did not dress that way when they visited government offices.
"The Iban people dress decently when dealing with the government," he wrote.
"Clearly, they are more civilised," he said sarcastically. "Unlike a group of ultra kiasu leaders with slit eyes, straight black hair, who use the name of white people and colour their hair," he wrote. "They then forget themselves and act 'whiter than white'!"
http://www.freemalaysiatoday.com/category/nation/2015/07/13/tee-labels-ambiga-and-teresa-hypocrites/
—
It is doubtful if S Ambiga will lend credibility or dignity to such a person like Ridhuan Tee, whose longing to be recognized beyond his narrow extremist following is obvious. The frog in the well wants to jump out into the world!
—
"That extreme racism that he (Ridhuan Tee) exhibits is still going on. He's still allowed space in a major newspaper in this country," Ambiga said.
http://www.malaysiakini.com/news/304326
—
Note the poor English. Emphasis is mine.
People pay attentions to what you do than what you say.
—
@Ambiga_S dear Datuk…if incase tat stupid ridtuan tee challenges u for a debate pls take me a long!
—
Free Malaysia Today
Ambiga more dangerous than me, says Tee
PETALING JAYA: Preacher Ridhuan Tee has challenged activist lawyer Ambiga Sreenevasan to a debate to determine whether he is a racial extremist, as she has alleged.
Responding to Ambiga's criticism of him, Tee described her as "more of a danger to the nation" than he with her championing of human rights.
Yesterday, at a forum on the theme of fighting racism, Ambiga called Tee a "racial extremist" and urged the press not to give him space to air his views. Tee was quoted by Ismaweb as saying that Ambiga posed a danger to national security because the human rights she was fighting for was "at odds with the Federal Constitution and Islam as the religion of the Federation".
He did not specify which human rights he was referring to. He said it would be unfair if the media were to black him out while giving space to "champions of human rights" like Ambiga.
http://www.freemalaysiatoday.com/category/nation/2015/07/08/ambiga-more-dangerous-than-me-says-tee/
—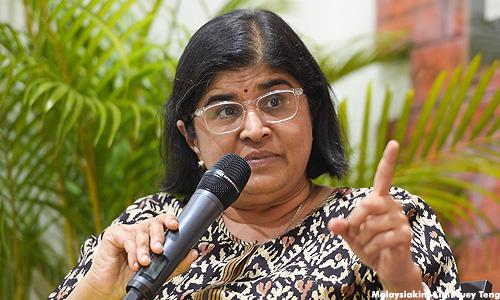 …
 Legislation against hate speech is required in Malaysia, says former Bersih chairperson Ambiga Sreenevasan. She bases this on several reasons, the latest prompted by Universiti Sultan Zainal Abidin lecturer
Mohd Ridhuan Tee Abdullah's remarks
on the dress code issue. Last week, Ridhuan Tee criticised Kinrara DAP for mocking the dress code at federal government agencies.
"Perhaps they should enter churches or temples with just their underwear if they don't believe in dressing etiquette," Ridhuan Tee had said. Ambiga said that while his remarks were also fuelled by other reasons, she pointed out that they were partly racist in nature. "I actually would advocate legislation against hate speech, like they have in the United Kingdom," Ambiga said during a book launch in Petaling Jaya today. She lamented that part of the problem was that the media was still giving a medium to such "extremism".
—