—
WILL HE BE OUT OF PRISON AGAIN FOR ANOTHER DAY? 5 JUNE 2015?
Court fixed June 5 for decision on DS Anwar Ibrahim's RM100 million defamation suit against DS Anifah Aman
—
Malaysiakini
10:29AM Feb 17, 2015

By Ram Anand
Anwar: I did not engage ex-KFC man as agent
Opposition leader Anwar Ibrahim today denied having engaged ex-KFC businessman Ishak Ismail as his "agent" to offer RM100 million to current Foreign Minister Anifah Aman to jump ship in order to form a new government in September 2008
Taking the witness stand exactly a week after being imprisoned, he said the allegation by Anifah that Ishak made the offer on behalf of him was "absurd, malicious and nasty".
"This is a very absurd proposition. I knew him (Ishak) during my days as a minister but have not been close to him since 1998 ," he said…
http://www.malaysiakini.com/news/289536?utm_source=twitterfeed&utm_medium=twitter
—
Malaysian Insider
Anifah playing to the gallery, Anwar tells court in defamation suit
Datuk Seri Anwar Ibrahim today said Foreign Affairs Minister Datuk Seri Anifah Aman was playing to the gallery when he claimed that Anwar had sent a businessman to entice him and other Sabah MPs to defect to the opposition, the court heard today.
Anwar said Anifah made the allegation because the Umno general assembly was on at the time.
"Obviously, it was made for a specific audience and for the Umno media," the jailed opposition leader said when re-examined by his lawyer Razlan Hadri Zulkifili today.
He said Anifah's allegation was also an afterthought because it was not pleaded in his defence earlier in 2009.
http://www.themalaysianinsider.com/malaysia/article/anifah-playing-to-the-gallery-anwar-tells-court-in-defamation-suit?utm_medium=twitter&utm_source=twitterfeed
—
On May 27, 2009, Anwar had sued Anifah in his personal and official capacities, claiming that the minister had linked his name to an alleged offer of a top Cabinet post.
The plaintiff claimed that the words uttered by Anifah implied that he was a dishonest person.
http://www.thestar.com.my/News/Nation/2015/02/17/Courts-Anwar-Anifah/?utm_source=dlvr.it&utm_medium=twitter
—
. @anwaribrahim's daughter @n_izzah condemns Shafee's conduct in court,says it's poor representation of AG's office
…
"His spirit's strong, soaring high. He's the one giving us the strength to carry on"@anwaribrahim's wife @drwanazizah
—
Star
Tuesday February 17, 2015 MYT 9:43:36 AM
Anwar arrives in court to testify in trial against Anifah
KUALA LUMPUR: The High Court was packed with party colleagues and family members of Opposition Leader Datuk Seri Anwar Ibrahim on Tuesday at the hearing of the former's defamation suit against Foreign Minister Datuk Seri Anifah Aman.
Among those present in court were Anwar's wife and PKR president Datuk Seri Dr Wan Azizah Wan Ismail as well as Selangor Mentri Besar Azmin Ali and Batu MP Tian Chua.
Anwar was approached by his wife and children as soon as he was brought to the courtroom from court lockup at about 8.48am.
There was significant police presence in the vicinity of the Jalan Duta court complex as Anwar made his first appearance outside prison since beginning his five-year sentence exactly a week ago.
Supporters, who were supposed to gather outside the court complex in a show of solidarity for the imprisoned Opposition Leader, were, however, nowhere to be seen as at 9.30am.
http://www.thestar.com.my/News/Nation/2015/02/17/Courts-Anwar-Anifah/?utm_source=dlvr.it&utm_medium=twitter
—
"Don't play the fool!" Defense Shafee Abdullah raises voice,wags finger at @anwaribrahim for way he's answered a question.
…
Ha3 Shafee Abdullah loses temper when @anwaribrahim sarcastically said a witness knew him in d same way u were trying to be close to me then
…
—
.@anwaribrahim turns ard to smile at the public gallery
…
Anwar Ibrahim is out of prison today. In KL High Court for a defamation case against Foreign Minister Anifah Aman.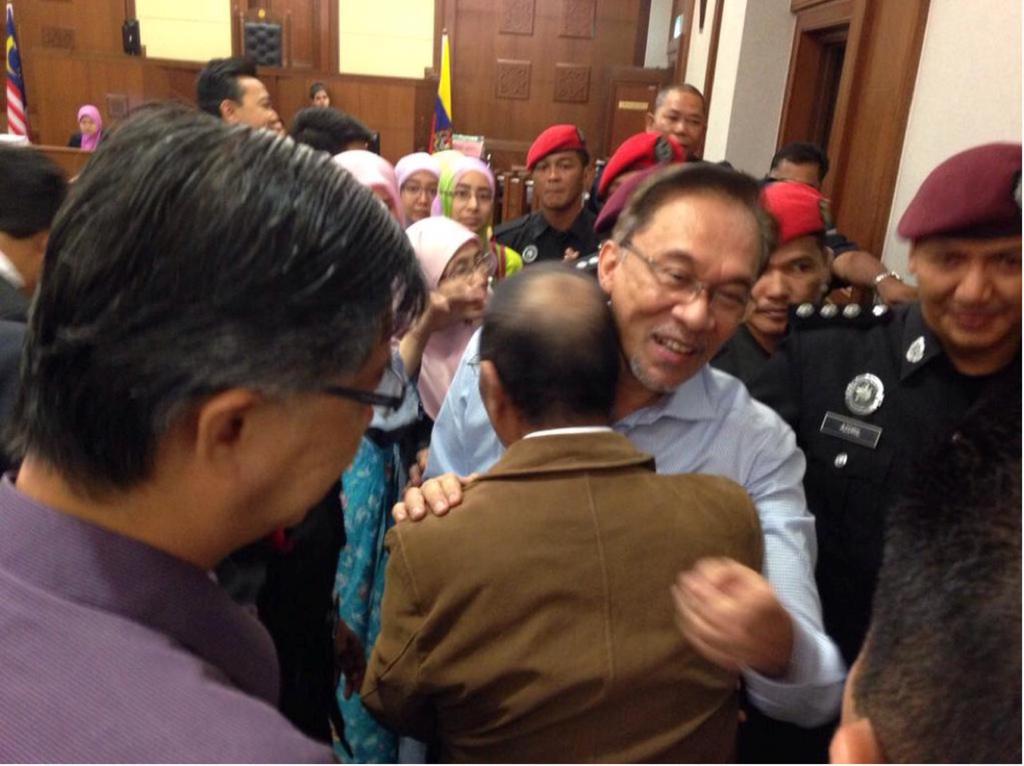 …
Anwar Ibrahim arrived in the KL High Court room to give evidence in the trial of a defamation suit filed by him against Foreign Minister.
…
.@anwaribrahim,family go into separate room.This is first time they're seeing him outside jail since he was convicted of sodomy a week ago
…
.@anwaribrahim greets friends and family, shakes hands of supporters who clamor to see him, asks one lawyer, "are you feeling better?"
—————————————————————————————————————-