—
REMEMBER THIS INCIDENT?
—
SO FAR, SO EASY! JUST A FINE OF RM100 EACH.
THERE WERE 3 MEN IN THE CAR, timber wholesaler V.Vegneswaran, 33, gardener N. Jega Thesan and legal firm worker A. Jaiprakash.
Each was fined RM100 using vulgar words against police officer Mohd Akhbar Jusoh, 36, and other officers who were on duty at that time. This happened along the highway after the Universiti Putra Malaysia (UPM) Serdang toll here at about 4am on Oct 6. They had swore at and spat at the police officers who were carrying out their duties.
Meanwhile, Vegneswaran faced another charge of obstructing the same police officer who was on duty by not stopping his car when he was ordered to do so.
He was alleged with committing the offence near the Seremban-Kuala Lumpur highway, Datuk Abu Bakar Baginda here at 3.20am on the same day.
They were jointly charged with using vulgar words against police officer Mohd Akhbar Jusoh, 36, and other… http://fb.me/7b6vSXQHP
—
THIS WAS THE INCIDENT
WHEN YOU READ THAT THE POLICE CHASED THE MERCEDES BENZ AT SPEEDS OF UP TO 240KPH, IT MEANS THAT  THE POLICE MITSUBISHI EVO WAS ALMOST AT ITS FASTEST (260 KPH OR 162 mph).
We are not told which model the Mercedes Benx is. Some are capable for 300kph.
—
The #Malaysia(n) 'Evo Eagle' police vehicle kicks out only 77hp and 100Nm out of the 1.2l engine! How sad!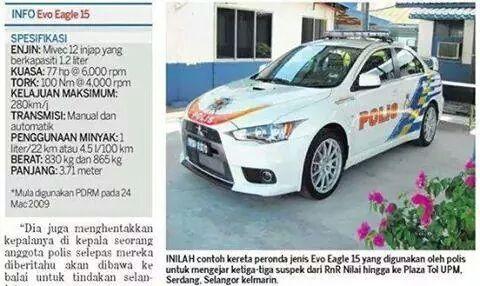 —
PDRM (Royal Malaysian Police) says that the 25 Evo Xs will be used primarily for high speed car chases in relation to car jacking, robbery and also kidnapping.
http://www.dailytorque.com/evolution-x-our-own-police-car-now-on-the-road/
…
KUALA LUMPUR: "You can't arrest me, I'm a Datuk!" exclaimed a suspect as he was being cuffed by police after a high-speed chase from Nilai to Serdang, early Monday morning.
The 33-year-old, self-proclaimed "Datuk" even said he was a lawyer and was friends with an Opposition leader in an apparent bid to avoid being arrested.
The "Datuk" then proceeded to kick at a police vehicle, curse the police and headbutt an officer.
Sepang OCPD Supt Mohd Yusoff Awang said police had first tried to pull over the suspect and two others in a gold Mercedes Benz near the Nilai R&R on the Seremban Highway at 3.20am, Monday due to the car having dark tinted glass.
He said the four-man patrol team sounded their vehicle's siren and flashed its beacon lights to try to get the suspect's car to stop.
He said a patrol team from Serdang intercepted the suspect's car when it took a turn into Universiti Putra Malaysia.
"The officers came out with guns drawn and directed the driver in the car to step out and lie on the ground. As the officers were placing handcuffs on the suspect, he claimed to be a 'Datuk' and that he worked at a law firm and was friends with Datuk Seri Anwar Ibrahim," said Supt Mohd Yusoff, who added that police believe the suspect was trying to lie his way out of being arrested.
He said the two other passengers in the Mercedes then came out of the vehicle to film the incident on their smartphones, claiming that police were "provoking them".
http://www.thestar.com.my/News/Nation/2014/10/07/Suspect-claims-to-be-Datuk-to-avoid-arrest/
…
KUALA LUMPUR: After leading police on a dangerous high-speed chase along the Seremban-Kuala Lumpur highway yesterday, a man tried tried to wriggle himself out by claiming he was a 'Datuk'.
In the 3.20am incident, a police patrol car had spotted a Mercedes Benz heading towards the city. The car had heavily-tinted windows which appeared to exceed regulations, prompting police to order the driver to stop.
The gold-coloured Mercedes however sped off, ignoring the order to stop by the patrol car.
The police Mitsubishi Lancer Evolution patrol car then gave pursuit, engaging the Mercedes in a 10-minute high-speed chase which went up to a speed of 240km/h.
Sepang deputy police chief Superintendent Zaldino Zaludin said a back-up team was deployed to assist the first team to intercept the suspects.
"The back-up team managed to intercept the vehicle at the UPM toll exit in Serdang and with guns drawn, police forced them to stop," he said.
Police found three men in the car, all in their 30s.
————————————————————————————————————