______________________________________________________________
—
YOU WILL NEVER KNOW IF YOUR FACEBOOK 'FRIEND' IS ABOUT TO SCAM YOU…or if someone calling you on your hand phone about a credit card you don't have is about to scam you…

To avoid being cheated, always say NO!
…
9 November 2017
…
26 September 2017
CUT THEM OFF AT THE VERY BEGINNING!
Great day yesterday! Had fun.
Man called me on my hand phone.
"Is that Mr Thong…"
Me, "Yes?"
"Mr Thong, I'm calling from Aeon Finance. t's about your credit card."
Not having an Aeon credit card and having heard a former colleague being scammed, I replied, "Say that again?"
"Mr Thong, your credit card is…"
Me, Why don't you find a pail of water, jump inside and drown yourself?"
He, "Uh, uh.."
Me, "Now get lost and don't call me back."
He got off the line.He got the message, see?
If he had called back, a colleague would have answered, "Ah, I'm Inspector Lee, and I've been waiting for you."

😂
😂
😂
😂
😂
😂
😂
…
24 May 2017
Obviously a scam. I don't have a CIMB credit card but got this:
CIMB: TQ for using CIMB C/Card ending 4583 for MYR3350 at Lazada online on 24/05. any quires call customer hotline at 0327884796.
THIS IS WHAT CIMB SAYS:
Notice of Security Alert
Do not fall victim to any telephone or email scam. Please be advised on the following:
i) Do not respond to emails, SMSes or phone calls claiming to be from CIMB requesting for your personal information such as login ID / password / TAC number / PIN number
ii) CIMB does not request for your personal or financial information, neither will any staff / representative of CIMB ask anyone to transfer monies to any third party account.
iii) Do not access the CIMB websites from attachments or website links in any email as it may be a scam.
iv) Always do a call back to CIMB official contact number 03-6204 7788 when in doubt for clarification.
https://www.cimbbank.com.my/en/personal/press-releases/promotions/important-notices/notice-of-security-alert-april-2015.html
.
Then I put a message in CIMB's Facebook Message Box:
Got this but I don't have a CIMB a/c or credit card: CIMB: TQ for using CIMB C/Card ending 4583 for MYR3350 at Lazada online on 24/05. any quires call customer hotline at 0327884796.
This was the reply, almost instantly:
Hi, sorry for the inconvenience caused. We would suggest you to contact the stated number for reporting regarding this message. Thank you.
…
5 Jan 2017
..
HERE'S ANOTHER FACEBOOK SCAM.
This comes from my Facebook friend to warn us.
Dear FB Friends…
Just recently I've got a few friends pm me regarding a few FB mutual friends Dato…. They are not the real people cos they are sending love messages to them, sleeping with them online and promised them to meet up in person like lovers do. They want you to fall in love with them how sexy they are (men and women). All the sweet talk… Then they were asked to bank in the money into their bank accounts. They also ask for your bank account number. So be aware. I've blocked those people already. Thanks to friends that letting me know (you know who you are).
I get handsome SEXY men sending me friend requests every day and I delete them straight away without mercy. Hehe
Usually beautiful sexy men and women are fake photos/pictures. They copy people's pictures and give themselves new names. So scary…
FYI: I was asked to send money too by European men from US, UK, Spain… This man was begging for help cos of his daughter's leg operation in US. The other man's mother was in hospital and need help with medical bills or need to pay someone to look her cos she was 80+ years old. More stories….
Many beautiful sexy women real person are men. Believe me or not?
☺
BE WARNED!
☺
.
Here is an example of what can end up in your Facebook message box.
…
This how it can start, with a message in your message box.
KL: Hello how are you doing
Me: Fine. How come you have another FB account?
KL: Am sorry for re-sending you a new friend request,i mistakenly remove you from my friend list that is why am adding you back again okay
Me: TQ for including me again; wouldn't want to miss your postings…
Me: Nothing about any Christmas grant.
KL: Some Facebook user's name are chosen in automated random data base,where i got $100,000,Did you get yours yet ??
KL: Ups deliver my winning money to me at my door step and i saw your name on there winners list,I think you should contact the claiming Agent that leads to the ups to know may be your name is on there winners list did you know how to do that
(I don't answer.)
Me: Are you trying to scam me, scammer?
Me:What do you think I mean?
Suddenly:
Sorry, this content isn't available right now
The link you followed may have expired, or the page may only be visible to an audience you're not in.
…
13 January 2016
A SCAMMER MAY HAVE HACKED THE FACEBOOK A/C OF A FRIEND AND ASKS YOU FOR MONEY!
Scammer hacks into S'pore guy's Facebook account — and asks contacts for up to US$2,500 http://bit.ly/1mX8doT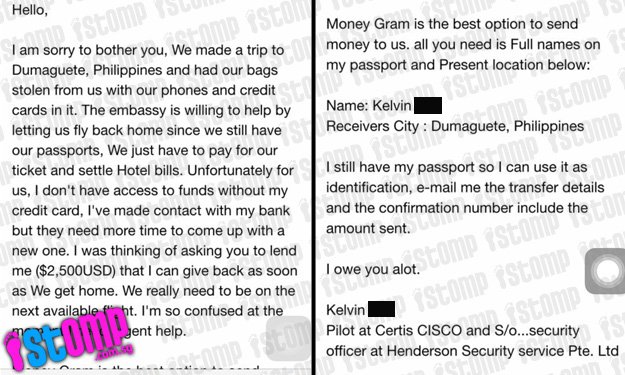 Stomper Kelvin submitted this story via WhatsApp. Click here to join our WhatsApp group
Stomper Kelvin was stunned when he realised that he had been locked out of his Facebook account this morning (Jan 13) and that someone had sent scam messages to his entire friends list from his account.
…
"This morning at 8am, I tried logging into my Facebook account but discovered that I had been locked out.
"I decided to try again later and went back to sleep.
"However, three hours later, I started getting calls from friends asking if I was in the Philippines."
The alleged scammer had sent out messages to Kelvin's friend list requesting for help and claiming that he was in the Philippines with his wife and that their valuables had been "stolen".
He or she then asked to borrow USD$2,500 and promised that they would pay it back "as soon as we got home".
The alleged scammer also used Kelvin's Facebook messages to ask certain friends personally for cash values of $300 and $1,000.
…
"It has become very worrying as some of my friends actually transferred some money to this Philippines account.
"I also want to warn others out there to be careful and not be victim of such online scams."
http://singaporeseen.stomp.com.sg/this-urban-jungle/scammer-hacks-into-spore-guys-facebook-account-and-asks-contacts-for-up-to-us2500#xtor=CS2-4
—
When your NEW FB friend writes in your message box and suggest communicating via email, that is a sign of trouble to come!
This the message you will get, or a variation of it.
Hello happy to have you as my friend you look cute can you give me your email so i can tell you about myself thanks
The FB details are also similiar to other scammers. These are Nigerians using the same technique.
—
Nurse's RM18k loss leads to arrest of 22: 19 Nigerians, a Thai and 2 Malaysians
Nurse's RM18k loss leads to arrest of African conmen http://www.nst.com.my/news/2015/10/nurse%E2%80%99s-rm18k-loss-leads-arrest-african-conmen … #nst170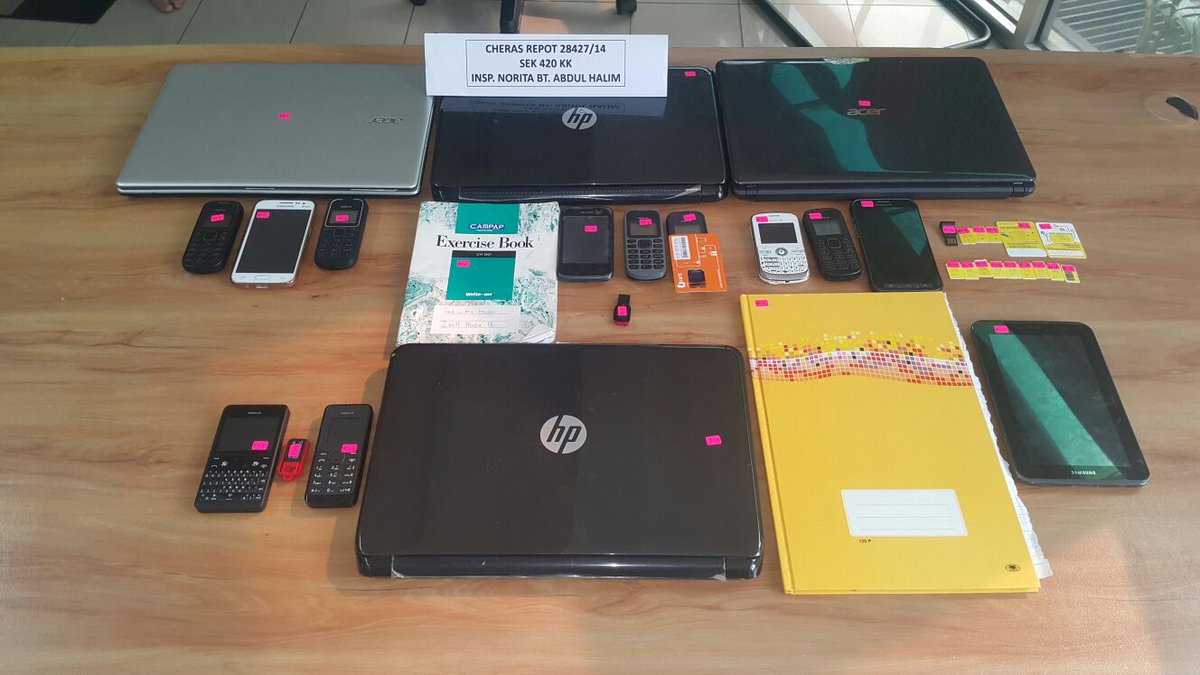 KUALA LUMPUR: A police report lodged by a nurse over her RM18,000 loss in a business proposal through Facebook, led to the arrest of 22 members of an African scam syndicate.
The 22, also comprising 18 Nigerian men, were arrested in a series of operations conducted since June.
The success by Cheras police headquarters came through following their thorough investigation into a report lodged by a nurse, who lost over RM18,000 to the syndicate's con tactics.
Cheras police chief Assistant Commissioner Chong Kok Sin said the 50-year-old victim was contacted by one of the syndicate members through Facebook mid last year.
The man, who identified himself as Collins, offered the nurse an opportunity to invest in an oil drilling project in Miri, Sarawak by depositing her investment into two bank accounts.
"Following the offer, the victim made seven money transfer transactions to the accounts.
"However, after making the transactions and continuously being harassed by the man to deposit more money, the victim became suspicious and lodged a police report in December.
"She had already been cheated of RM18,400 by then," Chong said.
—
FACEBOOK SCAM: Of course, everything is fine at first! You pay them and you get the gold you ordered.
However, as you and your family and friends buy more and more, suddenly, the company is gone! So is your money…
Malay Mail Online
Businessman and family lose RM3.4m in Facebook gold scam
A businessman and about 50 of his family members and friends have found out that all that glitters is not gold on Facebook after being scammed of RM3.4 million. — Reuters pic
MALACCA, Jan 14 — A businessman and about 50 of his family members and friends incurred losses amounting to RM3.4 million after buying gold via Facebook.
Malacca Commercial Crime Investigation Department chief, Supt Ee Khong Koy, said the 33-year-old man was dealing with a company in September last year which had guaranteed high profits in the purchase and sale of gold.
He said the victims realised they had been deceived when they could not contact the company on January 9.
…
Initial police investigations revealed the company ran promotions via Facebook and had many agents nationwide, luring potential victims by offering gold trading packages which promised good returns. — Bernama
http://www.themalaymailonline.com/malaysia/article/businessman-and-family-lose-rm3.4m-in-facebook-gold-scam?utm_medium=twitter&utm_source=twitterfeed
—
WATCH OUT FOR SOMEONE WHO IMPERSONATES YOUR FACEBOOK FRIEND, AND ASKS YOU FOR HELP.
You think that it's is really your friend, and help her out, only to learn that it was a scammer pretending to be your friend. Your friend;s account would have been hacked.
Not just LINE anymore: Beware of Facebook scams too http://bit.ly/1ppE6AA 
The latest Facebook scam involves the perpetrator impersonating your close friend and messaging you.
One such attempt was exposed by user Sherry Ong, who shared screenshots of her conversation with the hacker.
The scam usually involves the impersonator pretending that he is in need of money urgently.
He then asks for money to be transferred to be his bank account — a request accompanied by promises of returning the cash later.
In this particular conversation, a wary Sherry asks the hacker a simple question about her friend for verification purposes. This, he answers incorrectly.
To play it even safer, she calls up her friend via the phone — the simplest and also inarguably the best method.
—
NST
According to Kaspersky Lab, Facebook remains the preferred target for cybercriminals, who specialise in stealing social network accounts.
Today's Facebook fakery, says the company, is a global business, with cybercriminals attacking the site in a variety of languages: English, French, German, Portuguese, Italian, Turkish, Arabic and others.
Unauthorised access to accounts in Facebook or other social networks can be used to spread phishing links or malware.
Cybercriminals also use stolen accounts to send spam to the victims' contact lists and publish spam on their friends' walls, where it can be seen by other users or to spread messages asking their friends to send urgent financial assistance.
Hijacked accounts can also be used to collect information on individuals for use in future targeted attacks. Smartphone or tablet owners who visit social networks from their mobile devices are also at risk of having their personal data stolen.
…
"Fraudsters often lure their victims by promising them 'interesting content'. When users follow the link provided, they land on a fake login page that contains a standard message asking them to log in before viewing the page. If users don't become suspicious and enter their credentials, their data will immediately be despatched to cybercriminals."
Tips to stay alert on Facebook
IF you receive an email notification from Facebook or a message that your account might be blocked, never enter your credentials in a form attached to that message. Facebook never asks users to enter their password in an email or to send a password via email;
PLACE the cursor on the link and check if it leads to the official Facebook page. Moreover, you should manually type the Facebook URL into the address bar — cybercriminals are capable of concealing the addresses to which they are leading you;
WHEN you have manually entered the URL in the address bar, check it again after the page has loaded to make sure it has not been spoofed; and,
REMEMBER that Facebook uses the HTTPS protocol to transmit data. The absence of a secure connection probably means that you are visiting a fraudulent site even if the URL address seems to be correct.
http://www.nst.com.my/node/5166
——-
SCAM! "Accidental Discovery! Real Mermaid found on shark's belly…" on Facebook is a scam!
SCAM! 'How to see who has viewed your profile' is a scam!
Have a good laugh! The joke is on ALL Of US!
Internet Scams and Hackers, et al..
Becoming a Mother or Father Warning Message – Facebook Rumour: True or False?
'Huge plane crashes into bridge' video is a Facebook survey scam
This is SPAM!!! Don't click on it: OMG! Father Killed Her Young Daughters Just Because of using Facebook
Conversation on Facebook with someone who wrote, "pls i need the help." Is this a SCAM?
FB Mark Zuckerber Page asking you to register your account is FAKE!
Admirable: How Singapore actress-director Michelle Chong deals with a scammer!
——————————————————————-