__________________________________________________________
The Kuala Lumpur International Airport 2 (klia2)
—–
Operations at the LCCT are moving to KLIA2 and will cease from May 9
—–
NST 
08 May 2014| last updated at 10:25PM
Pix Gallery:

Final day at LCCT

SEPANG: May 8 2014 marks the final day of operations at the Low Cost Carrier Terminal before budget airlines, including AirAsia start operations at their new home at klia2. Lets have a look of whats going on there.
—
Malaysiakini
8:34AM May 6, 2014
Immigration Dept, surely passengers come first?
YOURSAY 'If most arrivals are at LCCT, then so many staff at KLIA2?'
Immigration: LCCT clog-up AirAsia's fault
Aries46: It is the height of stupidity, incompetency and irresponsibility to point the figure at AirAsia for the Immigration director-general's inability to manage a simple logistic arrangement to deploy her personnel in tandem with the transition of airlines from the LCCT into KLIA2.
AirAsia's initial reservation to the deadline set for it to move to KLIA2 is public knowledge. Even the PAC (Public Accounts Committee) chief who spoke to both MAHB (Malaysia Airports Holding Berhad) and AirAsia heads commented that the latter did raise valid reasons for its hesitation.
But following PM Najib Razak's directive to acting Transport Minister Hishammuddin Hussein to iron out the airline's complaints, AirAsia boss Tony Fernandez did announce that he would comply with the May 9 deadline, thus ending all controversy.
So this new allegation by Ayolah Mamat censuring AirAsia for the Immigration debacle at the LCCT is untenable.
It is only natural that AirAsia being the premier airline amongst the low-cost players, needs a longer transition period than the rest. To cite that as a cause for mistreating weary passengers is scandalous and smacks of vindictiveness.
Anonymous #83834503: Aloyah, you are the director-general of Immigration. I should not have to tell you how to do your job.
AirAsia is Malaysia's biggest airline and brings in the most travellers. Don't blame the airline; the very fact that you have kept some counters opens means that you are supposed to be operational at LCCT.
Iiiizzzziiii: This is always the case with government officials, blaming someone else for their own failures. If AirAsia is contributing 90 percent of passengers at LCCT while 10 percent is attributed to the rest, then where is the foresight of the Immigration Department?
Obviously, the passengers at KLIA2 will be very much lower while LCCT will still be processing 90 percent of them. Given this, why would Immigration deploy most of their staff to KLIA2 to handle 10 percent of the passengers?
This is a pure reflection of incompetence and third world mentality of the Immigration head. She should have seen this coming and planned for it.
Hplooi: It is never, ever, the government's fault. No siree! And this is the mentality of our civil service. In a saner country, such a civil servant will be severely reprimanded or even given marching orders.
Pak Long: Aloyah does not deserve to be the DG. She lacks the maturity, right attitude and sincerity to serve Malaysians.
If the top civil servant behaves this way, you cannot expect any better from the rank and file. Any other organisation would walk the extra mile to satisfy its customers but not here.
She is telling us to take it or leave it. This is the calibre and mentality of a person we have at the top. What a shame!
Gen2: This Immigration DG is still stuck with the old type of civil servant mentality of blaming others. Under this type of mentality, it is 'I am the tuan and you, the public is coming to me as a beggar, begging for me to serve you'.
Ninety percent of the passengers using LCCT is from AirAsia and only 10 percent is from the minor carriers. Just because10 percent has moved to KLIA2 does not mean you have the right to punish the innocent 90 percent who play no part in your dispute with AirAsia.
With senior civil servants stuck with this type of mentality, how can Malaysia become a civil society where the citizen is more important that the government?
http://www.malaysiakini.com/news/261942
—
Malaysiakini
8:00AM May 6, 2014
LCCT bedlam – cut off nose to spite one's face
YOURSAY 'MAHB should refund airport tax to all affected passengers.'
Chaos at LCCT as more than a thousand stuck
Haveagreatday: Whatever bad blood between MAHB (Malaysia Airports Holdings Bhd) and AirAsia, the innocent passengers should not be used as punching bags.
Shame on MAHB and the Immigration Department for being so callous to the welfare of the passengers.
CYK: Malaysia's reputation has already suffered enough over the handling of the MH370 tragedy. And now this. For such incompetence, the Immigration chief has to take responsibility and resign.
Chitra-ngada-: Government-linked bodies like MAHB and government departments like Immigration do not feel that they owe any explanation to paying customers and taxpayers respectively, although the reason for their existence is to serve.
This government is not accountable nor responsible and will do everything to stay in power. They have no clue what the role of government is. They only know how to enrich themselves at the expense of the rakyat no matter how many lives are lost (MH370, bus accidents).
As their focus is to enrich themselves, they are not bothered to learn from other incidents, analyse and put in place corrective and preventive actions that would prevent the recurrence of similar incidents in the future.
Iiiizzzziiii: Malaysia has done it again. A simple relocation exercise from LCCT to KLIA2 turned into a nightmare.
Perhaps the Malaysia airport authorities are too eager to achieve developed nation by 2020 that they have neglected to build a proper foundation for the country to take off.
Frankly, I have no idea what is going to happen by 2020, but I do know Malaysia will not achieve developed nation status.
Alicescat: This is what happens when meritocracy is discounted, accountability dismissed and responsibility disregarded. We descent into total chaos. And this is just LCCT. I am disgusted.
Swipenter: "One VIP was allowed to pass through with his family resulting in shouts from others. People were screaming, 'We are taxpayers, too!'"
The same scene is repeated everyday on our clogged roads and highways. Those VIPs in their limos with their outriders flashing their blue lights sometimes with horns blaring at us to get out of the way for them to breeze through the jams.
Doesn't that get you pissed (but never with an ambulance rushing to the scene of an accident or getting someone to the hospital for treatment).
Yes, we are taxpayers too. Vote the corrupt Umno Baru-BN in and you get to taste their arrogance and self-importance.
Abasir: Does anyone remember who it was who pushed for this ketuanan-tailored chaos to happen, who described AirAsia's well-grounded refusal to the move to KLIA2 as "arrogance"?
And does anyone expect the titled idiots who run this country to take responsibility for this disaster? Which SOP (standard operating procedure) was that "promoted-out-of-turn" Aloyah Mamat following?
http://www.malaysiakini.com/news/261940
—
On Sunday, only three immigration counters had reportedly been open to handle the huge crowd of travellers.
Star
Tuesday May 6, 2014 MYT 7:36:51 AM
Immigration bottleneck at LCCT resolved
SEPANG: Clearing immigration is faster now at the Low Cost Carrier Terminal (LCCT) after more counters were opened following Sunday's bottleneck where about 1,000 travellers were affected due to a lack of officers.
The affected travellers had also complained about faulty air-conditioning and escalators that had made a bad situation worse. These facilities have since been fixed.
Banker Liew Sen Yee, 30, who arrived from Singapore for work on Monday, said she had no problems passing through especially since there were functioning autogates in addition to manual immigration counters for those with Malaysian passports.
http://www.thestar.com.my/News/Nation/2014/05/06/Immigration-bottleneck-at-LCCT-resolved/
—
IMMIGRATION PUTS THE BLAME ON AIRASIA!
In her earlier statement to Malaysiakini, Immigration Department director-general Aloyah Mamat, had said that the situation, described as "chaotic" by passengers, was AirAsia's fault for refusing to move to KLIA2 on May 2, as the other budget carriers did.
"A large portion of immigration officers have been deployed to KLIA2 and only a few counters for foreigners and Malaysians, including four auto-gates were opened," she had said.
In response to Aloyah, AirAsia expressed disappointment that the department was blaming the airline as its decision to move on May 9 was agreed by all.
The airline stressed that 92 percent of the flights going through LCCT – and later through KLIA2 – are AirAsia flights.
http://www.malaysiakini.com/news/261938
—
Malaysiakini
7:38AM May 6, 2014
Half of foreigner counters in LCCT open, says Aloyah
In the wake of criticism, the Immigration Department claimed that most of its personnel are still stationed at the Low-Cost Carrier Terminal (LCCT), while the remainder have been relocated to the new KLIA2 terminal.
In a statement late yesterday, Immigration Department director-general Aloyah Mamat said 11 out of 22 counters for foreigners will remain open until AirAsia moves to KLIA2 on May 9.
"Before KLIA2 opened, the department ran four counters and three auto-gates for Malaysians and 22 counters for foreigners.
"Although the department now runs operations in two terminals (LCCT and KLIA2), the number of counters for foreigners was only reduced to 11.
"As a whole, 60 percent of the immigration personnel deal with AirAsia passengers and only 40 percent were moved to KLIA2," Aloyah said.
http://www.malaysiakini.com/news/261938
—
IMMIGRATION ADDS INSULT TO INJURY!
Malaysiakini
12:44PM May 5, 2014
AirAsia disappointed at Immigration laying blame
AirAsia says it is disappointed at the Immigration Department's attempt to lay blame on the low-cost carrier for the congestion at the Low-Cost Carrier Terminal (LCCT) yesterday.
In a statement today, AirAsia chief executive officer Aireen Omar (left) said the Immigration Department was already informed of the required services at the LCCT.
"We are disappointed with the remarks from the Immigration Department which attributed the fault to AirAsia.
"The announcement of AirAsia's operations to move to KLIA2 was made on April 15, 2014 after discussions and mutual agreement with Malaysia Airports Berhad.
"We have kept the Immigration Department well informed on the adequate facilities needed to facilitate our guests," she said.
Aireen was responding to Immigration Department director-general Aloyah Mamat who blamed AirAsia for refusing to move earlier to KL International Airport 2 (KLIA2) which led to the clog-up at the LCCT.
"A large portion of Immigration Department personnel have been deployed to KLIA2 and only a few international counters and four auto-gates for Malaysians are open at the LCCT," Aloyah had told Malaysiakini.
Aireen said AirAsia accounts for at least 90 percent of traffic at LCCT and will still be operating at LCCT until May 8 before moving to KLIA2 on May 9.
"There will still be a steady flow of guests travelling through the LCCT till then and adequate immigration counters should continue to be open to cater to the high traffic volume here," she said.
Addressing the congestion yesterday which saw guests missing their flights, Aireen said AirAsia has assisted them to change flights.
http://www.malaysiakini.com/news/261871
—
LCCT jam all AirAsia's fault, Immigration says
KUALA LUMPUR, May 5 — AirAsia's refusal to shift to klia2 on schedule was the cause of a passport control backlog at the Low-Cost Carrier Terminal (LCCT), the Immigration Department said today. Newly-appointed Immigration Director-General Datuk
Mike Fong

What a useless DG we have. Thought the boss dumb, this guy is dumber. We have morons in our government.
—
Chaos in LCCT due to bottleneck at immigration gates: PETALING JAYA, May 4 — Passengers arriving at the Low Co… http://bit.ly/Re8UtL
Malay Mail photo: Absolute chaos!
http://www.themalaymailonline.com/malaysia/article/chaos-in-lcct-due-to-bottleneck-at-immigration-gates?utm_source=twitterfeed&utm_medium=twitter
—
17 immigration counters were opened at LCCT to address the issue of congestion earlier today. http://buff.ly/Rhzl1f  pic.twitter.com/pTCcedyiRI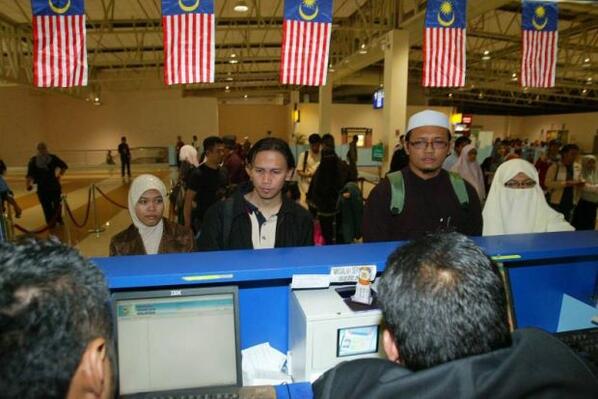 —
Video:Chaos at LCCT as more than a thousand stuck
—
LCCT International Arrival Hall, Kuala Lumpur
·
OMG. What is wrong with LCCT? Doesn't mean that if KLIA2 is starting then you stop most of your services here at LCCT. No air con, escalator is not working and there's not even a queue line for ppl to line up. Ppl are quarrelling here also. #ridiculous
http://instagram.com/p/nkaRsVH0ls/#
—
—
First thing you're greeted by at LCCT- all escalators out of order. "Sorry! Not working…like the government.

—
Malaysiakini
5:15PM May 4, 2014
Chaos at LCCT as more than a thousand stuck
About a thousand passengers arriving at the Low Cost Carrier Terminal (LCCT) in Sepang today were stranded at the immigration gates in a "chaotic" situation, as only a handful of counters were open.
Passengers contacted by Malaysiakini said that limited immigration counters were opened and no one was administering the queues.
"I have been queueing for 45 minutes and there a thousand people in front of me.
"There is no air-conditioning and some have fainted," one passenger who declined to be named said.
"I don't know if medical aid is provided as I am stuck in the crowd."
Another passenger said she was stuck for about an hour and only managed to clear Immigration when more counters were opened after shouting and booing from those in the queue.
"There were only one or two counters opened for Malaysians but more than a thousand had arrived. No queues or auxilliary police to assist.
"One VIP was allowed to pass through with his family resulting in shouts from others. People were screaming, 'We are taxpayers, too!'
"This is Malaysia Airports' fault. We pay airport taxes so they should provide us with service," she said when contacted.
…
According to the AirAsia website, all immigration, security and customs counters are to operate normally throughout the LCCT-KLIA2 transition period from May 2 to May 9.
Yesterday many passengers missed their flights as they had arrived at LCCT to find that their carriers had moved to KLIA2.
'Welcome to hell!'
Meanwhile, photographs and a video uploaded on social media show irate passengers standing shoulder-to-shoulder.
Melodie Yap, who uploaded a  video of the debacle on Instagram said that people were "pushing" and "angry".
"More than an hour-and-a-half before we cleared immigration and everyone was sweating. No officers to tell us anything or to resolve the issue," she said when asked on Twitter.
Twitter user Tia B grimly captioned her photo of the incident: "Welcome to hell!". She also took about 90 minutes to clear immigration.
Malaysia Airports Holdings Bhd spokespersons and Immigrations Department director general Aloyah Mamat have not responded to Malaysiakini's requests for comments.
https://www.google.com.my/search?q=lcct+&ie=utf-8&oe=utf-8&rls=org.mozilla:en-US:official&client=firefox-a&channel=sb&gws_rd=cr&ei=ISxmU77_B4jh8AXC_4HwBg#channel=sb&q=lcct+chaos&rls=org.mozilla:en-US:official
…
Star
Sunday May 4, 2014 MYT 8:13:04 PM
LCCT in 'pandemonium', passengers forced into long queues
PETALING JAYA: Passengers arriving at the Low Cost Carrier Terminal (LCCT) in Sepang had to deal with long queues in cramped and uncomfortable conditions, mainly due to a bottleneck at the immigration gates on Sunday.
"It was absolute chaos. I wasn't sure what lines were going where and which were the queues for foreign and Malaysian passports," said 27-year-old lawyer Tharishni Arumugam, who was one among a thousand stuck at the airport.
She also said passengers encountered out-of-order escalators, dim lighting and barely working air-conditioning.
"There was a massive amount of people going up towards immigration but the escalators were not working. Elderly people were forced to carry their heavy roller bags up," she said.
Tarashini said only a small number of immigration officers were at hand to cater to the enormous surge of people.
http://www.thestar.com.my/News/Nation/2014/05/04/LCCT-pandemonium-long-queues/
——————————————————————–