..
Canadian Supreme Court Is Not Hearing Case About COVID-19 Crimes
The Supreme Court of Canada confirmed that no such case exists on its docket.By – AFP | 18 May 2021 9:17 PM
Social media posts claim that the Supreme Court of Canada agreed to hear a case accusing Prime Minister Justin Trudeau, Ontario Premier Doug Ford and other civic officials of "crimes against humanity" for implementing public health measures against COVID-19. This is false; the document used as proof was filed in a provincial court where it was dismissed pending appeal, and the country's top court confirmed that no such case exists on its docket.
Also Read: COVID-19 Vaccines Do Not Cause Impotence Or Infertility
"Canadian Supreme Court has accepted the case for Crimes Against Humanity presented by Dr. Reiner Fuellmich, R.F. Kennedy jnr, & Dalores Cahill," reads the title of a May 5, 2021 article published on a website called Philosophers Stone. It was shared more than 1,500 times on Facebook, according to the social media monitoring tool CrowdTangle.
The article has since been updated to say, "this is not a real case before the courts," but the original claim continues to circulate on Twitter, Instagram and via a BitChute video.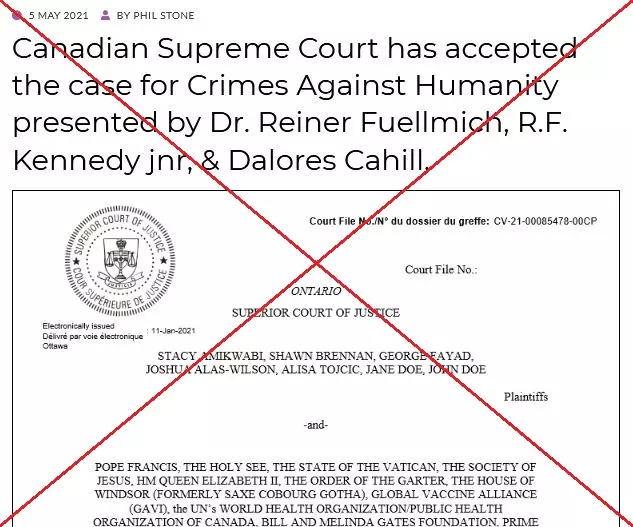 Read the rest here: https://www.boomlive.in/world/fake-news-canada-supreme-court-covid-19-crimes-justin-trudeau-doug-ford-13178
..
https://wiki.projecttopics.org/785397-who-is-dr-reiner-fuellmich-everything-you-need-to-know/index.html
..
https://www.abc.net.au/news/2021-05-21/coronavirus-nuremberg-code-wwii-fake-news-coronacheck/100139658
..
..
The New Nuremberg Trials 2021 – Please Share this info! https://breaking-news.ca/the-new-nuremberg-trials-2021-please-share-this-info/
A team of over 1,000 lawyers and over 10,000 medical experts led by Dr. Reiner Fuellmich have begun legal proceedings against the CDC, WHO & the Davos Group for crimes against humanity.
..