—–
5 July 2016
malaysiakini.com ‏@malaysiakini
Shut up! You helped create IS, Marina tells politicians, ulama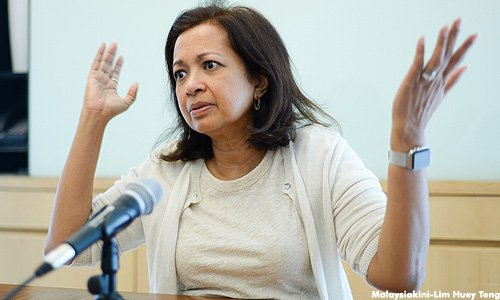 …
Social activist Marina Mahathir is livid with those whom she claims helped create Islamic State, but are now advising others not to join the terror group.
The daughter of former premier Dr Mahathir Mohamad shared her views on this issue on Twitter.
Marina said people should realise that not joining IS cannot be limited to the act of taking up arms.
According to her, it also involved not thinking like IS militants.
"The thing is, a lot of people do think like IS but may never take up violence. But it just takes one person to create the havoc.
"And when that one person does, regardless of whether they are IS or not, then others can't quite condemn him. Because actually they agree with him," she added.
Therefore, she said the cycle continued.
"So when I see politicians and ulama (clerics) say 'don't join IS', all I want to say is 'shut up because you helped create them'," she added.
…
24 June 2014
Malay Mail Online
Be brave like ISIL fighters, Najib tells Umno
KUALA LUMPUR, June 24 — Umno must emulate the bravery of a Middle Eastern militant group that defeated an Iraqi force outnumbering it nearly 30 to one if the Malay nationalist party is to survive, Datuk Seri Najib Razak said yesterday.
The Umno president and prime minister was listing virtues that were needed to allow the Malay nationalist party to continue in power, during a dinner to commemorate the 20th anniversary of its Cheras branch yesterday.
"For example, when someone dares to fight to their death, they can even defeat a much bigger team.
"As proof — whether we agree or not is another matter — the group ISIL with the strength of just 1,300 people, can defeat an Iraqi army of 30,000 soldiers, until four, five generals with three, four stars run for their lives, jump out the window at night. Why? Because they are afraid of those who are brave," he told more than 1,000 Umno members in attendance.
He also stressed the importance of being loyal to god, the party, and friends.
Najib said having wisdom and foresight in battles as well as the ability to organise is also crucial in strengthening the party.
– See more at: http://www.themalaymailonline.com/malaysia/article/be-brave-like-isil-fighters-najib-tells-umno#sthash.b1KyOFXV.dpuf
—