—
11 June 2016
…
Dr Mahathir takes center stage…
Mahathir making history by campaigning for oppo candidate PH in Sgbesar. Changing landscape & colours in politics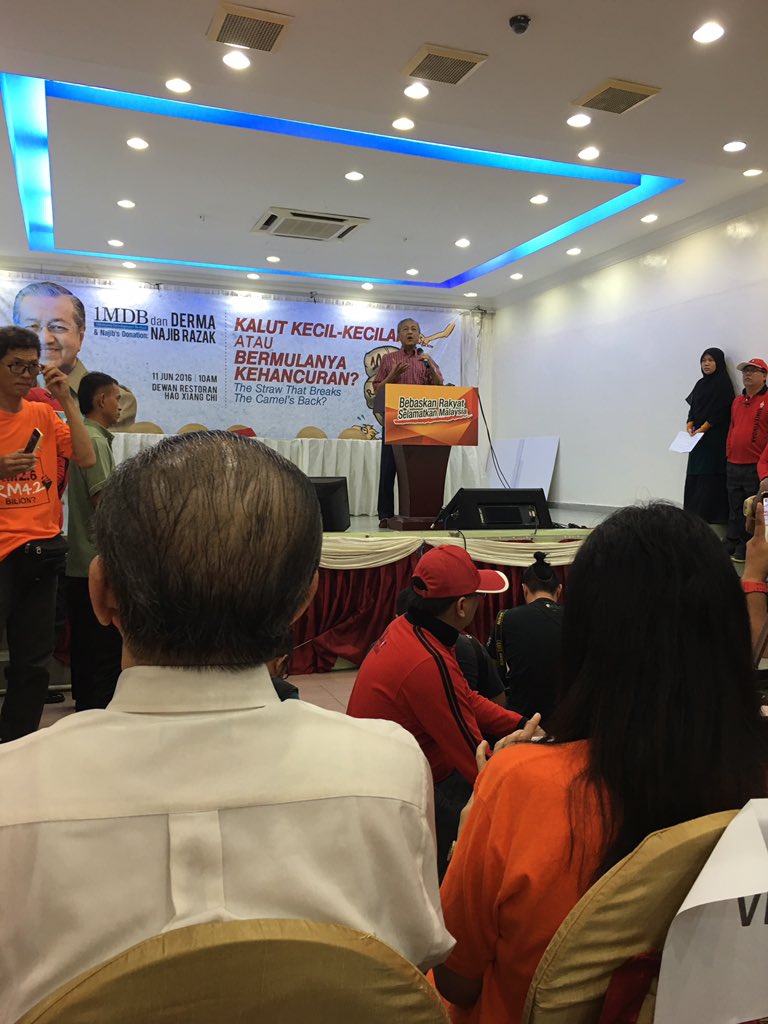 …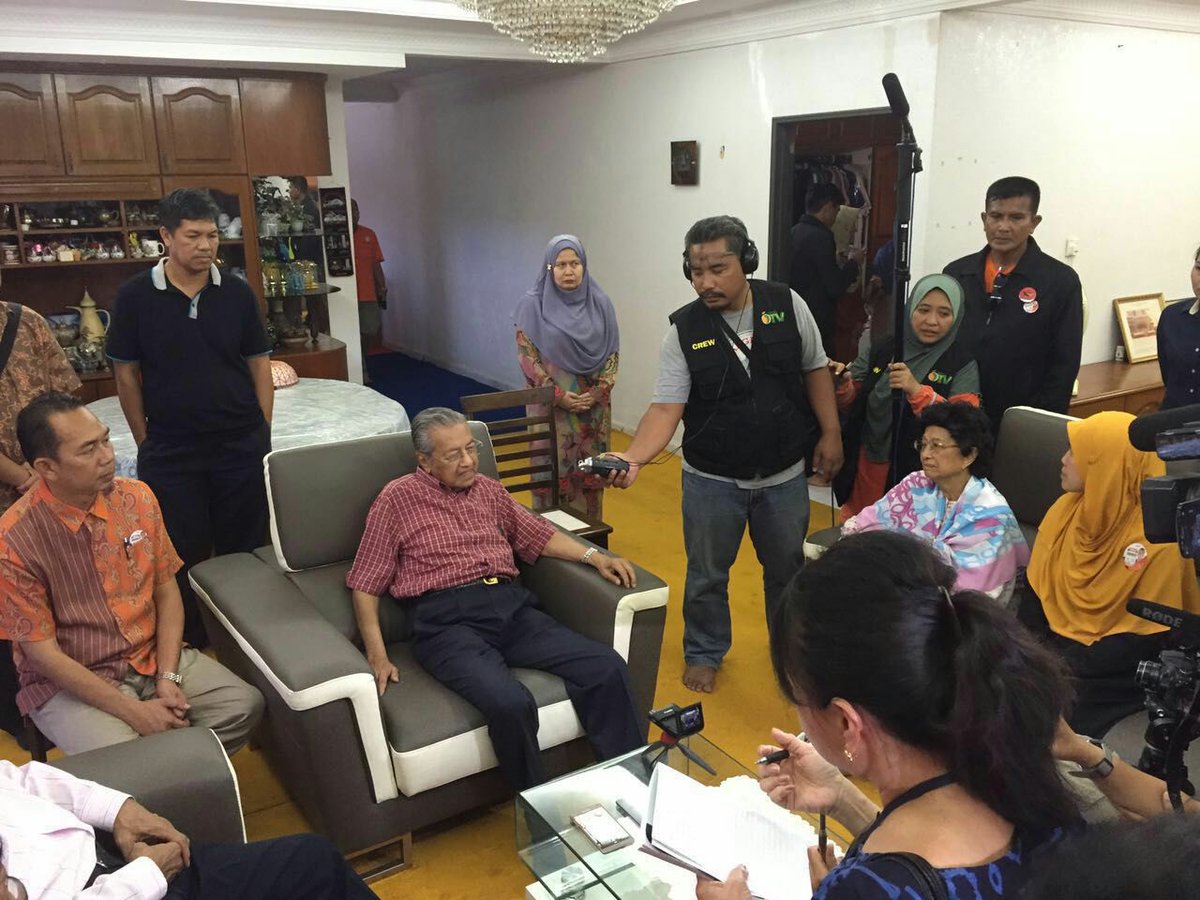 …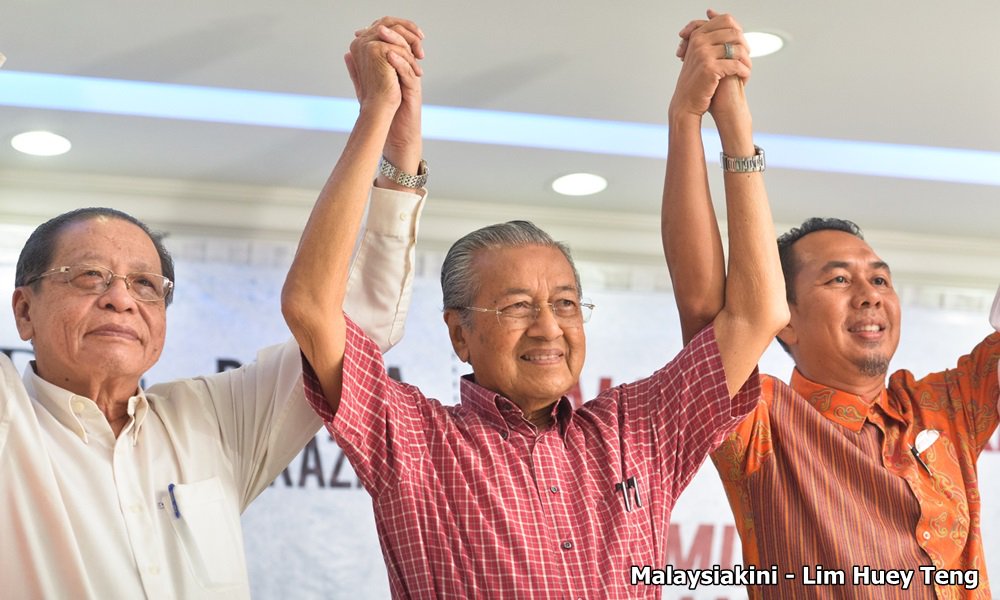 —
9 June 2016
So far, billboards have taken center stage…
…
The Face that could lose Chinese votes…
…
The BN candidate: Farts, warts and all…
'Just farted' and more oops on BN candidate's Chinese FB page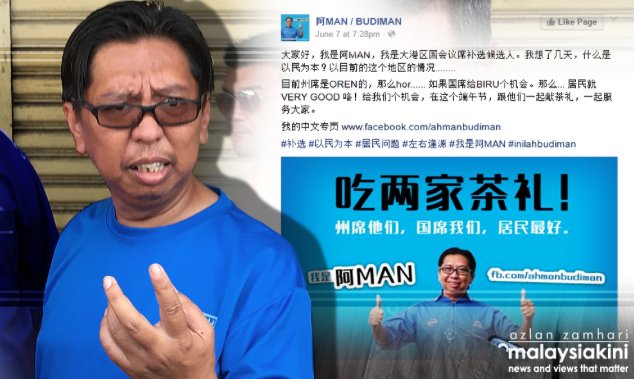 …
SG BESAR POLLS In an attempt to woo Chinese voters through social media, BN candidate for the parliament seat Budiman Mohd Zohdi has set up a Chinese Facebook page, which aims to cast him in a casual light.
But some of the postings appeared to be crude, and even conveyed the wrong message, which could dim his prospects.
In one photograph, a laughing Budiman was shown together with two voters, and the caption read, "Just farted, it's smelly. Hahahaha…"
On nomination day, the candidate said his Chinese supporters had helped him create the Facebook page, in which he is known as "Ah Man".
The "About" column, reads: "Hi everybody, I am Ah Man, candidate for Sungai Besar by-election. I am a Malaysian who grew up in the kampung, and I love making friends. I like nasi lemak, roti canai and hailam mee."
…
In another post which appeared to miss the mark, Budiman used a Chinese idiom to urge Sungai Besar voters to "benefit from both sides", which is to vote a state assemblyperson from the opposition while casting their ballots for a parliamentarian from BN.
…
Unfortunately, the idiom is used to describe a negative trait, which is exploiting or profiteering from both sides.
"Now the state seat (Sekinchan) belongs to Orange (opposition), then hor… If parliamentary seat, give Blue (BN) a chance, then the residents will be very good loh," stated the post.
As expected, his rivals from DAP bombarded the page with comments, with some asking if Budiman implied that the Chinese were two-faced, and mocked him on the inappropriateness of the language used.
https://www.malaysiakini.com/news/344697
—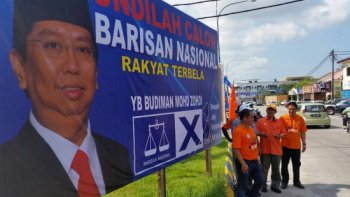 SUNGAI BESAR: Another billboard controversy erupted here today when Barisan Nasional (BN) candidate Budiman Mohd Zohdi had an altercation with DAP Sekinchan assemblyman Ng Suee Lim over an alleged BN poster put up on a DAP owned billboard frame.
Budiman denied that the poster was from the BN and labelled it as a "cheap tactic" to smear his reputation.
"This is a cheap tactic to smear my reputation, the posters put up are not the standard posters that have been used in my campaign," he said in a press conference to clear the air over the issue.
"He (Ng) accosted me while I was on my walkabout in the Sekinchan area over the billboard. I told him that I had no knowledge of the poster," he said.
The poster in question bore the image of Budiman in a suit and tie with the BN logo and it read "Vote for the BN candidate".
"I laughed when I saw the poster, that is not me, I am a 'kampung boy'. The suit and blazer picture is not something I would put up on my billboards," he said adding that he didn't want to respond to Ng's provocations earlier.
He said that he is getting legal counsel on whether he should lodge a report on the wrongful banner that was put up.
http://www.thesundaily.my/news/1833805?utm_content=buffer6a565&utm_medium=social&utm_source=twitter.com&utm_campaign=buffer
—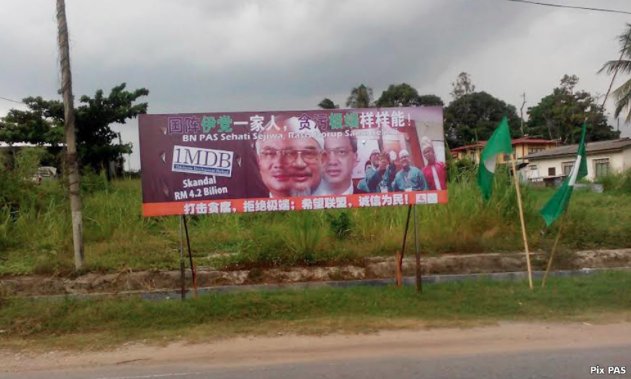 —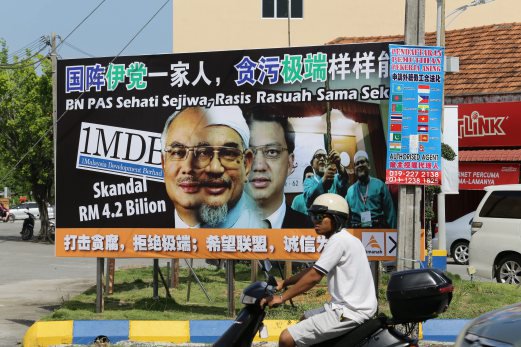 —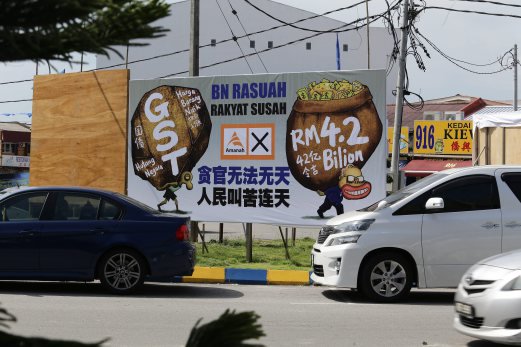 —