—
'True Bersih Girl' had advised Maria Chin, "Get a new hairdo. Add a bit of mascara as well."
Well, A GREAT NUMBER OF PEOPLE, PERHAPS 200,000, LIKE MARIA CHIN JUST AS SHE IS. New hairdo or mascara NOT needed. They are superfluous.
—
'Bersih beauty' admits to plastic surgery after photos of her in Taiwan clinic go viral http://bit.ly/1kcSaRR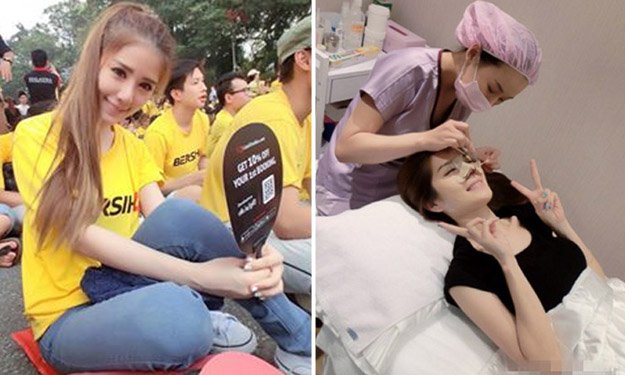 A woman known as the 'Bersih beauty' recently admitted to having had plastic surgery done on her nose in Taiwan.
The woman shot to fame after photos fo her taking part in Malaysia's Bersih rallies went viral.
Netizens lauded her for being pretty even under such circumstances, reports Viral Cham.
But a Taiwanese clinic recently posted photos of some of its clients receiving treatment.
And the online community soon pointed out that the pretty woman at the rally was among the clinic's patients.
The woman herself recently admitted to having gone to Taiwan for surgery.
http://www.lollipop.sg/newsroom/bersih-beauty-admits-plastic-surgery-after-photos-her-taiwan-clinic-go-viral#xtor=CS1-2
—
Fake Bersih Girl, True Bersih Girl
August 27, 2015 by shuzheng
Actual Bersih Girl writes to Maria Chin…
The Forgery and The Real
Aliesterfend at a LowYat forum said this: "I would love to fuck her wearing that t shirt on the grass of dataran Merdeka." Well, since the opportunity won't come to him, not in a thousand years, and since that's considered sexual assault and he's leaking all over his pants, like Bung, will Maria Chin, please, please, please let him have a dog.
Dear Maria Chin,

I write to thank you for exposing that piece of Fraud — you know what I mean? This is also to show you the two photos above: Which would you say better represent Bersih, prettier, fashionable, decent and upright?

You know the answer, of course, as well as I do. So I urge you to stop writing statements to the media about that 'girl' — that forgery — because if she isn't one of us, what is there for you to defend? You don't defend decency or beauty. They exist on their own — independent, self-evident, self-sufficient.

But, this is what you told the Press: "People put up many things on social media. It should not distract us from the national issues at stake here. This picture is not from us and has been circulated to belittle us."

National issues? Why would you think pretty girls are not national issues or beneath national issues? And you are a national issue? Have you not read or heard: Women lift up half the heavens!

Why do you think the girl (top picture) was 'belittling'? And belittling you? Which then suggests you are some sort of saint, like that Hannah Mama Yeoh, hallow on the head, righteous, upright and clean. I could let this, your conceit and your self-righteousness, pass but should I meet you one day in Hell, how then shall I answer that Fake Bersih Girl?

One other thing Maria: Please, before you march, could you do us a favor? Go to the hairdresser. Get a new hairdo. Add a bit of mascara as well. It helps the cause; maybe even the police boys might think again about being rough with us.

See ya…. Merdeka! Merdeka! Merdeka!

True Bersih Girl
https://shuzheng.wordpress.com/2015/08/27/fake-bersih-girl-true-bersih-girl/
—
—