—
Malay Mail Online
On Twitter, nearly 90pc against Muhyiddin's Cabinet removal, survey reveals
KUALA LUMPUR, Aug 3 — The majority of Umno's 196 divisions may have supported Prime Minister Datuk Seri Najib Razak's decision to axe Tan Sri Muhyiddin Yassin from Cabinet but on Twitter, the leader's unceremonious dismissal last week did not sit well with nearly 90 per cent of youths.
In its final analysis of tweets posted last Tuesday when Muhyiddin's removal was announced in a major Cabinet shakeup, social media research firm Politweet found that 440 or 87.65 per cent of the 502 users surveyed were unhappy with the decision.
The users, estimated to be between 18 and 30 years old, mostly disagreed with Muhyiddin's removal because he had dared to demand answers from Najib on the 1Malaysia Development Berhad (1MDB) controversy.
…
Of the 440 users, Politweet's findings showed that 195 or 38.84 per cent spoke in general terms against Muhyiddin's removal while 184 or 36.65 per cent took the opportunity to criticise Najib, with many calling for the prime minister's resignation and some even hurling personal insults at the leader.
…
The remaining 61 of the 440 users or 12.15 per cent, the firm said, had urged Muhyiddin to organise his own anti-Najib campaign in protest of his removal.
…
—
Bersih plans overnight rally in August to demand Najib's resignation
…
KUALA LUMPUR – Electoral reforms group Bersih will take to the streets in an overnight rally on Aug 29 to demand Prime Minister Najib Razak's resignation, accusing him of blocking avenues to uncovering the truth behind debt-laden 1Malaysia Development Berhad (1MDB).
Bersih, which brought more than 100,000 people to protest against alleged electoral irregularities in 2011 and 2012, said in a statement on Wednesday that the removal of Attorney-General Abdul Gani Patail on Tuesday is "direct interference" in an ongoing high-level probe into 1MDB – whose advisory board is headed by Datuk Seri Najib.
"Najib has virtually ruled out all possibilites for truth on the 1MDB scandal to be unearthed and criminals to be brought to justice by a series of political moves on July 27 and 28," it said in a draft statement obtained by The Straits Times.
http://www.straitstimes.com/asia/se-asia/bersih-plans-overnight-rally-in-august-to-demand-najibs-resignation
—
PM @NajibRazak flooded with 'quit' calls after DPM @MuhyiddinYassin ouster http://www.malaysiakini.com/news/306524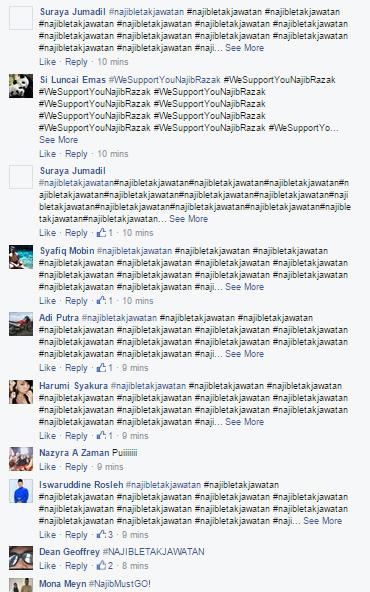 …
Prime Minister Najib Abdul Razak's Facebook page has been flooded with a torrent of "#najibletakjawatan" messages since yesterday, after he announced the removal of his deputy Muhyiddin Yassin.
Similar comments became commonplace on Najib's Facebook page after his falling out with former prime minister Dr Mahathir Mohamad – but it picked up markedly yesterday.
In Najib's posting about his new cabinet, the comment section was flooded in almost the entirety with the same message: #najibletakjawatan.
Facebook user Fahmi Jamal remarked: "Only here you will see more comments than likes… plus, most comments full of same hashtags".
As of this morning, there were a total of 34,952 comments, most of which carried the #najibletakjawatan hashtag. The post also garnered 16,926 likes.
Some of Najib's supporters sought to counter the torrent of spam with "#WeSupportYouNajibRazak" hastag but a
http://www.malaysiakini.com/news/306524
—
Malay Mail Online
Ambiga: Get ready for street protests again unless MPs act to suspend Najib administration
KUALA LUMPUR, July 28 — Federal lawmakers must now push for the formation of a new temporary government or risk a street protest, prominent lawyer and head of Malaysia's National Human Rights Society (Hakam) Datuk Ambiga Sreenevasan said today.
The civil activist claimed the public was frustrated with the Najib administration's handling of the country's finances and 1Malaysia Development Berhad (1MDB), and will react by taking to the streets.
"Yes, I do," she said when asked if the public's dissatisfaction with the government could cause a street rally.
"Because you see, when you don't give people options, you don't give a way out, you don't provide solutions, people are struggling, of course it will happen," she added during a press conference at the Kuala Lumpur and Selangor Chinese Assembly Hall.
She added that civil societies will even spearhead the move if her suggestion to form a national government gains no traction with MPs.
"Bersih is organising (a rally) so Hakam will be part of it," she added.
– See more at: http://www.themalaymailonline.com/malaysia/article/ambiga-get-ready-for-street-protests-again-unless-mps-act-to-suspend-najib?utm_medium=twitter&utm_source=twitterfeed#sthash.00ia7Yt5.dpuf
—
Here's the complete list of newly-appointed Ministers & Deputy Ministers as announced by PM @NajibRazak earlier today