—
MANNY PACQUIAO: THE ONE AND ONLY 'PAC-MAN'!
—
HUGS BEATS PUNCHES!
A winner with a face like this?! #PacquiaoMayweather
…
.@MannyPacquiao: "I thought I won; he didn't do nothing" – Pacman looks disappointed #MayPac http://cna.asia/maypacbout 
…
Mayweather defeats Pacquiao by unanimous decision to win the 300-million-dollar megafight (Reuters pic)
…
Mayweather wins! Live updates: Mayweather v Pacquiao http://nzh.nu/Mr95e  #MayPac
…
BREAKING: @FloydMayweather wins #MayweatherPacquiao bout – unanimous decision from 3 judges. He is now 48-0 in wins
…
—
—
…
RT @nyctouphile the difference tho #PacquiaoMayweather
—
…
…
Are you in Singapore? You can watch the Fight of the Century for the price of a beer at a pub!
—
—
…
VIDEO: Fan gets too close to Mike Tyson during #MayweatherPacquiao weigh-in, gets elbowed http://ble.ac/1DQwRc6 
—
—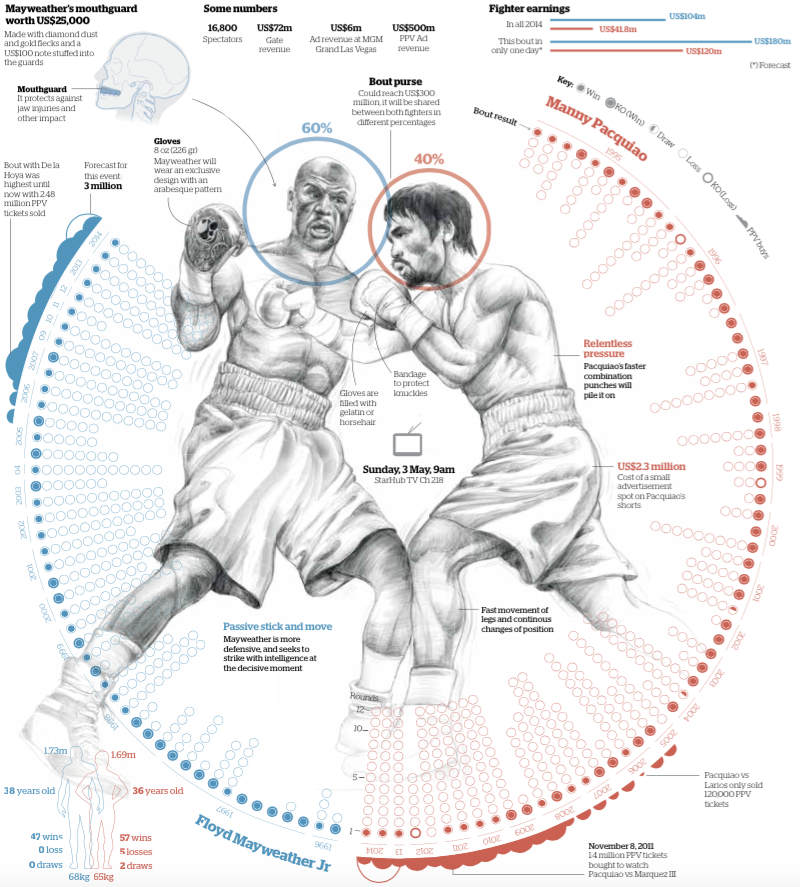 —
 —
So readyyyy for Saturday night


#PacquiaoMayweather
—
Pacquiao 'ran away from home to live on the streets aged 12 because his father ate his dog' http://ind.pn/1drzv1m 
—
—
We can't wait for Mayweather v Pacquiao … Live on Sky Sports Box Office #May2nd #MayweatherPacquiao
—
Mayweather v Pacquaio: Boxing's $128,000 golden ticket
The bad news, however, is that you may need to win the lottery or take out a hefty bank loan to afford a seat inside Las Vegas' MGM Grand on May 2, unless you're fabulously wealthy, of course.
…
However only around 1,000 were available to the general public, the rest of the estimated 16,500 tickets split between the fighters' camps and the casino as well as promoters and sponsors.
Those at the lower end of the eye-watering scale — priced between $1,500 and $7,500 — were snapped up in a matter of minutes.
Not long after some were made available on resale websites at a mark up that could only be dreamed about even by the sharpest financial trader.
As of lunchtime Friday, the most expensive seat on sale through the StubHub website, was retailing for a mammoth $128,705.
http://edition.cnn.com/2015/04/24/sport/boxing-mayweather-pacquiao-tickets/index.html
—
—
BREAKING: Sky Sports Box Office has been awarded exclusive live rights to show Floyd Mayweather v Manny Pacquiao.
—
—
Mayweather and Pacquiao getting richer by the day http://ow.ly/KLBm3 
The first ticket has yet to be sold, but the richest fight in boxing history is getting richer by the day.
New estimates show Floyd Mayweather Jnr's payoff for fighting Manny Pacquiao could easily be US$180 million, up substantially from earlier predictions of US$120 million. Pacquiao gets the short end of the purse, but even that is expected to be well over US$100 million by the time everything is tallied up.
The money is staggering, though not exactly unexpected. Five years of waiting seem to have only piqued the public's demand for the one fight even casual fans of the sport want to see.
…
Promoters announced a deal with Sky Sports to televise the fight on pay-per-view in England and parts of Europe, part of another US$35 million expected to come in from foreign rights. Add in another US$10 million in sponsorships – Tecate beer will be the main sponsor – and the fight will gross more than US$100 million before a single home in North America buys the pay-per-view.
…
With promoters holding the upper hand for this fight, though, that split could end up 65-35 in favour of the promotion. And if three million homes buy the fight at US$100, that would mean about $200 million in revenue to Mayweather Promotions and Arum's Top Rank from pay-per-view alone.
Add in the other money and the two camps will have more than US$300 million to divvy up. With Mayweather getting a 60-40 split, that would mean a purse of US$180 million or more to Mayweather and US$120 million or more to Pacquiao.
Both purses would dwarf the biggest ever in boxing, including the 2007 fight with Mayweather in which De La Hoya made a reported US$52 million. Mayweather's biggest payday was against Alvarez, when he was guaranteed US$41.5 million and may have made another US$20 million off the pay-per-view sales.
Associated Press
http://www.scmp.com/sport/boxing/article/1746868/mayweather-and-pacquiao-getting-richer-day
—
—
Floyd Mayweather could earn $180 million for fighting Manny Pacquiao in May -> http://bit.ly/1brRWlA  #SSBoxing
—
——————————————————————————————————–