—
The evil that religious men do to Transgenders!
—
31 December 2015
—
Mimi Tao is one of Thailand's hottest lingerie models
Former monk who was born a boy becomes one of Thailand's hottest lingerie models http://goo.gl/V30jwP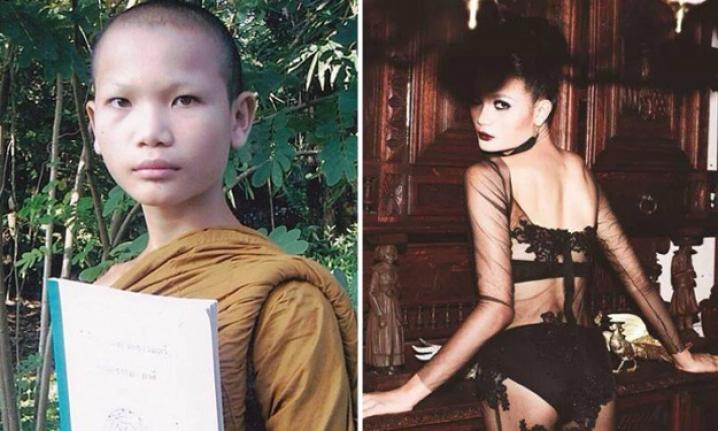 …
Transgender lingerie model Mimi Tao left life as a monk behind to pursue her catwalk dreams  | Daily Mail Online http://www.dailymail.co.uk/femail/article-3363411/Transgender-lingerie-model-Mimi-Tao-left-life-monk-pursue-catwalk-dreams.html …
MailOnline
17 December 2015
As one of the most successful and in-demand models in Thailand, Mimi Tao is a red carpet regular, stalks the catwalk in couture and appears scantily clad in lingerie shoots.
Life today could not be more different from the six years the transgender model, then named Phajaranat Nobantao, spent as a Buddhist monk, after being sent to a temple school as a 12-year-old boy.
After a strict Catholic upbringing and comfortable life, family financial ruin saw the future star's path change drastically – from a private education to the quiet monastic life. 
But it was during this time that everything changed. 'I started to act like a girl, talk like a girl and become more interested in girlie stuff like make-up,' Nobantao, now Mimi Tao, told the Bangkok Post.
Despite knowing she wanted to live life as a girl, Tao became a monk and lived by over 200 strict precepts.
But Tao's desire was only getting stronger and she would secretly meet with four of her friends and they would put make up on and do 'girlie' things together.
…
The group soon started experimenting with the contraceptive pill in an attempt to develop breasts, but Tao was caught by her mother, who threatened to disown her if she didn't stop.
…

After working in various cabaret shows including the well known Calypso show in Bangkok, Tao was inspired by supermodel Yui Phetkanha and pursued a career in modelling.
…
Now one of the most well-known fashion and lingerie models in Thailand, Tao boasts many high-end campaigns and advertising gigs.
She has already made a name for herself in the international modelling scene, will soon star in a film about transgender models and now hopes to head to New York.
…
http://www.dailymail.co.uk/femail/article-3363411/Transgender-lingerie-model-Mimi-Tao-left-life-monk-pursue-catwalk-dreams.html
—
Film Critic (http://www.tccandler.com )…. Creator of the Annual Independent Critics 100 Most Beautiful Faces List
—
—
63. Poyd Treechada #The100MostBeautifulFacesOf2015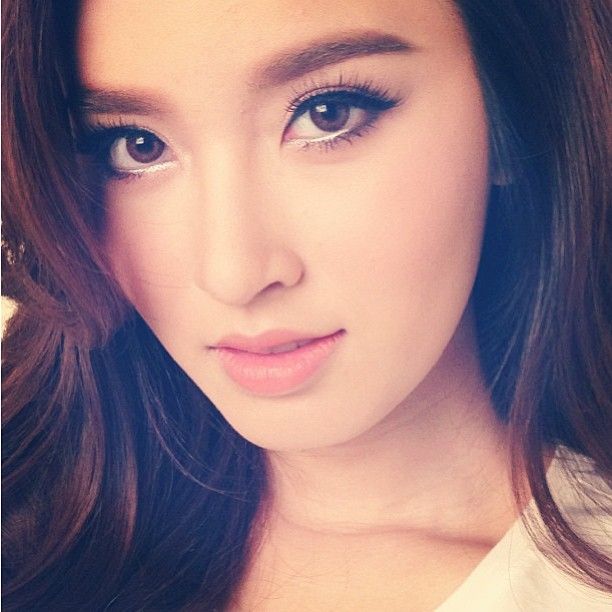 …
世界で美しい顔100で63位に選ばれたpoydちゃんはタイのニューハーフコンテストの初代女王!ニューハーフに見えなすぎてずっと前から好き!可愛すぎるでしょー!!!ノン整形やで!
—
17 December 2015
…
POLICE ARREST 4 LADYBOYS AFTER A BRITISH MAN FALLS TO DEATH FROM THE BALCONY OF THE DOLPHIN HOUSE APARTMENT IN PATTAYA.
British man dies in mysterious circumstances in South Pattaya, Thailand https://www.youtube.com/watch?v=sG7MBvDfXBI&index=1&list=PLNxwX7r4A556G97qSfKLFhLwt4GkdMC8n …
…
4 Pattaya transvestites held after British man falls to death from balcony http://ebx.sh/1QO5PLN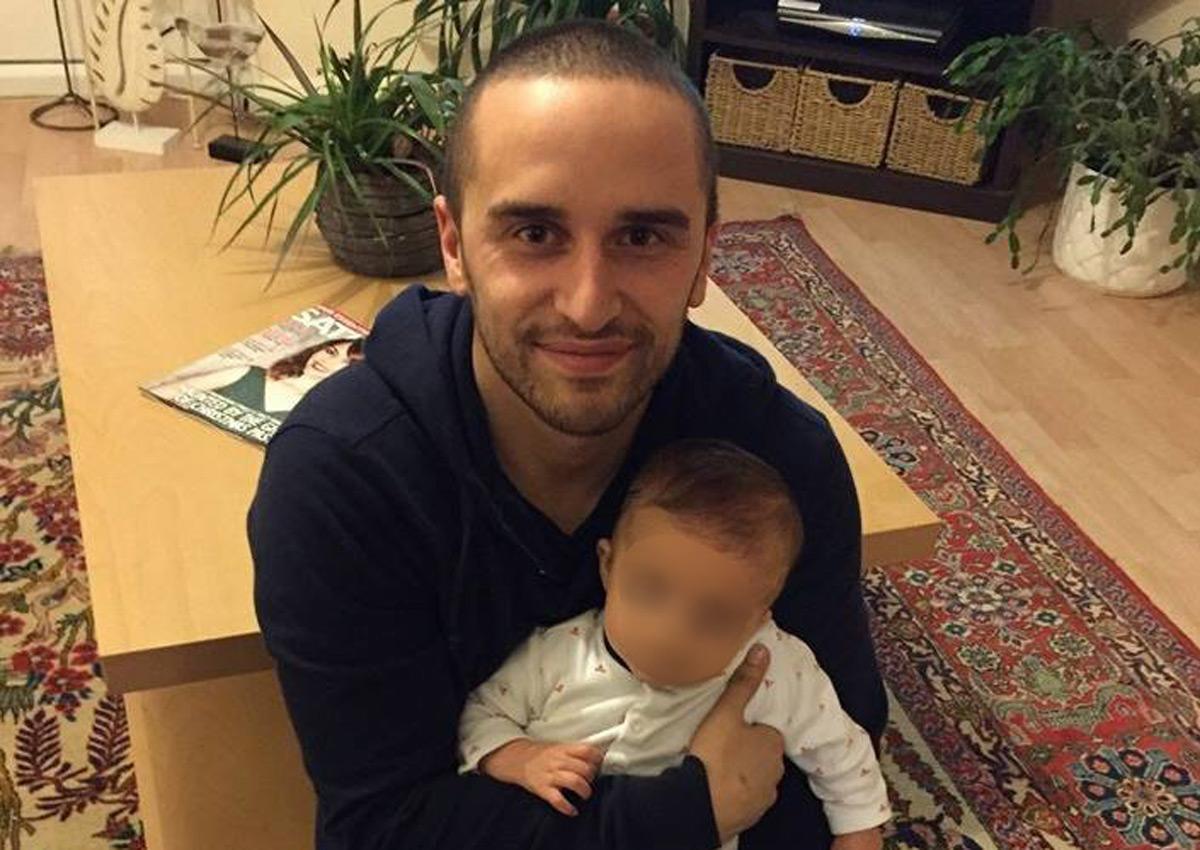 …
Four Thai transvestites were arrested on Wednesday (Dec 16) after a Briton fell to his death from a balcony on the fourth floor of a guest house in Pattaya, Thailand.
According to Bangkok Post, 28-year-old Naami Keyghobadi was found lying face up on the ground floor of Dolphin House apartments at around 7.20pm on Wednesday night.
Keyghobadi, who is from Leeds and reportedly married to a Filipino woman named Chloe, was rushed to Pattaya Memotial Hospital but succumbed to his injuries shortly after.
According to Daily Mail, the four transvestites told police that Keyghobadi owed them money for 'sexual services' and they got into an argument, after which they claim led to him jumping from the balcony. It was also reported on Bangkok Post that at least two of the women, identified as 'Nong Emmy' and 'Nong Piano', were sex workers.
In the apartment where Keyghobadi supposedly engaged their sexual services, police found 33-year-old Patchara Chaihongsa, one of the four transvestites. She was sweating profusely and taken for questioning, Bangkok Post reported.
…
Police also said that the stories of the transvestites did not match and foul play is suspected.
– See more at: http://news.asiaone.com/news/asia/4-pattaya-transvestites-held-after-british-man-falls-death-balcony?utm_medium=Social&utm_source=Twitter&utm_campaign=Echobox&utm_term=Autofeed&link_time=1450327209#xtor=EchoBox
—
Bangkok University's School of Fine and Applied Arts has uniform guide
12 June 2015
Bangkok University dress code includes transgender uniforms http://dailym.ai/1TdonpE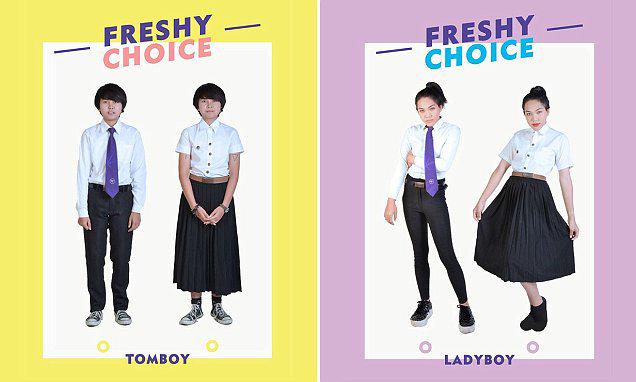 …
A Thai university's dress code has gone viral after it published a series of posters that inform students what to wear – including transgender pupils.
In a move that has been widely praised, Bangkok University's School of Fine and Applied Arts has set a precedent by allowing their students to dress according to their identity, rather than in traditionally 'male' and 'female' uniforms.
The school took to their official Facebook page to publish gender-inclusive images of its correct dress codes, which included trans options for 'ladyboys' and 'tomboys'.
—
IF THAILAND RECOGNISES A THIRD GENDER, MANY QUESTIONS ARISE.
---
Traditionally, there have been two genders: Male (masculine) and Female (feminine).
Who, then, will be considered the Third Gender? People who are LGBT (lesbian, gay, bisexual and transgender)?
Do they themselves decide that they are the Third Gender?
(1) Transgenders are those who have undergone a sex change operation: from male to female, or from female to male.
(2) Ladyboys are boys who want to be girls. They are not transgenders but transsexuals.
(3) Transsexuals are people having a strong desire to assume the physical characteristics and gender role of the opposite sex. Thus, a boy wants to be a girl; or a girl wants to be a boy. Some may have undergone hormone treatment to attain the physical characteristics of the opposite sex.
If a transsexual has undergone surgery, the person is a transgender.
—
The Constitution Drafting (CDC) president, Borwornsak Uwanno, has said that people already understood who they were with the term "third gender".
—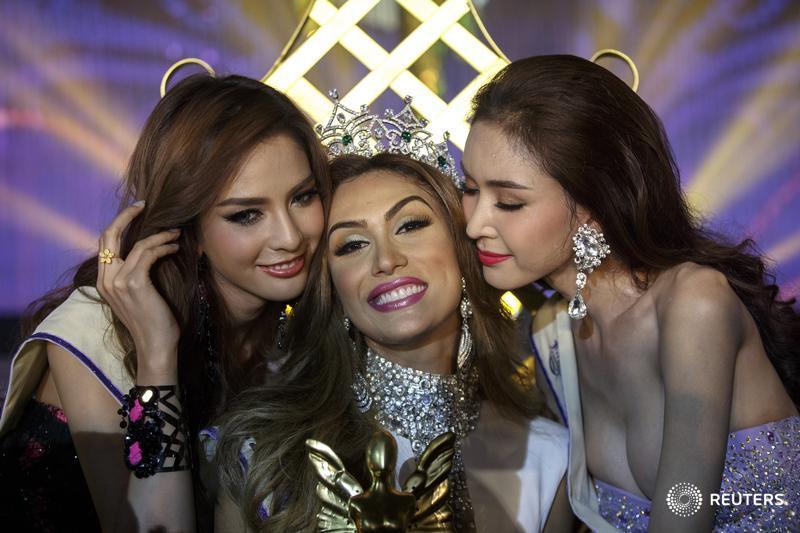 Isabella Santiago of Venezuela (C) is kissed by runner-ups after she was crowned Miss International Queen 2014 at the transgender/transsexual beauty pageant in Pattaya, Thailand, November 7, 2014. REUTERS/Athit Perawongmetha
Gay rights activists welcomed the decision to include the term "third gender" in the new constitution.
"It would treat all citizens equally and help to protect from discrimination in all areas including ease of doing business and also personal life," said prominent gay activist Natee Teerarojjanapongs.
http://www.trust.org/item/20150115093412-bcz1w/?source=reHeadlineStory
—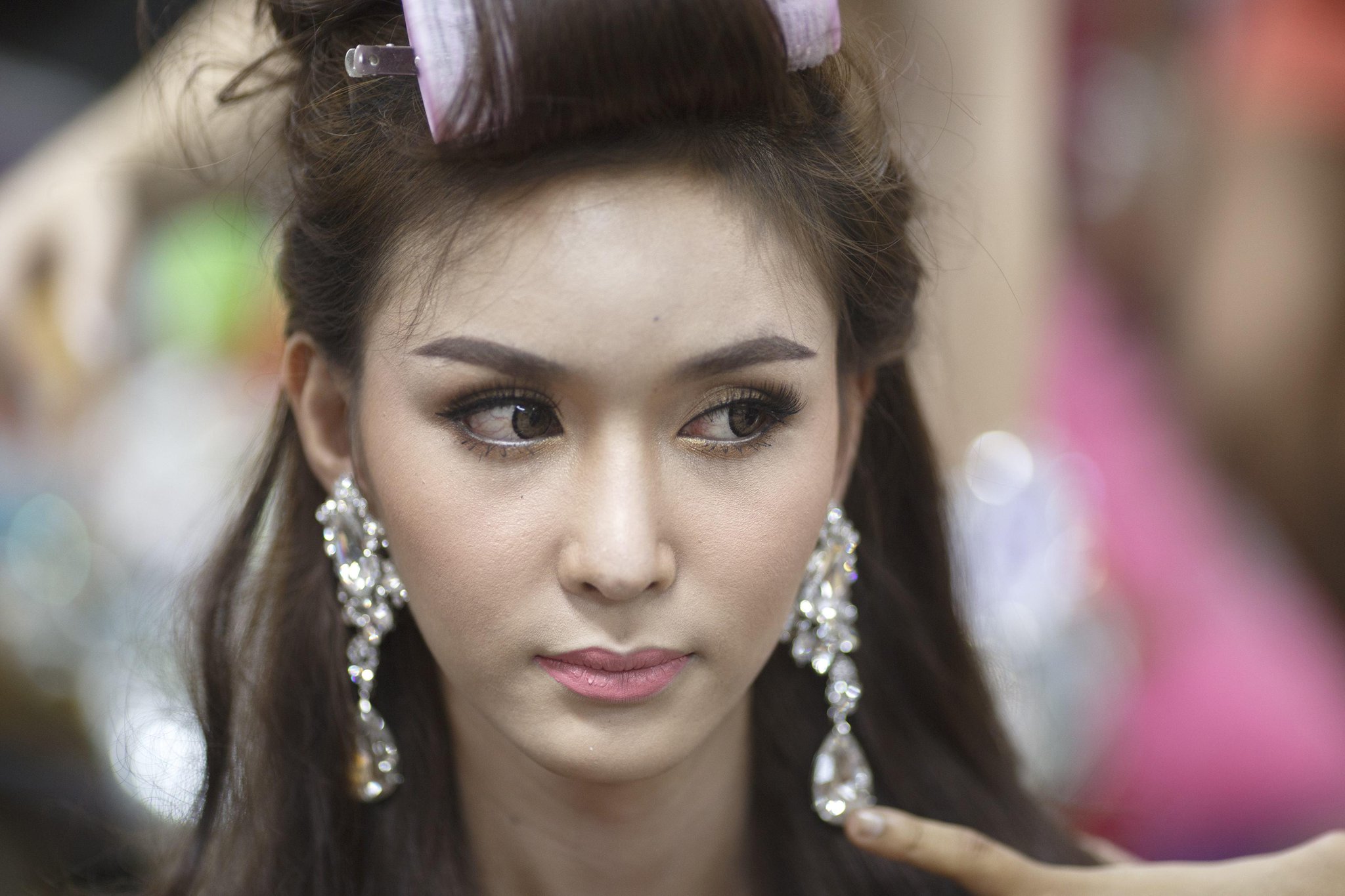 BANGKOK (Reuters) – Thailand's constitution will include the term "third gender" for the first time, a member of a panel drafting a new charter said on Thursday, in a move to empower transgender and gay communities and ensure them fairer legal treatment.
Thailand has a large gay community, but remains largely conservative, although homosexual, transgender and transsexual people play key roles in its entertainment industry.
Thai law does not recognise same-sex unions, which keeps gay couples from taking joint bank loans and medical insurance, besides barring changes to gender categories on national identity papers.
http://www.straitstimes.com/news/asia/south-east-asia/story/thailand-recognise-third-gender-new-constitution-panel-20150115
—
Inquirer.net
'Third gender' will be acknowledged in Thailand's new constitution
THAILAND — The Constitution Drafting Committee (CDC) agreed yesterday to note the "third gender" or people of different sexuality in the new Constitution, a move likely to empower transgender people so they have rights equal to others in society under the law.
It will be the first time the gender will be acknowledged in a constitution.
…
CDC president Borwornsak Uwanno granted that the term "third gender" would be inserted in the draft, but said if they explained more on who such people were or stated the term further than "different sexualities" it could affect the proportionality of the charter more than was necessary.
He said people already understood who they were with the term "third gender."
http://newsinfo.inquirer.net/664771/third-gender-will-be-acknowledged-in-thailands-new-constitution
—
LADYBOYS
A LADYBOY IS NOT A TRANSGENDER.
Born a male, and assigned the cultural role that fits his biological role, a ladyboy identifies himself as a woman.
Thus, a ladyboy will have a male sexual organ!
The face and top half of the body are those of a female but the lower half is that of a male. That simply means, to put it bluntly, that a ladyboy has a penis!
LOOK AT THE PHOTO and you will see what I mean!
—
How do you think Thai women (ผู้หญิง) dress when they go to the beach compared to Lady Boys (กะเทย)? #Thailand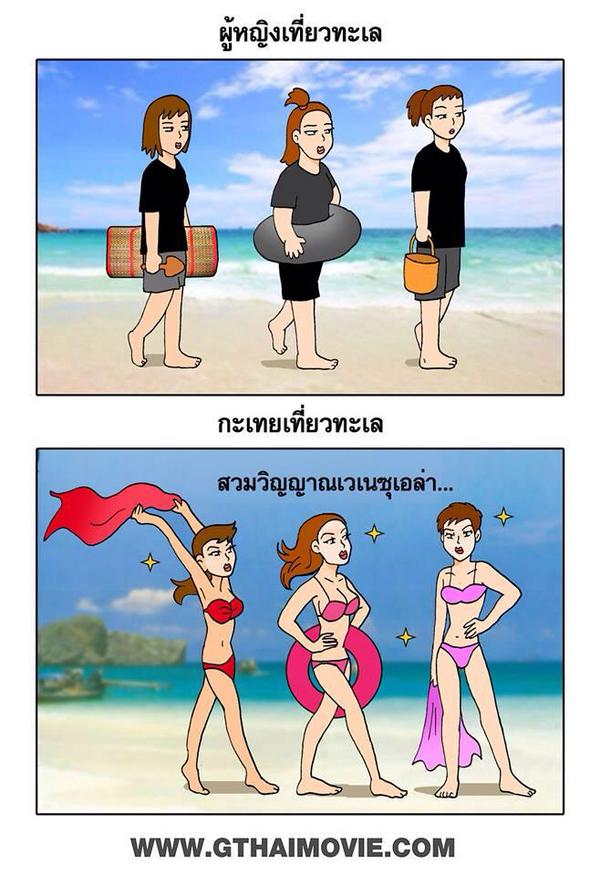 —
Ladyboy or real girl? How to spot the difference in 10 easy steps
————————————————————————————————————-