—
9 December 2015
—
FAKE MASTURBATION LETTERS/NOTICES
1. University Of Michigan
…
2. Michigan State University


…
The USM Notice is clearly a copy of the two above.
…
3. Texas A&M University
This offers a variation on the theme…
http://www.huffingtonpost.com/2014/01/24/fake-masturbation-letters-dorm-showers_n_4654418.html
—
One night, when I was about 13-years-old, my dad caught me doing unspeakable things to myself and said, "You know, if you keep that up you're going to go blind." And I said, "Dad, I'm over here."
I've been telling that joke since I was 19-years-old, working in a bar, trying to get tips. It landed every time, probably because most people can identify with the premise. Not the idea of getting caught, but that it's something that everyone does, no one admits to, and almost nobody talks about. And if they do, it's in jokes, horror, or very quietly with your best friend with whom you've entered into some sort of mutually agreeable suicide pact. After all, we've been told that masturbation will: make you go blind, stunt your growth, make you go insane, give you hairy palms, give you acne, and according to some, will send you straight to Hell, regardless of how many charities you donate to or lepers you cure.
As Jenne Davis of clitical.com puts it:
Of course if that were true, half the world's population would be blind dwarfs with acne and hairy palms because surveys suggest that over 80 percent of women and 99 percent of men masturbate or have masturbated at some time in their lives.
Read the whole story here:
http://www.huffingtonpost.com/richard-zombeck/get-to-know-yourself-its-_b_3290255.html
—
The Star
Monday 05 October 2015
Sheffield University offering 'module in masturbation'
More than 200 students from the University of Sheffield will be studying a module in masturbation.
The English Literature undergraduates will see their studies include a lecture entitled 'The Art of Masturbation'.
It will be part of the 'Critical and Literary Theory' element of the course, which includes a study of 'pleasure, self-scrutiny, and auto-eroticism'.
Recommended texts for the syllabus include Walt Whitman: The Spermatic Imagination by Harold Aspiz and Eve Kosofsky Sedgwick's 'Jane Austen and the Masturbating Girl'.
—
National Masturbation Day, also known as International Masturbation Day, is an annual event celebrated on May 7 or May 28, to protect the right to masturbate.
The first National Masturbation Day was observed May 7, 1995, after sex-positive retailer, Good Vibrations, declared the day in honor of Surgeon General Joycelyn Elders, who was fired by President Bill Clinton for suggesting masturbation be part of the sex education curriculum for students; she was terminated on December 9, 1994.
International Masturbation Day has since been expanded to include the entire month of May as International Masturbation Month.
https://en.wikipedia.org/wiki/National_Masturbation_Day
—
—
I don't think this is a real thing. But we could make it that way.
—
This is an old one:   17 Sep 2013
Omonaaa! Masturbation notice at USM. LOL, the science of human anatomy.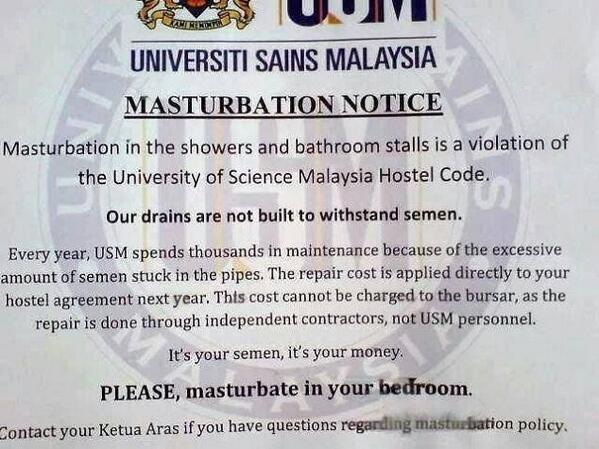 10 June 2014
UiTM was in the news around the time of the Teluk Intan byelection.
Enemy of the State: Says who? Says (UiTM) Alumni Association
Now it's back in the news again over something EMBARRASSING!
UiTM says, No Ban on Masturbation. Does it mean Yes, you can, it's permitted!
"Dilarang melakukan kerosakan, dilarang merokok, dilarang beronani. Awas! Anda sedang diperhatikan," said the sticker.
[Translation: "Vandalism is prohibited, smoking is prohibited, masturbation is prohibited. Beware! You are being watched."]
No ban on masturbation in student dorm, UiTM college clarifies
The Malay Mail Online
KUALA LUMPUR, June 10 ― An official from Universiti Teknologi Mara's (UiTM) Kolej Perindu denied today that administrators have banned students from masturbating in their hostels, despite photos of a sticker warning currently making its rounds online.
A representative from the residential college's Student and Alumni Affairs Department told The Malay Mail Online that the sticker was a mere "hoax", likely started by the students.
"We have never produced anything to that effect," said the official who wished to remain anonymous.
When asked if this means that the students are allowed to masturbate, she replied: "The ban is false."
She added that the college became aware of the stickers when an official in charge of student registration discovered them some time ago.
"We have reported it to the auxiliary police," she said.
The white warning sticker bearing the name of Kolej Perindu has been circulated online, mostly in social media.
http://www.themalaymailonline.com/malaysia/article/no-ban-on-masturbation-in-student-dorm-uitm-college-clarifies
—————————————————————–