________________________________________________________________
Esme the Guide Dog and Cassandra Chiu, Singapore Woman Award 2012 recipient
—
In Singapore: Association to launch "Guide Dog Friendly Nation" campaign
'Guide Dog Friendly Nation': Guide dogs to be trained in Singapore for the first time http://cna.asia/1xJkNoy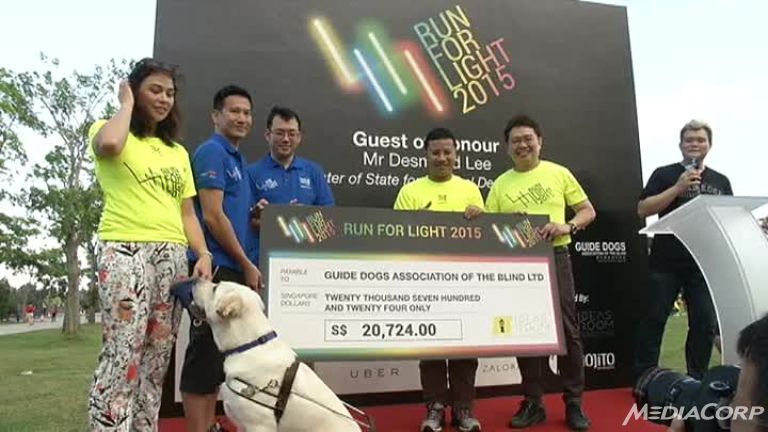 SINGAPORE: The Guide Dogs Association of the Blind (GDAB) plans to train guide dogs locally as well as launch its first "Guide Dog Friendly Nation" campaign. It hopes that the year-long campaign will help gear the nation towards the acceptance of guide dogs.
A dog walk was held on Saturday (Jan 17) as part of efforts to raise awareness of guide dogs and their handlers.
For the first time, guide dogs will be trained in Singapore, lowering costs and making it a sustainable initiative. There are now a total of six guide dogs in Singapore and the association targets to train two each year. The association also plans to recruit a guide dog mobility instructor.
The implementation of these programmes will help GDAB to provide more mobility services to a greater number of blind and vision-impaired Singaporeans.
Read more:
http://www.channelnewsasia.com/news/singapore/association-to-launch/1596808.html?cid=TWTCNA
—
Apparently, Oscar did not make any noise at the time of the attack because guide dogs are trained not to bark when they are on duty, sources said.
A guide dog in Japan was stabbed, but it is believed to have endured the pain of the attack without making a… http://fb.me/75tBBpX5i
– See more at: http://news.asiaone.com/news/asia/guide-dog-endures-stabbing-silence#sthash.I3nxqXWA.dpuf
…
The Asahi Shimbun
Oscar the guide dog recovering after being stabbed while accompanying handler to work
SAITAMA–Saitama prefectural police are trying to identify an assailant who stabbed and severely injured a guide dog in late July while it was on duty with its blind handler, sources said.
According to the Bunan Police Station and other sources, a 61-year-old blind man left his house in the city of Saitama around 11 a.m. on July 28, with his guide dog, an 8-year-old male Labrador retriever named Oscar.
The pair got on a train at nearby JR Urawa Station and got off at JR Higashi-Kawaguchi Station in Kawaguchi.
When the man arrived at his office, a co-worker noticed that Oscar was bleeding.
The co-worker discovered that Oscar had what looked like three to four 1- to 2-centimeter deep wounds that were the source of the blood.
"Considerable force was used to cause wounds like these," said a veterinarian who examined Oscar. "Wounds like these could not occur in the dog's regular daily life."
The vet added that the wounds appeared to be made by a sharp object like a fork.
—–
YAHOO! NEWS MALAYSIA
Breakthrough for the blind as guide dog is allowed into mall
The Malay Mail Online 
PETALING JAYA, July 31 — Stevens Chan and his guide dog Lashawn were given friendly treatment by Sunway Pyramid Shopping Mall during a recent visit.
Chan, who is visually impaired, cited it as a "breakthrough" for a shopping mall to allow a guide dog inside.
He received the chance to visit after he was introduced to the mall staff.
"Someone introduced me to a friend who is a senior member of the staff there," he said.
"I was told I could go to the shopping mall with Lashawn.
…
Chan said the visit lasted about an hour.
He hoped that if he and Lashawn were to visit the mall next time, they could walk around by themselves.
Sunway Pyramid senior marketing manager Loo Hoey Theen said the mall had guidelines for blind people with guide dogs.
"When they enter our mall, the concierge staff will approach them to offer assistance," she said.
She said the mall allowed guide dogs into its compound but the owners must adhere to its standard operating procedure (SOP).
Breakthrough for the blind as guide dog is allowed into mall 
—–
OF INTELLIGENT GUIDE DOGS AND A DUMB DEPUTY MINISTER…
——
—
You must not touch or feed a guide dog when it's on duty because the act will only distract it.
http://www.thestar.com.my/News/Nation/2014/05/09/Dont-feed-or-pet-guide-dogs-public-urged-New-campaign-aims-to-promote-canine-help-for-the-visually/
——-
GUIDE DOGS ARE SO INTELLIGENT AND WELL-TRAINED.

IN SINGAPORE
Cassandra Chiu and Esme the Guide Dog
Cassandra Chiu: Visually impaired but courageous & determined!
IN KUALA LUMPUR
Stevens Chan and Lashawn
http://www.themalaymailonline.com/malaysia/article/mans-best-friend-not-loved-by-everyone
—–
Unfortunately, some Barisan Nasional are not as well-trained when it comes to using their intelligence.
Read what Deputy Transport Minister Datuk Abdul Aziz Kaprawi said on the use of guide dogs for the blind in KL.
1. No, it might not be such a great idea!
Why?
"What if the dog pees in a bus or in the train? Who will clean up the mess? I fear the other commuters might get angry with the disabled owner," he said.
Stevens Chan, who had brought Malaysia's first guide dog from Nanjing, China, said the dog was trained to only discharge faeces twice a day at the owner's instruction.
He said that upon instruction, the dog would look for a grassy area to discharge its faeces.
"If we are in an unfamiliar place, I would ask someone to direct me to a grassy area for my guide dog to discharge his business," he said.
I hope the Deputy Minister is as well-trained when it comes to the call of nature. Let's presume so.
2. When the successful implementation of guide dogs in other Asian countries such as South Korea and Japan was brought up, Abdul Aziz dismissed the cases as not being good comparisons, as the countries mentioned had different ethnic make ups.
He means by this that Malaysia has Malays, and Malays, being Muslims, are not supposed to touch dogs.
Are guide dogs used in countries with Muslims?
No.
Malaysia is not a Muslim country.
—
THIS IS AN EXAMPLE OF THE MUSLIM BIAS AGAINST ALL DOGS IN GENERAL
'Islamic area' anti-dog sign in Tower Hamlets park investigated by police
'Muslim' anti-dogs sign in Bartlett Park
Adam Barnett, Reporter Friday, May 30, 2014
9:51 AM
A sign posted in Bartlett Park warning dog-walkers to stay out of "Islamic areas" is being investigated by the police after calls from a local MP.
Jim Fitzpatrick alerted Tower Hamlets police to the sign after it was discovered by a resident on Wednesday.
A picture of the sign reads: "Do not walk your dog here! Muslims do not like dogs. This is an Islamic area now."
In his letter, the MP for Poplar and Limehouse said: "I have no idea whether this was posted by the EDL, Islamists or another organisation. Regardless, this is a highly divisive sign.
"I am writing to request an investigation. I would also like to know what the council is currently doing to prevent signs like this from appearing."
Tower Hamlets police responded on Twitter, saying: "Thank you for making us aware. The material has been taken down and a crime report completed for further investigation."
—
MUSLIM TAXI DRIVERS IN WESTERN COUNTRIES REFUSE TO TAKE A PASSENGER IF THEY HAVE A GUIDE DOG!
…
The Laura And Wagner Foundation

Muslim Taxi Drivers Refuse Passengers With Guide Dogs
"If you can't actually serve the customers in greatest need – people with some form of disability – well, you shouldn't be in the job. I'm committed to doing something about this. It is an intolerable thing. I need to make the point very clear to the taxi industry and to taxi drivers. This is illegal, with a fine of up to $1100."
Australian Transport Minister John Watkins
Sadly, more and more stories are emerging of cab drivers in the United States, Canada, the United Kingdom, Australia and the EU placing religious beliefs above the laws of these countries by refusing passage to people with guide dogs.
While anyone with a service animal certainly means no disrespect to anyone's religious beliefs, the law of the land is the law of the land and should be obeyed.
In most cases it is a misinterpretation of the Qu'ran and lack of knowledge of how well trained the dogs are.
However, rather than turning this into a battle of Human Rights vs Religious Rights, Laura believes there are ways to work out solutions that are fair to, and respectful of, both sides.
First a look at the issues, then, some suggested solutions, followed by several articles chronicling how this story has been evolving over the past few years in a number of countries.
The Issues:

For Blind and Visually Impaired Persons




All the countries concerned have anti-discrimination and access laws that should be obeyed by everyone, including taxi drivers who are Muslims.

Many feel drivers discriminate against people with guide dogs based upon generalized, and in many cases, inaccurate interpretations of Muslim law.

For Muslim Taxi Drivers

Argue that dogs are "unclean" and that their religious rights should be respected in allowing them to refuse passage to people with guide dogs.

Many drivers claim they are afraid of dogs or are allergic to them.
…..
Suggested Solutions:
For Blind and Visually Impaired Persons




Although the majority of guide dogs are not prone to drooling saliva, the use of a "gentle leader" single-strap muzzle can help prevent this in a cab.

Many feel the "contact" issue is a non-starter as the cab drivers are not required  to, and shouldn't touch the dogs. People are not allowed to pet service animals

Although guide dog users shouldn't have to identify their disability when booking a taxi, it may be prudent to do so when travel is time-sensitive, such as catching a flight or getting to a doctor's appointment, until there is more consistent compliance from all cab drivers.

For Muslim Taxi Drivers




As one Iman just suggested, all drivers have to do if they've come in contact with  one of the dogs is simply wash their hands before eating or going to the mosque.

Drivers concerned about contamination of their car seats by saliva or street dirt from a dog's paws could carry a tarpaulin sheet  or a blanket that can be placed on the seat.

Drivers who truly are allergic to dog or other animal dander should carry a letter from their doctor verifying the fact.
From Wikipedia:

Because
Islam
considers dogs in general to be unclean, many Muslim taxi drivers and store owners have refused to accommodate customers who have guide dogs. In 2003, the
Sharia
Council, based in the United Kingdom, ruled that the ban on dogs does not apply to those used for guide work,
[3]
but many Muslims continue to refuse access, and see the pressure to allow the dogs as a restraint on religious liberty.
[4]
Sheikh
Ibrahim Mogra
of the
Muslim Council of Britain
has argued strongly that Sharia does not preclude working with guide dogs, and it is actually a duty under Sharia for a Muslim to help the visually impaired.
http://www.lauraandwagner.com/Issues-IslamAndGuideDogs.html
—
Uploaded on Jun 24, 2009
Mahomed Khatri – Muslim guide dog owner talks about the benefits of having a guide dog. A fatwa was created to allow his guide dog to enter his local mosque.
Video: Guide dogs within Islam – Mahomed Khatri and his guide dog Vargo
…
See also:
1 day ago – PETALING JAYA, May 29 — The use of guide dogs in assisting the … Abdul Aziz said the countries were not a good comparison because of their … to use guide dogs, especially in public areas, because of the Muslim majority.
—
Malaysians Reject Seeing Eye Dogs for the Blind Because of "Muslim Majority"
This isn't just an issue in Malaysia. Muslim taxi drivers in the UK and US have been caught refusing service to the disabled because their religion hates dogs.
Department of Islamic Development (Jakim) director-general Datuk Othman Mustapha pointed out that touching dogs was considered haram under Islamic law, and hence it was inappropriate to use guide dogs, especially in public areas, because of the Muslim majority.

"Muslims may accidentally brush against dogs, and dogs and their fur are unclean under Islamic tenets," he said.

Othman said Muslims were particular about their personal hygiene as it was a fundamental concern in the Islamic religion.

"Islamic beliefs and practices cannot be taken lightly according to personal feelings and reasons," he said.

"They must be in accordance with teachings of the Quran, Sunnah, Ijma, and Qiyas that are valid."
http://www.frontpagemag.com/2014/dgreenfield/malaysians-reject-seeing-eye-dogs-for-the-blind-because-of-muslim-majority/
————————————————————————