______________________________________________________________________
—
FAKE BUDDHIST MONKS AND NUNS CAN BRING A BAD NAME TO BUDDHISM, A RELIGIOUS MOVEMENT THAT HAS  CONTRIBUTED TO  MUCH GOOD TO SOCIETY
—
Sometimes, the way of the world proves too great to resist…
…
16 August 2018
The association did not state the reasons for Master Xuecheng's resignation, but it came after he was accused of sexually harassing several nuns in early August, including sending illicit messages to them and forcing them to have sexual relations with him, according to a copy of a report written by monks Shi Xianjia and Shi Xianqi from Beijing's Longquan Temple, where Xuecheng is the abbot.
Xuecheng, a member of the Chinese People's Political Consultative Conference, China's top political advisory body, wrote on his Sina Weibo on August 1 that the two whistleblowers "forged materials, distorted facts and spread false information" to mislead the public.
"The falsified evidence is based on a deliberate attempt to frame Master Xuecheng, and can be considered a crime," the statement said.
A day after Xuecheng posted the statement, the National Religious Affairs Administration announced it would investigate the case.
Global Times
http://www.globaltimes.cn/content/1115524.shtml
…
9 August 2018
A former Thai Buddhist monk who provoked outrage with his lavish lifestyle was sentenced today to 114 years in prison after a court found him guilty of fraud, money laundering and computer crimes.
Wirapol Sukphol, who was seen in a YouTube video in 2013 holding wads of cash on a private jet, returned to Thailand in July 2017 after being extradited from the United States where he had fled.
Wirapol, formerly known by his monastic name Luang Pu Nenkham, was expelled from the monkhood in 2013 after the video surfaced.
He was accused of having sexual intercourse – a grave offence for monks – with an underage girl, among other charges. He later fled to the United States.
A criminal court in Bangkok sentenced Wirapol to 114 years in prison though he will only serve 20 years because Thai law stipulates that is the maximum for someone found guilty of multiple counts of the same offence.
"He committed fraud by claiming to have a special power to lure in people and he also bought many luxury cars which are considered a money-laundering offence," an official at the Department of Special Litigation told Reuters.
.
Wirapol's high-profile case highlighted a series of sex and money scandals that have rocked Thailand's Buddhist clergy in recent years, resulting in calls for reforms of religious institutions.
https://www.malaysiakini.com/news/438150
…
5 May 2017
Monk rapes single mother searching for life partner
He also threatened to jinx her if she told anyone about the rapes, report says.
.

PETALING JAYA: A single mother in Melaka says she was raped by a man claiming to be a monk and exorcist who had performed a series of rituals, allegedly to find her a life partner.
The rituals involved the man placing pieces of paper on several parts of her body and inserting his fingers into her private parts, according to The Star.
He reportedly raped the woman three times: twice at the temple and once at her home. The woman said he had also threatened to cast a jinx on her if she told anyone about what had happened, the report added.
She eventually lodged a police report against the man, who is said to be from Cambodia. Police have since arrested him.
http://www.freemalaysiatoday.com/category/nation/2017/05/05/monk-rapes-single-mother-searching-for-life-partner/
…
Nun accused of stealing from monastery to support lavish lifestyle
…
Buddhist Nun Arrested in Hong Kong Amid Allegations of Fraud, Marriage Scam. Our full report: http://www.buddhistdoor.net/news/buddhist-nun-arrested-in-hong-kong-amid-allegations-of-fraud-marriage-scam …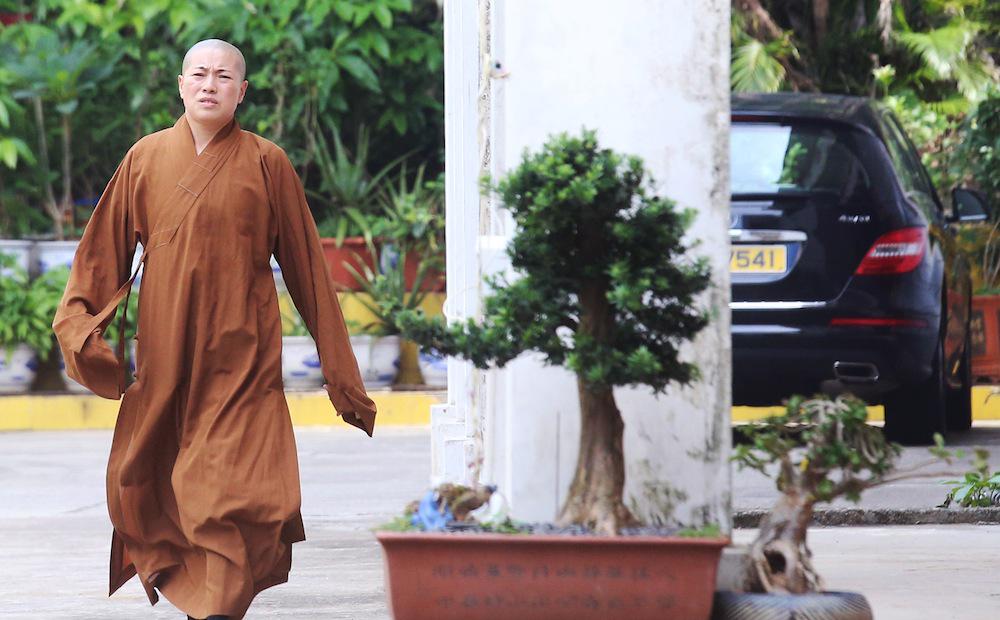 —
Bad faith: director accuses chief nun of 'sham marriage, embezzlement' in Hong Kong monastery
Monastery director claims abbes diverted cash and married mainland monks in residency scam;
PUBLISHED : Tuesday, 13 October, 2015, 10:38am
UPDATED : Wednesday, 14 October, 2015, 3:38am
—
A nun in Hong Kong is accused of stealing from her monastery to support her lavish lifestyle. http://ebx.sh/1LINHwo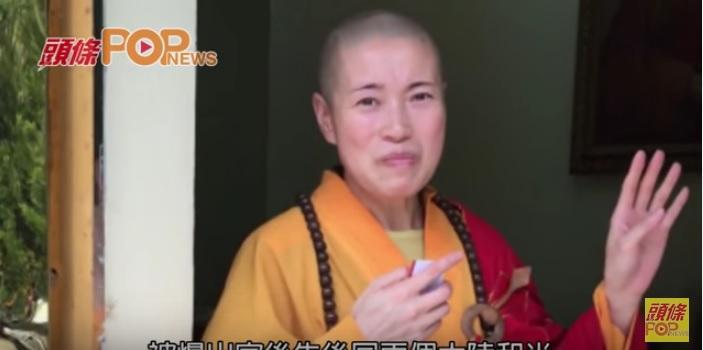 Chi Ding, a Buddhist nun, is being accused of stealing from Hong Kong's Ting Wai Monastery.
Hong Kong news website Headline Daily reported that speculation is rife that she stole from the organisation's coffers to fund her own lavish lifestyle.
Apparently, Chi liked to turn the air-conditioning on in the room where she kept her two dogs, and she kept it on for them even when she was not in.
Under her charge, the financial statements from the Buddhist monastery showed that in one year, she spent HK$242,000 (S$43,000) on entertainment and HK$7,000 on dog food.
She had previously told Headline Daily that she had turned the lights off in the main temple because she wanted to save money for the monastery which was "strapped".
But reporters from Headline have since checked the temple and found the air-conditioned room with her two German Shepherds.
– See more at: http://www.tnp.sg/news/world-news/nun-accused-stealing-monastery-support-lavish-lifestyle?utm_campaign=Echobox&utm_medium=Social&utm_source=Twitter#link_time=1444749067
—
BUDDHIST TEMPLES IN THAILAND ARE WELL-FUNDED.
In contrast to the increasingly empty pews and coffers of many European churches, temples remain a boom business in Thailand.
But last year the National Institute of Development Administration estimated the country's 38,000-odd temples receive between 100 and 120 billion baht in donations ($3.07-3.62 billion) every year.
And that's on top of their state funding. In 2015 the government has earmarked $113 million alone for renovating temples.
Chequebook Buddhism: Jetset monks, million dollar donations, currency garlands http://read.ht/p9i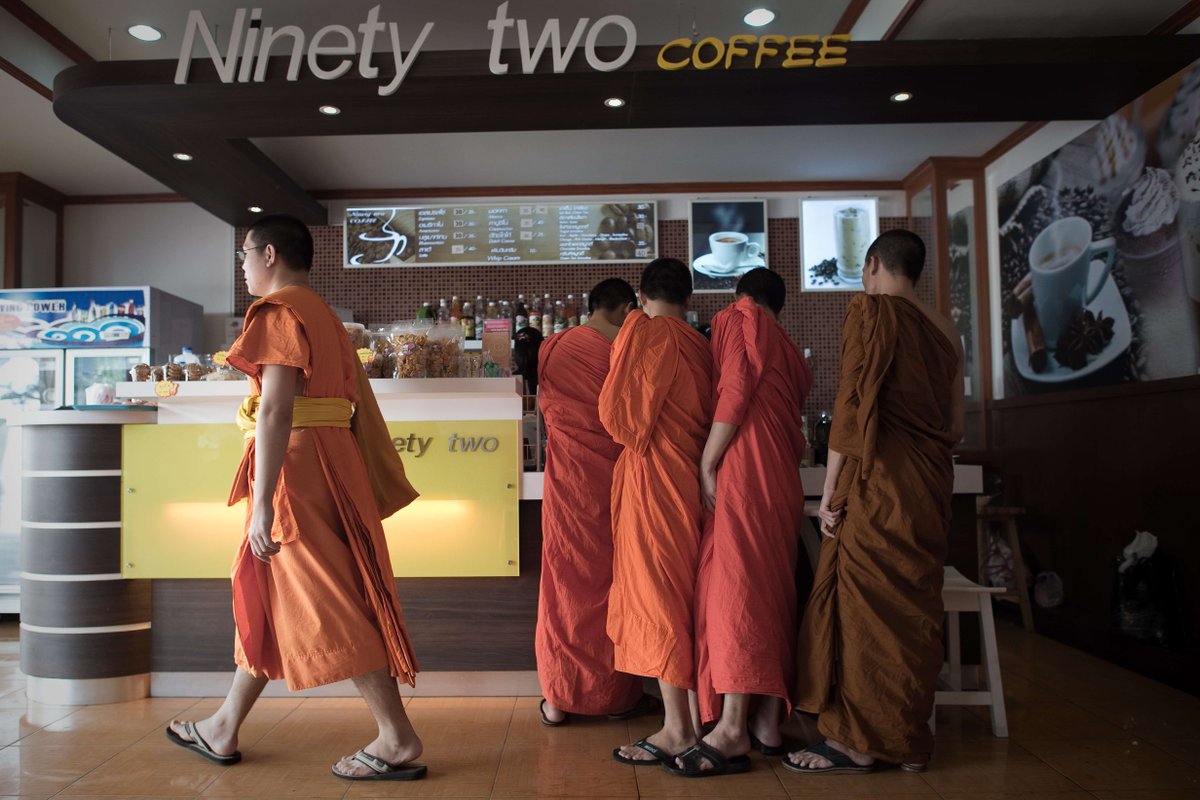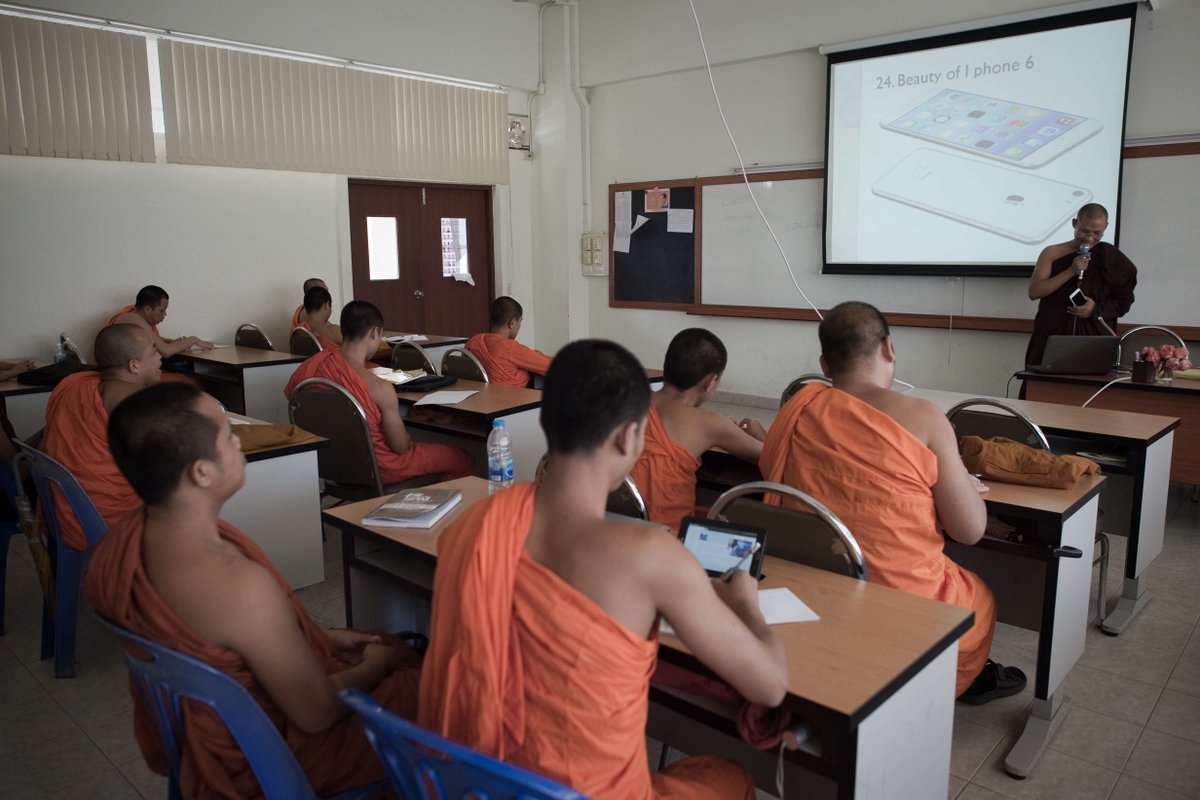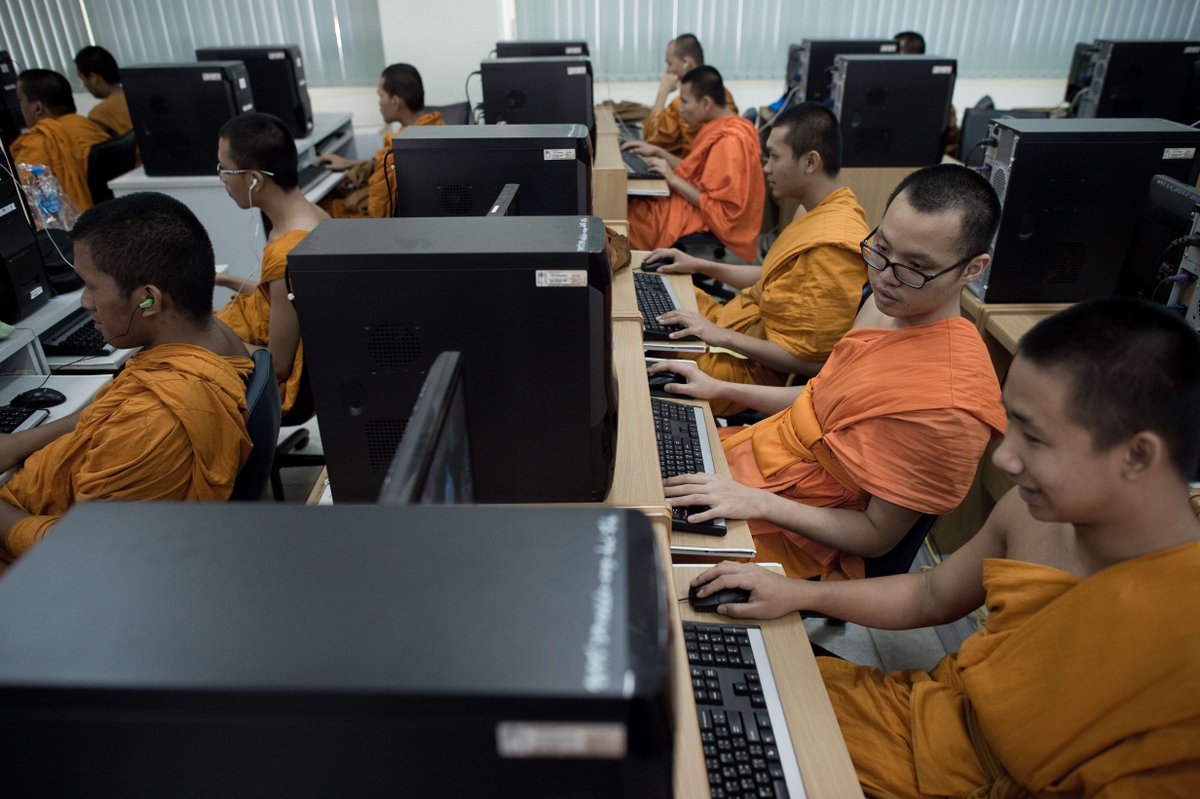 In deeply religious Thailand, monks have long been revered. But badly behaved clergy, corruption scandals, and the vast wealth amassed by some temples has many asking if something is rotten at the heart of Thai Buddhism.
From selfies on private jets to multi-million dollar donations from allegedly crooked businessmen, Thailand's monks are coming under increasing fire for their embrace of commercialism.
So much so that even the military junta is threatening to intervene.
…
Few have mastered modern money collection techniques better than the Dhammakaya temple, one of the richest in the kingdom, with a dozens of outlets worldwide and an enormous headquarters north of Bangkok.
It is renowned for its roster of wealthy patrons and even boasts a slick TV channel where — much like evangelical mega churches — pleas for devotees to reach deep into their pockets are never far away.
…
But with wealth comes controversy.
Earlier this month the temple authorities returned some $20 million given by a company executive who has since been accused of embezzling the cash.
It was just the latest in a list of scandals involving Thai clergy embracing excess — the most infamous of which involved celebrated monk Wiraphol Sukphol taking selfies while flying in a private jet.
Other embarrassing incidents in recent months include a monk arrested for multiple sexual assaults; clergy dressed in civilian clothes drinking alcohol and crashing a car; monks having girlfriends; and others brawling during the early morning alms collections.
Many monks feel some of their brethren, who number more than 300,000, have replaced merit making with making money.
http://www.hindustantimes.com/world-news/chequebook-buddhism-jetset-monks-million-dollar-donations-currency-garlands/article1-1333176.aspx
—
WE SHOULDN'T BE SURPRISED THAT MONKS CAN LOSE THEIR TEMPER OR THAT THEY CAN BE VIOLENT.
REMEMBER SHAOLIN MONKS, THOSE VIOLENT VEGETARIANS?
Angry Thai monk thought expat called him a 'buffalo' , so he slapped him. Watch how the foreigner just sits there, patiently.
…
An angry monk slapped an expat across the face on a Thai train after misunderstanding what the foreigner had said.
The incident happened on Dec 7, on a train travelling between Bangkok and Phitsanulok.
The expat is an English teacher working and living in Thailand.
He had said, "Fine, fine" to the monk who thought he meant "fai" which means buffalo in Thai jargon.
The monk then stood up, accused the foreigner of cursing him, and slapped him in the face.
The foreigner again tried to explain but the monk slapped him two more times.
A train official came to intervene and the monk walked away.
http://singaporeseen.stomp.com.sg/singaporeseen/this-urban-jungle/angry-monk-thought-expat-called-him-a-buffalo-so-he-slaps-him-on-thai-train#xtor=CS2-4
—
So holy and rich, monk playing jackpot machine in mbs casino. pic.twitter.com/23oHE3aVRl
…
It's not every day that you see a monk using jackpot machine in casino http://bit.ly/1xaSxBb  pic.twitter.com/aReuqwou4F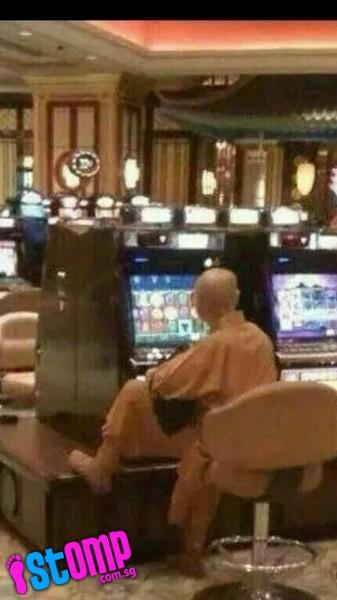 —–
IS THIS FOR REAL? A REAL MONK BLESSING A PORSCHE? FOR A PRICE! In Buddhism, greed, hatred, and delusion are known as the three poisons.
Mirror
Buddhist monks cause outrage after 'accepting cash' to bless businessman's PORSCHE
Buddhist monks are under fire for apparently accepting cash to bless a businessman's PORSCHE.
It's part of a upcoming trend in China where expensive properties and material items are being made holy by the religious group in exchange for money.
The move has caused widespread anger across the country with the most recent example being when IT boss Tao Hung asked Buddhists to bless his luxury sports car.
He asked monks to bless the car and to pray that he would drive safely in the vehicle and be lucky in always reaching his destinations on time without incident.
Buddhist monks 'accepted cash' to bless businessman's
…
MailOnline
That's one way to make a FAST buck! Buddhist monks break their 'three poisons' rule by accepting cash to bless businessman's Porsche
 Software development company boss Tao Hung brought the high-performance car to the monk so he could pray that he would drive safely in the vehicle and be 'lucky' in always reaching his destinations on time without incident.
…
But critics have said that the blessing goes against Buddhist tradition and that greed and money are not part of the teachings – in fact greed, hatred, and delusion are known as the three poisons.
—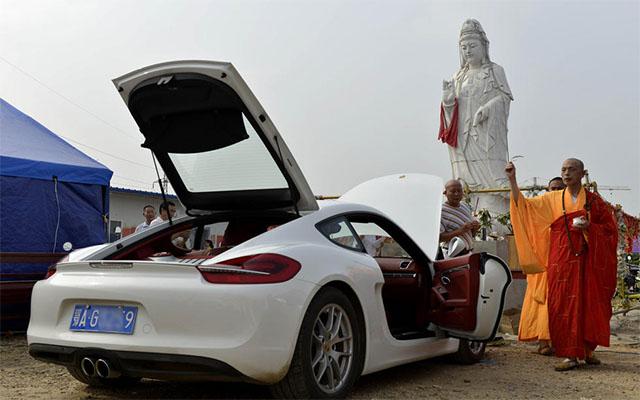 —–
Three bogus nuns detained for fraud
by Elton Gomes. Posted on July 3, 2014, Thursday
KOTA KINABALU: Three China women, reportedly posing as nuns, have been detained by the police for fraud in the state capital.
State Commercial Crime Investigation Department chief Superintendent Saiman Kasran disclosed that the arrests were made following complaints from the public of fraud perpetrated by the three women.
"Two of the suspects, aged 43 and 45 years old, were arrested at an unnumbered house during Ops Gasak carried out by the police.
"During the raid, police seized several black plastic bags and water bottles, RM4,350 cash and several foreign currencies that were believed to have been used and the profits from their illegal activity," he said, adding that the third suspect was later arrested in the state capital.
Initial police investigation revealed that the modus operandi of the suspects was to target elderly women either at the market or public places early in the morning.
"One of the suspects would approach their target and asked for directions to a traditional Chinese medical centre, claiming that she needs to buy some medicine for her husband who is very ill.
"The suspect would then start crying to convince the victim. Several minutes later, the second suspect would approach them and pretend to hear what is going on. The second suspect would then offer to help by recommending a traditional Chinese medical centre and urge the victim to accompany the first suspect to avoid any untoward incident from happening to the first suspect," he said.
Saiman said once the suspect and the targeted victim arrived at the traditional medical centre, the third suspect would emerge and introduce herself as a nun who could solve their problems.
The bogus nun would cajole the victim to collect some of her valuables from her home and keep it in a black plastic bag.
"After bringing back the valuables and handing it over to the bogus nun, the third suspect would then disappear into a room on the pretext of performing a 'prayer' and would reappear several minutes later with a bottle of water," said Saiman.
—–
Mah claimed she had been planning to use the money to buy a Buddhist centre in Melbourne.
The Age
Victoria
Police look to seize $4.3 million from Buddhist nun's bank accounts
—–
Thai Buddhist monks in private jet 
Published on Jun 19, 2013
Thailand's Buddhism authority said it is monitoring monks for inappropriate behavior after a Youtube video showed monks wearing aviator sunglasses, carrying an LV travel bag and rocking wireless headphones while flying on a private jet.
The Office of National Buddhism in Thailand said on Monday that they had seen the video earlier this year and had warned the monks from Khantitham Temple in Sisaket province. The video has caused outrage among Buddhists within the country. Seems like these monks need a refresher course in Buddha's 2,600-year-old teachings, which stress that, "the core of those who preach Buddha's teachings is not to own any objects at all."
In 2012 about 300 out of 61,416 Buddhist monks and novices in Thailand were disciplined. Some were booted from the monkhood due to misconduct for offences ranging from drinking alcohol to having sex with women to extortion. The Thai Buddhism office also got complaints about monks driving cars and pulling scams.
The monk's temple has said it will explain, but only after the abbot from the video gets back from a religious tour to France.
—–
IN AN OCTOBER 3, 2013 REPORT, the Singapore Buddhist Federation said that at least five fake monks had been reported to the Singapore Buddhist Federation in the last two weeks, prompting the federation to call for a press conference yesterday morning.
http://www.tnp.sg/content/singapore-buddhist-federation-warns-against-fake-monks
——-
Men in monk's robes enjoy premium $7 coffee and food at boutique cafe
Posted on 17 May 2014
A Stomper was surprised to see these two men dressed in Buddhist monk's robes having a meal at this premium coffee joint along Tyrwhitt Road.
According to the Stomper, who is himself a Buddhist, monks are supposed to live a spartan lifestyle, generally eating only one meal a day, before noon.
These two however were spotted at the posh eatery at 4pm with empty plates before them.
—–
asiaone Singapore
Fake monk makes $2,000 a day
SINGAPORE – In just a day, a man who passed himself off as a Thai monk pocketed $2,000.
He had gone around Singapore selling religious pendants and begging for money from passers-by.
Within six hours of hitting the streets, the man had already earned $800. He could even afford to take a three-hour siesta from 2-5pm before donning his robes to hit the streets again in the evening.
Venerable Chao Khun Rian from the Thai Buddhist Temple in Singapore on Monday used this incident, which happened six years ago, to highlight how lucrative it can be for men passing themselves off as monks.
At least five fake monks have been reported to the Singapore Buddhist Federation in the last two weeks, prompting the federation to call for a press conference on Monday morning.
These fakes have been seen all over the island – from neighbourhoods like Bukit Merah and Kreta Ayer to parts of town such as Clarke Quay, Raffles Place and Orchard Road.
—–
BY THEIR DEEDS WILL YOU KNOW THE GENUINE FROM THE BOGUS!
Malaysian Buddhist Association (MBA) honorary president Datuk Steven Ooi:
1 REAL MONKS ACCEPT FOOD, NOT MONEY.
2 THEY DO NOT SELL SELL RELIGIOUS ITEMS.
3 THEY DO NOT ASK FOR DONATIONS.
4 REAL MONKS ACCEPT FOOD ONLY BEFORE NOON'.
————————————————————————————–
———————————————————————-