_____________________________________________________________
—
BEARS: BROWN (KODIAK, GRIZZLY), POLAR, ASIAN…
A Kodiak bear (U. a. middendorffi) in Hallo Bay, Katmai National Park, Alaska
The brown bear (Ursus arctos) is a large bear distributed across much of northern Eurasia and North America. Adult bears generally weigh between 100 and 635 kg (220 and 1,400 lb) and its largest subspecies, the Kodiak bear, rivals the polar bear as the largest member of the bear family.
http://en.wikipedia.org/wiki/Brown_bear
—
Life lesson: Don't stop to stare at bears http://huff.to/1ygNVGH  via @huffpostalberta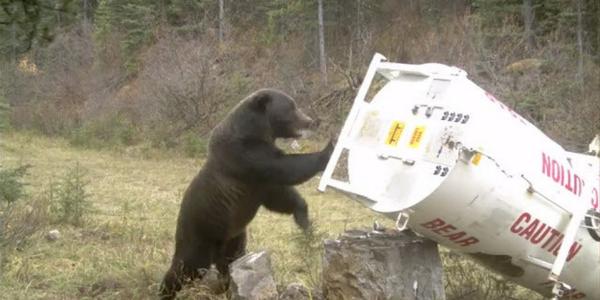 ..
Ever wonder how strong a bear is?
..
Published on Oct 20, 2014
Bear traps weigh hundreds of pounds, and this bear tosses it around like it's a toy!
Still think it would be fun to get close to a bear? Get more BearSmart tips about how to stay safe around bears at http://bearsmart.alberta.ca
—
Hunter mauled by bear in Alaska
A HUNTER mauled by a brown bear in northern Alaska has been rescued by a helicopter crew using night vision goggles to locate him.
The Alaska Air National Guard crew picked him up more than 36 hours after he was mauled by the bear in the remote Brooks Range.
The man was part of a guided hunting party about 50km north of the tiny village of Anaktuvuk Pass.
http://www.news.com.au/breaking-news/world/hunter-mauled-by-bear-in-alaska/story-e6frfkui-1226699312635
—
BEAR ATTACKS
According to wildlife experts, bear attacks are rare. Attacks are for predatory, territorial, or protective reasons.
Most wilderness attacks have occurred when there was only one to two persons in the vicinity.
Fatal bear attacks in North America have occurred in a variety of settings. There have been several in the bear's wilderness  habitat involving hikers, hunters, and campers.
Brown bear incidents have occurred in their native range spanning Alaska, Northern and Western Canada, and portions of the Rocky Mountains in the United States.
—–
The Grizzly Bear
The grizzly bear, is any North American subspecies of the brown bear, such as the mainland grizzly, the Kodiak, the peninsular grizzly and the recently extinct California grizzly.

Wikipedia
—
August 18, 2013

Grizzly Bear Attack In Yellowstone Injures Two Hikers
YELLOWSTONE NATIONAL PARK, Wyo. — A couple of run-ins with bears in and near Yellowstone National Park have left four people injured.
The National Park Service says a grizzly bear charged two hikers in Yellowstone, leaving one person with bite and claw marks and another with injuries that were treated at the scene. The hikers had come across a young grizzly Thursday just before noon when a sow charged.
http://www.huffingtonpost.com/2013/08/16/grizzly-bear-attack-yellowstone_n_3767716.html
———————————————————————-