_________________________________________________
Lim Kit Kiang heads 'assault' on BN's Johore!
——–
WHEN LIM KIT SIANG SPEAKS, IT IS WORTH LISTENING….
He has EARNED the right to speak and to be heard:
In 1969 Kit Siang was detained under the Internal Security Act for 18 months. Ten years later, in 1979, he was convicted of five charges under Official Secrets Act for exposing an inappropriate arms deal between the government and a Swiss company.
Lim was one of the people arrested during "Operation Lalang" in 1987 for inciting racism. He spent 17 months in prison under the Internal Security Act, which allows for two years of detention without trial at the pleasure of the Home Minister. The two-year sentence may, in practice, be extended indefinitely without any avenues for due process or appeal.
Lim Kit Siang
From Wikipedia, the free encyclopedia
_________________________________________________
16 May 2016
…
Good Morning Malaysia! DAP's Lim Kit Siang is back in Parliament after his 6 month suspension @themmailonline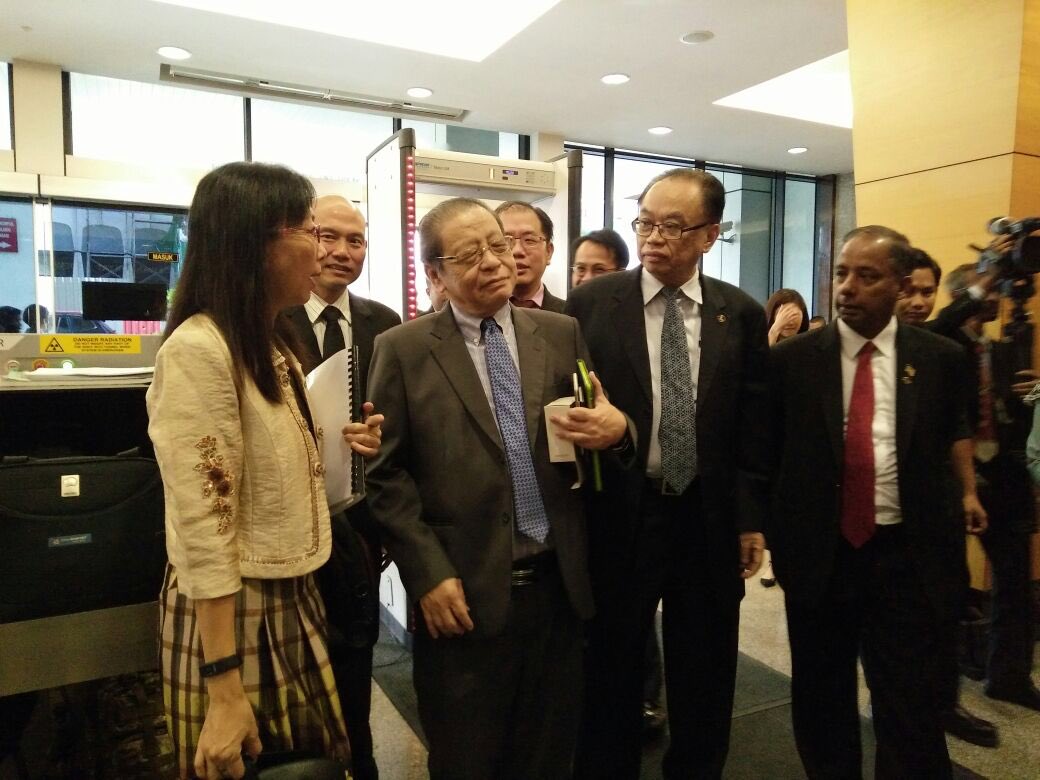 …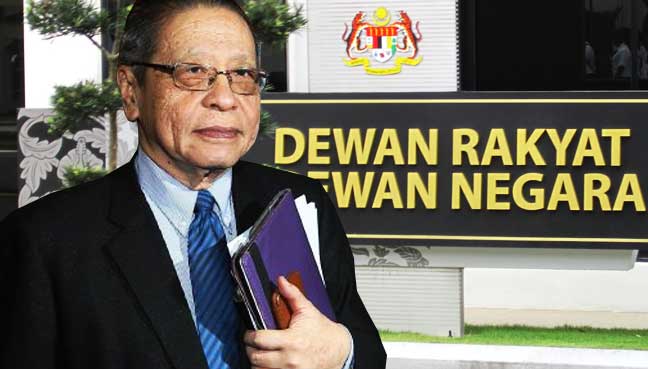 —
6 September 2015
Malaysiakini
Are ministers in 'who can say most stupid things' contest?
Malaysians must be thoroughly shocked – at least 13 "stupid things" said by Najib's "power people" in the past 48 hours – setting a world record of at least half a dozen a day.
No wonder, Malaysia is in such deep trouble.
MP SPEAKS Just 12 days ago, CIMB Group chairman Nazir Razak warned those he described as "power people" against issuing stupid remarks amid the continuing decline in the value of the ringgit, which has plunged to levels unseen since the 1997 Asian Economic Crisis.
In an Instagram post, Nazir, who is also the brother to Prime Minister Najib Razak, urged the "power people" to "accept and adjust quickly, as capital is super sensitive; bad news and bad signs are amplified, and to avoid saying "stupid things".
But instead of heeding Nazir's advice, Najib's "power people" have got even worse, increasing the stupidity, volume and velocity of their statements in the past 12 days that Malaysians are entitled to ask whether there is a competition in Najib's cabinet as to which minister can say the most stupid things.
The velocity of "stupid things" uttered by Najib's ministers and "power people" have increased to notch more than one a day in the past 12 days – in fact to more than half-a-dozen a day in the past two days, as can be gleaned from the following headlines in the past 48 hours.
1. Minister: Malaysia will run out of PMs if Najib quits over graft allegations – Malay Mail Online (MMO)
2. Guests should not criticise hosts, Ku Nan says after drubbing at anti-corruption conference (MMO)
3. Anti-corruption conference not right venue to talk about RM2.6b donation, minister tells TI president (MMO)
4. Fact that they took my statement proof MACC are fearless, minister says (MMO)
5. 'People's power' to choose government only during elections, says Najib – The Malaysian Insider (TMI)
6. IACC critics were 'possessed', says Ku Nan (TMI)
7. Civil service serious in fighting graft, says chief secretary (TMI)
8. Minister blames poor Bersih signage for billing boo-boo (Malaysiakini)
9. Zahid: Umno grassroots 'poisoned' to turn against Najib (Malaysiakini)
10.MACC says faces no interference in PM probe (Malaysiakini)
11. 'There will be no IACC here if Putrajaya not against graft' (Malaysiakini)
12. Minister tells anti-graft meet there is God, mustn't worry (iMalaysiakini)
13. MACC: M'sia critics at IACC may not have all facts (Malaysiakini)
—
Malaysian Insider
Banning DAP from polls a mistake, says Kit Siang
By Syed Jaymal Zahiid
March 23, 2013
KUALA LUMPUR, March 23 – DAP stalwart Lim Kit Siang warned the Najib administration today against banning his party from contesting the coming Election 2013, saying the move would be Datuk Seri Najib Razak's "most fatal mistake" as it would drive the public to hasten Barisan Nasional's (BN) demise.
In a statement here, Lim suggested that there was a conspiracy to use the Registrar of Societies (ROS) probe on the party's elections result as a prelude to declare the DAP illegal and block the Pakatan Rakyat (PR) component party from contesting the polls.
"The UMNO/BN "Dirty Tricks" department may think that this ploy will inflict supreme damage on PR by excluding the use of the Rocket symbol in the 13GE (as elections will be over even if DAP finally vindicates itself and wins a legal suit against the Barisan Nasional government in protracted litigation in the courts of law).
"But this may prove to be most fatal mistake of all by Najib in his four years as Prime Minister," said the Ipoh Timor MP.
"This is because it may usher a new political configuration that will prove to be the undoing of UMNO/BN, not only the last straw that breaks the camel's back with regard to public outrage to demand the end the regime of abuses of power in the citadels of power in Putrajaya," he added.
Lim said any attempt to disband DAP would also contribute to the consolidation of PR, saying this meant he could still contest the polls but on a PAS or PKR ticket.
The DAP leader's warning comes after Umno-owned Utusan Malaysia ran a front-page report today saying the RoS is facing complications with its investigations, suggesting that the DAP had not been co-operative, an allegation Lim dismissed as baseless.
——–
It is learnt three parliamentary seats are being considered for the veteran DAP leader – Gelang Patah, Kulai and Kluang, with Gelang Patah being the seat most touted.
Malaysiakini
Kit Siang set to announce candidature in Johor
In an attempt to win federal power, DAP parliamentary leader Lim Kit Siang, who has been visiting Johor frequently of late, is expected to contest a parliamentary seat in the state in the coming general election.
It is learnt that the Ipoh Timor MP will be making an official announcement on his shift to the southern BN stronghold at DAP's 47th anniversary celebration and ceramah in Skudai, near Johor Bharu, on Monday.
Several party insiders told Malaysiakini that the possibility of Lim contesting a Johor parliamentary seat in GE13 was "very real".
However, it could not be confirmed that whether Lim would also name the seat he intended to contest, tough speculation has been that it could be Gelang Patah.
Kit Siang set to announce candidature in Johor
——–
Free Malaysia Today
'A thousand yee sang lies'
Lim Kit Siang says that a thousand lies are being told to cover up one regarding Psy not joining the prime minister for the yee sang ceremony.
KUALA LUMPUR: Barisan Nasional's attempt to horse trot into the hearts of Penangnites ahead of the general election has proven to be a disaster.
Lim Kit Siang had now cast aspersion on the claim that South Korean superstar Psy had refused to toss the yee sang with Prime Minister Najib Tun Razak because of a death threat.
According to the DAP veteran, BN was forced to tell a thousand lies to cover up the original one in an attempt to mitigate the damage.
——–
Lim: 'No' episode ends BN's dream at next GE
| | |
| --- | --- |
| Harakahdaily, | 12 February 2013 |
Feb 12: Veteran DAP leader Lim Kit Siang said the shouts of 'No!' at prime minister Najib Razak in Penang yesterday have resulted in a "multi-billion ringgit disaster for Najib and BN in the run-up to the 13th General Elections".
……….
Lim (pic) said the viral YouTube video showing the incident "will forever be remembered".
"In fact, the thunderous three 'Yes' to Najib's questions whether the crowd was ready for Psy followed by the equally thunderous and spontaneous three 'Noes' when Najib asked thrice whether they were ready for BN have destroyed Najib's elaborate edifice of supreme confidence of winning handsomely in the 13GE , which has collapsed like a house of cards.
"It is even more devastating to Umno/BN's electoral prospects in the 13GE than Bersih 2.0, Bersih 3.0 or Himpunan Kebangkitan Rakyat KL112 – especially as it is a completely self-inflicted disaster," said the Ipoh Timur member of parliament.
——————————————————————–
Lim Kit Siang speaks about May 13, 1969 on Youtube
Kit Siang invited to sit next to Najib at BN's Merdeka Day Bash!
_________________________________________________
Malaysia Chronicle
Saturday, 02 February 2013 00:40
Mahathirism rides again, with all its attendant horrors & monstrosities intact – Kit Siang
Written by  Lim Kit Siang
Mahathirism rides again, with all its attendant horrors and monstrosities intact.
The latest manifestation of the full-throttled return of Mahathirism is one of the wildest accusations in Malaysian politics –  that Opposition leader Datuk Seri Anwar Ibrahim was the real mastermind in the "citizenship-for-votes" scams in Sabah in the nineties known as "Project M".
When did former Prime Minister Tun Dr. Mahathir Mohamad discover that Anwar was the mastermind of the project named infamously after him as "Project M"?
Clearly not on January 16, 2013 when revelations at the Sabah Royal Commission of Inquiry (RCI) on illegal immigrants implicated two of Mahathir's closest confidantes, former  Deputy Home Minister, Megat Junid Megat Ayub and former political secretary Abdul Aziz Shamsuddin in the "Project M" scams from 1990 – 1995 to issue hundreds of thousands of fake blue identity cards and false letters of approval for birth certificates in exchange for votes to illegal immigrants.
Nor on the following day on  January 17 when for the first time in two decades, Mahathir publicly admitted the existence of "Project M" but defended it as lawful on the ground that the Filipino illegal immigrants could speak Malay and "have the right to be citizens", while casting a serious slur on the memory and good name of  Tunku Abdul Rahman by alleging that Bapa Malaysia had done worse by giving citizenship to one million unqualified people before Merdeka, lamenting that no one had made it an issue.
Read the rest of the article in
Mahathirism rides again, with all its attendant horrors & monstrosities intact – Kit Siang
———————————————————————
Malaysiakini
Lim said, "if the Project IC or Project M was lawful… why was it necessary for Mahathir to deny it and to hide it from the people of Sabah and Malaysia for over a decade?"
Tunku gave out ICs in broad daylight, Kit Siang tells Dr M
| | | |
| --- | --- | --- |
| | 1:12PM Jan 18, 2013 | |
DAP has slammed former prime minister Dr Mahathir Mohamad's defence that his predecessor Tunku Abdul Rahman had also given out citizenship to foreigners, as that had been done in broad daylight while the alleged Project IC was covert.
"Tunku never gave out citizenship to subvert the electoral process but  to ensure that in the run-up to Merdeka in 1957, non-Malays who resided in Malaya had a right to citizenship, which was agreed to by all including the Conference of Rulers – all done in an open and transparent manner.
"Did Mahathir conduct the Project IC or Project M in an open and transparent process, after getting the mandate from his cabinet, the Conference of Rulers and the Malaysian people, particularly the Sabahans?" asked party supremo Lim Kit Siang.
……………
Lim noted that until pressed for a response to the ongoing RCI yesterday, Mahathir had "strenuously denied the existence of Project IC" since allegations first arose during the Likas election petition in 1999.
He said Mahathir hiding behind Tunku's issuing of ICs to Independence-era non-Malays was "pure, pristine, undiluted Mahathirism – the perverted illogic, falsehood-coated assertions and brazen dishonesty".
Tunku gave out ICs in broad daylight, Kit Siang tells Dr M
———————————————————————-
Free Malaysia Today
Kit Siang: Najib, 'listen, listen, listen'
The veteran politician says that if the PM is not willing to 'listen, listen, listen', then Malaysians should give BN the boot in the next polls.
KUALA LUMPUR: The latest debacle of a pro-government NGO leader rebuking a law student has dealt another blow to Prime Minister Najib Tun Razak's administration ahead of a crucial general election.
Weighing in on the incident, Lim Kit Siang said it reflected the double failure of the prime minister's two most important policies – his transformation programmes and his 1Malaysia slogan.
"If Najib's transformation programmes are to have any hope of success, they must be based on two-way communication and dialogue between the government and the governed and not on a 'listen, listen, listen!' one-way traffic imposed by the government on the governed," he added.
…………..
According to the DAP leader, the latest episode highlighted both the "hollowness and hypocrisy" of Najib's 1Malaysia policy.
"It suffered a fatal blow right at the beginning when Deputy Prime Minister Muhyiddin Yassin distanced himself from it by declaring that he was 'Malay first, Malaysian second'.
"Although Sharifah is an 1Malaysia activist and exponent, she is totally bereft of the 1Malaysia spirit when she could berate Bawani and said if the student is critical of local policies, she could 'go to Cuba, Argentina, Libya, go everywhere", asking 'What are you doing in Malaysia?'," he added.
Reminiscing, the veteran politician recalled an incident in Parliament during the 1970s when he was stopped during his speech by a Umno Cabinet minister, who told him that if he was so critical of Umno-BN policies, he should leave Malaysia.
"And my instant retort to him was that if he did not want to hear what I had to say on behalf of Malaysians who sent me to Parliament, he was the one who should leave Malaysia!" he added.
Kit Siang: Najib, 'listen, listen, listen'
——————————————————————-
Malaysia Chronicle
Monday, 14 January 2013 12:19
BN's final undoing – a persistently dishonest, unprofessional and lying mainstream media
Written by  Lim Kit Siang
It is not only ironic but simply unbelievable that on the night of KL112, the Prime Minister, Datuk Seri Najib Razak could host the Umno general assembly 2012 Media Appreciation Night  and speak about the importance of the media to UMNO.
Rational and independent-minded Malaysians, including the four million middle-ground voters who will decide whether it is Barisan Nasional or Pakatan Rakyat which will form the federal government in Putrajaya in the 13th general elections, must be asking whether Najib is rooted firmly to the ground in reality or is living in a make-believe world of his own.
What Najib said about the media  a few hours after the KL112, which marked an important turning point in a maturing democracy, is simply surreal.
How could Najib with a straight face urge the media to play the role of an intermediary that delivers the feelings and aspirations of the people to the government and which report the grievances and criticisms leveled at the government to enable improvements to be carried out when the Barisan Nasional mainstream media, whether print, radio, television or online, have been most guilty of the very opposite, completely unrepentant in fabricating and purveying lies after lies about the Pakatan Rakyat?
For weeks, the Barisan Nasional mainstream media had told a "Big Lie" about KL112 and they are still purveying the "Big Lie" after KL112, although the "Big Lie" had been completely pulverized and demolished as baseless and untrue!
……………
Also noteworthy is Merdeka Centre's finding that while Najib's approval rating has slid to 63 percent, his administration and Barisan Nasional has trailed further behind at 47 per cent and 45 per cent respectively.
With Najib securing lower ratings on both scores than Abdullah just before the 2008 general elections, whether popularity rating as Prime Minister or voters' perception whether the country is heading in the right direction, it is no surprise that there are UMNO leaders who are very pessimistic about UMNO/BN prospects in  the 13GE , with even the Johore Mentri Besar Datuk Seri Ghani Othman publicly predicting that Pakatan Rakyat could win the 13GE with a slim majority of 5% to 10% of the parliamentary seats – i.e. a Pakatan Rakyat majority from 12-22 seats!
If this Ghani scenario comes about, one cause could be the total lack of public trust and credibility of the Barisan Nasional mainstream media, which is a standing proof to all Malaysians, and in particular the four million middle-ground voters, of the irredeemable character of UMNO/BN as  totally incapable of reform unless it is despatched to the Opposition benches in Parliament.
The persistently dishonest, unprofessional and lying Barisan Nasional mainstream media may prove to be the final undoing of Najib as Prime Minister and the ousting of UMNO/BN from Putrajaya in the 13GE.
Lim Kit Siang
BN's final undoing – a persistently dishonest, unprofessional and lying mainstream media
———————————————————————