..
Olivia Lee
Mon 21 Dec 2020 06.30 GMT
The city-state's cosmopolitan 'hawker culture' has been added to the prestigious list – welcome recognition after a tough year for vendors. Plus five of the best food centres to visitOlivia LeeMon 21 Dec 2020 06.30 GMT
456
One of Singapore's most-loved institutions has been given a timely boost, with the country's hawker culture being added to the Unesco list of Intangible Cultural Heritage of Humanity.
The award took place at a virtual ceremony on 16 December and it sees the culture join the likes of yoga in India and the tango in Argentina. Hawker culture refers to the community of vendors who cook and sell meals in the 114 hawker centres across the city-state. The verdict could not have come at a better time for the vendors, providing invaluable protection after a precarious year.
The food halls are considered the nation's dining rooms, where people from all walks of life mingle and eat cheap, freshly cooked dishes from morning to night. Hawkers sell many things, from whole roasted ducks and steamed pork buns to pig's trotters and fish-head curry. As Anthony Bourdain wrote during his 2017 visit: "The hawker centers are wonderlands of Chinese, Indian, and Malay specialties [sic]. It's like shooting fish in a barrel making food porn in Singapore."
Bourdain's praise added to the increasing respect hawker food has gained internationally. Last year, of the 58 places to eat in Singapore that made it on to the Michelin Bib Gourmand list, 33 were hawker stalls. Several of the stalls even have Michelin stars, which makes Singapore home to some of the cheapest Michelin-starred food in the world. The first hawker to achieve this feat was Liao Fan Hawker Chan in the Chinatown Complex Market, in 2016. For three Singapore dollars (around £1.65), diners can get a plate of Chef Chan's soy sauce chicken rice – if they are prepared to embrace the long queues.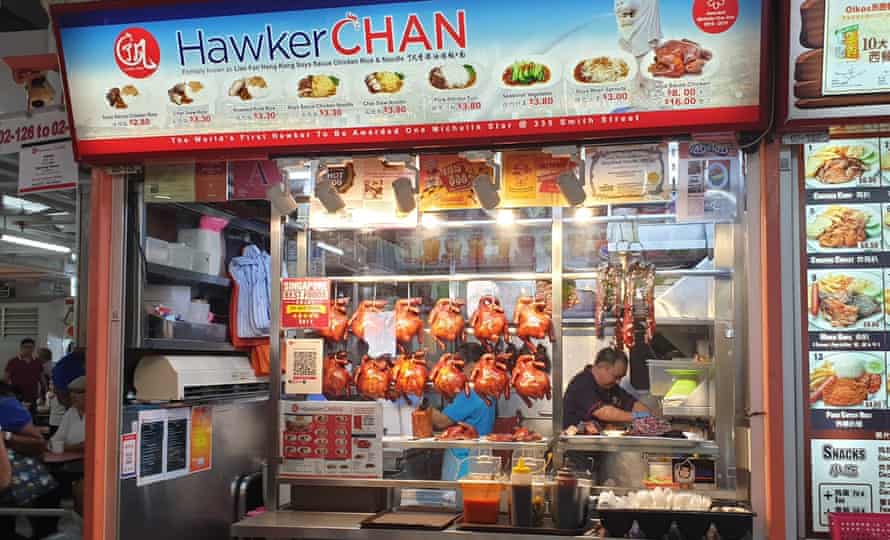 Advertisementhttps://1043ddbc4512e48e618bbbf35525816e.safeframe.googlesyndication.com/safeframe/1-0-37/html/container.html#xpc=sf-gdn-exp-3&p=https%3A//www.theguardian.com
Each stall tends to have its speciality, usually perfected over years of hard work. In Ghim Moh Market, Kelly Ng, 50, sells laksa (noodles in a coconut-shrimp soup) using his grandfather's recipe. He serves one size, in one style, at one price ($2.50/£1.40) – dishing it out in small blue-and-white ceramic bowls.
"The ceramic keeps the broth the perfect temperature, and the size of the bowl means it's just enough but not too much," he says.
Despite the accolades and local love for hawkers, though, the culture has faced challenges in recent years. Hawkers are ageing – the average vendor is 59 – and there are few young Singaporeans keen to adopt a profession that entails 14-hour shifts. The cost of raw ingredients is also rising, but the average dish price is kept low so that people of all incomes can afford it – meaning profit margins can be small.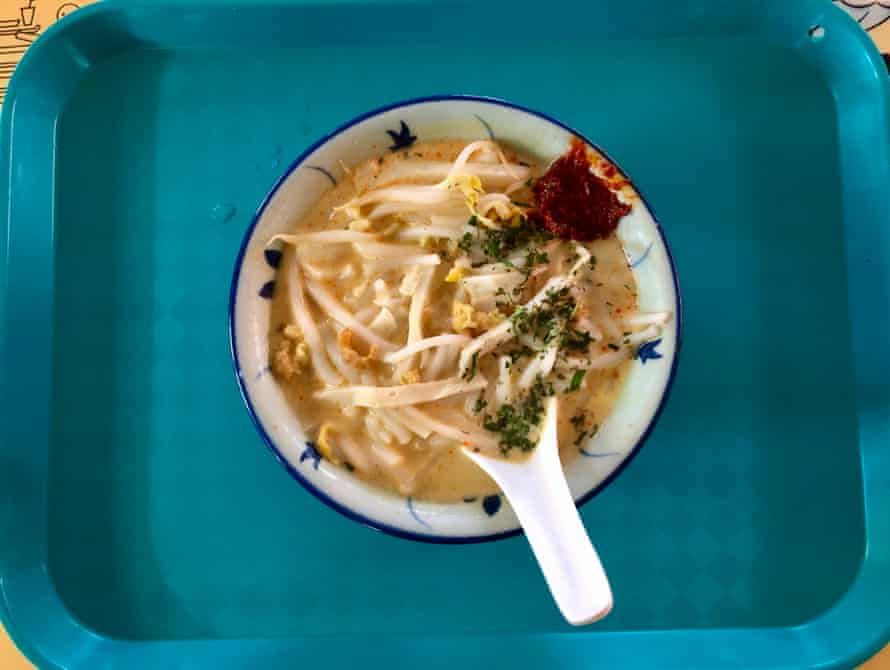 The coronavirus pandemic only made matters worse. In April, when Singapore went into circuit-breaker restrictions, all dining at hawker centres was halted. Though takeaways were permitted, some hawkers had to cease trading because they were losing money by staying open.
For those who continued trading, business was bad. Chong Yuen Har, 64, owns a stall in Hong Lim Food Centre, near the finance district. She has been working there since 1979, making bak kut teh(pork rib soup) from 5am until 8pm, seven days a week. Overnight, she saw her business drop by about 80%. Even now, with the virus largely under control in Singapore, her business is still making half of what it did pre-Covid.Advertisementhttps://1043ddbc4512e48e618bbbf35525816e.safeframe.googlesyndication.com/safeframe/1-0-37/html/container.html
"It's been hard," she said, "but I intend to keep doing this for as long as I can. I don't want to worry about it; we are all facing the same situation."
When the circuit breaker was announced in Singapore, social media groups popped up in recognition of the hawkers' hard work. One Facebook group, Hawkers United, had 25,000 members within a few days of launching. Other people have used the hashtag #thankyouhawkers on Instagram, posting messages of appreciation for their long hours and tireless commitment.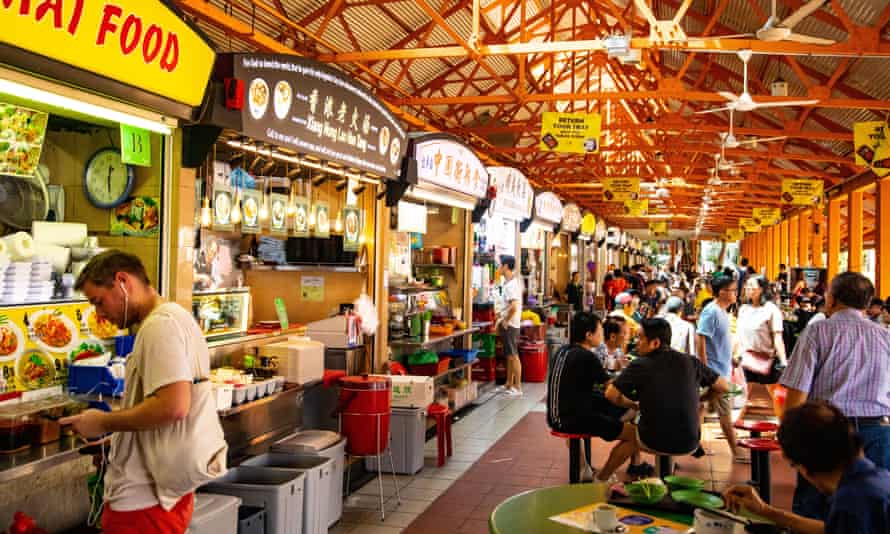 Two Singaporean friends, Elroy Lim, 33, and Tai Zhang Kai, 30, saw some of the older hawkers struggling at the start of the pandemic and decided to help.
Read the rest here:

https://www.theguardian.com/travel/2020/dec/21/singapore-hawker-culture-street-food-added-to-unesco-heritage-list
..
The city-state's vibrant hawker centers serve up Malay noodles, Indian curry puffs, and a feast of cultural history.
By Rachel Ng
Photographs by Mindy Tan
PUBLISHED January 29, 2021
Some civilizations chronicle their pasts with art or books. Others pass on history orally through folklore. In Singapore, the tale of how a humble fishing village in Southeast Asia evolved into a buzzing modern metropolis often comes in spoonfuls of peppery pork rib soup or bites of fried egg noodles at its hawker centers.
Across the city-state, the ubiquitous open-air food complexes are packed with closet-sized stalls, manned by hawkers—businesspeople who both cook and sell fare from Hainanese-style chicken to Peranakan laksa (lemongrass-coconut noodles). For visitors, hawker centers might just seem like jumbo food courts: Follow your nose or the longest line, then pay a few Singapore dollars for a trayful of chow to enjoy at a shared table.
For Singaporeans, hawker culture is about more than just a good meal. These food centers are beloved institutions exemplifying the country's melting-pot culture, places where people of Chinese, Indian, and Malay descent gather, united in a quest to serve or eat something delicious.
Hawkers are so central to Singapore life that the country recently led a successful campaign to have the practice inscribed on the 2020 UNESCO Representative List of the Intangible Cultural Heritage of Humanity. Like the better-known UNESCO World Heritage Site designation, the nod promotes and preserves fragile culture, traditions, skills, and knowledge integral to a particular place.
The intangibles list has recognized homegrown music styles, festivals, crafts, and, yes, food, since 2003. To get on it, countries nominate and promote their cultural practices before a UNESCO committee weighs in on whether, say, Chinese shadow puppetry or Argentine tango merits a spot.
top:
A satay hawker cooks meat over charcoal at the Lau Pa Sat center, which is located in a historic 19th-century building in downtown Singapore.
bottom:
Traditional nyonya dumplings wrapped in banana leaves are suspended from hooks at the Joo Chiat center in eastern Singapore. The Malayasian-style rice dumplings can contain vegetables or meat.
Here's why Singapore street food made the list, and how the delectable hawker scene evolved along with the young country.
Read the rest:
https://api.nationalgeographic.com/distribution/public/amp/travel/2021/01/why-unesco-is-honoring-singapore-street-food