..
..
On 2 January 2021, police raided the Xiang Ge Li Li La Authentic Hunan restaurant in Bukit Mertajam and tore down its wallpapers bearing artwork resembling communist caricatures.
..
MCA has expressed concern over the authorities reaction to a Penang restaurant that featured the caricature of communist revolutionary leader Mao Tse Tung, who is also the founder of the People's Republic of China.
MCA vice-president Tan Teik Cheng said the wallpapers at the Hunan cuisine restaurant in Bukit Mertajam, which was raided yesterday, were only decorations and the reaction was too harsh and "sensitive".
He said the police's handling of the matter was unnecessary and could damage relations with China.
"I advise the authorities not to be too aggressive and to approach matters in a more friendly manner.
"At the same time, I also hope that netizens won't turn the matter into a racial issue to avoid undermining racial harmony and also friendly relations between Malaysia and China," he added.
The MCA bureau chief on China relations noted that the wife of the restaurant owner is from China.
Tan likened the Mao wallpaper at the restaurant to a Malaysian putting up a picture of prime minister Tunku Abdul Rahman when opening a restaurant overseas.
He said this should not be regarded as an agenda to promote certain ideologies.
He also stressed that China and Malaysia have had good economic and trade relations.
"From 2013 until the first half of 2020, China had invested a total of RM9.1 billion in the northern part of Peninsular Malaysia.
"China is also playing an active role in helping Malaysia combat the Covid-19 pandemic," he said.
Yesterday, police raided the Xiang Ge Li Li La Authentic Hunan restaurant in Bukit Mertajam and tore down its wallpapers bearing artwork resembling communist caricatures.
The 35-year-old woman who co-owns the restaurant with her husband had said the Chinese text on the poster was not promoting communism but instead carried humorous slogans about food.
..
Police not tickled by Penang restaurant's 'humorous' communist theme
Published 2:49 pm
Modified 3:40 pm
Police raided a restaurant in Bukit Mertajam over its communist themed artwork while an Umno leader has decried it as evidence that communism is spreading in Penang.
Speaking to Malaysiakini, the restaurant owner who only wanted to be known as Joey, admitted that the artwork style was similar to that of communist propaganda posters but stressed the content of the text did not promote communism.
Instead, she said the Chinese text was humorous culinary slogans.
"The text is not about promoting communism, it does not even touch the topic of communism. The content is all about food and our restaurant," said the 35-year-old restaurant owner.
Among the slogans read: "Welcome my dear guest. The taste is fantastic! I like it very much. Please come again, my dear guest."
Another slogan said: "There are many benefits after spending in our store – your romantic relationship will be successful and you will pass your entrance exam!"
The artwork included a caricature of Mao Tse Tung, a communist revolutionary leader and the founding father of the People's Republic of China, as well as caricatures of soldiers in communist uniform.
In the artwork, they were carrying banners with Chinese characters that read "foodie" and "recipe".
Joey, who was born and raised in Hunan, China, married a Malaysian and they decided in 2016 to start a restaurant business together in Penang where they have settled.
The restaurant, Xiang Ge Li Li La Authentic Hunan, serves food from Joey's birthplace.
.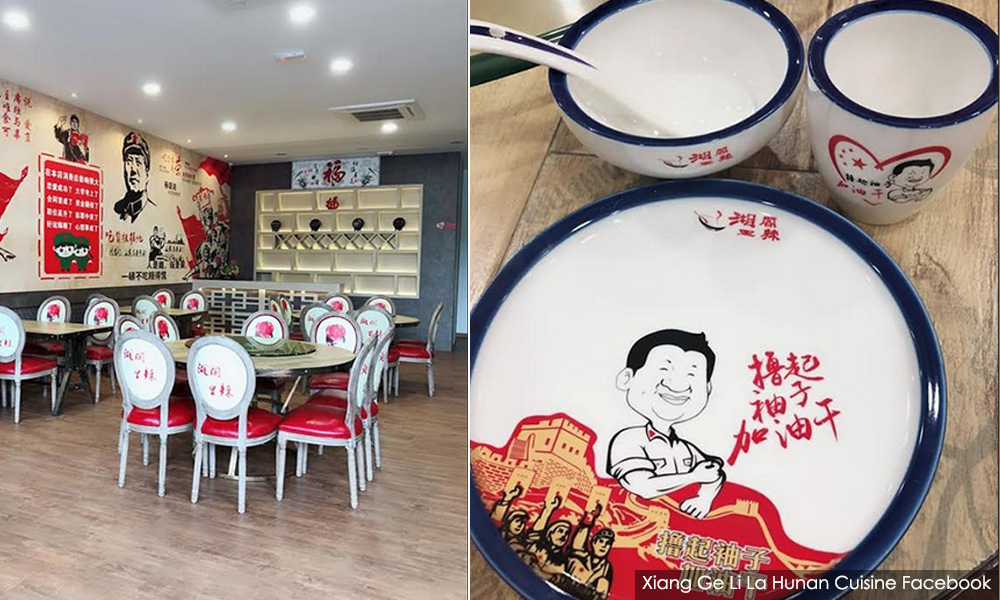 ..
..
https://www.freemalaysiatoday.com/category/nation/2021/01/03/penang-cops-probe-cafe-owner-for-putting-up-mao-zedong-wallpaper/
..
https://www.thevibes.com/articles/news/12176/cops-probe-cafe-operator-for-communist-themed-wallpaper?utm_source=dlvr.it&utm_medium=twitter
..