—
Cop accused of exposing himself to women
—
Kg Gatco: Polis didakwa buka zip, cuba tunjuk kemaluan http://wargamarhaen.blogspot.com/2015/05/kg-gatco-polis-didakwa-buka-zip-cuba.html …
Jumaat, 29 Mei 2015
Kg Gatco: Polis didakwa buka zip, cuba tunjuk kemaluan
Penduduk Kampung Gatco, Negeri Sembilan menuduh seorang anggota polis tempatan membuat gangguan seksual kepada beberapa orang wanita. Dakwaan terhadap Sarjan Mejar Abu Bakar Ibrahim daripada balai polis Air Hitam itu kini dikongsi meluas di Facebook.
—
Cop accused of exposing himself to women http://www.malaysiakini.com/news/300046  #gatco #negerisembilan @PDRMsia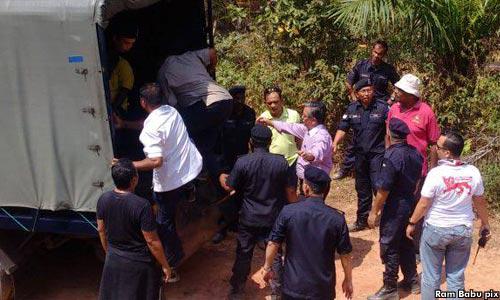 12:35PM May 29, 2015

By Nigel Aw
Cop accused of exposing himself to women
—
WHAT THEY CLAIM
Sergeant-Major Abu Bakar Ibrahim of Air Hitam police station in Jempol exposed himself to the women of Kampung Gatco in Negeri Sembilan, He unzipped his pants and attempted to show his private parts to them.
"He insulted us with expletives and then told us that he had not slept with his wife for a long time.
"Sergeant-Major Abu Bakar also asked a few of us women there to sleep with him.
WHAT HE SAID
When contacted, Abu Bakar denied the allegations and accused one of the woman of slapping him.
"She slapped me but I did not take it to heart. All the allegations are untrue, I did not do them.
"I wouldn't do something inappropriate. She provoked me several times but all the claims are untrue," he told Malaysiakini.
WHAT NS POLICE CHIEF SAYS
Negeri Sembilan police chief Jaafar Mohd Yusof when questioned about the incident denied the allegations.
Asked whether police would investigate the matter, Jaafar said they would do so only if the police officer in question had committed a wrong doing.
http://www.malaysiakini.com/news/300046
———————————————————————————————————–