…
Limkokwing Borneo‏ @Limkokwing_KCH Aug 8
"I commend Tan Sri Lim Kok Wing personally for his untiring commitment to creativity and innovation." – Dato' Sri Najib Razak
…
Let me to say this again : Fact: I had nothing to do with 'Nothing to hide' forum. Fact: I knew nothing about it until I read about it.
—
I've absolutely the greatest respect n admiration for Tun Mahathir. Everyone who knows me knows this to be the absolute truth @chedet_cc
—
Free Malaysia Today
Was Kok Wing a scapegoat for #nothingtohide?
We end up in one mess after another because we take the easy way out instead of delving into what really ails the country
COMMENT
By Shahril Ahmad Idrus
People in general love punching bags, especially when things don't go their way. Scapegoats are another favourite for people who want to avoid taking responsibility.
…
Take for instance the Forum "Nothing to Hide" organised by the NGO calling itself "SukaGuam" a body of volunteers consisting primarily of lawyers.
We know that it was organised by the NGO concerned with the support of a government agency tasked with disseminating information on government programs. We also know that due to the expected presence of the former Prime Minster Tun Dr. Mahathir at the forum, the current Prime Minister was advised by his Special Officer, not to attend.
Yet the person bearing the brunt of the blame for this well intentioned program was a newly appointed advisor to the PM responsible for media matters relating to Malaysia's Mass Rail Transport and national health issues like dengue.
WHY?
Was he an easy target since he did not work directly for the PM? Or was he easy to blame since he was not of the same ethnic group as the PM's other officers?
Tan Sri Lim Kok Wing has served the government in various capacities under three different Prime Ministers. His PR campaigns and catchy slogans that promote Malaysia and rally Malaysians from all walks of life can be seen in many arenas such as sports, youth work and economics.
It is difficult to imagine how he can be held responsible for the public relations nightmare stemming from a forum with a poorly chosen slogan titled #nothingtohide, which by implication causes one to infer that there previously was something to hide.
The thinking behind such an amateurish slogan is definitely not the kind of thinking you would associate with someone like Tan Sri Lim Kok Wing. He would have known better and would clearly have avoided the pitfalls of such a slogan.
Let's be clear, there are many officials in the PM's Office in charge of media and public relations. They work round the clock to prepare the PM's speeches, his itinerary, and advise him on public relations strategy. In addition, the Prime Minister has consultants like Paul Stadlen who have access to the Prime Minister's Office and are probably more in control of the decisions the Prime Minister makes when it comes to media and public relations strategy than Tan Sri Lim Kok Wing.
So we come back to the earlier question, why single out Tan Sri Lim Kok Wing for public ridicule for the failure of the Forum "Nothing To Hide" and for the poor advice given to the PM to not attend the said forum?
Tan Sri Lim Kok Wing had nothing to do with the Forum. His focus is on the MRT and national health issues. The Forum instead, was more political in nature and clearly under the Media team headed by the PM's own officials.
http://www.freemalaysiatoday.com/category/highlight/2015/07/21/was-kok-wing-a-scapegoat-for-nothingtohide/
—
Lim Kok Wing University Announces Course In Quietly Quitting Impossible PR Adviser Roles http://bit.ly/1Ot9f3C 
…
CYBERJAYA:  Students taking creative courses on Lim Kok Wing campuses can now study how to strategically quit your no hope Public Relations Adviser position, it was revealed today.
"We hope our students learn that it takes talent to quietly withdraw from the impossible task of making someone whose lost the people's trust look like someone credible," said a re-branding expert, "public relations is a valuable skill, but even more valuable is to know when to quit!"
A government source admitted one reason for Lim Kok Wing's PR failure is the perception the PMO wastes public funds on expensive advisers.  A team of top-dollar consultants were hired to investigate the matter.
– See more at: http://fakemalaysianews.com/2015/07/21/lim-kok-wing-university-announces-courses-in-strategically-quitting-impossible-pr-adviser-roles/#sthash.okoiZhvZ.de1k4qRb.dpuf
—
WAS THIS A PREMONITION OF THINGS TO COME?
Everything comes to an end. However strong. However weak. However hopeless. However smart. Eventually, everything comes to an end.
—
Malaysian Insider
Feeling the heat, Lim Kok Wing resigns as Najib's PR strategist
—
When elephants fight, everything else gets trampled on. Will he survive this mammoth of a fight?
—
Let me to say this again : Fact: I had nothing to do with 'Nothing to hide' forum. Fact: I knew nothing about it until I read about it.
…
.@limkokwing: I've nothing to do with #Nothing2Hide @NajibRazak http://www.malaysiakini.com/news/301797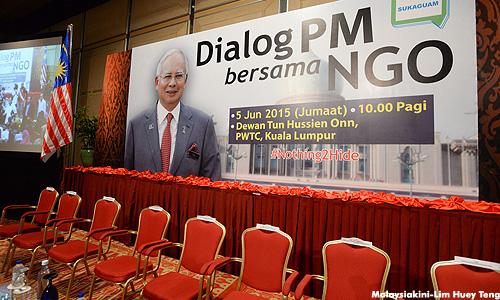 Public relations mogul Lim Kok Wing has denied any involvement with Prime Minister Najib Abdul Razak's scheduled dialogue with NGOs on June 5. Lim wrote on Twitter that he had nothing to do with the dialogue – titled "Nothing2Hide"- and that he knew nothing of it until he read about it later.
It is uncertain who had accused him of being involved in the event, that was organised by an NGO known as SukaGuam, led by Johor Umno deputy head Khairul Anwar Rahmat.
However, there had been some Twitter users who accused Lim, as Najib's public relations coordinator, of advising the premier to give the event a skip.
http://www.malaysiakini.com/news/301797
—
Mariam Mokhtar | Guli-guli to gula-gula http://www.malaysiakini.com/columns/301046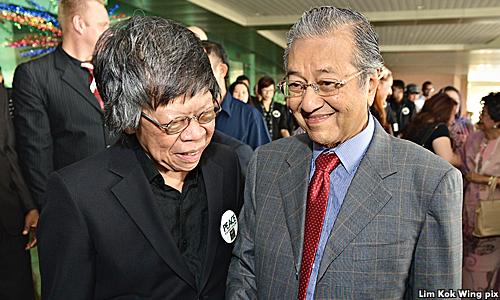 A threesome never works. Someone in the trio will get jealous and the relationship will turn sour, very quickly. The former cartoonist, Lim Kok Wing, or 'Guli-Guli' in the New Straits Times, has now upset former PM Mahathir Mohamad. On May 23, Najib Abdul Razak offered Lim the 'gula-gula' (candy), by placing him in charge of a nationwide campaign to rebuild his dented image. Lim took up the appointment with gusto, and in a private chat, warned Mahathir to stop attacking Najib. That was mistake number one. No one tells Mahathir what to do, especially as Mahathir had been Lim's mentor and was instrumental in his rapid rise from an NST cartoonist to the head of a global education empire which stretched from London to Lesotho, and Kuala Lumpur to Cambodia. Mistake number two occurred on Friday, the day Mahathir whined because he had been stopped from speaking at the dialogue on 1MDB called 'Nothing to Hide' at the Putra World Trade Centre. … Mistake number three was also revealed last Friday. Soon after Mahathir's blog post about the ex-friend appeared, the 'ex-friend', whom many had already suspected was Lim Kok Wing, responded to Mahathir's moan and said that he had only "the greatest respect and admiration" for Mahathir. Mistake number four was Lim's acceptance of the role of Najib's latest publicity strategist. http://www.malaysiakini.com/columns/301046 — CAN A VERY EXPENSIVE PUBLIC RELATIONS SPECIALIST REPAIR THE DAMAGE TO NAJIB'S IMAGE? News of Lim's new role as Najib's public relations adviser drew sarcasm from former Bar Council chairperson Ambiga Sreenevasan, who said she would happily provide Najib advice FREE OF CHARGE. http://www.malaysiakini.com/news/299388 — When elephants fight, everything else gets trampled on. Will he survive this mammoth of a fight? Free Malaysia Today
Kok Wing fends off 'horrible insults' and attacks
Najib's controversial image consultant also declares greatest respect for Mahathir
KUALA LUMPUR: Veteran adman Lim Kok Wing, the newest member of Najib Razak's public relations and image-building team, fended off "horrible insults" and "unkind personal attacks" today after finding himself being blamed for "the PR disaster of the century". He posted two comments on Twitter today which might be read as a response to criticism about his role in the prime minister's non-appearance in a public forum on Friday called Nothing2Hide. In the first posting earlier today on his @limkokwing acount, he said: "There're too many wrong assumptions and conclusions, far too many unkind, unreasonable personal attacks. Time will tell. Truth will prevail." It was not known if he was responding to any particular criticism. However, a commenter responded by saying: "traitor! Back stabber!" Lim's remark comes a day after blogger and political analyst Syed Akbar Ali had written a scathing and direct attack on Kok Wing yesterday, reported in Free Malaysia Today. … On Thursday, Dr Mahathir had written about Kok Wing, without referring to him by name, and recounted a private meeting between the two of them. He had closed by calling Kok Wing "an ex-friend". The next day, Kok Wing posted on Twitter: "I've absolutely the greatest respect n admiration for Tun Mahathir. Everyone who knows me knows this to be the absolute truth @chedet_cc" with a link to Dr Mahathir's account @chedet_cc. http://www.freemalaysiatoday.com/category/nation/2015/06/07/kok-wing-fends-off-horrible-insults-and-attacks/ — Lim Kok Wing rose to prominence by being the Barisan Nasional's principal image consultant in charge of all election campaign advertising during the 22 years of Mahathir's several terms in office. He also founded a design school which eventually achieved university status under Dr Mahathir's patronage and spread internationally. http://www.freemalaysiatoday.com/category/nation/2015/06/06/nowhere2hide-dr-ms-man-blasts-kok-wing/ — HOW WILL TAN SRI LIM KOK WING REPAIR THE DAMAGE DONE BY THE PM TO HIS OWN IMAGE? The 1MDB 'Nothing2Hide' Dialogue 5 June 2015 became the 'Nothing2Show Everything2Hide' Sham. — Free Malaysia Today
Nowhere2Hide: Dr M's man blasts Kok Wing
Najib's PR team in tatters, says blogger, and warns image man Lim that his own legacy in danger
KUALA LUMUR: Najib Razak's new image consultant, Lim Kok Wing, has been urged to beat a "quiet but hasty retreat" in a sharply-worded blog posting by Syed Akbar Ali, an ardent supporter of Dr Mahathir Mohamad. Syed Akbar Ali gave Kok Wing a double-barrel blast, blaming him for the "PR disaster of the century" when the prime minister did not show up at the Nothing2Hide public forum where Najib was expected to answer criticisms about his government's handling of national affairs. In addition, Syed Akbar warned Lim that "some people are not going to forget you for this" for his having warned Dr Mahathir at a personal meeting to lay off his campaign against Najib and for Dr Mahathir to expect his legacy and reputation to be torn to shreds. Syed Akbar relied on unnamed sources to accuse Lim of having bungled by coming up with the idea of the forum. It had become "the biggest PR disaster of the century", and people were calling it Nowhere to Hide instead of Nothing2Hide. … Syed Akbar said "some serious finger pointing" had begun inside Najib's public relations camp because those responsible for telling the prime minister not to attend the forum were from another part of the PR team. T he blogger said Najib was "a PR disaster" and warned Lim that he could not "make a silk purse out of a sow's ear". As an example, he cited Najib's failure to say anything about Friday's earthquake in Sabah, a first in Malaysia, until five hours later "because he was too busy running and hiding from Dr Mahathir all of yesterday morning". Najib had also failed to visit the state and instead was going for an official visit to Saudi Arabia. S yed Akbar warned Kok Wing that his own legacy (as an adman, image consultant, and founder of a creative design school) was now in danger. http://www.freemalaysiatoday.com/category/nation/2015/06/06/nowhere2hide-dr-ms-man-blasts-kok-wing/ — Malaysiakini 9:46AM Jun 6, 2015
By Yoursay
A major public relations debacle for Najib
Vijay47: Just when we think that PM Najib Razak could not do anything more stupid and self-destructive than what he has already ably achieved, he surprises us by showing that he can do much more than we believe he is capable of. 1MDB is a huge albatross around the prime minister's neck and like former PM Dr Mahathir Mohamad said, Najib "missed the opportunity to clear the air on 1MDB". Najib, for heaven's sake, you are the prime minister of the country and yet you chickened out on a simple crucial occasion to explain to the public a problem that has been haunting you these last few months? … I hope you and your dream-mate realise that in cancelling the NGO event, you did much more harm to yourself than if you had not wanted it in the first place. … Versey: The PDRM in Sarawak and Pekan protected PM Najib when meeting thousands of supporters there, so what made IGP thinks that it's not safe for PM to attend his 'Nothing to hide' forum? Those who attended the forum are civilised people. If PDRM could not safeguard a forum organised and attended by civilised people, what assurance could it give to its citizens that they are protected in their daily lives, more so with the threat of terrorist attacks? … Doc: It looks like Najib will not be sleeping soundly tonight on the same pillow with wife Rosmah Mansor. http://www.malaysiakini.com/news/300923 — 5 June 2015
#FLASH #Mahathir laments over a friend turned foe http://www.malaysiakini.com/news/300829  .@limkokwing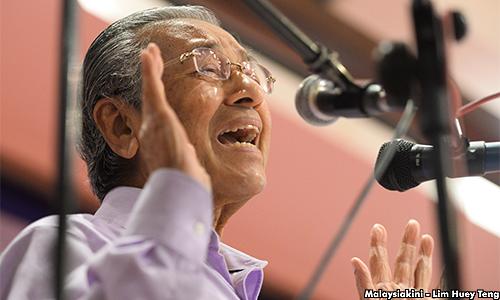 Former premier Dr Mahathir Mohamad is a firm believer that in politics, friends and foes do not last forever. And now, he lamented that in his ongoing feud with Prime Minister Najib Abdul Razak, a close associate has crossed over to the other camp. Though he did not mention names, it is obvious that Mahathir was referring to Lim Kok Wing, who was recently appointed as "special programme coordinator" of the prime minister. The former premier also revealed that the PR mogul himself had previously expressed concern about Najib's administration, and urged Mahathir to do something about it. But his friend sang a different tune during their last meeting, where he attempted to persuade Mahathir to cease criticising Najib. "He kept urging me not to attack the PM. I explained why I am doing so. "But he persisted in urging me to desist from my efforts at questioning the leadership regarding the current financial scandal. "He warned if I continue I would lose my legacy. I told him what people think of my legacy, if there is any, is not important. I am concerned of what is happening in the country. Our good reputation is being eroded. … But now, Mahathir said, he understands what his friend's warning meant. "He has been given the task of demonising me, of destroying what he calls my legacy.
"I think he and his boss believes that if I become unpopular then my condemnation of the shenanigans involving 1MDB would be ignored by people," he added. http://www.malaysiakini.com/news/300829 — Political analyst Shahbudin Husin advises Najib's PR Man to advise Najib to debate Mahathir. Free Malaysia Today
Kok Wing should advise PM to face Dr M in debate
As long as he doesn't engage Mahathir face to face, he'll be seen as a coward, says blogger Shahbudin.
PETALING JAYA: Malaysians may have to endure a blog war without end unless Prime Minister Najib Abdul Razak accepts former premier Mahathir Mohamad's challenge to a debate, political analyst Shahbudin Husin says in his latest blog posting. "It seems that although Najib has access to the mainstream media, he prefers to use his blog as Mahathir is doing," Shahbudin writes. "But Mahathir has no choice except to rely on his blog since the mainstream media won't carry his statements." He acknowledges that Malaysians may find some excitement in reading the two blogs if the war of words continue, but adds that it would probably solve nothing. That's why, he says, Najib's newly recruited propaganda chief Lim Kok Wing should advise the Prime Minister to face Mahathir in a public debate. http://www.freemalaysiatoday.com/category/nation/2015/05/28/kok-wing-should-advise-pm-to-face-dr-m-in-debate/ — TAN SRI LIM KOK WING GETS THE JOB OF PUBLIC RELATIONS STRATEGIST FOR NAJIB.
— Free Malaysia Today
Lim Kok Wing's toughest challenge
PETALING JAYA: Remaking Prime Minister Najib Razak's image is probably the toughest challenge ever faced by public relations consultant Lim Kok Wing, political analyst Shahbudin Husin says in his latest blog posting. Shahbudin wonders what magic Lim can work to remove from Najib's image the stains and blotches that have been left there by so many controversies, such as the 1MDB scandal, the Altantuya murder, the Goods and Services Tax and his wife's alleged extravagance. To drive home his point that Lim faces an impossible task, he likens it to attempting to rebuild an old car into one that is brand new. "Najib is like a car that is almost a total loss and cannot be depended upon to take one very far," he says. "Reviving, repairing and beautifying it would cost more than buying a new car. Given Najib's badly mangled image, Lim would no doubt be handsomely paid from the people's money for his services. But will the kampung folk and the Felda settlers be impressed enough to accept the remade Najib, now that they've begun to reject him, as shown in the result of the Rompin by-election?" http://www.freemalaysiatoday.com/category/nation/2015/05/24/lim-kok-wings-toughest-challenge/ — 6:10PM May 23, 2015
Malaysiakini
Lim Kok Wing plays down Najib PR role
Advertising guru Lim Kok Wing has played down his new appointment as Prime Minister Najib Abdul Razak's public relations adviser as "nothing special", as it is one of his many government engagements. "I've been working with the Malaysian government since 1974 on the New Economic Policy (NEP). "My appointment serves as a continuation of the role that I play in supporting the government," Lim is reported saying by The Star Online today. http://www.malaysiakini.com/news/299388 — Malaysian Insider
Tan Sri Lim Kok Wing (far right), seen here with Prime Minister Datuk Seri Najib Razak and Tun Dr Mahathir Mohamad at an event in 2013. Lim is now back to serve Najib in a charm offensive amid Dr Mahathir's incessant attacks. – Lim Kok Wing Twitter pic, May 22, 2015.
Advertising man Tan Sri Lim Kok Wing, who has run Barisan Nasional's election campaigns, is Datuk Seri Najib Razak's new public campaign coordinator in a charm offensive to win over Malaysians and shore up the prime minister's flagging popularity. Lim rode high during Tun Dr Mahathir Mohamad's administration, but the former prime minister is now Najib's harshest critic. It was learnt that Lim, who has been appointed "special programme coordinator", has drawn up plans for Najib to go nationwide to gather support and listen to the complaints from the people. Lim, who founded the Limkokwing University of Creative Technology, will report directly to the Prime Minister's Office which already has a string of advisors – See more at:
http://www.themalaysianinsider.com/malaysia/article/lim-kok-wing-is-najibs-new-pr-strategist#sthash.mWLjtt3F.dpuf
— Malay Mail Online
Just more banners, slogans with Lim Kok Wing as PM's advisor, ex-NST boss predicts
KUALA LUMPUR, May 24 — Datuk A. Kadir Jasin today cast doubt over the efficacy of Tan Sri Lim Kok Wing's appointment as Datuk Seri Najib Razak's public relations advisor, saying the advertising guru is unlikely to bring new ideas to burnish the prime minister's image. The former chief editor of the New Straits Times also alleged that Lim's appointment will lead to friction among Najib's existing coterie of "super advisers", saying the latter will attempt to force his own methods among the prime minister's close counsel. The PM's official advisors include Datuk Seri Dr Abdullah Md Zin, Datuk Johari Baharum, Tan Sri Rais Yatim, Datuk Seri Shahrizat Abdul Jalil and, now, Lim. "Knowing LKW, he would outtalk and ride rough shot over other members of the team namely Abdullah Md Zin, Johari Baharum, Rais Yatim and Shahrizat Abdul Jalil. "We can expect to see more slogans, songs, banners and cartoons if LKW has his way," Kadir wrote on his blog today.
——————————————————————————————————–