—
GERMANY AND ISIS
#Exclusive: #Germany tops European countries in sending suicide bombers to #Iraq after #ISIS captured #Mosul.
—
German intelligence also sounded the alarm about a rising number of Islamist militants inside Germany ready to join IS in Iraq and Syria and warned of an increased risk of violent clashes on German streets between rival radical groups.
…
STREET CLASHES
In a parallel statement, BND's sister agency BfV, which handles domestic intelligence, said the number of Salafist Islamists was rising in Germany, and with it the number of potential recruits for IS. Some 450 people have travelled from Germany to join the radical Islamist fighters.
Salafists espouse a strict, puritanical form of Islam.
The BfV said some Chechens living in Germany were joining Salafist groups and added that many of those recruits were especially active and violent. It also warned of increased clashes in Germany between Islamist groups and supporters of Kurdish separatists, in an echo of the Kobani conflict. "Salafists are recruiting fighters for IS. Since the summer of 2014 the Kurdistan Workers Party (PKK) is recruiting its followers to fight against IS," said BfV president Hans-Georg Maassen in the agency's statement.
http://news.asiaone.com/news/world/german-intelligence-fears-more-german-islamists-joining#xtor=CS2-4
—
After Kurdish protests, around 4,000 right-wingers also protest against IS, fuelling security concerns in Germany http://bit.ly/1FShjbe
Germany: Cologne Anti-Isis Far-Right Violence Prompts Call to Ban Hooligan Rallies
October 27, 2014 18:50 BST
German authorities were considering measures to limit the right to demonstrate, after dozens of policemen were injured as a protest by far-right groups purportedly aimed against Islamic extremism turned violent.
North Rhine-Westphalia's interior minister said freedom of assembly was misused by neo-Nazi groups and members of Germany's football hooligan scene who held a rally in Cologne, western Germany, on Sunday 26 October.
…
Is the #Isis #Iraq #Syria conflict causing a 'proxy war' in #Germany? http://www.thelocal.de/20141028/cologne-far-right-protests-reaction …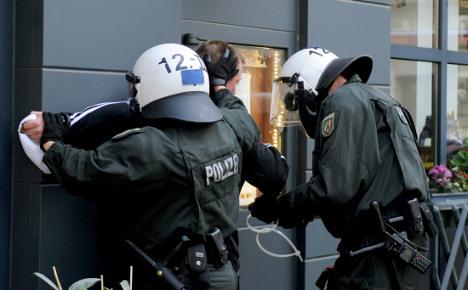 Pundits, politicians and police chiefs have all been sticking their oar into the debate over how to deal with the unholy alliance of drunken thugs and far-right politics which came to a head in Cologne on Sunday.
If you listen to Rainer Wendt, president of the German Police Union (DPolG), then the confrontations between hooligans and police in Cologne, in which 44 officers were injured, was a success story.
"There was very good intelligence about these people and the police were in place to deal with any problems," he told The Local.
Wendt sees intelligence as the key to maintaining order in cities as tensions mount between different groups, stoked by conflicts in the Middle East.
Recent weeks have seen huge brawls between different groups including Muslim fundamentalists, Kurds and Yazidi in cities including Hamburg, Celle and elsewhere.
"We have to gather more information, observe them better," Wendt argues.
"With more technology and modern software, we can watch the communications and travel of these people and see who's connected with who," he said.
Otherwise "there's a danger that the battle in Syria spreads out and comes here, that radical groups join together against Salafists… we can't allow a proxy war to take place in Germany."
http://www.thelocal.de/20141028/cologne-far-right-protests-reaction
—
DAILY JIHAD: PRE-ADOLESCENT CHILDREN LEAVING GERMANY TO FIGHT FOR ISLAMIC STATE http://www.breitbart.com/Big-Peace/2014/09/22/Daily-Jihad-Pre-Adolescent-Children-Leaving-Germany-To-Fight-For-Islamic-State … pic.twitter.com/Pb2CD1OwCM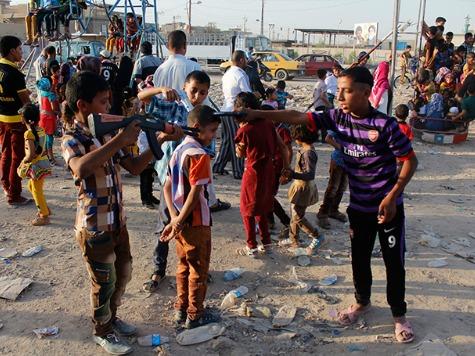 Maaben, the president of Germany's equivalent to the FBI, estimates that at least twenty-four children have left their homes in the Deutschland for Syria and Iraq, and among them, five have returned with combat experience. Additionally, as many as four girls left for the Middle East with a "romantic ideal of marrying a jihadist" whom they had met online. "The vast majority are from migration backgrounds," added Maaben.
Maaben added that foreign intelligence services and the kids' parents have helped the BfV locate and track the large swath of child jihadis making their way in and out of Germany.
Some 400 German citizens have joined the Islamic holy wars in Iraq and Syria, according to security source estimates given to The Local.de. Of the 400-plus who initially left, about 130 have returned to their nation of origin, and another 40 or more have died on the battlefield. A study by Germany's BfV found that the vast majority of the jihadis are poorly educated Muslim men who originated from foreign lands.
German Foreign Minister Frank-Walter Steinmeier said on Sunday that his country will not participate in any air strikes, nor will it get involved on the ground to support U.S.-led coalition efforts against the Islamic State fighters in Iraq and Syria.
—
I just saw this on Malaysian Gags, thank god I've got the germany size lol pic.twitter.com/aGd8Zn6zSx
—
Germany officially makes helping Islamic State (IS) a crime http://www.infowars.com/germany-officially-makes-helping-islamic-state-is-a-crime/ … pic.twitter.com/qr6yQyNC5D
—
…
Deaths from police shootings (latest available year) US 409 Germany 8 Britain 0 Japan 0 http://www.economist.com/news/united-states/21613272-police-missouri-suburb-demonstrate-how-not-quell-riot-overkill … pic.twitter.com/OqxanmErNV
———————————————————————-