________________________________________________________
*I have written elsewhere that, even if you have two heads, as long as you are in a DAP stronghold, you will get elected.
DYANA SOFYA DOESN'T HAVE TWO HEADS WHICH MAKES IT DOUBLY HARD FOR MAH SIEW KEONG TO GAIN ANY GROUND.
—–
Tahniah! BN Berjaya di Teluk Intan. Ucapan terima kasih kpd semua pengundi kerana mengundi- Mah Siew Keong pic.twitter.com/BV1cc2ycHt @GanesanJP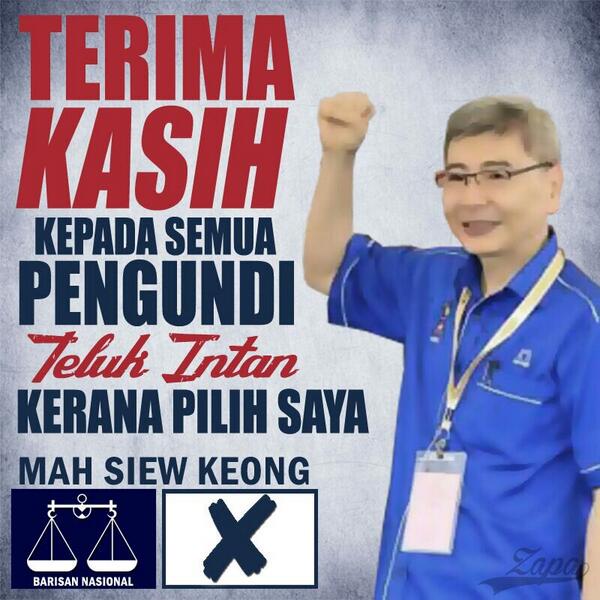 —–
Malaysiakini
5:42PM May 31, 2014
Official: Mah wins, majority 238 votes
 …
Polls close at 5pm with a relatively low turnout of 66.5 percent or 39,850.This is below the DAP target of 70 percent, which it had hoped can push its newbie candidate Dyana Sofya Mohd Daud ahead of against BN veteran Mah Siew Keong.In 2013, turnout at Teluk Intan was a record 80.4 percent. DAP had then won with a majority of
7,313 or
15 percent of total votes.
—–
STOP WHINING, MAH!
Malaysiakini
9:32AM May 31, 2014
Fear over return of the outsiders
YOURSAY 'Mah, stop calling me an outsider when I was born and bred in Teluk Intan.'
Mah: Don't let outstation voters decide town's fate
Survivor: Gerakan chief Mah Siew Keong, you are digging your own grave by suggesting that people originally from Teluk Intan whose parents and siblings are still in the town should not vote. Where is your sense of democracy?
Besides, you should ask why those people living outside Teluk Intan had to leave the town to go work somewhere else.
Are you also suggesting to Umno Baru that those people from the kampung who support Umno Baru should not also return home to vote?
James1067: If enough investments were brought in to Teluk Intan, these people would not have to look for greener pastures elsewhere. With Mah serving so many years as a politician in the ruling BN shows that not enough has been done for Teluk Intan.
Please don't insult these sons and daughters of the town and look where things have gone wrong. What assurances do they have after BN failing for three terms to make a difference?
Justice Pao: These outstation voters were born and bred in Teluk Intan and they have to go elsewhere to work extra hard to support themselves and their families, unlike those Umnoputras who have a free ride on the gravy train.
These 'outsiders' have the right to decide the future of Teluk Intan and tell their elders to follow them.
Sakit Hati Ku: Mah, what gives you more right than a Teluk Intan resident working outside? You were a two-term MP, did you create any new jobs for them to encourage them to stay back?
Remember, no one likes to be away from home, unless under inevitable circumstances. Unlike you, they are not born with a golden spoon.
5295: What outsiders? Our children are forced to seek employment elsewhere because there are no jobs for them in Teluk Intan under BN rule. What's wrong with earning outstation money to help their families?
Anynomous: Mah claims he has experience as a two-term assemblyperson in Pasir Berdamar, but has not done anything to improve Teluk Intan's economy.
If there were jobs in the town, the youths would not have to migrate elsewhere.
Speaking Sense: Mah, why are the Teluk Intan street lights and roads all in poor condition after 50 years of Umno-BN rule?
Why could you not do anything about it when you were a minister in the past? Who is responsible for the present state of the town?
Even when the people gave Pakatan Rakyat a chance to form the Perak government, your Umno stole it back from them and put Zambry Abdul Kadir and his cohorts in charge.
Caesar: What do you mean by "outsiders" – as long as they are registered under Teluk Intan then they are eligible to vote. It's as simple as that. Isn't blocking registered voters from voting an offence?
And you were MP for two terms before, and now you are saying Teluk Intan street lights are in poor condition, and so forth. So what have you done during your term in office?
You mean to say you will take care of things only when voted in? I think you are talking nonsense.
ACR: The roads, lights and what not should be maintained regardless of which party wins the seat. And it is a disgrace for a candidate in an MP seat to talk about such trifles. That is what local councillors are responsible for.
If these are the issues Mah intends to look out for, Teluk Intan deserves better.
Ong: Mah is confused between an MP and a local councillor. Besides, an outsider today can move back to Teluk Intan tomorrow and become a local, and vice versa.
Peacemaker: Will Mah stop calling me an outsider when I was born and raised in Teluk Intan? He is the outsider compared to me and I'm 68 years old.
Just because I now live with my son in Kuala Lumpur does not make me an outsider. I can show him the best ice kacang man and the tastiest rojak in Teluk Intan. So please shut up, Mah.
Anonymous_3f6d: As a senior politician, how can he call outstation voters outsiders? Aren't they Malaysian too? Don't they have a right to have a say about the future of their birth place?
Anonymous #33877536: Mah, please don't insult the outstation Teluk Intan voters. They are also Teluk Intan citizens who help the town financially by sending money home to their parents.
Ksn: Outstation voters do not have the same right as resident voters?
Are you so afraid that outstation voters are informed about what Umno Baru-BN has been doing, all the abuses, the vices … the list is too long to record here.
Oracle: Calling outstation voters "outsiders" is like saying overseas Malaysians should be disenfranchised, and urging the elderly not to listen to their children is just the type of Umno mentality that, apart from sowing discord within families, is designed to keep constituents ignorant and backwards.
Why not abolish television and the social media and urge parents not to educate their children?
http://www.malaysiakini.com/news/264350
—–
Political analyst Khoo Kay Peng  said the biggest impact would be on Gerakan, as its entire leadership would be thrown into instability if their president Datuk Mah Siew Keong failed to win the seat.
"Teluk Intan is supposed to be the best seat for him to win. He has served as MP there for two terms, he is a local boy. So if he is unable to even win this, then how about the rest of Gerakan?"
http://www.themalaysianinsider.com/malaysia/article/analysts-agree-dap-will-win-teluk-intan-again
—
IT'S MAH'S TURN TO BE VICTIM OF A SMEAR CAMPAIGN
BN's Mah latest target in Teluk Intan smear battle
TELUK INTAN, May 25 — After the smear campaign against DAP's Dyana Sofya Mohd Daud, a photograph of Datuk Mah Siew Keong is circulating online painting the Barisan Nasional (BN) candidate as a sexual harasser preying on women ahead of the Teluk
—–
CONTRARY TO WHAT MANY SAY, I BELIEVE THAT MAH SIEW KEONG WILL LOSE TO DYANA SOFYA.
WHY?
1. It is an election featuring BN-Gerakan on the one hand, and PR-DAP on the other, IN A DAP STRONGHOLD. The last two elections have shown just how strong DAP is there.
2. It is not a run-off  between two people who are standing as Independents. It is a runoff between representatives of two political parties. In the last two elections, DAP has won, and in 2013, it won big.
3. No matter how Lim Kit Siang and others in the DAP portray Dyana Sofya as the underdog, the truth is that she is not. She is backed by the DAP jugggernaut. They are so confident of retaining the seat that they can experiment with a novice. They could have fielded Superman and won easily, and they can expect victory from Dyana Sofya.
4. The Chinese voters will mostly votes for DAP, and because she is DAP, they will vote for her. I have written elsewhere that, even if you have two heads, as long as you are in a DAP stronghold, you will get elected. The only question is whether she can make any impact on the Malay voters.
5. Mah Siew Keong will lose, but some of us hope that it won't be by as large as margin as in 2013. If DAP again wins big this time around, Perak DAP, already arrogant, will surely grow in arrogance.
—
BN dangles a carrot: vote for Mah and Teluk Intan will get a FULL MINISTER, the first in 50 years!
Malaysiakini
8:00PM May 22, 2014
'Mah will end Teluk Intan's 50-year minister drought'
If elected as member of parliament on May 31, Gerakan president will the first Teluk Intan native to be appointed cabinet minister in 50 years.
This was the message delivered by Umno campaigner Faizal Effendi Hassim, who campaigned solo via loudspeaker at the Taman Indah Jaya in the Perak constituency today.
"Fifty years ago, a representative had been chosen as a full cabinet minister, but the last 50 years Teluk Intan people never had any full minister," the Umno Parit member said.
"Please believe (us), if BN candidate Mah Siew Keong take the seat, Mah will be chosen as a full minister," he said in his two minutes speech.
http://www.malaysiakini.com/news/263584
—
Mah is right. In GE 13, they came back in droves, often by chartered buses, and paid the fares themselves. But will they come back this time?
"Will they come back or not?" That is the question.
Star
Thursday May 22, 2014 MYT 7:15:35 AM
Those returning from elsewhere may hurt my chances of winning, says Mah
TELUK INTAN: Many young voters are expected to return – some from Singapore – to cast their votes for the Teluk Intan parliamentary by-election on May 31, which is a Saturday.
Chinese voters will also be coming back to celebrate the rice dumpling festival over the weekend although this falls on Monday, June 2, this year.
Barisan Nasional candidate Datuk Mah Siew Keong (pic) said the huge turnout of young voters would work against him.
"It was the outstation voters who caused the tsunami in the general election last year. They do not depend on services that we (Barisan) provide to overcome problems like flood or low water pressure," he said here yesterday.
…
Recalling his defeat last year, Mah said he had expected the tsunami when he saw many cars with registration plates from Kuala Lumpur, Penang and Singapore in the constitutuency.
http://www.thestar.com.my/News/Nation/2014/05/22/Influx-of-young-voters-expected-Those-returning-from-elsewhere-may-hurt-my-chances-of-winning-says/
—
Pengundi muda sokong Mah #PRKTelukIntan @p076telukintan @Khairykj @TengkuAdnanReal pic.twitter.com/0K5Cgv9l0L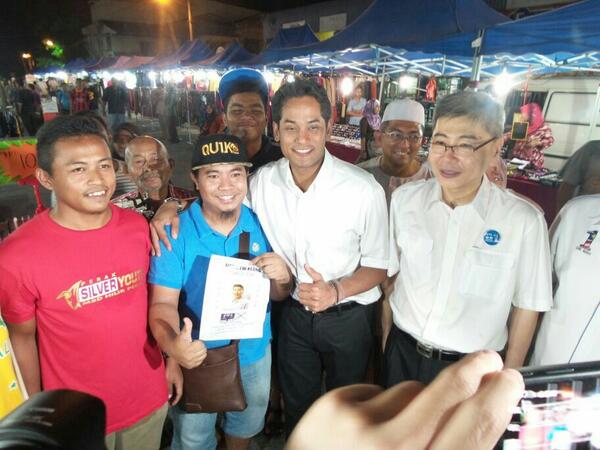 —
YB @Khairykj sembang santai bersama anak muda PDM Taman Seri Setia. #MohPilihMah #PRKTelukIntan #P076 pic.twitter.com/fktD6i4jBj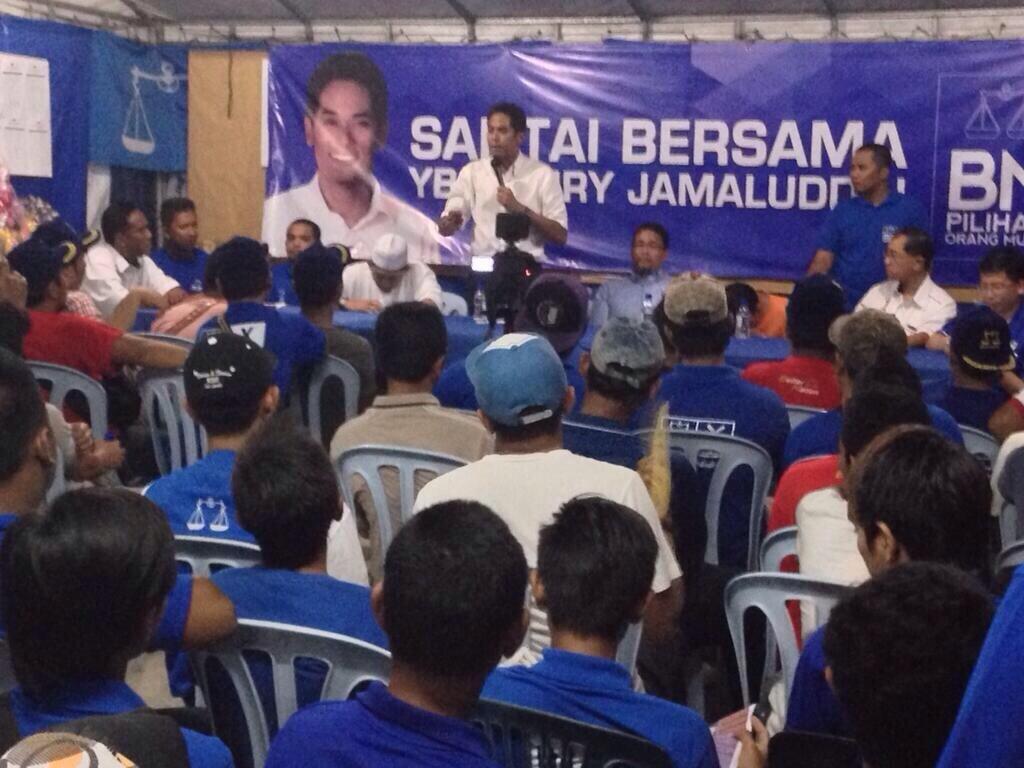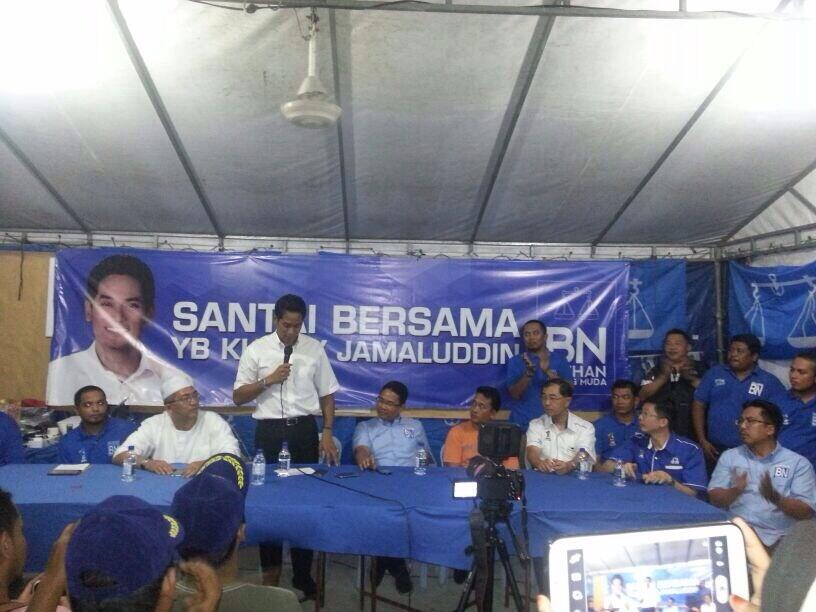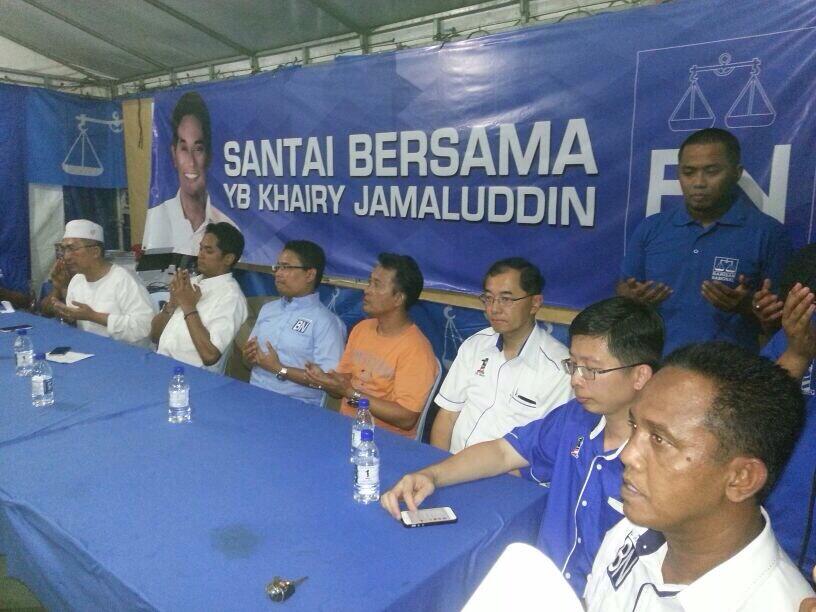 —
"@HishammuddinH2O: Tetap – esok saya atur prog ke teluk intan "@zhariffzaf: moh datang support kawan2 H2O pic.twitter.com/q2EBjBlYxu @Khairykj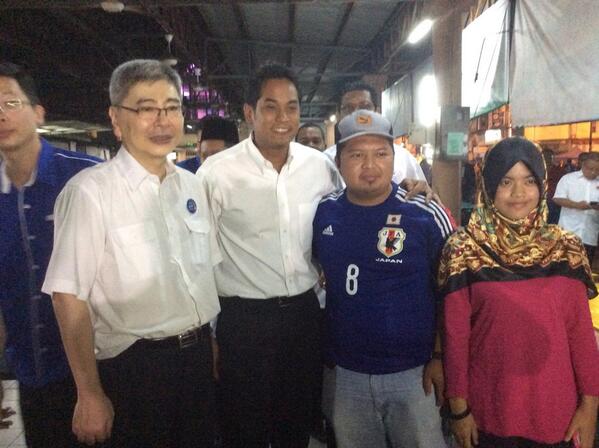 —
国阵候选人马袖强促请霹行动党停止玩弄"选火箭,是买一送一"的欺骗手法。
Barisan Nasional candidate Ma Xiuqiang PI Action Party were urged to stop playing "selected rocket, is buy one, get one free" deception. (Translated by Bing)
—
MAH'S STRATEGY
TO WIN OVER THE CHINESE WHO ARE NOT DIE-HARD DAP SUPPORTERS, MAH HAS TO DO TWO THINGS:
1 HE HAS TO OFFER ECONOMIC AND EDUCATIONAL GOODIES.
He has to promise investment from business circles. The DAP can't. The DAP is good at talking and opposing but has no influence among investors. Teluk Intan is not Penang.
He can promise money for schools, and he can keep his promise since he is backed by the BN Government.
2 HE CAN DANGLE BEFORE THE CHINESE THE CARROT OF CHINESE REPRESENTATION IN THE CABINET (WHICH MEANS AT LEAST AN ASSISTANT MINISTER'S POST).
Think of what having their own Assistant Minister in the cabinet will do for their status and future development, he will have to point out.
—
Star
Wednesday May 21, 2014 MYT 10:45:40 AM
Teluk Intan has potential to be a commercial centre to attract investors, says Mah
TELUK INTAN: Teluk Intan has the potential to be a commercial centre that could attract investors, said Gerakan president Datuk Mah Siew Keong.
He said it was his vision to see Hilir Perak, which encompassed the southern region of the state, be developed and to improve the standard of living of the people here.
"In a few days, I will let the people know of my plan for Teluk Intan.
"Together with Bagan Datoh and Pasir Salak, the constituency can be an important commercial centre," he told journalists after a walkabout at the Pasir Bedamar market here on Wednesday.
He added that development of Teluk Intan was what the people desired.
"I've been here for all my life. I am born and got married here," he said.
"I know the problems and what the people wants," he added.
http://www.thestar.com.my/News/Nation/2014/05/21/Teluk-Intan-Byelection-mah/
—
YAHOO! NEWS MALAYSIA
Stop toying with voters' feelings, Gerakan tells DAP in Teluk Intan polls
The Malaysian Insider 
The Barisan Nasional (BN) candidate for the Teluk Intan by-election today accused the DAP for manipulating the emotions of voters when it said that it would only receive 40% of votes at the polls.
Gerakan president Datuk Mah Siew Keong said that it was impossible DAP to lack confidence when the majority of votes the party received in the 13th general election was more than 7,000.
"When I read Lim's comments, I laughed. DAP said its chances were about 40%, but they won by a 7,000 majority in the last polls.
"How can a party which won by 7,000 votes say that their chances only stood at 40%?" said Mah, referring to DAP parliamentary leader Lim Kit Siang.
"DAP always plays on the emotions of voters by portraying itself as the underdog. There is still sympathy for the former elected representative Seah Leong Peng."
https://my.news.yahoo.com/stop-toying-voters-feelings-gerakan-tells-dap-teluk-040129234.html
—
NST photo
Malaysiakini photo
Star
Monday May 19, 2014 MYT 9:27:30 AM
Teluk Intan by-election: Nomination day
TELUK INTAN: Scores of supporters from Barisan Nasional and Pakatan Rakyat gathered near the nomination centre in Taman Cicely here Monday morning, ahead of nominations for the May 31 by-election.
Barisan supporters gathered opposite the nomination centre in SMK Seri Perak and were led by Deputy Prime Minister Tan Sri Muhyiddin Yassin and Gerakan president Datuk Mah Siew Keong, the Barisan candidate.
Pakatan leaders and supporters have also started to march to the centre alongside DAP candidate Dyana Sofya Mohd Daud.
Barisan leaders present included Home Minister and Umno vice-president Datuk Seri Dr Ahmad Zahid Hamidi, Perak MCA chairman Datuk Dr Mah Hang Soon and other component party leaders. Nomination will close at 10am.
http://www.thestar.com.my/News/Nation/2014/05/19/Teluk-Intan-byelection-nomination-day/
Examples of anti-BN-Gerakan posts
BN sudah mula menghantar umpan untuk meraih pengundi di Teluk Intan. satu lori barangan daripada Yayasan Bina Upaya sedang diangkut.
Foto: Nasir Mustafa.
—
http://www.therakyatpost.com/news/2014/05/19/dyana-mah-teluk-intan/
——————————————————————-