_______________________________________________________________
—
Esme the Guide Dog and Cassandra Chiu, Singapore Woman Award 2012 recipient
—
CASSANDRA CHIU MEI MEI
Singapore Woman of the Year 2012
Singapore Disabled Sports Woman of the Year 1966
Master of Science in Professional Counselling
Psychotherapist
—
If ever there were a heroine, she would be one!
Heroine: woman of distinguished courage or ability, admired for her brave deeds and noble qualities.
(http://dictionary.reference.com/browse/heroine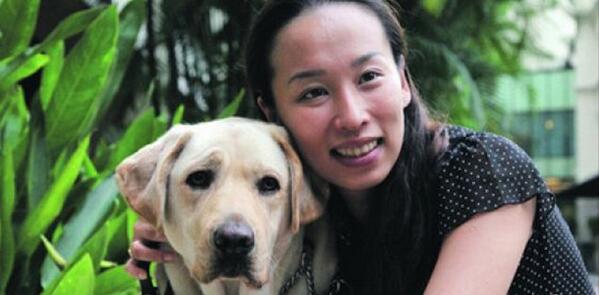 http://on-msn.com/1dfoVE3  pic.twitter.com/aNueTyyk7
—–
#Swinburne alumna and #Singapore Woman of the Year '12 @cassandrachiu visited campus today with Esme the guide dog! http://ow.ly/i/6sVIW 
—
"Inspired Stories: Champions of Empowerment" organized by WomenTalk TV, UN Women Singapore, NUS and SK-II — listening to Rachel Chung and Cassandra Chiu, who are featured in #womentalktv videos, and also its founder and host, Eunice Olsen. Very insightful and inspiring!
— with Cassandra Chiu and 2 others at Stephen Riady Centre.
—–
Video: NYLD WE 2013 – Come hear from Cassandra Chiu (Esme, her guide dog will be there too)!
—
For a chronology of her life, read the following:
Posted on 07 January 2013
---
Cassandra Chiu shows you how to unlock your achievement one at a time.
This is Cassandra Chiu. She has trouble seeing. And that is her guide dog Esme.
But that hasn't stopped her from unlocking her achievement: A Master of Science degree in Professional Counselling.
http://newnation.sg/tag/cassandra-chiu/
—
YAHOO! NEWS SINGAPORE
MDA fines MediaCorp $6,300 after DJ uses offensive word on visually-impaired woman
By Jeanette Tan | Yahoo Newsroom
The Media Development Authority (MDA) on Wednesday fined state broadcaster MediaCorp $6,300 after one of its deejays used an offensive word on-air against a visually-impaired woman.
On 20 March this year, Class95FM DJ Joe Augustin of the Morning Express, who was hosting the daily show with colleague Glenn Ong, used the word "a-hole" to describe Cassandra Chiu, a visually-impaired woman best known for owning Esme, the guide dog.
…
According to a report by The New Paper, Augustin and Ong got into a heated discussion on-air over the incident, with Augustin calling Chiu an "a-hole" for complaining, saying that she constantly posts "inflammatory remarks" that visually-impaired people were being discriminated against and denied McMuffins at McDonald's. Responding to that, Ong reportedly retorted that Augustin was an "a**hole" for using the word on Chiu.
Augustin and Ong reprised the incident on the next day's "Morning Express" show by holding an on-air straw poll on the appropriateness of using the term, and Augustin repeated the word again.
…
In a statement released on Wednesday, the MDA said that its investigation showed that the use of the term "a-hole" contravenes the Free-to-air Radio Programme Code, and imposed a fine for the breach.
https://sg.news.yahoo.com/mda-fines-mediacorp–6-300-after-dj-uses-swear-word-on-visually-impaired-woman-090944671.html
—
Chiu Mei Mei, Cassandra
Guide

…
Cassandra Chiu is the mother of a 6-year-old girl and founder of her own counselling practice, The Safe Harbour. She has represented Singapore in swimming competitions such as the FESPIC Games (the equivalent of the SEA Games for the disabled) and is also a champion bowler.
In 1996, she was the Singapore Disabled Sports Woman of the Year and in 2012, she was recognized for her achievements and bravery in overcoming personal challenges when she won the Singapore Woman of the Year. She is also the second person with a guide dog in Singapore.
Cassandra became visually impaired at eight years old as a result of a degenerative eye condition called Stargardt's disease. Despite her disability, she feels strongly that there should not be any barriers for anyone to be employed to do the things that they love best.
Referring to her jobs as a psychotherapist and a guide at Dialogue in the Dark Singapore, she "believes that when work is your passion, it is no longer work" and "there is still so much to live for even when ability is taken away from us".
Cassandra loves empowering our visitors to challenge themselves and to change mindsets about themselves and the world around them.
http://www.np.edu.sg/DiD/DiDsingapore/Pages/guides%20profile_cassandra.aspx
—
On FREE egg McMuffins Day, Cassandra Chiu was asked to leave as she had a dog with her.
"I told the guy, 'You're jumping to conclusions — I wasn't even going to sit down or have any Egg McMuffins for free," she said. "I just wanted to buy some hash browns and coffee and get on the road!'"
YAHOO! NEWS SINGAPORE
Singaporean guide dog owner 'refused' service at McDonald's
By Jeanette Tan | Yahoo Newsroom
 Mon, Mar 17, 2014
Yahoo Newsroom – Cassandra and Esme the guide dog walking to her office. Since she got Esme, Cassandra is free to walk at her naturally brisk pace, unlike when she was using a white cane to navigate herself
Singaporean guide dog owner Cassandra Chiu said that she and a friend were "refused" service at McDonald's on Monday amid the retail chain's island-wide free breakfast promotion.
Chiu, who is visually-impaired and is best known for being one of the first in Singapore to own and use a guide dog, told Yahoo Singapore she was told by the store manager of a McDonald's outlet in Jurong Park that she could not be served as the store was crowded and they were giving away egg McMuffins for free.
…
Chiu recounted that after she and her friend stepped out of a car and entered the restaurant at 9:20am, she stood at the McCafe section while her friend read out the cakes that were available in the glass display. Moments later, they heard counter staff shouting that dogs were not allowed inside.
"I tried to explain that it was a guide dog, it wasn't a pet," she said, adding that they moved toward the counter to queue to place their order. "But my girlfriend was quite upset being shouted at that way, and so she asked to speak to the manager to ask for an explanation."
Chiu said the manager was friendly and apologetic enough, saying sorry to them on behalf of his staff. "My girlfriend actually wanted the staff to apologise for behaving that way, and the manager insisted there was no need, he was apologising on behalf of them, but anyway they won't be able to serve us today; they're very very crowded, it's a free giveaway or something like that for egg McMuffins, and if I were to come back any other time they would serve us."
http://sg.news.yahoo.com/singaporean-guide-dog-owner–refused–service-at-mcdonald-s-095407167.html
…
Hi everyone,
We want to share about an incident that occurred today in one of our stores. You may have read comments online about a customer who visited us earlier today with her guide dog. One of our crew mistook the dog for a pet and advised her that no pets are allowed. Upon learning of this, the manager in charge of the restaurant immediately apologised and offered to assist the customer with her order.
We would like to clarify that McDonald's welcomes guide dogs at our premises, and we have a standing policy to that effect. The comments of this particular crew member in no way represent our stand as a company and we sincerely apologise for any inconvenience this incident may have caused.
We will definitely counsel the staff member involved and reinforce our guidelines on assisting customers with guide dogs. This incident has also reminded us that many of our crew members may be unfamiliar with the distinction between a Guide Dog and a pet, and we are actively exploring ways to further educate our staff on this.
——————————————————————–