__________________________________________________________________
Anti GST Rally, Dataran Merdeka, 1 May 2014: 2pm
—-
The Rakyat Post
1 May 2014
Penang Anti-GST rally sees
small turnout
The turnout at the Anti-GST rally in Jalan Siram here saw about only 400 people, barely 10% of the expected 5,000 crowd.
A small crowd of about 30 people had gathered  as early as 9am at a small open space next to the Sree Gangatharan Siva Peruman temple and slowly increased in size by 10.30am.
They were seen carrying banners and placards urging the Federal government to look into the plight of the rakyat if the tax is implemented, raising the cost of living.
Malaysian Trades Union Congress (MTUC) Penang chapter secretary K. Veeriah said he expected a 5,000 strong crowd during the event.
http://dragplus.com/web/go/?title=malaysia&utm_source=twitter&utm_medium=link&utm_campaign=malaysia&utm_term=malaysia&url=http://www.therakyatpost.com/news/2014/05/01/penang-anti-gst-rally-sees-small-turnout/?utm_source=rss&utm_medium=rss&utm_campaign=penang-anti-gst-rally-sees-small-turnout#.U2JmvKIVn3I
…
—Crowds gather for #Anti–GST rally in Penang. — Sent by WhatsApp pic.twitter.com/b9JxLRzDhI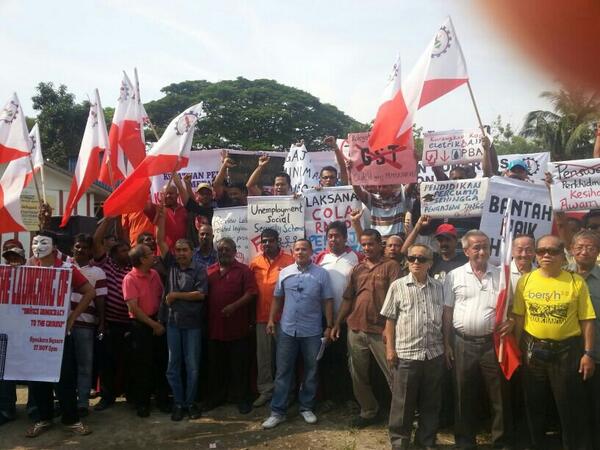 —
Malaysiakini report
1 May 2014
12pm: Penang – The event comes to a close after a few speakers address workers' issues on stage and the organisers express their warm gratitude to those present and to the police for their cooperation. The crowd of about 300 disperses peacefully
11.15am: Penang – Representatives from Suaram Penang branch and university students stage a series of performances to bring home the anti GST message and illustrate the hardship felt by workers.
They start with a poem "Apa Guna" composed by Wiji Thukul, follow by a peasant song "Buruh Tani'.
Lastly, a mini play is staged to explain how GST is a tool to benefit the richest 1 percent in the country.
Low Penang turnout, bad press blamed
10.40am: Penang – MTUC Penang division chairman S Ravindran blames the current low turnout so far on the several news dailies casting a negative image on the rally by claiming it is illegal.
Penang police initially deemed the May 1 rally  illegal several days ago but eventually gave the green light to the organisers yesterday.
10.25am: In Penang, some 300 people have gathered at the junction of Jalan Siram and Jalan Telaga Air, Butterworth. Carrying placards and MTUC flags, they are chanting 'Long Live Workers'.
10.20am: Penang – Pakatan lawmakers including Penang Deputy CM II P Ramasamy, exco member Lim Hock Seng, Machang Bubuk Adun Lee Khai Loon and Kedah Kota Darulaman Adun Teoh Boon Kok are present to show their support and solidarity.
10.20am: There is a festive air near Masjid Negara as scores of rally participants gather. Participants have been arriving since 5am and there are also shops selling anti-GST merchandise, including red t-shirts.
http://www.malaysiakini.com/news/261548
—
Penang Anti GST Rally
Junction of Jalan Telaga Air and Jalan Siram
Butterworth
10am12noon
The rally is organised by the Malaysian Trade Union Congress (MTUC) Penang division.
A news portal reported that some 5,000 people are expected to join MTUC's members in the rally to scrap the implementation of GST next year.
—
NST
29 April 2014| last updated at 12:18PM
Anti-GST rally in Penang illegal: Police
PENANG: An anti-Good and Services Tax (GST) rally scheduled for Thursday in Penang is deemed illegal without a police permit, said Penang Police chief Datuk Abdul Rahim Hanafi.
Abdul Rahim said he was aware of the street demonstration organised by a non-governmental organisation to urge the public to reject GST.
"We have not received any permit application from the organiser.
"Our district police personnel is ready to enforce public order should the rally proceed as planned," he said
He declined to elaborate the number of policemen to be on deployed in the event the illegal rally is held.
—
Malaysiakini
3:39PM Apr 28, 2014
5,000 expected at Penang's anti-GST rally
About 5,000 people are expected to join the Malaysian Trades Union Congress (Penang division) in a rally against the Goods and Services Tax (GST) on May 1 in Butterworth, Penang.
State MTUC secretary K Veeriah said the gathering will be held at the open space at the junction of Jalan Telaga Air and Jalan Siram between 10am and 12.00 noon.
http://www.malaysiakini.com/news/261275
————————————————————————————————–