..
The Epoch Times
Replacing God: The CCP's Century-Long War Against Faith
BY EVA FU AND FRANK FANG July 2, 2021 Updated: July 2, 2021
Priests and nuns were forced to kneel down in front of a large bonfire, watching helplessly as the flames devoured their sacred instruments and burned their skin.
In another Chinese city, students wearing red armbands hit Catholics with sharp wooden sticks, throwing one priest into a fire pit after he collapsed in pain. They beat one nun to death after she refused to stomp on a statue of the Virgin Mary.
One Catholic priest was buried alive in Beijing after declining to give up his faith.
Unsettling as they might be, these acts of brutality documented by Hong Kong-based missionary Sergio Ticozzi were hardly out of the norm for faithful Chinese during the frenzy of the decade-long Cultural Revolution from 1966, when all forms of religious practices were declared "superstitious" and banned.
Nor was such repression unique to that particular period during the regime's more than 70 years of ruling China.
Total Control
Belief in a higher power is anathema to the atheist Chinese Communist Party (CCP) that for 100 years has sought to command absolute loyalty and control over its members and the Chinese people.
"They just cannot handle an allegiance other than to the state," Sam Brownback, former U.S. ambassador-at-large for international religious freedom, told The Epoch Times.
As a result, successive Party leaders have launched campaign after campaign to crush and control people of faith in China.
Mao Zedong, the first CCP leader, who oversaw one of the most thorough campaigns to dismantle Chinese religious life, compared religion to "poison" in a conversation with Tibet's exiled leader, the Dalai Lama. In his autobiography, the Dalai Lama recalls Mao telling him in 1954 that religion "undermines the race" and "retards the progress of the country."
Former Chinese leader Jiang Zemin in 1993 declared religious freedom to be "unsuitable for Party members" and told Party members to "patiently educate" those with faith to help them "get rid of religious shackles."
Buddhism, Taoism, Islam, Catholicism, and Christianity—the five religions the regime has officially sanctioned—remain under rigid state control, with Party officials setting the terms on how they operate.
Chinese officials for religious affairs have stressed the need to "guide religion with socialist values" and for devotees to possess "gratitude toward the Party."
Under the Party's rules, members also face possible expulsion for believing in religion or engaging in "superstitious activities."
Marking the Party's centennial, the heads of six state-level religious associations met in June and extolled the CCP leadership. Expressing resolve to "always follow the Party," they pledged to begin an education campaign to deepen "love for the Party" among their religious circles.
Pastor Bob Fu, the founder of Christian human rights group China Aid, described the CCP as the "world's largest extreme atheistic Party."
"[The] CCP has committed the worst religious persecution and crimes against humanity," Fu told The Epoch Times.
In the words of Brownback, the CCP is "at war with faith"—be it Christians, Tibetan Buddhists, Uyghurs, and other Muslim minorities in Xinjiang, or the Falun Gong meditation discipline.
"It's a war they will not win," Brownback said.
.
"The CCP practices a zero-tolerance policy when it comes to religious believers," Lobsang Tseten, executive director of U.S.-based Tibetan activist group Students for a Free Tibet, told The Epoch Times. He added that the "CCP's arbitrary rule in Tibet is a direct threat to every aspect of the life of a Tibetan."
'Sinicizing' Churches
The CCP's suppression of Catholic and Protestant churches has also intensified under current leader Xi Jinping's watch.
Chinese authorities have removed thousands of crosses from churches, arrested pastors, ordered the removal of Christian images, and aggressively pursued a "sinicization" policy by establishing "patriotic churches," in which pictures of Jesus Chris and the Virgin Mary are replaced with portraits of Xi or Mao.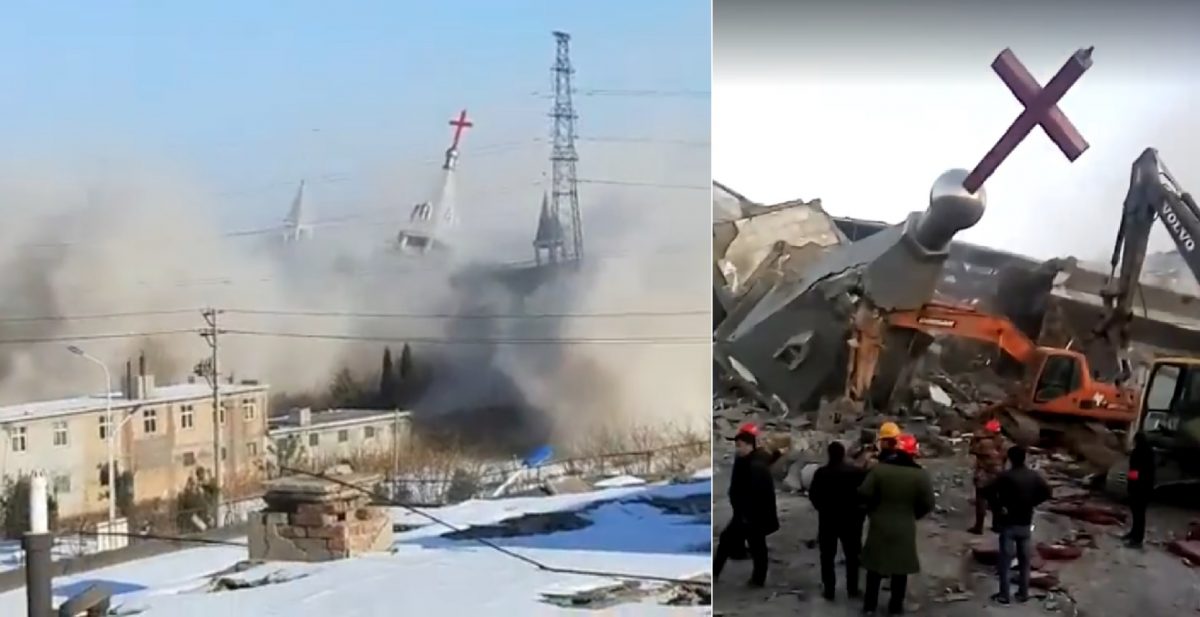 The Chinese regime is also reinterpreting and retranslating the Bible to promote "Chinese-style Christianity," with one Chinese ethics textbook twisting a story from the Bible to have Jesus stone a woman to death while claiming himself a sinner.
.
'We Can Make You Disappear'
Nowhere is the CCP's hatred for religion more evident than in its bloody suppression of practitioners of Falun Gong, a spiritual discipline with slow meditative exercises and moral teachings based on the principles of truthfulness, compassion, and tolerance, according to its website.
Out of fear of Falun Gong's popularity in China, then-leader Jiang on July 20, 1999, launched a brutal persecution against adherents. Top Chinese officials gave secret orders to "destroy them politically, bankrupt them financially, ruin their reputation," according to a former military colonel who attended the meeting.
Since then, millions of Falun Gong adherents have been held in prisons, labor camps, psychiatric hospitals, and other detention facilities in China. Hundreds of thousands have been tortured in those venues in a bid to force practitioners to give up their belief. An untold number have died under China's state-sanctioned forced organ harvesting, with their organs cut out to be sold on the transplant market.
The persecution has continued to this day.
.
'A Real Weakness'
Brownback observed that increasingly in Xi's China, brutal, inhumane tactics from the Mao era are making a comeback.
But in its rush to assert power over China's faithful, Brownback said, the regime is "showing a real weakness."
"They must be feeling the loss of control, and so they are being far more repressive and brutal," he said.
Beijing's human rights and religious freedom abuses are costing the regime its global image, while at home, it is hurting its ability to maintain its rule, said Brownback.
"Communism and faith just have great trouble co-existing, and faith will not be subdued, so eventually the communism will fall," he said.
What remains of the CCP's 100-year legacy, said Pastor Fu, will be its record as "the single political party through which the largest number of human lives were arbitrarily lost … in the whole of human history."Follow Eva on Twitter: @EvaSailEastFollow Frank on Twitter: @HwaiDer
…