..
..
Ipsos Poll
This poll is based on a nationally representative probability sample of 504 general population adults age 18 or older.
..
Ipsos
American public supports President Biden's first moves
New ABC News/Ipsos poll finds majority support for executive actions.
Washington, DC, January 24, 2021
After a busy first few days, new data shows the American public broadly supports President Joe Biden's initial efforts, particularly as it focused on the COVID pandemic. However, Americans are more divided on his ability to unify the country and immigration-related moves.
1. Two thirds of Americans (69%) approve of how Biden is handling the response to the coronavirus.
Four in five (81%) support federal mask requirements, including nearly all Democrats (99%) and a majority of Republicans and Independents (59% and 83%, respectively).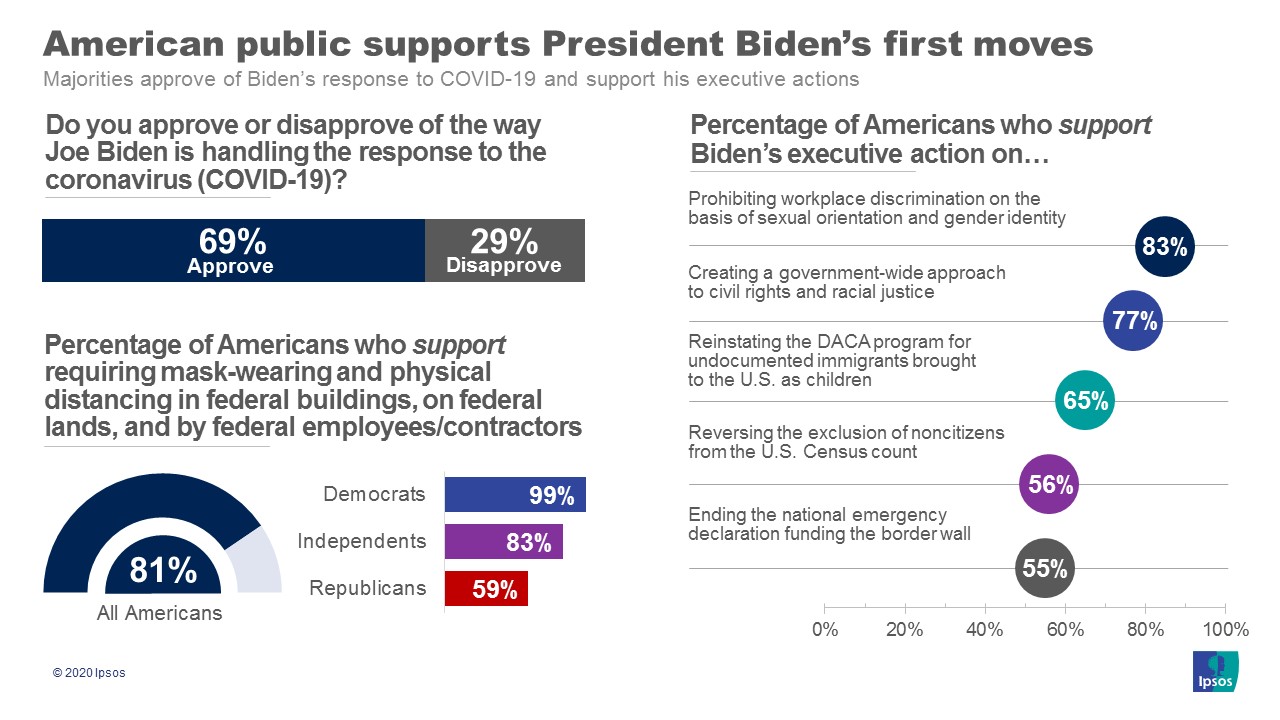 2. Most Americans also support Biden's executive actions around equality.
Three quarters (77%) support a government-wide approach to civil rights and racial justice, and four-fifths (83%) support prohibiting workplace gender and sexual orientation discrimination.
3. Americans are somewhat divided, though more supportive than not, of measures around immigration.
Slightly more than half (55%) support reversing the Muslim travel ban, (56%) reversing the exclusion of non citizens from the Census count, or (55%) ending the emergency declaration funding the border wall.
However, two-thirds (65%) support reinstating the DACA program for undocumented immigrants brought to the US as children.
About the Study
This ABC News/Ipsos poll was conducted January 22 to January 23, 2021 by Ipsos using the probability-based KnowledgePanel®. This poll is based on a nationally representative probability sample of 504 general population adults age 18 or older.
The survey was conducted using KnowledgePanel, the largest and most well-established online probability-based panel that is representative of the adult US population. Our recruitment process employs a scientifically developed addressed-based sampling methodology using the latest Delivery Sequence File of the USPS – a database with full coverage of all delivery points in the US. Households invited to join the panel are randomly selected from all available households in the U.S. Persons in the sampled households are invited to join and participate in the panel. Those selected who do not already have internet access are provided a tablet and internet connection at no cost to the panel member. Those who join the panel and who are selected to participate in a survey are sent a unique password-protected log-in used to complete surveys online. As a result of our recruitment and sampling methodologies, samples from KnowledgePanel cover all households regardless of their phone or internet status and findings can be reported with a margin of sampling error and projected to the general population.
The study was conducted in both English and Spanish. The data were weighted to adjust for gender by age, race/ethnicity, education, Census region, metropolitan status, household income, and party identification. The demographic benchmarks came from 2019 American Community Survey (ACS) from the US Census Bureau. Party ID benchmarks are from recent ABC News/Washington Post telephone polls. The weighting categories were as follows:
Gender (Male, Female) by Age (18–29, 30–44, 45–59, and 60+)
Race/Hispanic Ethnicity (White Non-Hispanic, Black Non-Hispanic, Other or 2+ Races Non-Hispanic, Hispanic)
Education (High School graduate or less, Some College, Bachelor and beyond)
Census Region (Northeast, Midwest, South, West)
Metropolitan status (Metro, non-Metro)
Household Income (Under $25,000, $25,000-$49,999, $50,000-$74,999, $75,000-$99,999, $100,000-$149,999, $150,000+)
Party ID (Democrat, Republican, Independent, Something else)
The margin of sampling error is plus or minus 5.0 percentage points at the 95% confidence level, for results based on the entire sample of adults. The margin of sampling error takes into account the design effect, which was 1.3. The margin of sampling error is higher and varies for results based on sub-samples. In our reporting of the findings, percentage points are rounded off to the nearest whole number. As a result, percentages in a given table column may total slightly higher or lower than 100%. In questions that permit multiple responses, columns may total substantially more than 100%, depending on the number of different responses offered by each respondent.
About Ipsos
Ipsos is the world's third largest market research company, present in 90 markets and employing more than 18,000 people.
..
https://www.ipsos.com/en-us/news-polls/abc-news-biden-unity-012421
..
By Mark Moore
January 24, 2021 | 3:44pm | Updated
Americans definitely aren't united on this question.​
Just one in five Americans have "a great deal of confidence" in President Biden's ability to make good on his goal to unify the country, according to a new poll released Sunday.
While 22 percent said Biden will unify the country, 24 percent remained highly skeptical, saying that they have no confidence "at all" that he will be able to do so, the ABC News/Ipsos poll found.
Thirty-five percent said they have a "good amount" of confidence Biden could unite the country and 19 percent said they had "not so much" confidence.​
Respondents to the survey were asked their opinion after watching a video of Biden's inaugural address​ urging Americans to see "each other not as adversaries, but as neighbors."​
"We can treat each other with dignity and respect. We can join forces, stop the shouting and lower the temperature. For without unity, there is no peace — only bitterness and fury. No progress — only exhausting outrage. No nation — only a state of chaos," Biden said.
At the same time, 71 percent of those who watched the entire or parts of Biden's inaugural address said his message was "very" or "somewhat" convincing.
Another 29 percent who watched it found it "not so convincing" or "not convincing at all."
The poll surveyed a random sample of 504 adults across the country between Jan. 22-23.
It has a plus/minus 5.0 percentage points margin of error.

https://nypost.com/2021/01/24/1-in-5-have-confidence-biden-can-unite-the-country-poll/?utm_source=NYPTwitter&utm_medium=SocialFlow&utm_campaign=SocialFlow
..
..
..
January 22, 2021 Updated: January 24, 2021
Commentary
Presidents have two jobs. The first, and most visible, is being the head of the executive branch, and the second is being the head of his political party. Successful presidents usually have working control over their political party. Joe Biden, however, has barely taken office and his presidency is already in jeopardy—from members of his own party.
Most people, when they view the presidency, focus on the more visible aspects of that job. Presidents have very high profiles, live in the White House, hold press conferences, meet with foreign officials, and sign legislation—among many, many other duties. So many duties, in fact, that many believe it's a younger man's job.
Recent history has featured energetic presidents. From Bill Clinton, to George W. Bush to Barack Obama, in recent memory, the White House has been occupied by much younger men. It's true that Donald Trump is in his 70s but there is little question he had more energy than most anyone.
Many have questioned whether Biden, because of his age and condition, will be up to that job. How little he campaigned and how few times he spoke, and how little he now speaks to the press, has fed into those doubts. Meanwhile, his gaffes give rise to different concerns.
All in all, many suppose that there will be a someone or perhaps several behind the Biden throne. The possibilities include Biden's wife Jill; Susan Rice, who is head of the White House Domestic Policy Council; Ron Klain, who is Biden's chief of staff; or even John Podesta, who has been a Democratic power broker for years. Others believe it will be Vice President Kamala Harris, who some believe will be president within four years, and will be the last person in the room with Biden after meetings.
Speculation aside, the period in between the election and when a president takes office is known as the interregnum. Normally during that period, there's a transition process and also, importantly, a process by which the incoming party comes together, gets on the same page, and plans for the first 100 days. Newly elected presidents often have the greatest say in that process.
By all accounts, Biden is already proving not to be up to the second aspect of his job—running his political party. Some of that is his fault and some of it is the nature of what I call The Divided Era—the period from the mid-1990s to now, which features ever-growing division.
The stakes in American politics are growing with every increase in government spending. The federal government spent nearly $2 trillion more in 2020 than it did in 2019—even more if you consider Federal Reserve policies. As Americans, we compete intensely to get those dollars, intensely to hand out those dollars (in the form of elections), and nearly as intensely not to be taxed for those dollars. That competition is, by its nature, divisive.
The more money spent, the greater our division.
Not satisfied with record spending, many Democrats in Congress, including House Speaker Nancy Pelosi, have huge spending plans. The most liberal wing of the party wants outright socialist policies and programs. Rep. Alexandria Ocasio-Cortez and Sen. Bernie Sanders want full speed ahead on those socialist plans; Biden likely wants a slower pace. With Sanders in charge of the Senate Budget Committee, who will win that battle is open to question.
More immediately, however, is the issue of the impeachment. Never in our history has such a divisive measure been pushed by the party of an incoming president.
For those who voted for Trump, the start of the Biden presidency, if it ultimately includes a Senate impeachment trial, couldn't be starting more divisively. They will be lost to Biden forever. For independents who want to see Washington actually fix existing problems, it will be viewed as a partisan—and possibly quite ugly—diversion from the important business at hand.
Many Democrats in Congress deem impeachment essential either because they fear a return of Trump or because they hate him that much.
Altogether, impeachment spells more division and the likely derailing of any honeymoon period Biden could have. It will signal that unity won't be on the agenda—something many Biden voters wanted.
Biden wants a honeymoon period, but he knows he can't stop impeachment.
In other words, the Democratic Party didn't come together after Election Day on a single agenda. That also means that Biden simply isn't in control of his own party—and that means he's already failing as president.
Thomas Del Beccaro is an acclaimed author, speaker, Fox News, Fox Business, and Epoch Times opinion writer, and former chairman of the California Republican Party. He is the author of the historical perspectives "The Divided Era" and "The New Conservative Paradigm."
Views expressed in this article are the opinions of the author and do not necessarily reflect the views of The Epoch Times.

https://www.theepochtimes.com/the-reason-joe-biden-is-already-failing-as-president_3668047.html?utm_medium=social&utm_source=twitter&utm_campaign=digitalsub
..
..
BY GARY DU
January 23, 2021 Updated: January 24, 2021
Sen. Marco Rubio (R-Fla.) criticized President Joe Biden on Friday, saying he is talking like a centrist but taking far-left actions.
"An important thing to point out this morning, President Biden is talking like a centrist, he is using the words of the center, talking about unity. But he's governing like someone from the far-left," Rubio said in a video posted on his personal Twitter account.
Rubio said Biden has issued more executive fiats than any other president "ever" in a short period of time, and that the fiats are not normal ones, but literally the wishlist of the far-left.
Biden issued over two dozen executive actions and orders in his first two days in the White House, including a 100-day moratorium on deportations and the shutting down of the Keystone XL pipeline project.
"This is literally going down to the wishlist of the far-left and checking all of them off," Rubio said. He added that Biden's executive orders are forcing blue-collar workers out of their jobs.
"Some of them are incredibly dramatic and far-reaching in real life. At the stroke of a pen, he literally put thousands upon thousands of hard-working blue-collar union members out of work. These are people that were working on Monday, that were working on Tuesday—and then the president goes into the Oval Office, signs an executive order wiping out the Keystone pipeline."
He mentioned the moratorium on deportation that Biden signed would shelter a lot of dangerous criminals.
"We now have a president who talks like a centrist, but is governing from the far-left," he said.
Rubio concluded by warning the public that the Biden administration is going in the wrong direction, adding it's "not going to be a good one for the country and it's not going to be a good one for people—for working Americans and for your jobs."
Rubio has been a critic of Biden and his cabinet nominees, however, the fact that he was one of the first few Republicans who acknowledged Biden's victory in the election displeased many Trump voters. He is facing 2022 election challenges from both sides of the aisle. Democrats have already launched a "Retire Rubio" committee, and speculations of Ivanka Trump running against him in the Republican primary are also running around.
The White House did not respond to The Epoch Times' request for comment.

https://www.theepochtimes.com/sen-rubio-criticizes-biden-for-talking-like-a-centrist-but-taking-far-left-actions_3667932.html?utm_medium=social&utm_source=twitter&utm_campaign=digitalsub

..
..
..