..
..
By Rebecca Cooper – Digital Editor, Washington Business JournalJan 7, 2021, 8:30am EST Updated Jan 7, 2021, 12:06pm EST
The District will stay in a state of emergency until Jan. 21, the day after the inauguration of President-elect Joe Biden, after a mob supporting President Donald Trump invaded the U.S. Capitol on Wednesday in an incident that left four people dead, 14 law enforcement officers injured and dozens arrested.
D.C. Mayor Muriel Bowser extended the emergency order she put into effect earlier Wednesday.
The order allows for more curfews, as well as the emergency evacuation or sheltering of people, the suspension of utilities and the changing of hours of businesses, among other provisions. It was not immediately clear whether there would be a curfew Thursday or other days this week.
Businesses largely shut down ahead of Wednesday's events.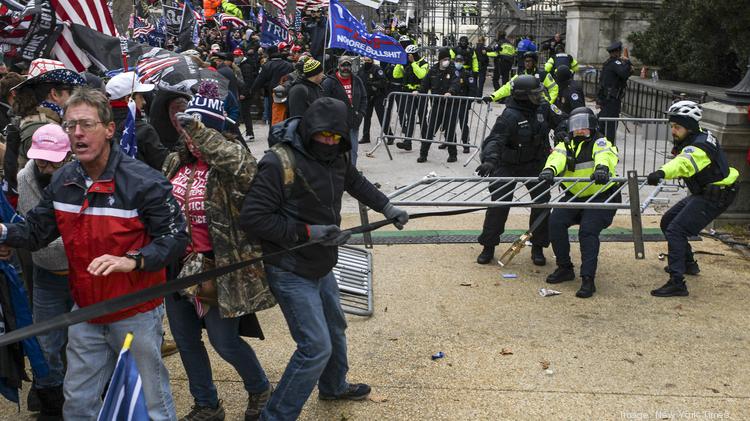 The Capitol was deemed secure and members of Congress returned to their work of certifying the election results around 8 p.m., after Metropolitan Police officers, the Secret Service, National Guard members and state and local police from both Maryland and Virginia, among others, responded to the scene, Bowser said at a late-night press conference.
Bowser targeted Trump, who incited the violence among his supporters Wednesday by telling them he would never concede and they should make Wednesday a day to remember.
"We saw an unprecedented attack on our American democracy incited by the U.S. president, and he must be held accountable," Bowser said. "His constant and divisive rhetoric led to the abhorrent actions we saw today, and sadly it led to a loss of life, that will forever stain what could have been and what should have been a peaceful transfer of power."
Congress completed the certification of the electoral votes showing Biden as the winner in the early hours of the morning Thursday.
For more:

https://www.bizjournals.com/washington/news/2021/01/07/dc-stays-in-public-emergency.html?ana=TRUEANTHEMTWT_WA&csrc=6398&taid=5ffd05034156da0001be1f7f&utm_campaign=trueAnthem%3A+Trending+Content&utm_medium=trueAnthem&utm_source=twitter
..