..
https://www.theedgemarkets.com/article/hafarizam-acquitted-after-paying-more-rm590000-compound-money-laundering-over-funds-received
..
..
Monday, 03 Aug 2020 11:41 AM MYT
BY IDA LIM
UALA LUMPUR, Aug 3 — Lawyer Datuk Mohd Hafarizam Harun today claimed trial to three fresh money laundering charges for receiving a total of RM15 million in illicit funds from Datuk Seri Najib Razak in 2014 and 2015 via three cheques deposited in his then law firm's client account.
When the three charges were read out to him this morning at the Sessions Court, Hafarizam repeatedly declared in a loud and clear voice that he was claiming trial.
"I understand the charge, I plead not guilty, I ask for a trial," said Hafarizam, who will be 48 this year.
Under the first charge, Hafarizam was accused of having been involved in money laundering on April 17, 2014 by receiving RM7.5 million in proceeds from illegal activity through an AmIslamic Bank Berhad cheque (numbered 000179) belonging to Najib and dated April 16, 2014, which was deposited into his law firm Hafarizam Wan & Aisha Mubarak's client account in CIMB Bank Berhad.
Under the second charge, Hafarizam was similarly accused of having committed money laundering on November 12, 2014 by receiving RM4 million in illegal proceeds in an AmIslamic Bank Berhad cheque (numbered 000188) belonging to Najib and dated November 7, 2014, which was deposited into the law firm's same client account.
Under the third charge, Hafarizam was similarly accused of having between January 22, 2015 and February 12, 2015 received proceeds of unlawful activity amounting to RM3.5 million via an AmIslamic Bank Berhad cheque (numbered 000303) belonging to Najib and dated January 21, 2015, with the cheque again deposited into the law firm's same client account.
The three offences were all allegedly committed at the same place — CIMB Bank Berhad at the Putra World Trade Centre (PWTC).
–
Sessions Court judge Azman Ahmad granted bail at RM200,000 with one Malaysian surety, and also ordered that Hafarizam surrender his passport to the court.
The case will come up for mention on September 9.
https://www.malaymail.com/news/malaysia/2020/08/03/umno-lawyer-hafarizam-pleads-not-guilty-to-fresh-money-laundering-charges-o/1890529
..
..
Najib's lawyer gets DNAA for money laundering with fresh charges ahead in lower court
V Anbalagan -August 3, 2020 10:18 AM
KUALA LUMPUR: The High Court here today allowed a petition for Najib Razak's lawyer to be given a discharge not amounting to an acquittal (SNAA) as fresh charges will be filed in a Sessions Court.
Judge Mohd Nazlan Mohd Ghazali also allowed Mohd Hafarizam Harun to withdraw an application to have him disqualified in light of the development.
"After hearing the prosecution, I am allowing a DNAA for the two charges before this court so that fresh charges can be filed," he said.
Deputy public prosecutor Ishak Ismail had told Nazlan that the prosecution was seeking a DNAA so that fresh charges could be filed in the lower court.
The request for the withdrawal of the application to disqualify Nazlan was then made by Hafarizam's counsel, Hasnal Rezua Merican.
"We would like to withdraw, but with the liberty to file afresh," he said.
Hafarizam's trial was scheduled to run from today until Aug 19.
On Feb 21 last year, he pleaded not guilty to two counts of money laundering involving RM15 million allegedly received from former prime minister Najib Razak and deposited into the account of his legal firm.
He was said to have been directly involved in two transactions involving proceeds from unlawful activities, totalling RM11.5 million in two AmIslamic Bank Bhd cheques belonging to Najib which were deposited into the account of Messrs Hafarizam Wan & Aisha Mubarak at CIMB Bank Bhd.
The offence was allegedly committed at the PWTC branch of CIMB Bank at Suite 1, Level 5, Menara Dato' Onn, Jalan Tun Ismail, here between April 16, 2014 and Nov 4, 2014.
Hafarizam was also charged with committing a similar offence involving RM3.5 million through an AmIslamic Bank Bhd cheque belonging to Najib, which was deposited into the account of the same legal firm at CIMB Bank Bhd at the same place on Feb 12, 2015.
https://www.freemalaysiatoday.com/category/nation/2020/08/03/najibs-lawyer-gets-dnaa-for-money-laundering-with-fresh-charges-ahead-in-lower-court/
…
20 February 2019
..
MACC arrests prominent lawyer Hafarizam Harun for alleged money laundering
---
PUTRAJAYA: Investigators have arrested prominent lawyer Datuk Hafarizam Harun (pic), who is allegedly involved in money laundering of some RM15mil.
The 47-year-old was arrested at the Malaysian Anti-Corruption Commission (MACC) headquarters here at 4.25pm Wednesday (Feb 20).
MACC sources confirmed that the person arrested is Hafarizam.
Sources said the lawyer had accepted money believed to be profits from illegal activities from the account of another individual between 2014 and 2015.
He is expected to be charged at the Kuala Lumpur Sessions Court Thursday (Feb 21).
MACC deputy chief commissioner (operations) Datuk Seri Azam Baki confirmed the arrest.
Read more at https://www.thestar.com.my/news/nation/2019/02/20/macc-arrests-lawyer-hafarizam-to-be-charged-on-thursday/#K7tw8wrjM7vBL6ke.99
..
Peguam dan Penasihat Undang2 UMNO ditahan MACC kes penggubalan wang haram berjumlah 15juta.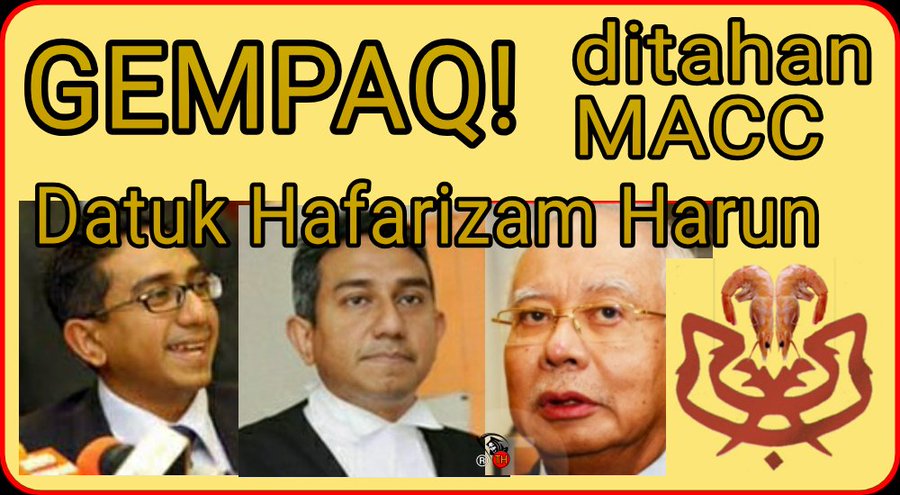 …
..
Umno lawyer detained, to be charged with Najib's ex-media advisor tomorrow https://t.co/BxzJC0qM1H
..
..