—
Ridhuan was an MCA member.
Ridhuan Tee was in MCA? | Free Malaysia Today
—
Harlot. A word meaning the same thing as whore, slut, prostitute, hooker, etc.
—
2 July 2016
Malaysiakini
Bishop denounces Ridhuan Tee's 'harlot's tongue'
https://www.malaysiakini.com/news/303757
—
Free Malaysia Today
Kula: Ridhuan Tee needs a 'mental check-up'
The dress code has nothing to do with the service that government departments are supposed to provide to members of the public
IPOH: The Opposition thinks that controversial preacher and university lecturer, Ridhuan Tee Abdullah, needs a "mental check-up" for challenging non-Muslims in a recent column to enter a church or temple in their underwear only.
Ipoh Barat MP M. Kula Segaran, commenting on the offensive column, said Tee had again become a laughing stock in the country and the target of heavy criticism in the social media.
"Anyone in his right mind will never challenge others in this manner," said Kula Segaran. "Only one who requires a mental check up will throw such a challenge."
…
Kula argued that Ng was only highlighting the fact that so long as a member of the public was decently dressed, his or her attire should not be an issue. "Tee could not understand the message and had challenged critics to wear only underwear to churches and temples."
"The priority of government departments should be to provide good service to the public," said Kula. "They should not try to make things difficult for them. The dress code has nothing to do with the service they are supposed to provide."
He said that the growing controversy over the dress code imposed by various government departments had highlighted the need to do away with them for the public. The Cabinet disappointingly failed to take note that more and more "little Napoleons' have emerged of late to make life difficult for the public, he said.
http://www.freemalaysiatoday.com/category/nation/2015/07/03/kula-ridhuan-tee-needs-a-mental-check-up/
—
Malaysiakini
Ridhuan Tee: Why not just don underwear to church?
Universiti Sultan Zainal Abidin lecturer Mohd Ridhuan Tee Abdullah had took Kinrara DAP to task for mocking the dress code imposed by various federal government agencies.
"These people are uncivilised. No religion allows anyone who wear provocative clothes.
"Perhaps they should enter churches or temples with just their underwear if they don't believe in dressing etiquette," Ridhuan Tee told Ikatan Muslimin Malaysia's website (Ismaweb).
Kinrara state assemblyperson Ng Sze Han had said that his service centre was open to clients wearing anything they like, as long as they are not naked.
On his Facebook page, Ng had also posted an image of the type of clothing permitted at the centre, which includes short skirts and leotards worn by gymnasts.
Ng's stunt was in response to the increasing number of press reports on the enforcement of dress codes at government agencies, hospitals and the Selangor state legislative assembly.
Enforcement efforts includes compelling women to cover themselves with a sarong or a towel before they are served or allowed entry.
https://www.malaysiakini.com/news/303716
—
Ridhuan Tee: Why not just don underwear to church? http://www.malaysiakini.com/news/303716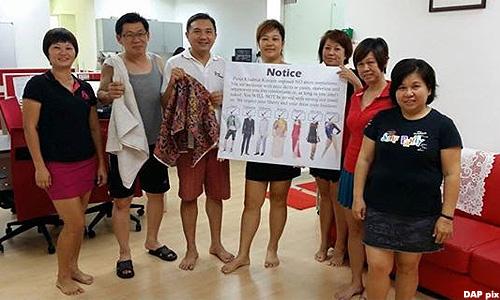 Universiti Sultan Zainal Abidin lecturer Mohd Ridhuan Tee Abdullah had took Kinrara DAP to task for mocking the dress code imposed by various federal government agencies. "These people are uncivilised. No religion allows anyone who wear provocative clothes. "Perhaps they should enter churches or temples with just their underwear if they don't believe in dressing etiquette," Ridhuan Tee told Ikatan Muslimin Malaysia's website (Ismaweb). http://www.malaysiakini.com/news/303716 —
—