—
WE LOVE THE PENANG FERRY.
Smoke on #Penang ferry forces a turn back http://www.nst.com.my/node/69013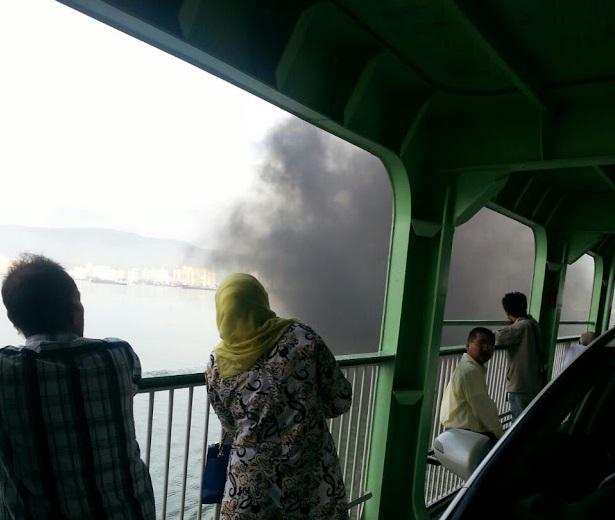 BUTTERWORTH: Plumes of smoke billowing from the back compartment of a ferry that left George Town has caused some anxiety among passengers.
The Pulau Payar ferry which was filled with vehicles during the rush hour at 8.30am, turned back minutes after it departed the Sultan Abdul Halim ferry terminal.
"There were some technical difficulties with the engine and it was not on fire," a ferry services spokesman insisted.
The passengers and vehicles were later transferred to another ferry and no one was hurt.
http://www.nst.com.my/node/69013
…
theSundaily
Penang ferry catches fire
Posted on 9 January 2015 – 05:23pm
Last updated on 9 January 2015 – 06:32pm
GEORGETOWN: The rear compartment of a Pulau Payar ferry caught fire during rush hour today after it left the Weld Quay terminal for the Sultan Abdul Halim ferry terminal in Butterworth.
The incident happened at about 10am and caused chaos among passengers on the ferry.
According to a source from Penang Port Sdn Bhd who declined to be named, the ferry immediately turned back to Weld Quay after thick black smoke was seen billowing out from its rear section.
"No one was hurt in the incident," he said.
State public works, utilities and transportation committee chairman Lim Hock Seng, said he contacted Penang Port over the matter and was told that the fire could have been caused by a problem with the ferry's engine.
http://www.thesundaily.my/news/1290814
—
RIDING A TRISHAW (PEDICAB) CAN BE A FUN-FILLED EXPERIENCE. It's not quite like being on an elephant but that's Thailand and this is Penang.
However, make sure you are not cheated, specially if you're a foreigner. Be very clear how much you have to pay for a return journey. Get it all on your hand phone camera in case you have to complain to the Tourism Board.
要包装槟城的三轮车行业为主要旅游产品,业者需至少获得多造的扶持,包括州政府给予长期及有规划的协助,才能让三轮车工友继续踩下去。
光大州议员郑来兴认为,槟州政府应企业化与年轻化三轮车行业,改变及提升三轮车工友的形象,让他们成为"民间旅游大使"。
—
KNIFE MASSAGE IN PENANG!
Anyone ever try a #knife #massage in #Penang? Soooo good!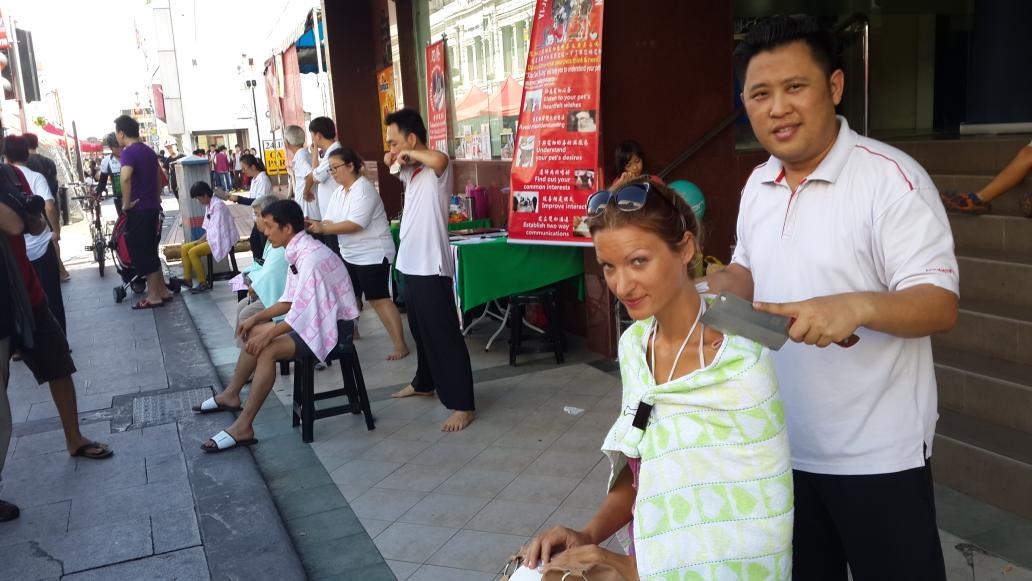 —
Unusual Massages Around the World: Surprising Massage Tools
Chinese Knife Massage
Based on a 2,000 year old Buddhist tradition, Chinese knife massages are now available in China, Taiwan and Japan – and some Western cities' Chinatowns. Knife massage is administered according to the meridian theory of Traditional Chinese Medicine, with the intention that the knives stimulate energy (qi) along a person's meridians by clearing up congestion. During a knife massage, the client lies in a prone position or leans forward in a sitting position with a thin cloth covering the back. The therapist taps the sharp edge of the knife's blade along the back's energetic pathways.
Using a chopping motion, Chinese knife massage is not as relaxing as other forms of massage but it is known for its ability to relieve back pain. Although the knives are sharp, the skin is not cut in a properly executed knife massage. In China and Taiwan, meat cleavers are the tool of choice; in Japan, therapists use samurai swords.
http://www.integrativehealthcare.org/mt/archives/2014/08/unusual-massages-around-the-world-surprising-massage-tools.html
———————————————————————————————-