—
—
#INFO New info on KTM Komuter route revision: http://malaysiakini.com 

—
KTM ETS Ipoh to Butterworth Penang
| Station | 9500 |
| --- | --- |
| Ipoh | 05.00 |
| Tasek | 05.06 |
| Sungai Siput | 05.17 |
| Kuala Kangsar | 05.28 |
| Padang Rengas | 05.35 |
| Taiping | 05.49 |
| Kamunting | 05.54 |
| Bagan Serai | 06.11 |
| Parit Buntar | 06.18 |
| Nibong Tebal | 06.22 |
| Simpang Ampat | 06.29 |
| Bukit Mertajam | 06.37 |
| Bukit Tengah | 06.42 |
| Butterworth Penang | 06.50 |
http://www.train36.com/ets-ipoh-to-butterworth.html
Timetable for the ETS Train from Butterworth Penang to Ipoh in Perak
Station

Butterworth

Bukit Tengah

Bukit Mertajam

Simpang Ampat

Nibong Tebal

Parit Buntar

Bagan Serai

Kamunting

Taiping

Padang Rengas

Kuala Kangsar

Sungai Siput

Tasek

Ipoh

9501 (Silver)

17:00

17:07

17:12

17:20

17:27

17:31

17:38

17:55

18:00

18:14

18:21

18:32

18:43

18:50

9209 (Gold)

17:23

–

17:46

–

–

17:59

–

–

18:24

–

18:39

–

–

19:05
http://www.travel-penang-malaysia.com/ets-train-penang-to-ipoh.html
—
Afiq Hkm ‏@baloo_n 42m42 minutes ago
Apparently ETS KL-Padang Besar bukan straight train. Kena transit 2 kali, kat Ipoh and Butterworth.Train dari Ipoh-Butterworth ada 5 am je

Translated from

Malay

by

Bing
ETS apparently KL-Padang Besar is not a straight train. 2 times the wrong transit, kat Ipoh and Butterworth. Train from Ipoh-Butterworth have 5 am je 😒
—
Keretapi Tanah Melayu Berhad (KTMB) chairman Datuk Nawawi Ahmadsaid in December 2014 that the ETS to Butterworth from KL would be "operational" in June 2015.
1st June 2015 is TWO DAYS away but there is no news at all. This is a case of "No news is BAD news".
—
…
The ETS (Electric Train Service): Ipoh-KL-Seremban-KL-Ipoh
—
Star
Saturday December 6, 2014 MYT 7:20:36 AM
KL to B'worth by ETS from June
PETALING JAYA: A three-hour Electric Train Service (ETS) linking Kuala Lumpur to Butterworth will be operational in June next year. Keretapi Tanah Melayu Berhad (KTMB) chairman Datuk Nawawi Ahmad said the new ride would carry some 350 people to Penang from here and have 10 new coach sets running on it by January 2016. "(This is part of the) operation linking Padang Besar to KL. But first, in June 2015, it will be between Butterworth and KL," he said in an interview. Nawawi said discussions were still being held on whether the service would transport passengers directly from Kuala Lumpur to Butterworth or mid-way from Ipoh. He confirmed that the coach sets would be manufactured by China-based train-making company CSR Zhuzhou, which built the Class 92 trains for KTMB's Komuter line. Three sets will begin their run on the KL-Butterworth route in June. The other seven will be pushed onto the tracks in stages by January 2016. Asked how different they would be from the current ETS car sets plying the KL-Ipoh route, Nawawi said they were capable of travelling at speeds of 160kph. The current ones can only touch 140kph. http://www.thestar.com.my/News/Nation/2014/12/06/KL-to-Bworth-by-ETS-from-June/ —
#Budget2015: Ipoh-Butterworth ETS (Electric Train Service) to begin in April 2015.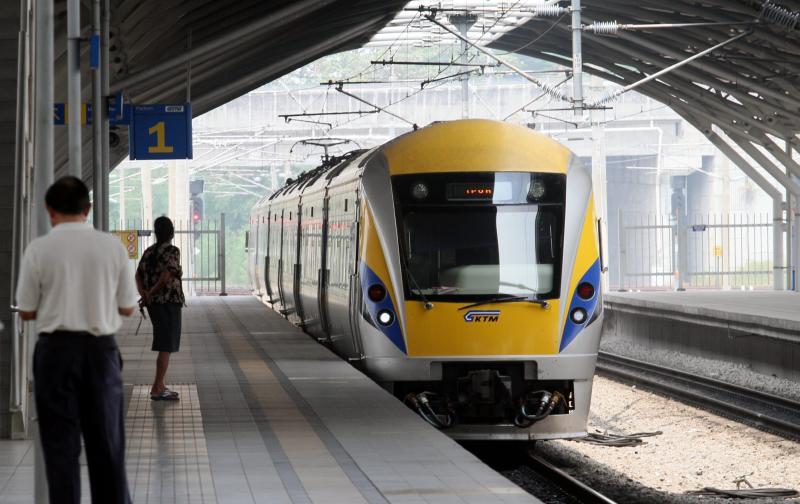 —
KUALA LUMPUR — The Electric Train Service (ETS) for Ipoh-Butterworth route will begin operation from April next year, Prime Minister Datuk Seri Najib Tun Razak said. Najib, who is also Finance Minister, said it was part of the government's initiatives to improve the public transport system. He said this when tabling the 2015 Budget themed the "People Economy" at the Dewan Rakyat here today. The first ETS service for linking Kuala Lumpur and Ipoh had begun operation since Aug 12, 2010. The Korean-made train is capable of moving 160kmph and will take only 2 hours to complete a trip between Kuala Lumpur and Ipoh.
BERNAMA http://www.mole.my/content/budget-ipoh-butterworth-ets-begin-operation-april-2015?utm_source=dlvr.it&utm_medium=twitter ———————————————————————————————————–