—
11 November 2015
YOU CAN'T BRIBE CROCODILES!
Indonesia considers prison guarded by crocodiles because they can't be bribed
CRIKEY! Indonesia considers prison guarded by crocodiles because they can't be bribed http://bit.ly/1Hwvqa7 
http://www.fox32chicago.com/news/dont-miss/47014068-story
…
The Telegraph
Indonesia plans prison island guarded by crocodiles for drug convicts
Indonesia's anti-drugs agency comes up with James Bond-style solution to guard inmates
Roger Moore's crocodile scene in Live & Let Die
"You can't bribe crocodiles. You can't convince them to let inmates escape."
The plan is still in the early stages, and neither the location or potential opening date of the jail have been decided.
http://www.telegraph.co.uk/news/worldnews/asia/indonesia/11985173/Indonesia-plans-prison-island-guarded-by-crocodiles-for-drug-convicts.html
—
Indonesia will castrate paedophiles. No, they won't cut your genitals off!
Chemical castration involves injecting convicted paedophiles with a female hormone in the hope "his sexual desire will vanish"…
Indonesia to chemically castrate convicted paedophiles http://www.independent.ie/world-news/asia-pacific/indonesia-to-chemically-castrate-convicted-paedophiles-34127645.html … via @Independent_ie
Indonesia to chemically castrate convicted paedophiles
Published 21/10/2015 | 07:32
Indonesia's president will soon sign a decree authorising the use of chemical castration to punish paedophiles, the attorney general said, following a string of headline-grabbing child sex crimes.
…
Indonesia Approves Use of Chemical to Castrate S3x Offenders http://www.djbaddo.com.ng/indonesia-approves-use-of-chemical-to-castrate-s3x-offenders/ …
—
20 August 2015
JAKARTA
Indonesian police fire tear gas, water cannon at Jakarta protesters
Indonesian police fire tear gas, water cannon at #Jakarta protesters http://tdy.sg/1EEzJtc 
The latest clash centres around efforts by Jakarta Governor Basuki "Ahok" Tjahaja Purnama to remove squatters and demolish housing along the banks of Jakarta's Ciliwung River in Kampung Pulo, which frequently floods during the monsoon season.
http://www.todayonline.com/world/asia/indonesian-police-fire-tear-gas-water-cannon-jakarta-protesters
—
Police deploy water cannon and shoot tear gas as Kampung Pulo forced eviction turns into violent riot http://jakarta.coconuts.co/2015/08/20/police-deploy-water-cannon-and-shoot-tear-gas-kampung-pulo-forced-eviction-turns-violent …
—
—
Warga Kampung Pulo bentrok dengan Satpol PP. ©2015 merdeka.com/imam buhori
http://www.merdeka.com/jakarta/bentrokan-di-kampung-pulo-9-petugas-keamanan-luka-di-bibir-kepala.html?utm_source=Tuhan&utm_medium=twitter
—
—
NORTH ACEH, INDONESIA
In 2013, lawmakers banned women from sitting on motorcycles except side-saddle in one city in Aceh, but the regulation has rarely been enforced. The latest move to ban shared motorcycle rides will affect more than 500,000 people in North Aceh.
"What we do now will be just like what happens currently in traditional Islamic boarding schools," said Mr Fauzan Hamzah, a member of the district's legislature, referring to the separation of boys and girls in schools.
"I hope this policy won't be implemented only in the North Aceh regency, but in the entire province," he added.
http://www.todayonline.com/world/asia/north-aceh-separates-sexes-schools-motorbikes
—
The plight of travellers…
Thousands stranded in Indonesia as plane delays hit holidays
Lion Air delay statistics according to data from Flightradar24 #lionairdelay
 …
 …
Lion Air said the delays – triggered after three of its fleet encountered mechanical problems – were exacerbated by the massive crowds travelling for the peak holiday season.
"This is a domino effect," airline spokeswoman Adhitya Simanjuntak told AFP. "If the first flight was delayed, it continued to the next flight, and so it went on."
AirAsia announced Friday afternoon it had moved the boarding area for its passengers to another terminal to avoid the throngs demanding answers over the Lion Air situation.
JAKARTA – Indonesia's biggest low-cost airline was left scrambling Friday after a second day of major delays saw thousands of angry passengers barricading gates and staging noisy protests inside the country's main airport terminal.
Lion Air has grounded 16 flights across the country since Thursday, stranding 6,000 passengers at the start of a traditional long weekend period to mark Chinese New Year, with the delays apparently caused by a combination of mechanical problems and the high number of travellers.
Annoyance boiled over into anger at Soekarno-Hatta International Airport, the country's main hub on Jakarta's outskirts and the epicentre of the transport chaos.
Transport ministry official Hadi Mustofa Djuraid said the problem spread from Lion Air until large parts of the terminal were in gridlock. "They (passengers) blocked the gates of other airlines, causing a number of delays," he told AFP.
http://news.asiaone.com/news/travel/thousands-stranded-indonesia-plane-delays-hit-holidays
…
Thousands stranded in #Indonesia as flights delayed due to holidays #LionAir http://www.nst.com.my/node/73452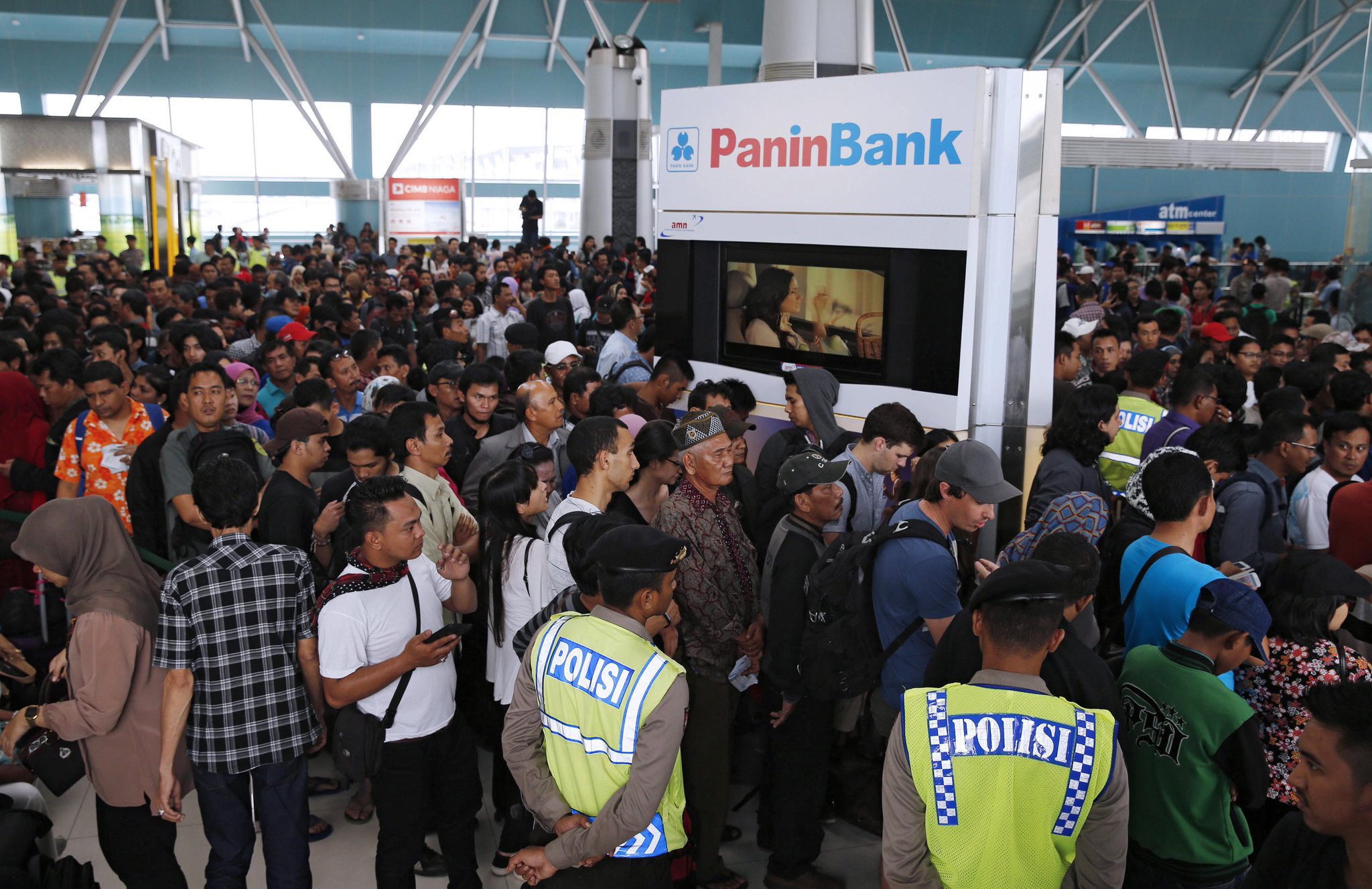 …
—
Star
Saturday February 14, 2015 MYT 8:38:47 PM
Jokowi wants Indonesians to stop working as maids abroad
SOLO, Central Java: Indonesian President Joko "Jokowi" Widodo wants women to stop working as domestic helpers abroad, Indonesia's Antara news agency reported.
"The practice of Indonesian women going overseas to work as housemaids must stop immediately; we should have some self-esteem and dignity," Joko said at the People's Conscious Party's second national congress on Friday.
…
During his recent tour of Malaysia, Brunei Darussalam and the Philippines, Joko said it was found that some 2.3 million Indonesian migrant workers were living in these countries.
Around 1.2 million of the workers have illegal status and are considered "problematic workers".
"About 1,800 of them have been rescued, 800 have been picked up by Hercules (aircraft) and we will pick up more soon. I am sure the numbers will continue to grow as we encounter problems in dealing with this issue," Joko said. – Bernama
http://www.thestar.com.my/News/Nation/2015/02/14/Jokowi-no-more-maids/?utm_source=dlvr.it&utm_medium=twitter
—
Indonesian Islamic Body Urges Crackdown on Condoms at Valentine's
JAKARTA – Indonesia's top Islamic authority is urging the government to regulate the sale of condoms, after local media reported that shops have been selling condoms along with gift chocolates ahead of Valentine's Day.
News outlets have published photos of chocolate bars packaged together with condoms in recent days, raising concerns among conservative Muslims.
"We reject the condomization of society," said Ma'ruf Amien, chairman of the Indonesian Council of Ulema, an Islamic organization representing different Muslim groups.
"The government should restrict the sale of condoms to married couples. If they are sold to the public freely, people can misuse them to engage in sex out of wedlock," he said.
Local news daily Republika reported Friday that authorities in Karanganyar district in Central Java province were inspecting shops to check if they sold chocolate packed with condoms.
The move follows reports that some shops in Malang, East Java, had been selling such items as Valentine's Day gifts.
http://blogs.wsj.com/indonesiarealtime/2015/02/13/indonesian-islamic-body-urges-crackdown-on-condoms-at-valentines/
…
http://news.asiaone.com/news/asia/indonesian-muslim-clerics-angered-valentines-day-condoms#sthash.cekdCAFw.uxfs
—
It's Jakarta's turn to swim in the streets!
…
…
JAKARTA: Heavy rain has hit Indonesia's capital since Sunday night. Several areas of the city have been inundated with 20-40 centimetres (cm) high waters, slowing down traffic and worsening traffic jams.
In some areas in West Jakarta, floods have reached 60 cm deep.
Jakarta's Disaster Mitigation Agency recorded 49 flood prone spots in the city. Twenty-two of those are in Central Jakarta where the main business district, Istana Negara and City Hall are located.
People have been seen waddling in calf and knee high deep waters around the National Monument. So far, bus operations at four TransJakarta corridors have been disrupted.
http://www.channelnewsasia.com/news/asiapacific/parts-of-jakarta-flooded/1646182.html
—
There is fear over the influence of the Islamic State of Iraq and Syria group, with some worried that Indonesians returning from fighting in Iraq or Syria could revive sophisticated militant networks.
The New Paper
Indonesian anti-terror police on Friday (Jan 16) shot dead a suspected Islamic militant accused of deadly attacks on policemen and having links to the country's most wanted extremist, an official said.
The elite anti-terror unit shot dead the suspected militant, identified by police only as Ronny, during a firefight early on Friday in a small village in Kediri district, on the main island of Java.
"He tried to escape and opened fire on police," national police spokesman Ronny Sompie told AFP, adding that the suspect died at the scene.
Mr Sompie said that the man was linked to the country's most-wanted Islamic extremist, Santoso, leader of the Eastern Indonesia Mujahideen militant group, which hides out in the jungles on central Sulawesi island.
He was allegedly behind deadly attacks on four policemen.
http://www.tnp.sg/news/indonesian-police-shoot-dead-suspected-islamic-militant
—
Jakarta starts motorcycle ban on main roads
NO MOTORBIKES ALLOWED!
"The immediate objective is to clear motorcycles from the main roads to ensure safer rides and make it difficult to use private vehicles in the city," Mr Syafrin Liputo, head of control and operations at the Jakarta Transportation Department, told The Straits Times yesterday.
http://www.stasiareport.com/the-big-story/asia-report/indonesia/story/jakarta-starts-motorcycle-ban-arterial-road-20141218
—
—
Motorcycle ban starting today in Jakarta gave cars more space to drive: you decide if that's good or bad.
—
Jakarta starts motorcycle ban on arterial road
Month-long pilot scheme in business district aims to ease traffic gridlock
Top pick on #STAsiaReport: #Indonesia capital Jakarta starts motorcycle ban on arterial road http://bit.ly/1x0FOkZ 
http://www.stasiareport.com/the-big-story/asia-report/indonesia/story/jakarta-starts-motorcycle-ban-arterial-road-20141218
…
…
—
JEMBLUNG IS A VILLAGE IN CENTRAL JAVA
—
RT @STForeignDesk: 20 dead, 88 missing in landslide on Indonesia's #java island http://bit.ly/1uBWjMH 
…
—
—
news.com.au
Indonesian mudslide demolishes homes, kills many in Jemblung
December 13, 2014 3:31PM
About 105 houses were swept away by the landslide late yesterday in Jemblung village in Banjarnegara district of Central Java province, said Sutopo Purwo Nugroho, a spokesman for the National Disaster Mitigation Agency.
http://www.news.com.au/world/indonesian-mudslide-demolishes-homes-kills-many-in-jemblung/story-fndir2ev-1227154981428
…
…
…
Indonesia landslide: http://bbc.in/1vKzEya  At least 7 dead, more than 100 missing in Java
—
INDONESIAN EDUCATION 101: HOW TO TERRORISE STUDENTS
Students blindfolded, tied to a tree and caned
A video that shows three blindfolded students of an Islamic boarding school being tied to a tree and caned has shocked people in Jombang regency, East Java.
Several Jombang councilors claimed to have watched the video, which was circulated through cell phones, and said they deplored the violence.
"If the beating was aimed at creating a deterrent effect, it is not good. The punishment should have been something like asking them to clean the school's floor," Councilor Mulyani Puspita Dewi said, as quoted by tribunnews.com on Saturday.
In the five-minute, 21-second video, a senior student asked other students to beat the tied students with rattans while dozens of other students watched the violence.
http://news.asiaone.com/news/asia/students-blindfolded-tied-tree-and-caned
—
INDONESIA'S release of convicted Jemaah Islamiah (JI) member Taufik Abdul Halim last week has drawn attention to the imminent release of a number of terror detainees from Indonesian jails over the next few years and sparked questions over whether they might return to their old ways.
But analysts say the Indonesian authorities are keeping close watch on former militants who have served their prison terms, as they try to stop those who might otherwise return to terror acts, especially with the growing appeal of extremist group Islamic State in Iraq and Syria (ISIS) in radical circles.
Over 800 people have been convicted of terror offences over the past decade, and about 270 are still serving their prison terms.
http://www.stasiareport.com/the-big-story/asia-report/indonesia/story/fears-over-indonesias-released-terror-detainees-returning-
—
—
A recent survey has revealed that Jakarta's public transportation is among the top five in the list of the world's most dangerous public transportations for women.
Jakarta ranked in fifth position.
JAKARTA – A recent survey has revealed that Jakarta's public transportation is among the top five in the list of the world's most dangerous public transportations for women. Jakarta ranked in fifth position while Bogota, Colombia secured the first position on the list.
While New York, on the other hand, is the city with the most women-friendly public transportation in the survey.
The survey was jointly conducted by YouGov and the Thomson Reuters Foundation. It interviewed 6,550 women respondents in several major cities; Seoul, London, Moscow, Paris, Lima, Manila, Bangkok, Bogota, Delhi, Kuala Lumpur, Tokyo, Jakarta, Beijing, Buenos Aires, Mexico City and New York.
Mary Crass of the International Transportation Forum said the failure to provide women-friendly transportation would directly affect women's capability to choose their line of work.
"Women are likely to rely more on public transportation," she said as quoted by kompas.com on Saturday.
http://transport.asiaone.com/news/general/story/jakartas-public-transport-5th-most-dangerous-women-survey#sthash.4uOSRNPr.uxfs
—
Indonesian police criticised over virginity tests for female job applicants
JAKARTA (AFP) – Human Rights Watch (HRW) on Tuesday urged Indonesia's national police to halt "discriminatory" virginity tests for women applying to join the force in the world's most populous Muslim-majority country.
The rights group said women applicants are required to be both unmarried and virgins, and the virginity test is still widely used despite the insistence of some senior police officials that the practice has been discontinued.
—
Purba was believed to have returned to the scene of the killing to report on it, according to police and media.
An Indonesian journalist allegedly murdered a man and wrote an article on it shortly after. http://yhoo.it/1tFX1v1 
PEKANBARU Indonesia (Reuters) – An Indonesian journalist is suspected of murdering a man and then reporting news of the killing shortly afterwards, police said on Wednesday.
Police arrested Edison Purba, a journalist covering crime for the Pekanbaruexpress.com website, last week along with two others suspected of the robbery and killing of a man after he withdrew money from a bank in Pekanbaru city on Sumatra island.
"According to evidence, Edison was involved," said Pekanbaru chief detective Hariwiyawan, adding that Purba had regularly contacted police for news about crime.
…
Police arrested Edison and two other suspects after one of them turned himself in.
"One of them didn't get the money that was supposed to be split among them. That was why he confessed to the police," Hariwiyawan said. "They are accusing each other of being the killer."
(Writing by Randy Fabi; Editing by Robert Birsel)
https://sg.news.yahoo.com/indonesia-police-suspect-journalist-killed-man-then-reported-102515791.html?linkId=10411342
—
Indonesia struggles with #IslamicState recruiting http://tdy.sg/10F7fCf 
CIANJUR (Indonesia) – A businessman who proclaims himself leader of the Indonesian chapter of the Islamic State group says he has personally overseen the departure of scores of fighters from this South-east Asian nation to Syria and Iraq. Police detained him for a night recently, but were unable to charge him with a crime.
Mr Chep Hernawan reflects both the success IS has had in attracting support in the region, and the challenges Indonesia faces in responding.
The government, home to most of the up to 200 South-east Asians believed to be fighting in Syria and Iraq, has forcefully spoken out against the Islamic State, as have mainstream Muslim organisations in the country. But Indonesia is limited in what it can do to stop suspected militants from travelling abroad.
The country lacks the sort of laws that neighbouring Malaysia and Singapore have, allowing for detention without trial or criminal charges under limited, legally defined circumstances. It also does not ban speech that could incite hatred and intolerance.
…
For the first time since the 1990s and the Afghan jihad, Indonesians, Malaysians and other extremists in South-east Asia are travelling abroad in an organised fashion to join a global militant movement, picking up battlefield skills and militant contacts.
Read this 3-page article:
http://www.todayonline.com/world/asia/indonesia-struggles-islamic-state-recruiting
—
CENSORED: Indonesian regulators criticise Crayon Shin-chan as "somewhat pornographic" http://cna.asia/1rnOQDR  pic.twitter.com/SoPsRzozTx
…
"Indonesian body urges network to censor Crayon Shin-chan's 'inappropriate' actions" — http://www.japantimes.co.jp/news/2014/09/25/asia-pacific/social-issues-asia-pacific/indonesian-body-urges-network-censor-crayon-shin-chans-inappropriate-actions#.VCQYWdKUdpo …
Indonesian body urges network to censor Crayon Shin-chan's 'inappropriate' actions
Kyodo
JAKARTA – The Indonesian Broadcasting Commission has warned a television network for airing the Crayon Shin-chan anime series based on a Japanese manga, saying it contains content that is inappropriate for children.
In a press statement dated Monday, the government-sanctioned but independent commission known as KPI referred the warning to Jakarta-based Rajawali Citra Televisi Indonesia or RCTI network.
Crayon Shin-chan was one among other movies and series mentioned by the commission as improper programs screened by the country's television networks to be watched by children.
Others include the U.S. animated series "Tom & Jerry," which it said contains violence.
…
The Real Singapore
INDONESIA CENSORS JAPANESE 'PORNOGRAPHIC' CARTOON CRAYON SHIN-CHAN
A popular Japanese children's cartoon in which the main character regularly displays his naked buttocks will be censored in conservative Indonesia after regulators criticised it as "somewhat pornographic", officials said on Thursday.
The TV network that shows animation Crayon Shin-chan in the world's most populous Muslim-majority country has agreed to tone down "disturbing" scenes after the broadcasting watchdog voiced concerns.
The show follows the adventures of 5-year-old Shinnosuke "Shin" Nohara and his family, often depicting his mischievous antics such as dropping his trousers or making inappropriate jokes, like asking elderly people: "When are you going to die?"
The Indonesian Broadcasting Commission this week put the programme in the category "caution", a level below "danger" on the body's scale of how disturbing a programme is, commission member Agatha Lily told AFP.
"While the content is not outright pornography in which body parts are clearly and explicitly shown, it is somewhat pornographic and can be associated with pornography.""Many scenes considered humorous in Shin-chan are actually indecent and inappropriate for children, for instance Shin-chan pulling down his trousers to show his underwear or peeping at couples making out, scenes of sexy women in mini skirts, showing their cleavage, and men flirting," she said.
She said that the commission had ordered private TV network RCTI either to censor some scenes or show the cartoon very late — at a time it would miss its target audience of young children.
http://therealsingapore.com/content/indonesia-censors-japanese-pornographic-cartoon-crayon-shin-chan
—
IndoSurfLine
Killer Whales Invade Uluwatu
http://indosurflife.com/2014/09/killer-whales-invade-uluwatu/
—–
4 ISIS operatives arrested in Indonesia are from…wait for it…wait for it….Turkey. (h/t @GabiMitch) http://www.hurriyetdailynews.com/indonesia-arrests-four-turks-over-isil-link.aspx?pageID=238&nID=71673&NewsCatID=359 …
Indonesia arrests four Turks over ISIL link
JAKARTA
Elite Indonesian anti-terror police from Detachment 88 escort four Turks arrested on arrival at Jakarta airport on Sept. 14. AFP Photo
…
…
Indonesia arrests four Turks over Islamic State link
Indonesian police say four foreigners arrested on Saturday planned to join one of Indonesia's most wanted terrorist leaders.
The four men from Turkey were arrested by Indonesian police and the anti-terrorism squad Detachment 88 on Saturday.
They are reportedly being investigated for links to Islamic State militants in Iraq and had planned to join up with Santoso, a wanted Indonesian terrorist cell leader.
Santoso is understood to have been the field commander of Jemaah Ansharut Tauhid (JAT), an offshoot of Jemaah Islamiah, an Al Qaeda-linked cell which was behind the Bali bombings.
Indonesia's national police spokesman, Boy Rafli, says another wanted man called Mochtar, from the terrorist stronghold of Poso, had organised for the Turkish men to meet up with Santoso.
http://www.abc.net.au/news/2014-09-14/indonesia-arrests-four-turks-over-islamic-state-link/5742790
—–
Since Indonesia has cancelled its order for 72 Mercedes Benz, we could always offer them Proton Prhonda, ha ha!
Yes, Proton REALLY has a 'new' model, a 'Prhonda'!
…
The president-elect has a reputation for eschewing many of the trappings of power. In his current role as governor of Jakarta, he has been seen riding a bicycle to work.
NO MERCEDES BENZ FOR MINISTERS! Orders for all 72 have been cancelled.
No, your can't have these!
The wRap Indonesia: Sept. 11, 2014
2. Plan to buy Mercedes-Benz cars for Jokowi's ministers dropped
Following the wave of criticisms, including from the president-elect himself, that erupted when news came out that 72 new Mercedes-Benz E-Class units worth a total of IDR91.94 billion ($7.9 million) were being purchased for Jokowi's ministers, the purchase plan has been dropped, Kompas.com reported. The total budget allocated for the cars, IDR104 billion, will be returned to the state treasury, State Secretary Sudi Silalahi said.
http://www.rappler.com/world/regions/asia-pacific/indonesia/68755-the-wrap-indonesia-sept-11
Malaysiakini
2:11PM Sep 11, 2014

By dpa
Indonesia drops Mercedes for ministers amid outcry
Local supplier PT Mercedes-Benz Indonesia had won a tender off the current government for 92 billion rupiah (US$7.7 million) to supply cars for ministers and other top officials of the incoming administration of president-elect Joko Widodo, State Secretary Sudi Silalahi said last week.
But the news was met with public criticism of the government's perceived splurging as millions are struggling in poverty.
"In line with public aspirations, the State Secretariat decided that the procurement of official cars for the ministers and ministerial-level officials will not be continued," the ministry said online.
Joko, who will be sworn in on Oct 20, weighed in after the outcry, saying that his ministers did not need new cars.
"I said let's use the old cars because they are still in good condition," he was quoted as saying by local media Tuesday.
The cabinet ministers currently use Toyota Crown Royal Saloons, bought five years ago for 1.2 billion rupiah each, according to the government.
http://www.malaysiakini.com/news/274330
—–
IN INDONESIA, IT'S A CRIME TO INSULT YOUR CITY ON THE INTERNET!
She called Yogyakarta "poor, stupid and uneducated".
Yogyakarta is in Central Java and is the capital of a special region known by the same name. It is one of a few Indonesian regions that still has a royal family, or sultanate, who lives in a palace compound in the city.
https://au.news.yahoo.com/a/24869925/indonesian-student-faces-hearing-over-yogyakarta-is-stupid-social-media-post/
—
Jakarta. Police in Yogyakarta have released a woman arrested over the weekend in connection with an offensive post that she put up on social media about the city, amid mounting condemnation of her detention.
Florence Sihombing, 26, a postgraduate student at Yogyakarta's Gadjah Mada University, was released on Monday afternoon after the UGM School of Law formally requested a stay of detention.
Police granted the request after the school gave its guarantee that Florence would cooperate in the investigation of alleged defamation, according to Heribertus Jaka Triyana, the secretary of the law school's ethics committee.
Florence was reported to police last week by Yogyakarta-based non-governmental organization Jati Sura after she called Yogyakarta "poor, stupid and uncultured" in a post she published on the social networking site Path.
"In the near future, we'll also educate her," Heribertus said as quoted by Tempo. co, but did not elaborate.
…
Postgraduate law student Florence Sihombing, 26, was arrested on Monday after a message she sent to friends on social media went viral.
In her post, Ms Sihombing called the central Java city of Yogyakarta "poor, stupid and uneducated".
Police have released Ms Sihombing and are preparing a case against her for alleged defamation and inciting hatred.
The dean of the Gajah Mada University's law school said community groups have agreed to withdraw their complaint from the police.
But Yogyakarta police spokeswoman Anny Pujastuti said it would be up to the prosecutors' office to decide whether to pursue the case against Ms Sihombing.
…
Ms Sihombing's lawyer, Widodo Malik, said his client had driven past a long queue of scooters waiting for subsidised fuel at a petrol station and tried to buy more expensive, unsubsidised fuel, where there was a shorter queue.
When attendants refused to serve her, she complained to them and a member of the Indonesian military who was there.
After a video of her complaining was posted online, Ms Sihombing started getting bullied on social media sites.
She then sent friends the group message on the social networking application Path saying: "Jogja is poor, stupid and uncultured. Friends in Jakarta and Bandung, please don't stay in Jogja."
A screenshot of that message posted on a public social media site went viral.
Responding to complaints from offended residents, Yogyakarta police then arrested Ms Sihombing for allegedly breaching the Criminal Code and the 2008 Electronic Transactions and Information Law (ITE), inciting hatred and defamation.
Ms Sihombing's lawyer said the arrest was unlawful.
https://au.news.yahoo.com/a/24869925/indonesian-student-faces-hearing-over-yogyakarta-is-stupid-social-media-post/
—–
The soldiers, says Sunindyo, will anticipate crime actions such as drugs smuggling, illegal logging, human trafficking, and maintain the correct international boundary line.
Military deploys soldiers to guard Indonesia-Malaysia border
Senin, 11 Agustus 2014 20:08 WIB | 322 Views
Semarang, Central Java  (ANTARA News) – The Diponegoro Regional Military Command of Central Java has sent 450 soldiers from 405 Surya Kusuma Infantry Battalion to the North Kalimantan-Malaysia border to guard Indonesian sovereignty.
Indonesian military has sent the soldiers in a military ship from Tanjung Emas Port of Semarang on Monday.
"The personnel will maintain peace mission in the border," the Chief of IV Diponegoro Regional Military Command, Major General Sunindyo, said here when inaugurating the deployment.
…
The soldiers, says Sunindyo, will anticipate crime actions such as drugs smuggling, illegal logging, human trafficking, and maintain the correct international boundary line.
—–
INDONESIA BANS SUPPORT FOR THE ISIL
The world's largest Muslim country bans support for the Islamic State http://www.washingtonpost.com/blogs/worldviews/wp/2014/08/07/the-worlds-largest-muslim-country-bans-support-for-the-islamic-state/ … #Indonesia (via @washingtonpost) // rp
The world's largest Muslim country bans support for the Islamic State
By Ishaan Tharoor August 7
Authorities in Indonesia this week condemned the Islamic State — the Sunni extremist militants who have taken over large chunks of territory in Iraq and Syria, killing hundreds of innocent civilians in the process — and ordered a ban on YouTube videos that in any way endorse the jihadists. Despite being home to the world's largest population of Muslims, Indonesia is a pluralistic state with myriad ethnic groups and religious minorities. Still, its government wrestles with the real fear of homegrown extremism.
"The government rejects and bans the teachings of [the Islamic State] from growing in Indonesia. It is not in line with state ideology … or the philosophy of [diversity] under the unitary state of the Republic of Indonesia," said Djoko Suyanto, a former commander in chief of the Indonesian military who now holds a senior cabinet post in the country's newly formed government, at a news conference Tuesday.
The Southeast Asian archipelago nation may be thousands of miles away from the battlefields of Iraq and Syria, but it is no stranger to the call of global jihad. Government authorities believe there are about 30 Indonesians enlisted in the Islamic State's legion of foreign fighters, according to the Jakarta Post. A recent video uploaded on YouTube showed a jihadist named Abu Mohammed al-Indonesi urging fellow Indonesians to join the fight and flock to the Islamic State's self-declared Caliphate.
—–
Jakarta 5th Grader Allegedly Kidnapped from #School | http://bit.ly/XaTc5V  pic.twitter.com/PYSnuLbGc4
TEMPO.CO, Jakarta – Abbygail Syaza Satwika, of fifth grade at Yasporbi I Primary School Pancoran, South Jakarta, disappeared during class hours at her school Friday.
Abby, as she is called, was allegedly kidnapped during class break at around 9.30 a.m. Abby's mother Helga Worotitjan, 41, recounted the incident.
Helga was waiting for Abby at the hall of the school located around 10 meters away from her classroom. "I always wait for her because the class starts at 7 and finishes by 11 a.m. If I go home, it will be late for me to pick her up after class."
That day, the break hour was moved to 9.30 a.m. as the students had to finish their group assignment.
"During the break at 9.30 a.m., Abby came to me to ask for some money," Helga said.
It turned out that it was the last time she saw her youngest at the school. At around 11 p.m., Abby did not come out of her classroom yet.
"When everyone has left the classroom, Abby was nowhere to be found. I could only find her bag," she said. Helga then asked Abby's class teacher.
—–
http://berita2bahasa.com/berita/01/16436-polda-metro-jaya-ungkap-54-titik-rawan-kejahatan-di-jakarta
—–
CRIME AND PUNISHMENT IN JAKARTA
Video: Eat Pray Mourn: Crime and Punishment in Jakarta
…
Audio:
http://mpegmedia.abc.net.au/rn/podcast/2013/04/tsy_20130407_1005.mp3
huffduffer
Eat Pray Mourn: Crime and Punishment in Jakarta
Sunday 7 April 2013 10:05AM
The life of a criminal is cheap in Indonesia. Why do the police shoot hundreds of them each year?
Today, in Indonesia's new democracy, a criminal's life is cheap. Community lynchings of undesirables are common. Meanwhile, the police execute an unofficial policy of punishing recidivists, shooting them dead or in the legs. Media reports don't question the police's version of events and the community is generally ambivalent towards criminals…
You'll meet Yeni, a fiery young kiosk owner and her family of six siblings. When younger brother Yusli is arrested and shot dead by the police, the family breaks with the convention of guilty silence and painful acceptance, by demanding justice. We follow Yeni and her family during the Muslim grieving period of the first 40 days after Yusli's death as she challenges police impunity and state bureaucracy to have her brother's killers brought to trial. From these unlikely trench-lands, Yeni's struggle marks the glimmers of change. Just as Indonesia's unique combination of history, culture and politics has shaped and constrained its democratic future, Yeni shows us that it also opens up space for hope.
Image: Yeni, a lowly kiosk owner, who is agitating to have the Police who shot her brother Yusli brought to trial
Image: Yeni has been changed by her activism. She wants her daughter to go to univeristy and become a TV reporter when she grows up
☞ Eat Pray Mourn: Crime and Punishment in Jakarta – 360documentaries – ABC Radio National (Australian Broadcasti… http://huffduffer.com/dotdotfx/168612
—–
Jakarta police get new weapon in the fight against crime – folding bikes pic.twitter.com/WjlLdu6DaT
—–
———————————————————————-