_____________________________________________________________
Cassandra Chiu: Visually impaired but courageous & determined!
——-
ESME THE LABRADOR AND CASSANDRA CHIU
—–
Woman in altercation with Zara over guide dog quits guide dog association http://ow.ly/LJ5Jp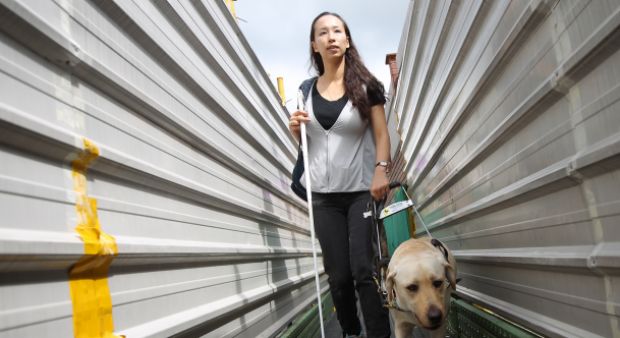 …
Cassandra Chiu, 35, has resigned from her part-time position as the Guide Dogs Association of the Blind's (GDAB) clients services manager.
She was meant to be an ambassador in that role.​
Her resignation comes in the wake of a blow-up at fashion store Zara at Takashimaya Shopping Centre on April 10, when she and her guide dog Esme were allegedly
turned away.
She turned to social media to tell her story.
She previously had similar issues with Forever 21, McDonald's and Haagen-Dazs – incidents which she also posted about.
In the aftermath of the Zara incident, the security guard – who is contracted through a security firm – was removed from his position at the store.
The Guide Dog Association also sent a letter to The Straits Times' Forum page, saying that it would also "be investigating the incident".
Within hours of the letter's publication on Thursday, Ms Chiu resigned from her position at the Association.
– See more at: http://www.tnp.sg/news/singapore-news/woman-zara-guide-dog-altercation-quits#sthash.S3AgMqbV.dpuf
—
"We sincerely apologise for the unpleasantness, disappointment and anger caused to Ms Cassandra Chiu, as well as members of the public," RSH said in a statement on Monday.
RSH Limited apologises to guide dog owner Cassandra Chiu for commotion at Zara. http://str.sg/3kx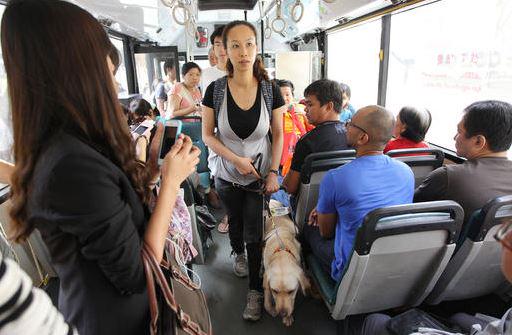 Visually impaired counsellor Cassandra Chiu with her guide dog Esme. RSH Limited, Singapore's distribution and retail arm for clothing and accessories chain Zara, has apologised to Ms Chiu after a security guard turned her away from the Zara outlet in Ngee Ann City on April 10, 2015. — ST FILE PHOTO 
RSH Limited apologises to guide dog owner Cassandra Chiu for commotion at Zara
Published on Apr 13, 2015 7:54 PM
SINGAPORE – RSH Limited, Singapore's distribution and retail arm for clothing and accessories chain Zara, has apologised to a blind woman who was turned away by a security guard at the Zara Ngee Ann City branch on Friday.
Counsellor Cassandra Chiu had tried to enter with her guide dog Esme, but claims that the security guard at the shop allegedly stopped her and verbally abused her. The security guard, contracted through a third party security firm, has been removed from his position at the store, RSH said.
—
TransCab, @SMRT_Singapore and @ComfortDelGro taxis do not reject passengers with guide dogs http://tdy.sg/10mL4zW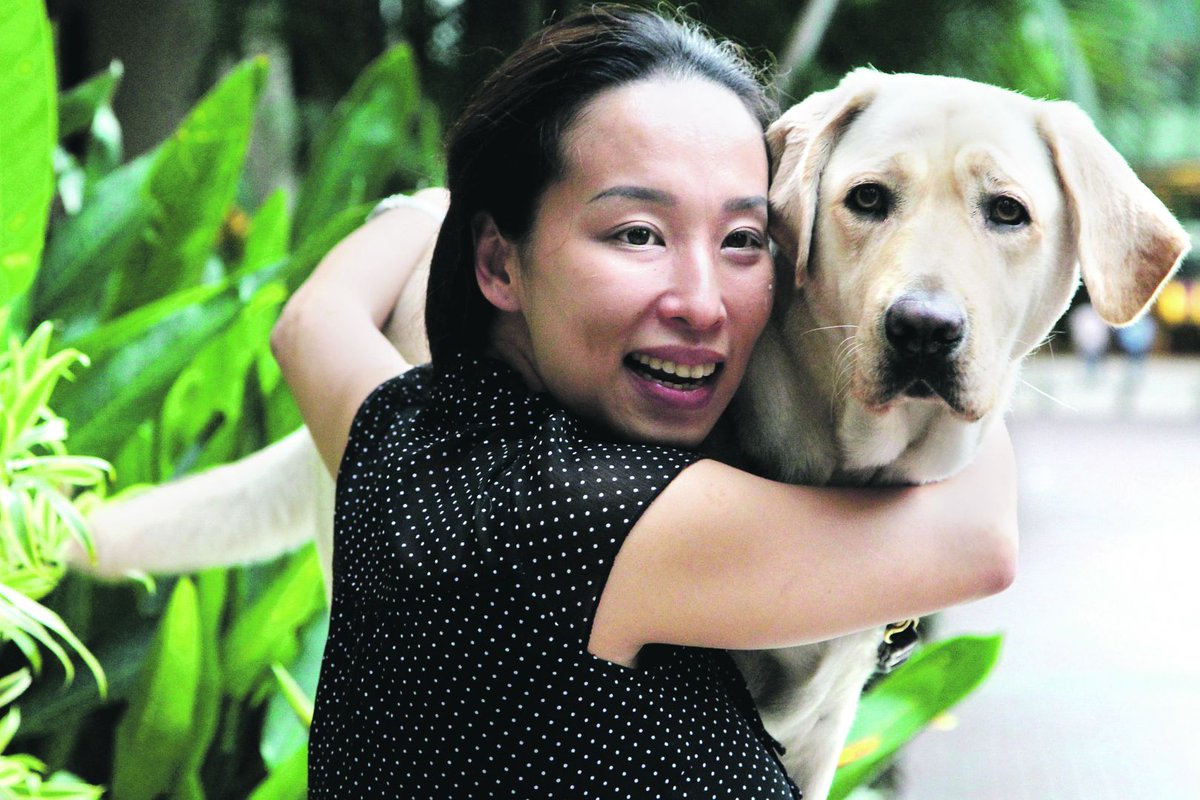 Not all taxi operators bar cabbies from rejecting passengers with guide dogs
On Monday night (Nov 3), visually impaired counsellor Cassandra Chiu had a fall at Tanglin Shopping Centre and had to seek treatment at a hospital after a taxi driver rejected her and her guide dog Esme, sparking an outcry among those who read about the incident on Esme's Facebook page.
Under the Land Transport Authority's regulations, taxi drivers are not allowed to reject passengers with caged or muzzled pets except for health or religious reasons — but guide dogs are allowed to board Comfort and CityCab taxis without muzzles, said Ms Tammy Tan, group corporate communications officer of ComfortDelGro, which operates the majority of the taxi fleet here. "Any driver found guilty of rejecting customers without proper and valid reasons will be disciplined," she said, without elaborating on the penalties.
A spokesperson for Singapore's second-largest taxi operator, TransCab, said it does not have a policy barring its drivers from rejecting passengers with guide dogs, but has not received any complaints on this so far.
SMRT, the third-largest operator here, encourages all its "taxi partners to accept visually handicapped passengers with guide dogs on board our taxis as far as possible", said Mr Patrick Nathan, its vice-president of Corporate Information and Communications.
http://www.todayonline.com/singapore/guide-dogs-allowed-cabs-say-taxi-operators
…
Return of "Diary of a Guide Dog"part 1
This guide dog is morosely laying here with my head on my paws thinking about yesterday's taxi incident feeling artily dejected and forlorn of all hope.
After a very intense 15 hour day at work, Mama and I just wanted to get home to bed and family as soon as possible. At about 8:20pm, I guided Mama to the taxi stand at Tanglin Shopping Centre where Mama's office is. There was nobody there at that time of the evening but there was nothing to fear as Mama always proudly says Singapore is the safest city to live in!
A few taxies drove by the taxi stand drive way but did not stop accept for this one which politely told Mama that he was waiting for his passenger. Before too long, another taxi drove up and alighted 2 passengers, the man that got out of the taxi first asked Mama and I to hold on whilst his friend paid the taxi driver. He was very kind and even told us that it's all clear for Mama and I to board now.
Upon Mama's instructions, I guided Mama to the taxi door, but it would not open, Mama knocked on the door and the driver said: "I no want!". Mama tried explaining to the taxi driver that she is "blind" and that I was her "guide dog" and even offered to show the driver the GDAB Guide Dog Team Identification Card, supported by the Ministry of Social and Family Development. The driver said: " My eye pain, I want go home"…
Whilst this rather comical conversation went on, with me between the taxi and Mama, the taxi started driving off!
The taxi driver's door opened and everything happened in a flash! The next thing I knew, Mama was on the floor in a heap and the taxi was speeding off! All that was left of the taxi door where my nose was pointing to just a moment ago was the smell of the taxi's exhaust! A kind gentleman came to help Mama off the road and he turned out to be the earlier taxi driver who was waiting for his passenger. He saw the incident but only noticed that it was a ComfortDelgro taxi but not the licence plate number. He offered to help Mama call for a taxi but only the 3rd taxi on call that arrived was willing to take Mama and me! The first 2 must be turned off by all the blood on Mama's legs! Or was it me?
As they say, the rest is history. We sat in a daze on the taxi all the way home only to realise that there was blood flowing in rivulets down Mama's legs. We called for another taxi and I guided Mama to the SGH where over the next few hours they cleaned up Mama's wounds and x-rayed to check for any broken bones. We did not get home till well over 2AM this morning.
—
Guide dog Esme and owner Cassandra take @TigerairSG flight as part of a trial http://cna.asia/1zeYL31  @TODAYonline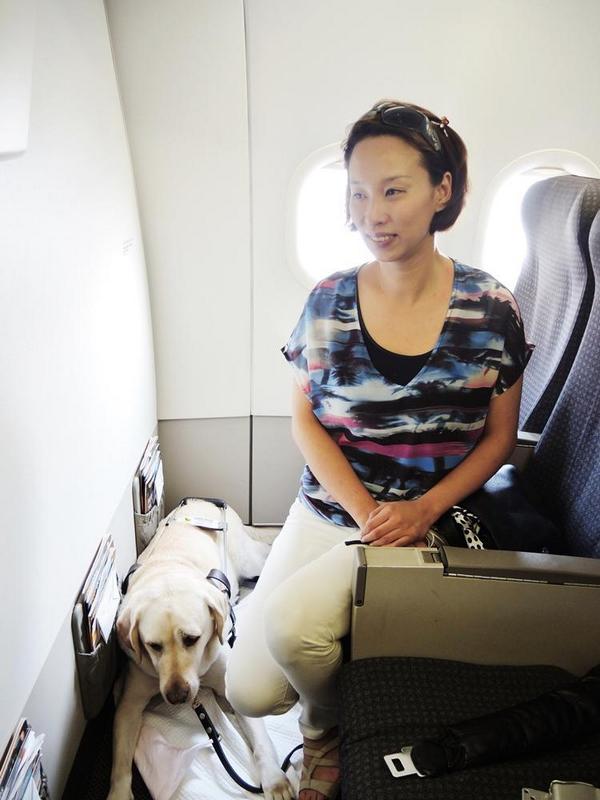 Guide dog Esme and her owner Cassandra Chiu took a Tigerair flight to Phuket on Wednesday, as part of a trial conducted in partnership with the Guide Dogs Association of the Blind. The trial aims to test the feasibility of allowing guide dogs to fly with their visually impaired owners.
The budget carrier came under criticism last year for refusing a guide dog on board one of its flights.
Said Mr Ho Yuen Sang, chief operating officer of Tigerair: "Allowing guide dogs on board Tigerair flights would be in line with our care and concern for customers requiring special assistance."
"We hope to enhance the mobility of visually impaired passengers and empower them to access more destinations served by Tigerair…(and) continue to take proactive steps to improve our capabilities and assist customers with special needs," he added.
–TODAY/cy
http://www.channelnewsasia.com/news/singapore/tigerair-conducts-trial/1441020.html?cid=TWTCNA
—
All About Esme – Episode 1 – The Dynamic Duo
Published on Aug 31, 2013
Watch how Esme, a Guide dog in Singapore helps his human companion around our sunny island. Esme is one of 2 Guide dogs helping the visually handicapped get around safely. Esme is also Bosch's doggy ambassador locally.
—–
All About Esme – Episode 2 – The Yellow Ferrari at Work
Published on Sep 8, 2013
Watch what a typical work day is like for Esme and his visually handicapped companion Cassandra.
—–
All About Esme – Episode 3 – Table Manners
Published on Sep 15, 2013
Watch this episode and see why Esme is allowed into eating establishments and Cassandra explains why he is not allowed to be fed. Esme has proper table manners!
—–
All About Esme – Episode 4 – Professional Pride
Published on Sep 19, 2013
Esme, a guide dog for the blind in Singapore. Watch this episode and know what to do when around a Guide Dog on her typical work day. Calling out to her or touching her when she is with her human partner is a big no-no as that could be hazardous to both Cassandra and Esme.
—–
All About Esme – Episode 5 – The Living Breathing GPS
Published on Sep 29, 2013
Watch how to help Esme and Cassandra when they need assistance with directions. Speak to Cassandra and guide her, never pull Esme's harness as that could be dangerous for Cassandra. Esme is trained to follow a person when Cassandra instructs her to.
—–
All About Esme – Episode 6 – Getting Around
Published on Oct 6, 2013
Esme is legally allowed on public transportation systems and is trained to not get in your way or disturb other commuters. Watch and share this video so others know that it is alright for Guide Dogs to take a bus, mrt or taxi 🙂
—–
All About Esme – Episode 7 – After Hours
Published on Oct 11, 2013
Esme, a Guide Dog in Singapore. Watch what she is up to when the harness is off and she is off-duty! Just like any other dog, Esme loves playtime the most. She is trained to poop only when her special poop bag is strapped on and on command!
—–
All About Esme 8 A Tale of My Tail
Published on Oct 20, 2013
Episode 8 of Esme the guide dog in Singapore.
———————————————————————————————