_________________________________________________________________________
—
My fav photo of @anwaribrahim . Looks like any ordinary Msian, in jeans & tee, sitting on the floor. Happy birthday! pic.twitter.com/axnQPB4jJB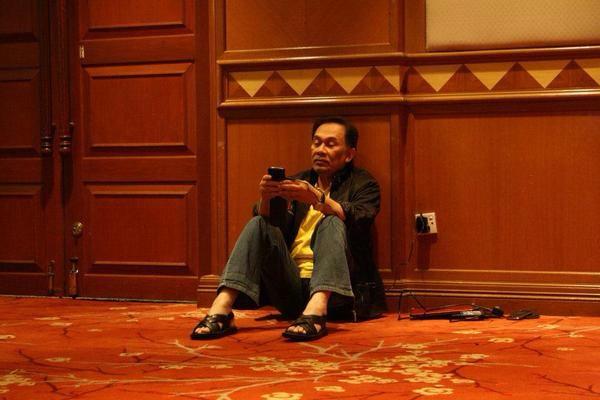 —
*THEY CAN LOCK HIM UP BUT THEY CAN'T SHUT HIM UP.
*THEY CAN DENY THE COUNTRY OF A LEADER BUT THEY CAN'T DEMORALIZE HIS SUPPORTERS.
*ANWAR IBRAHIM LIVES A DEADLY SERIOUS LIFE, SO DEADLY SERIOUS THAT HE MAY EXPECT TO GO TO JAIL FOR AT LEAST 5 YEARS.
*THEY SMEAR HIS NAME. THEY ACCUSE HIM OF ALMOST EVERYTHING. YET HE RETAINS HIS A SENSE OF HUMOUR!
KUDOS, ANWAR!
—
Tq "@cmlimguaneng: A surprise 64th birthday cake for anwar when he visited DAP Hq 2brief DAP CEC mtg on Selangor pic.twitter.com/YYNRZtCEEq"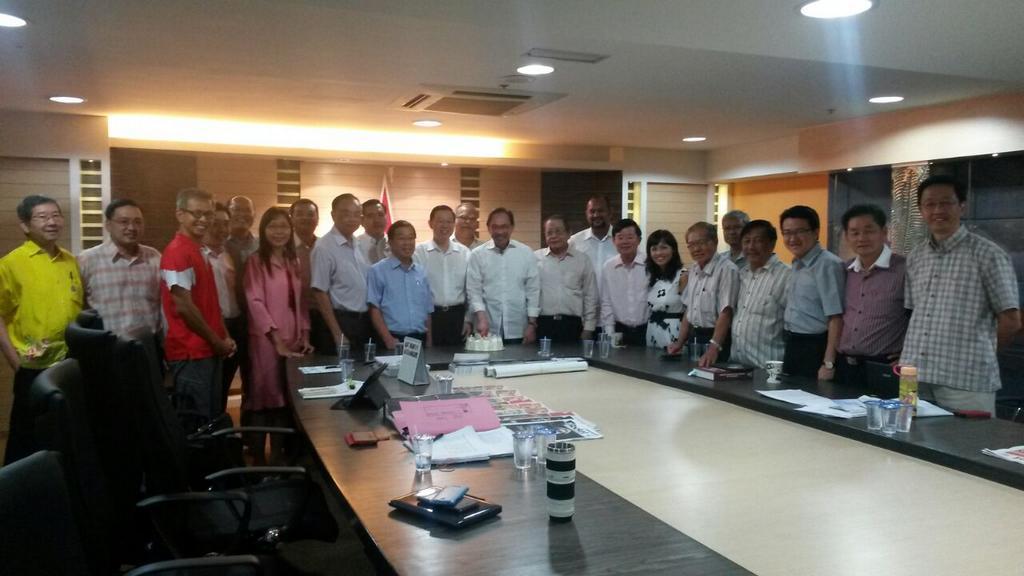 —
—–
Malaysiakini
3:33PM Apr 24, 2014
Anwar: Yes, I'll go to prison again
He spent six years in prison on charges he claimed were trumped up. Conspiracy or otherwise, it did not stop him from rocking the foundations of the ruling coalition in two subsequent general elections.
Now the 67-year-old politician is in the final leg of exhausting the legal avenues over another sodomy charge, which he claims was also fabricated by his political rivals.
If the Federal Court rejects his appeal, Anwar Ibrahim will have to spend another five years behind bars.
And in an interview with international magazine The Diplomat, the opposition leader is certain that he will not get a fair hearing and that going back to prison is a foregone conclusion.
"Looking at the names of the (Court of Appeal) judges and the way they expedited the process, they even disallowed me to ask for just a few days to get medical documents.
"So looking at the (Court of Appeal) judgment I think it is clearly fundamentally flawed, because they did not deal with the facts that were abused. So I think that it is clear that the judiciary is acting under the instruction of their political masters.
"Therefore I'm not too optimistic that I will get a fair hearing and I think that it is a foregone conclusion. Notwithstanding we are of course doing our very best to get the best team of lawyers to expose the whole fiasco in the courts. Since Karpal Singh died in the accident I am now faced also with the problem of getting new lead counsel," he added.
http://www.malaysiakini.com/news/260931
—
@anwaribrahim speaking to big crowd tonight at Reformasi 2.0 – Lembah Pantai. pic.twitter.com/hm294BhWdg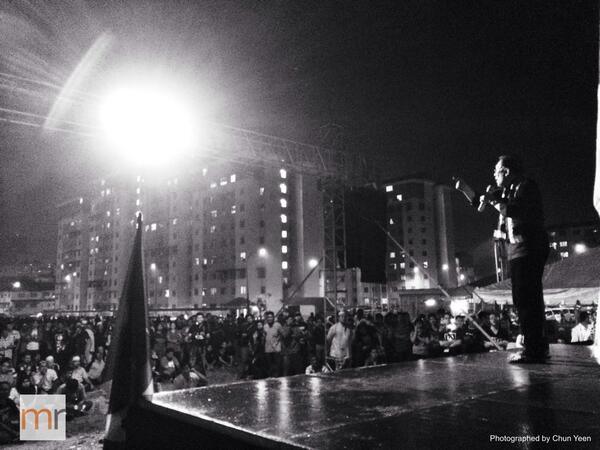 —
"@ikhwanhafiz: Penghormatan terakhir oleh pemimpin PR kpd Karpal Singh.Semangat perjuangannya kekal di ingatan. pic.twitter.com/3EfUx07Ayd"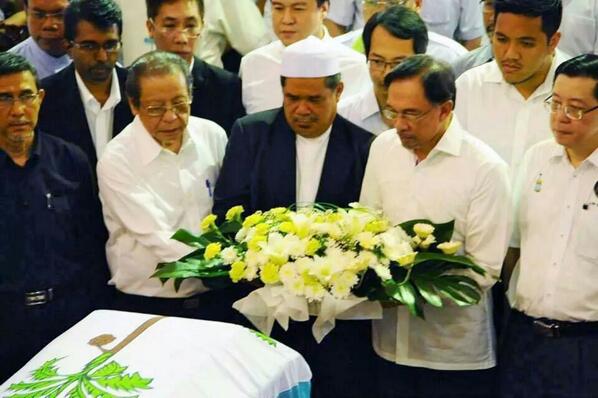 —
—
"@AnwarGaleria: 14 April 1999 hari 'Black14' di mana DS dijatuhi hukuman 6tahun penjara oleh mahkamah persekutuan pic.twitter.com/nbO9OtQmib"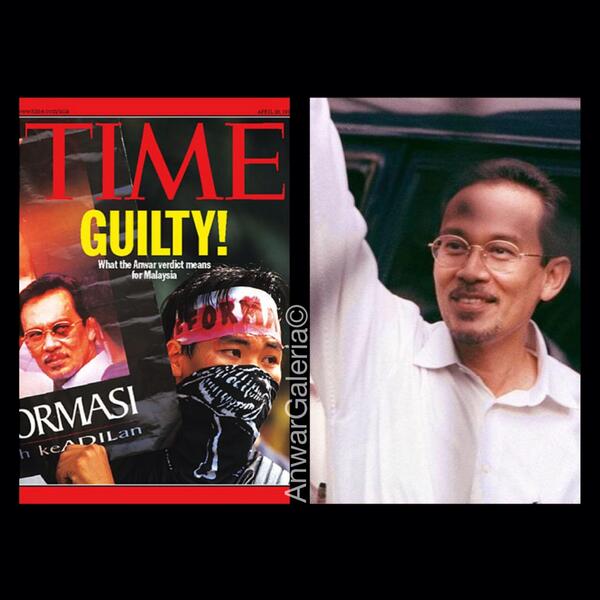 —
Tiada undangan UIA! "@af_umar: poster ni? Polis dah penuh di main gate UIA ni. Menunggu ketibaan bakal PM Msia.haha pic.twitter.com/EG1ij0EyWc"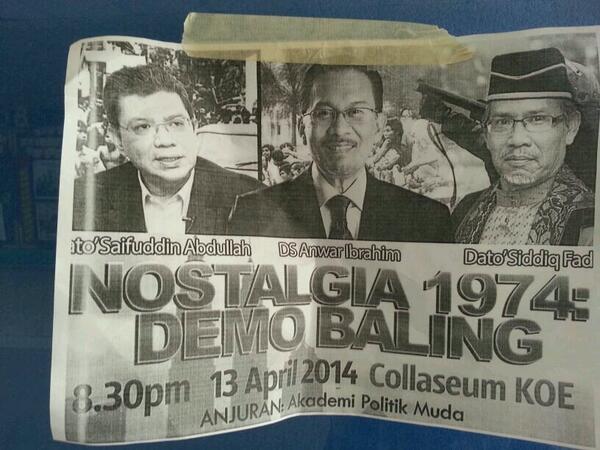 —
*Blaming Anwar for MAS Flight MH370 going missing!
*Who has RM332m in 20 secret overseas bank accounts? Anwar, of course!
*Of private jets, Anwar and UMNO Ministers….
*Anwar Ibrahim: another sex video, an amateurish attempt to smear him.
*More WICKEDNESS? Another attempt to smear Anwar Ibrahim..
——————————————————————