___________________________________________________________
Last year's jokes were about Youtube, Najib, Mahathir…
APRIL FOOL'S DAY JOKES: YOUTUBE, NAJIB, MAHATHIR, THAKSIN, ETC…
—
THIS YEAR'S JOKE IS ABOUT A RISE IN THE PRICE OF PETROL, SPECIFICALLY RON95!
A hoax news by 'Bernama' is being whatsapp around, claiming RON95 has increased effective 2mr. Why always us, why? 😦 pic.twitter.com/KPNJgewyjy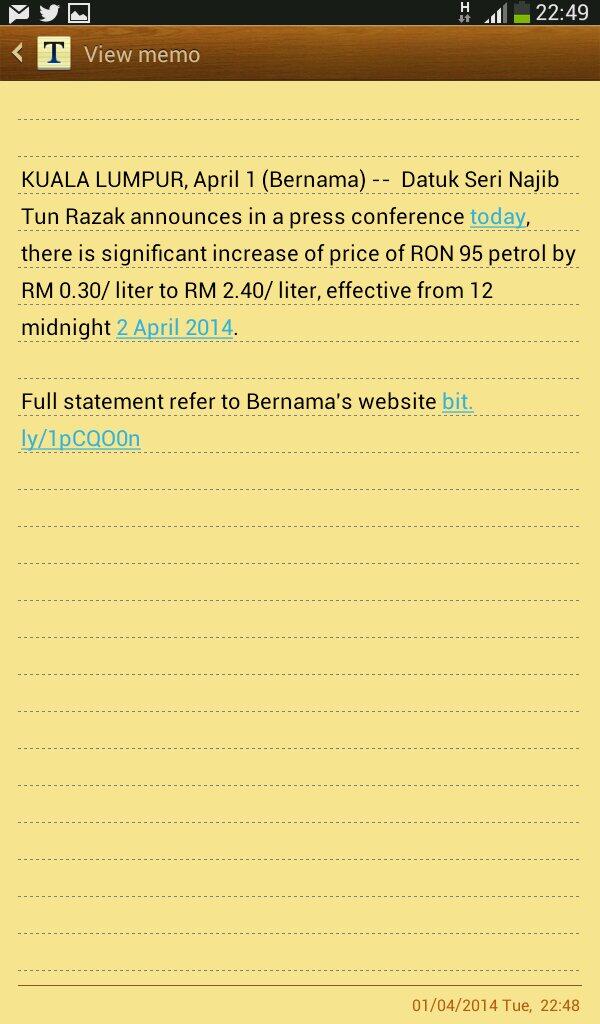 —
Finance Minister Najib Abdul Razak was said to have announced that RON95 pump prices would go up 30 sen to RM2.40 per liter starting midnight Apr 2, 2014.
This was credited to Bernama.
When readers clicked on the link to Bernama, they got this:
—
Malay Mail photo
…
http://www.themalaymailonline.com/malaysia/article/on-twitter-deputy-minister-denies-ron95-price-up-tonight?utm_source=twitterfeed&utm_medium=twitter
—
Malaysiakini
5:37PM Apr 2, 2014
Gov't forced to clarify April Fool's RON95 joke
Have concerns over cost of living eaten into Malaysia's ability to take a joke? An April Fool's joke still making rounds today seems to suggest so. 
Reaction to the joke, on possible petrol subsidy cuts starting April 2 widely circulated on instant messaging application Whatsapp, has even now forced the government to step in to clarify matters. 
"NO reduction of subsidy by 30 sen for RON95, resulting in a higher petrol prices at midnight tonight. I want to deny this rumour. RON95 is still subsidised by 73 sen (per litre)," wrote Deputy Finance Minister Ahmad Maslan on Twitter at about 4pm today.
Ahmad emphasised the word "No" in capital letters.
http://www.malaysiakini.com/news/258907
————————————————————————-