_________________________________________________
—
6 February 2016
Malaysia: Malayan tiger killed crossing East Coast Expressway http://ebx.sh/1Szynev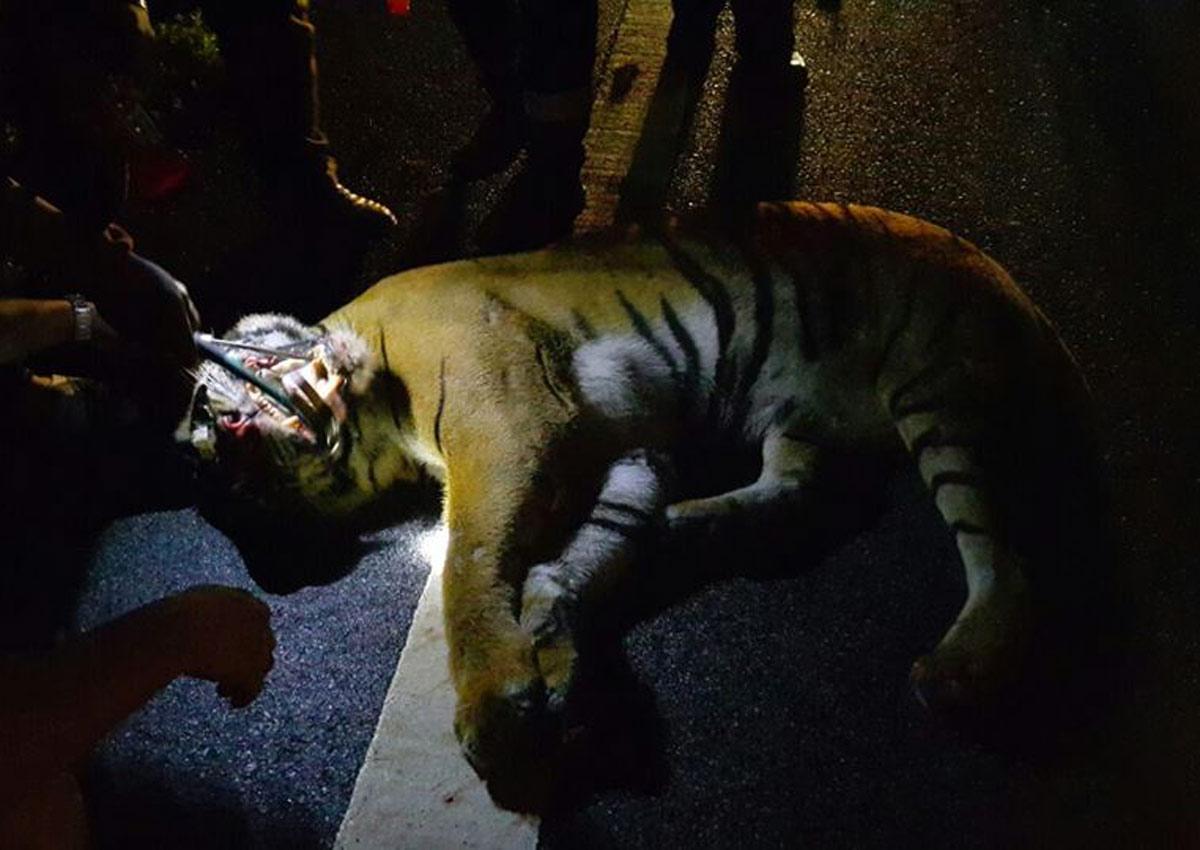 —
3 June 2015
…
TIGER ATTACKS AND KILLS KEEPER AT RESORT IN ALOR GAJAH

Penjaga haiwan maut dibaham harimau ketika membersihkan kandang di Alor Gajah, Melaka. Sumber: MyMetro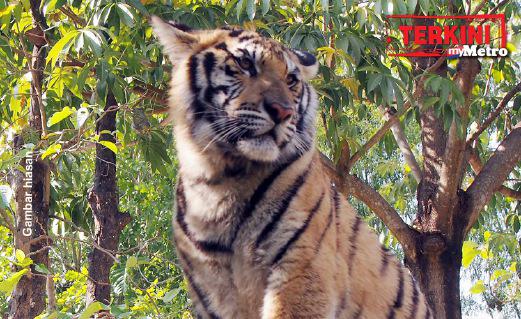 —
NST NEWS: Animal keeper dies in tiger attack: ALOR GAJAH: An Indonesian animal keeper died after he was attack… http://bit.ly/1GW3qdU
ALOR GAJAH: An Indonesian animal keeper died after he was attacked by a caged tiger at a resort here this afternoon. In the 2 pm incident, the tiger which the man had been taking care of for the past eight years, suddenly attacked him when he entered the cage to feed it.
…
Star
Wednesday June 3, 2015 MYT 7:11:51 AM
Tiger fatally mauls Indonesian caretaker at resort
MALACCA: A senior caretaker died three hours after being mauled by a tiger at a resort in Alor Gajah near here.
The victim, a 34-year-old Indonesian, died at the Tampin Hospital.
In the 2pm incident, the tiger – which the victim had handled for eight years – suddenly attacked him when he went in for a routine feeding session.
The resort management said in a statement that medical attention was given by the resort emergency team and the victim was then rushed to Tampin Hospital.
"This was a rare and unfortunate incident and the family members of the victim have been notified," it said.
According to the statement, the family had requested that the victim not be named
http://www.thestar.com.my/News/Nation/2015/06/03/Tiger-fatally-mauls-Indonesian-caretaker-at-resort/
—
The tiger had killed a farmer in Kerala state and a tea plantation worker in nearby Tamil Nadu state last week.
[DAILY STAR]: Armed guards shoot dead MAN-EATING tiger: FOREST guards shot dead a man-eating tiger after it at… http://bit.ly/1vLzMPw
Armed guards shoot dead MAN-EATING tiger
FOREST guards shot dead a man-eating tiger after it attacked and killed a man and a woman in neighbouring towns.
The tiger was killed after it attempted to attack the guards who had hunted it down in southern India.
Authorities say the animal killed a farmer in Kerala state and a tea plantation worker in nearby Tamil Nadu state last week.
Another man narrowly escaped death after the tiger – aged between 10 and 12 years – attacked a third time.
Members of the Indian Special Task Force killed the animal in the Gudalur Forest in southern Tamil Nadu on Wednesday night.
Around 160 guards were sent to hunt down the tiger – which was spotted chasing a deer through the forest earlier in the day.
http://www.dailystar.co.uk/news/latest-news/426573/man-eating-tiger-shot-dead-India
…
Man-eating' tiger shot dead in India – See more at: http://www.vanguardngr.com/2015/02/man-eating-tiger-shot-dead-in-india/#sthash.BIPxBh3C.dpuf …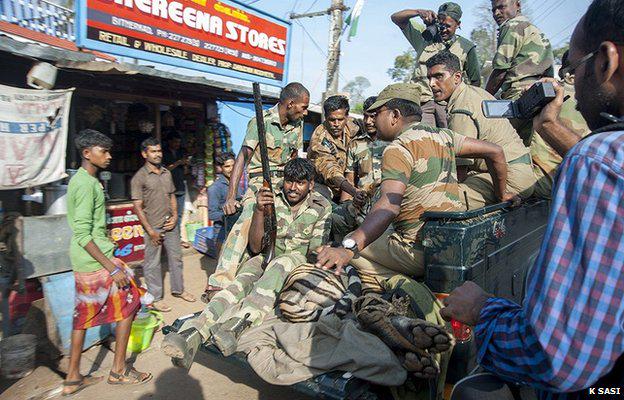 …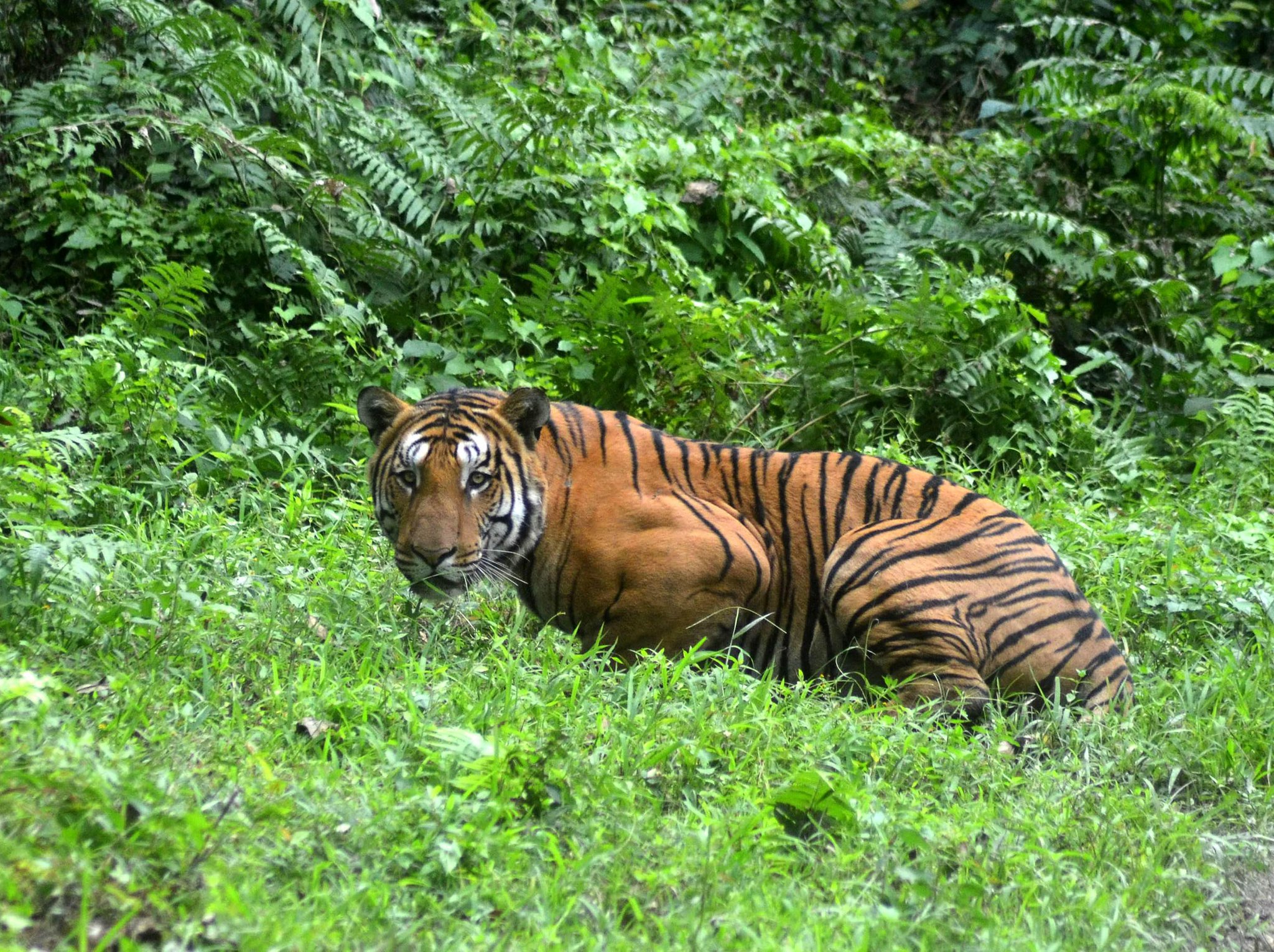 …
The man-eating tiger that was shot dead in the Nilgiris today. Officials claim the big cat targeted people again.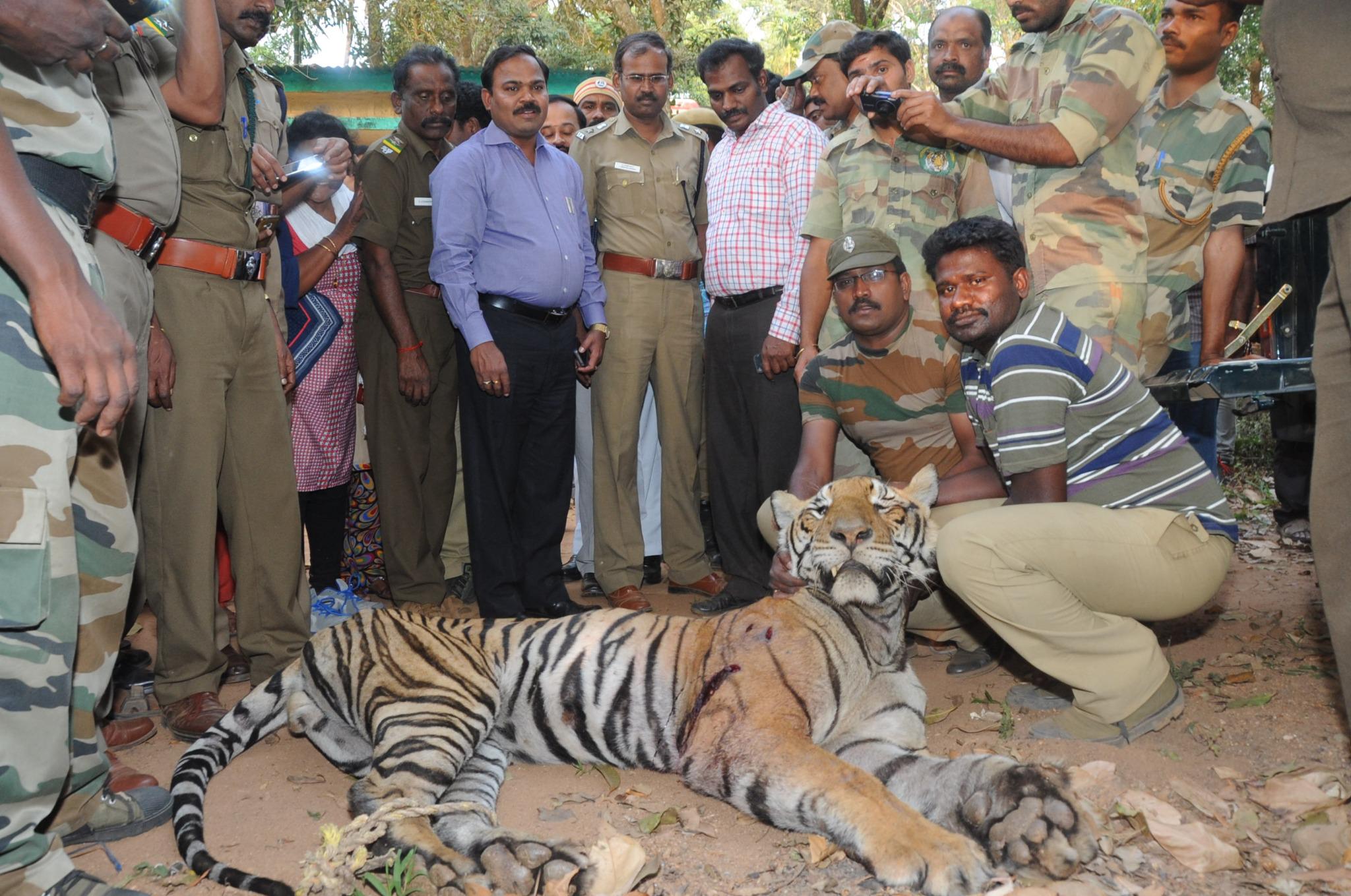 Man eating #Tiger shot dead in #Kerala.Do we have the right to do this? How Capital punishment different from this ?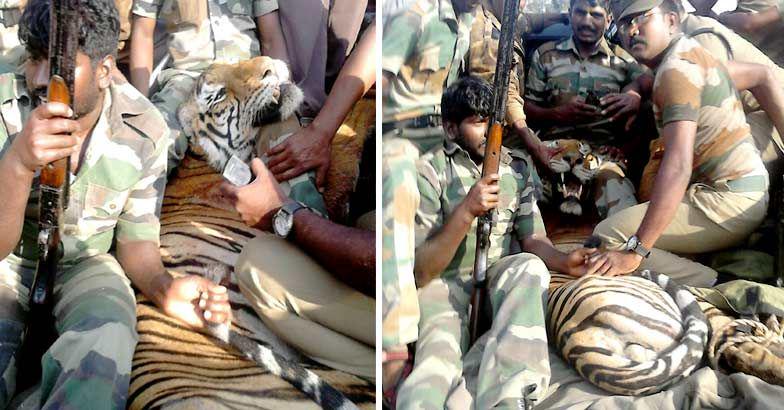 —–
White tiger and a pleading boy – disaster at Delhi zoo
Last Updated: Tuesday, September 23, 2014 – 17:45
According to an eyewitness, the barricade of the tiger enclosure was low and the youth, who was later identified as Maqsood, a resident of Anand Parbat in Delhi, accidently slipped and fell into a dry moat inside the tiger's enclosure. He also said that the tiger approached the victim and didn't attack the youth for 15 minutes and kept on staring at him from within a distance of nearly one feet. During this span, the victim sat in front of the tiger with his folded hands, pleading for mercy. However, it was after someone else from the crowd threw a stone at the tiger, the big cat swiped at the youth, wounding his neck. The tiger then carried the youth away and killed him.
..
Some eyewitnesses claimed that the security guards at the zoo could do nothing to help the youth when he was being dragged away by the tiger as they did not have tranquiliser guns.
…
Police and zoo officials were unable to take out the body from the enclosure even hours after the incident.
http://zeenews.india.com/news/delhi/white-tiger-and-a-pleading-boy-disaster-at-delhi-zoo_1474498.html
—
White tiger kills student in India
English.news.cn

   2014-09-23 17:24:47
NEW DELHI, Sept. 23 (Xinhua) — A white tiger Tuesday killed a school student inside the Delhi zoo, a senior official said.
"The student fell down into the white tiger's enclosure while trying to take a photo of the animal. He was immediately mauled to death by the white tiger. The student was rushed to a local hospital where he was declared dead," he said, on condition of anonymity.
Local TV channels reported that the incident took place around 2 p.m. (local time) when the school boy along with his fellow students were inside the zoo on a day trip.
A probe has been ordered into the incident, the official said.
http://news.xinhuanet.com/english/world/2014-09/23/c_133665994.htm
—
THE 'TAME' CIRCUS LION THAT WAS NOT!
Video: Lion attacks School Teacher,16 August 2014
…
Published on Aug 16, 2014
School children on a day out at the circus were left horrified when their teacher entered the lion's enclosure to prove the animal wasn't aggressive – and was savagely attacked before their eyes.
The teacher, who was out with the students for a day of fun at the Monaco Circus in Cusco, Peru, was called out by the lion tamer to show her students that the animal didn't pose a threat.
But the applause quickly turned to screams of terror when she entered the cage and the lion attacked her, dragging her out in front of the crowd with its teeth while her students watched in shock.We wanted the lion to jump over but it slipped up,' explained the animal's owner.
The lion tamer desperately tried to free the teacher by beating the creature with a rod as it carried the woman around the ring like a ragdoll, and she was eventually freed.
Onlookers feared the worst, but the woman was immediately taken to a nearby hospital in the district of San Sebastián by one of the circus' vans where she is recovering.
The Peruvian Ministry of Agriculture prohibits circuses from using wild and aggressive animals, as to keep them in captivity constitutes an act of cruelty.
—–
THE SIBERIAN (AMUR) TIGER IS THE LARGEST BIG CAT….
Siberian Tiger
Panthera tigris altaica
Siberian (or Amur) tigers are the world's largest cats. They live primarily in eastern Russia's birch forests, though some exist in China and North Korea. There are an estimated 400 to 500 Siberian tigers living in the wild, and recent studies suggest that these numbers are stable.
Weight:

660 lbs (300 kg)
—
Siberian (Amur) Tiger – The Undisputed King of Taiga.
——————————————————————————————————-
NST
30 November 2012 | last updated at 06:32PM
Thai man killed in suspected tiger attack
BANGKOK: A rubber tapper was mauled to death in a suspected tiger attack in southern Thailand, the second such incident in the area in recent years, a local official said Friday.
———————————————————————-
ABC News
Man-Eating Leopard Devours 15
By Muhammad Lila | ABC News – Mon, Nov 5, 2012
A rogue leopard believed to have killed – and eaten – up to 15 villagers, including 10 small children over the past year is being hunted by Nepalese wildlife officials.
The severed head of the latest victim, a 4-year-old boy, was found on Saturday in a forested area nearly 400 miles west of the capital, Kathmandu. The Kathmandu Post reported the boy was playing in the courtyard of his house when the leopard struck, killing the boy then dragging the body into the forest. Police say at least one leopard with a taste for human flesh is on the loose, but that there could be others.
Last week, Nepalese officials offered a bounty of 25,000 rupees (approximately $280) for anyone who could bring in the animal dead or alive. The bounty amounts to several months wages for an average Nepali villager. Of the 15 victims so far, two-thirds are children from remote villages. So far, there is no indication that any adult males have been attacked.
_________________________________________________
Tiger versus lion
From Wikipedia, the free encyclopedia
Physical comparison
Comparative size
The Amur or Siberian tiger  is the largest subspecies of the Panthera genus, known to weigh up to 800 lbs (360 kg),while large African lions weigh up to 550 lbs (250 kg).
Accidental fights in captivity
In historical accounts where lions and tigers have fought in captivity, the tiger often came out the victor. The most recent accounts happened on March 2011, where a tiger at Ankara Zoo attacked a lion through its enclosure and killed the lion with a single paw swipe." The tiger severed the lion's jugular vein in a single stroke with its paw, leaving the animal dying in a pool of blood", officials said.
In 1857, a tiger at Bromwich Zoo broke into the cage of a lion and a fearful scene ensued: the lion's mane saved his head and neck from being injured, but the tiger succeeded in ripping up his stomach, and within a few minutes he was dead.
In Coney Island Zoo, in 1909, a male tiger killed a male lion.
Expert opinions
Owner of Londolozi Reserve in South Africa,  John Vartycited "People always ask me which one is bigger? If a tiger and a lion had a fight, which one would win? Well, I've seen tigers crunch up a full-grown leopard tortoise like it was nothing. And lions try, but they just don't get it right. If there's a fight, the tiger will win, every time."
Famous animal rescue organisation, Big Cat Rescue of Tampa, Florida answered "While we would much prefer that people focus their thoughts on saving these magnificent animals than on who would win if a lion and tiger fight, the power of these two largest cats seems to raise this question in people's minds. While it would depend on the size, age and aggressiveness of the specific animals involved, generally tigers have a significant advantage."
_____________________________________________________________________
In Perak, four Orang Asli were acquitted and discharged by the Tapah Magistrate's Court today for shooting a tiger two years ago without calling for their defence.
————————————————————————————
__________________________________________________________
This is a new post and will grow over the next few weeks….
WHEN A TIGER TURNS INTO A MAN-EATER, IT IS A TERRIFYING  TIME FOR THOSE LIVING WITHIN ITS TERRITORY!
_____________________________________________________________
A TIGER ATTACKED ONE OF THEM, AND WOULD SURELY HAVE KILLED HIM IF THEY HAD NOT ATTACKED ITY AND KILLED IT. THEY WE CHARGED IN COURT.
THEY SEEMED DOOMED UNTIL TWO LAWYERS CAME TO THEIR DEFENCE, PRO BONO (FREE).
THANKS TO AUGUSTINE ANTHONY AND AMANI WILLIAMSHUNT ABDULLAH, ALL FOUR ARE FREE!
The Star
2 Oct 2012
The Star Malaysia
By MANJIT KAUR manjit@thestar.com.my
Four acquitted of killing tiger
Supporters erupt with joy after court frees orang asli
We were merely trying to save our friend Yok Meneh Yok Din who was being attacked by the tiger while collecting produce. — YOK MAT BAH CHONG
TAPAH: Standing tall with their traditional headgear, a group of Semais erupted with joy outside a courtroom when they heard that four orang asli had been freed over the killing of a tiger.
Scarred: Yok Kalong pointing at the tiger claw marks on Yok Meneh's back at the magistrate's court in Tapah. — BernamaThey were thrilled to know that the magistrate's court acquitted and discharged Yok Mat Bah Chong, 48, Yok Rayau Yok Senian, 50, Yok Kalong Bah Papee, 51, and Hassan Bah Ong, 33, over the death of the tiger in Bukit Tapah Forest Reserve two years ago.
………………
The four accused were earlier said to have used a shotgun and shot the tiger in the forest reserve near Sungkai on Feb 4, 2010, between 8am and 1pm.
They were charged under Section 64A of the Wildlife Protection Act which makes offenders liable to a RM15,000 fine or five years jail upon conviction.
Met outside the courtroom yesterday, Yok Mat said he was relieved over the outcome of the case.
"We were merely trying to save our friend Yok Meneh Yok Din who was being attacked by the tiger while collecting produce at the forest."
"I am happy that I will no longer have to deal with sleepless nights over the case. I will now be able to have a peaceful life with my wife and five children," he added.
Yok Meneh, 49, who was injured during the attack, was also present yesterday.
Initially, the four men were not represented until lawyers Augustine Anthony and Amani WilliamsHunt Abdullah decided to take on the case on a pro-bono basis.
During the oral submission, Augustine said there had been contradictions in the evidence produced in court.
For example, he said the make of the shotgun reported in the ballistic report had differed from the one seized from the orang asli.
Furthermore, a Veterinary Services Department officer had told the court that she was the one who performed the post-mortem on the carcass of the tiger but an earlier report indicated that Wildlife Department officers had carried out the examination.
"The most crucial point is – how can the four be charged with killing the tiger and not be charged for a more serious offence of unlawfully possessing firearms?" he asked.
"Thus, the four should be acquitted," he added.
————————————————————————————–
Malaysian Insider
Villagers terrified of tiger in their midst
October 10, 2012
BALING, Oct 10 – A tiger has sent shivers down the spine of residents in Kampung Teluk Sanau Dalam here, since it was spotted lurking at a rubber smallholding last week.
Pug-marks, and the carcass of a pig, believed to have been killed by the man-eater, found recently in the village have only compounded their fear.
For rubber tappers, it's even worse as they hear its blood-curdling roars daily, while going about their chores.
Those who went to their smallholdings to tap rubber, claim to hear the roar of the tiger in the shrub areas, not far from the smallholdings.
A villager, Hassan Md Noh, 61, said he came across the tiger at a distance of 90 metres while tapping rubber.
"Since then, rubber tappers often use firecrackers to frighten away the man-eaters.
"I set off at least, 10 firecrackers while tapping rubber," he told reporters when met near his rubber smallholding here today.
…………….
Thirteen rubber tappers have sought the help of the Wildlife and National Parks Department to act before anything untoward occurred.
Siti Aishah Yaakub, 64, who taps rubber alone, said she was worried for her safety. – Bernama
Villagers terrified of tiger in their midst
—————————————————————————————————————–
The True Story Of A Man-Eating Tiger's 'Vengeance'
John GoodrichIn the late 20th century, the Amur tiger was nearly hunted to the brink of extinction — at one point, there were just 30 animals left in the wild. Above, an Amur tiger sits in the snow at a wildlife rehabilitation center.
September 14, 2010
John Vaillant's The Tiger is part natural history, part Russian history and part thriller; it tells a gripping and gory story of what it's like to stalk — and be stalked by — the largest species of cat still walking the Earth.
The most bio-diverse region in all of Russia lies on a chunk of land sandwiched between China and the Pacific Ocean. There, in Russia's Far East, subarctic animals — such as caribou and wolves — mingle with tigers and other species of the subtropics. It was very nearly a perfect habitat for the tigers — until humans showed up.
The tigers that populate this region are commonly referred to as Siberian tigers, but they are more accurately known as the Amur tiger. "Imagine a creature that has the agility and appetite of the cat and the mass of an industrial refrigerator," Vaillant tells NPR's Linda Wertheimer. "The Amur tiger can weigh over 500 pounds and can be more than 10 feet long nose to tail."
These majestic tigers can jump as far as 25 feet — vertically, they can jump over a basketball hoop. Vaillant cites a famous tiger biologist who, when asked how high a tiger can jump, responded: "As high as it needs to."
he Tiger: A True Story of Vengeance and Survival
By John Vaillant
Hardcover, 352 pages
Knopf
List price: $26.95
At the center of the story is Vladimir Markov, a poacher who met a grisly end in the winter of 1997 after he shot and wounded a tiger, and then stole part of the tiger's kill.
The injured tiger hunted Markov down in a way that appears to be chillingly premeditated. The tiger staked out Markov's cabin, systematically destroyed anything that had Markov's scent on it, and then waited by the front door for Markov to come home.
Interested in the rest? Click on
——————————————————————————————————————