..
No, US Supreme Court Has Not Ruled Against Mandatory Vaccination The precedent for mandatory vaccination dates back to a Supreme Court decision from 1905 and has not been challenged since. Follow us on By – AFP | 26 April 2021 10:23 PM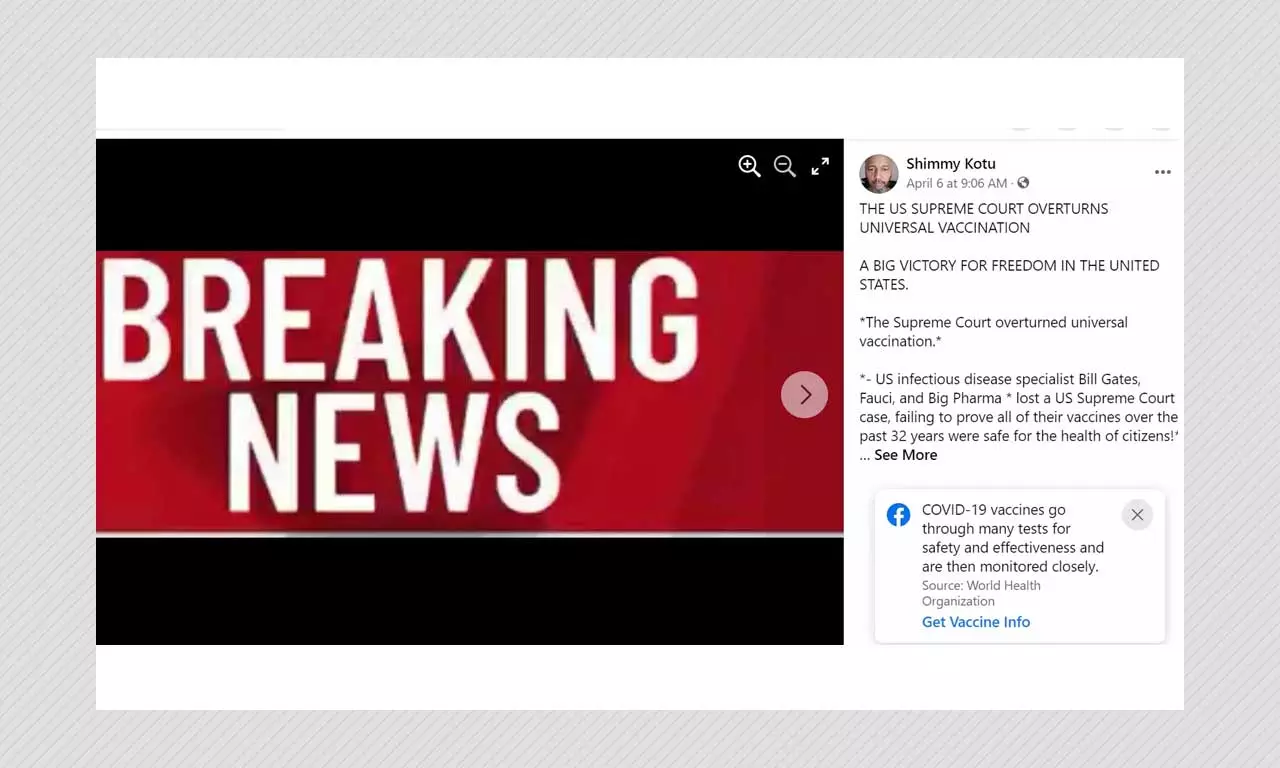 A post shared on Facebook in South Africa claims that the US Supreme Court "overturned" mandatory vaccination following a lawsuit filed by attorney Robert F. Kennedy Jr. This is false; the precedent for mandatory vaccination dates back to a Supreme Court decision from 1905 and has not been challenged since. Furthermore, getting vaccinated against Covid-19 is currently not mandatory in the United States. Also Read: COVID-19: Stanford Has Not Published Any Study On Masks Being Ineffective "US SUPREME COURT OVERTURNS UNIVERSAL VACCINATION. A BIG VICTORY FOR FREEDOM IN THE UNITED STATES," the caption in the Facebook post reads. The post has been shared more than 150 times in South Africa since being published on April 6, 2021.
For more:
https://www.boomlive.in/world/fake-news-us-supreme-court-mandatory-vaccination-covi1-9-12921
..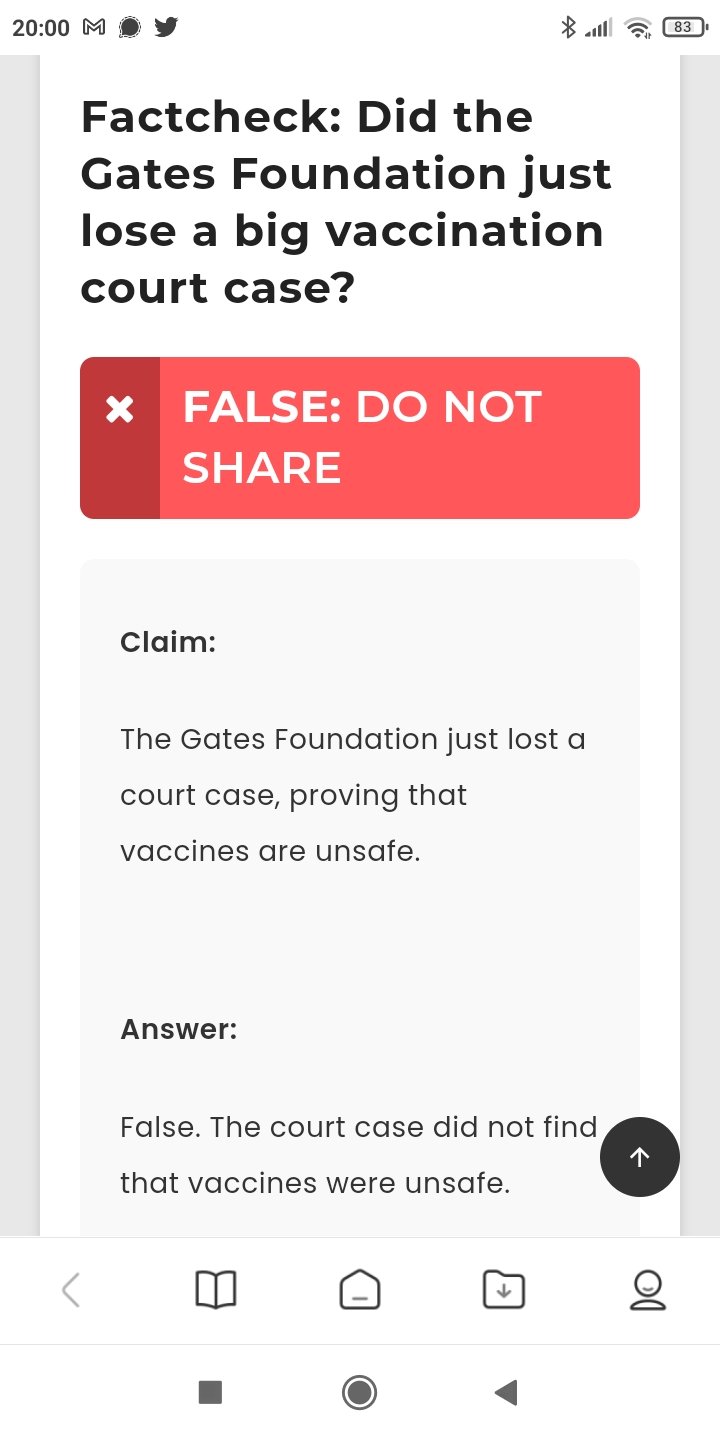 FURTHER INFORMATION
In a video on YouTube, a man who claims to be a doctor from Georgia (United States) claims that a court case that has ruled against the Gates Foundation meaning that vaccines will not be mandatory in the US and have been proven to be unsafe.
This is false, the lawsuit the man references was between Informed Consent Action Network (ICAN) and the Centre for Disease Control and Prevention (CDC). The Gates Foundation donates some funding to the CDC but was not involved in this case. The court did not rule in favour of ICAN, it was dismissed after the CDC produced numerous scientific studies that show that vaccines do not cause autism. There is no link between vaccines and autism. Vaccines are designed to aid the body's immune system by helping it produce disease-fighting antibodies to specific diseases. There is no vaccine yet for COVID-19, but an international scientific effort is underway to try to find one. According to the WHO, vaccination is safe and side effects from a vaccine are usually minor and temporary.
We have written before about the movement in the US that are concerned about vaccines and forced vaccination. The man credits the result of the court case from the work of some discredited figures in the anti-vaccination movement, Andrew Wakefield and Robert F Kennedy Jr, as well as ICAN which spreads falsehoods about vaccination and the unfounded links to autism. There is no basis for the man's claims about Bill Gates, another issue that Infotagion has written about previously.
SOURCES
CDC: Vaccines do not cause autism
Health Feedback: Contrary to viral Facebook claim, numerous studies show vaccines don't cause autism
Origins of Claim
FULL TEXT OF CLAIM
"I'm not anti-vaccination, I'm anti stupidity… The Gates Foundation supported by George Soros is being sued by a number of government and health foundations in various cities as being allegedly responsible for hundreds of thousands of deaths in China and African nations. Now there is proof that vaccines have never been tested properly. All these MDs [doctors] out there, shame on them all for making you look crazy with no true science. Making us all look like we are freaking crazy and out of our damn minds… It doesn't take a brain surgeon to understand that when you put detergents, and you put petroleums, and formaldehyde, and you put things in their like pig urine or human DNA species, of different DNA into vaccines which we now know to be true now more than ever before… They put traces of HIV into these flu shots."
False: DO NOT SHARE
..
Smart conversation from the National Constitution Center
On this day, the Supreme Court rules on vaccines and public health
February 20, 2021 by Nicholas Mosvick
n the face of future public health emergencies like the Coronavirus, a precedential Supreme Court decision about the government's power to protect citizens by quarantine and forced vaccinations could receive new interest.
On February 20, 1905, the Supreme Court, by a 7-2 majority, said in Jacobson v. Massachusetts that the city of Cambridge, Massachusetts could fine residents who refused to receive smallpox injections. In 1901, a smallpox epidemic swept through the Northeast and Cambridge, and Massachusetts reacted by requiring all adults receive smallpox inoculations subject to a $5 fine. In 1902, Pastor Henning Jacobson, suggesting that he and his son both were injured by previous vaccines, refused to be vaccinated and to pay the fine. In state court, Jacobson argued the vaccine law violated the Massachusetts and federal constitutions. The state courts, including the Massachusetts Supreme Judicial Court, rejected his claims. Before the Supreme Court, Jacobson argued that, "compulsion to introduce disease into a healthy system is a violation of liberty."
On February 20, 1905, the Supreme Court rejected Jacobson's arguments. Justice John Marshall Harlan wrote about the police power of states to regulate for the protection of public health: "The good and welfare of the Commonwealth, of which the legislature is primarily the judge, is the basis on which the police power rests in Massachusetts," Harlan said "upon the principle of self-defense, of paramount necessity, a community has the right to protect itself against an epidemic of disease which threatens the safety of its members."
Jacobson had argued that the Massachusetts law requiring mandatory vaccination was a violation of due process under the 14th Amendment, particularly the right "to live and work where he will" under the precedent of Allgeyer v. Louisiana (1897), a case that found that a state law preventing certain out-of-state insurance corporations from conducting business in the state was unconstitutional restriction of freedom of contract under the 14th Amendment. Harlan answered that while the Court had protected such liberty, a citizen:
[M]ay be compelled, by force if need be, against his will and without regard to his personal wishes or his pecuniary interests, or even his religious or political convictions, to take his place in the ranks of the army of his country and risk the chance of being shot down in its defense. It is not, therefore, true that the power of the public to guard itself against imminent danger depends in every case involving the control of one's body upon his willingness to submit to reasonable regulations established by the constituted authorities, under the sanction of the State, for the purpose of protecting the public collectively against such danger."
The Court did not extend the rule beyond the facts of the case before it. Harlan ended his opinion by stating the limitations of the ruling: "We are not inclined to hold that the statute establishes the absolute rule that an adult must be vaccinated if it be apparent or can be shown with reasonable certainty that he is not at the time a fit subject of vaccination or that vaccination, by reason of his then condition, would seriously impair his health or probably cause his death."
In the years following the case, the anti-vaccine movement mobilized and the Anti-Vaccination League of America was founded three years later in Philadelphia under the principle that "health is nature's greatest safeguard against disease and that therefore no State has the right to demand of anyone the impairment of his or her health," and aimed "to abolish oppressive medical laws and counteract the growing tendency to enlarge the scope of state medicine at the expense of the freedom of the individual." The League warned about what it believed to be the dangers of vaccination and allowing the intrusion of government and science into private life,
When a separate question of vaccinations—state laws requiring children to be vaccinated before attending public school—came up in 1922 in Zucht v. King, Justice Louis Brandeis and a unanimous court held that Jacobson "settled that it is within the police power of a state to provide for compulsory vaccination" and the case and others "also settled that a state may, consistently with the federal Constitution, delegate to a municipality authority to determine under what conditions health regulations shall become operative." More recently, in 2002, a federal district court declined to find a exemption to mandatory vaccinations laws for "sincerely held religious beliefs" or a fundamental right of parents to make decisions concerning medical procedures of their children.
The application of Jacobson to the modern age of vaccinations is a source of scholarly debate, with some arguing that the case no longer applies in an era in which vaccines like HPV are not medically necessary to prevent the spread of disease. But others maintain Jacobson's importance today in providing ample power to protect the public health, especially with the threat of pandemics.
Nicholas Mosvick is a Senior Fellow for Constitutional Content at the National Constitution Center.
https://constitutioncenter.org/blog/on-this-day-the-supreme-court-rules-on-vaccines-and-public-health
..
FAKE NEWS

Note the following before you read the fake news.
1. Google has no US Supreme Court case about overturning universal vaccination. If you can find a link to such a case, let me know. Thanks.
2. The message is poorly constructed and there is at least one glaring error. The US infectious disease specialist is not Bill Gates but Dr Fauci.
3. It looks like the work of a failed college student.
Received via WhatsApp…
A BIG VICTORY FOR FREEDOM IN THE UNITED STATES.
The Supreme Court overturned universal vaccination. *
– US infectious disease specialist Bill Gates, Dr. Fauci, and Big Pharma * lost a US Supreme Court case, failing to prove all of their vaccines over the past 32 years were safe for the health of citizens!
The lawsuit was filed by a group of scientists led by * Senator Kennedy *.
Robert F. Kennedy Jr.: * "The new COVID vaccine must be avoided at all costs. I urgently draw your attention to important issues related to the next vaccination against Covid-19. For the first time in the history of vaccination, the so-called latest-generation mRNA vaccines directly interfere with the genetic material of the patient and therefore alter the individual genetic material, which is genetic manipulation, which was already prohibited and was previously considered to be a crime.*
– THE CORONA VIRUS VACCINE IS NOT A VACCINE! *
WARNING !
What has always been a vaccine?
It was always the pathogen itself (a microbe or a virus which was killed or attenuated), that is to say weakened, and it was introduced into the body to produce antibodies.
Not even a vaccine against the corona virus!
It's not that at all!
It is part of the newest group of mRNA (mRNA) supposedly "vaccines", once inside a human cell, mRNA reprograms normal RNA / DNA which begins to make another protein.
In other words: * Nothing to do with traditional vaccines! *
In other words: * It is an instrument of genetic influence. *
– Gene weapon! *
In other words: * They were going to destroy earthlings, and the survivors will become GMOs! *
Following the vaccine * unprecedented mRNA: * The vaccinated will no longer be able to treat the symptoms of the vaccine in an additional way.
Vaccinated people will have to accept the consequences, as they can no longer be cured by simply removing toxins from the human body, such as a person with a genetic defect such as: * Down syndrome, Klinefelter syndrome, Turner syndrome , genetic heart failure, hemophilia, cystic fibrosis, Rett syndrome, etc.) *, because the genetic defect is eternal!
This clearly means: * If any vaccination symptom develops after mRNA vaccination, neither I nor any other therapist can help, as * THE DAMAGE CAUSED BY THE VACCINATION WILL BE GENETICALLY DAMAGING. *
Saturday, March 13, 2021
..

Judge denies anti-vaxxers' attempt to temporarily stop New …https://www.nydailynews.com › …
Terjemahkan halaman ini12 Jul 2019 — Robert F. Kennedy Jr. and other anti–vaccine activists sought to temporarily block a new law mandating all schoolchildren in the state receive …
Judge denies anti-vaxxers' attempt to temporarily stop New York law mandating all schoolchildren be vaccinated
By DENIS SLATTERYNEW YORK DAILY NEWS |JUL 12, 2019 AT 5:39 PM
ALBANY ― A state Supreme Court justice in Albany shot down an attempt by Robert F. Kennedy Jr. and other anti-vaccine activists to temporarily block a new law mandating all schoolchildren in the state receive immunizations.
A group of 55 families are suing the state in an effort to overturn the law, passed amid a measles outbreak centered around ultra-Orthodox communities in Brooklyn and Rockland County, eliminating religious exemptions from school-vaccination rules.
"This is not the decision I had hoped for, but I recognize that getting a TRO (temporary restraining order) against state legislation is very difficult," attorney Michael Sussman said in a Facebook post. "I hope that further development of all the issues will cause this or another Judge to preliminarily restrain the operation of this statute and I will be working on making that happen."
Sussman and Kennedy, chairman of the nonprofit Children's Health Defense, an anti-vaccination group, filed the suit earlier this week in front of a courtroom packed with young families from across the state.
The suit argues that the ban on religious exemptions is unconstitutional and "unreasonably" interferes with religious freedom.
Sussman said that Justice Michael Mackey denied the group's request for a stay after reasoning that "other courts have upheld the state's right to order mandatory vaccinations and concluded we had not met or carried the very high burden of demonstrating substantial likelihood of ultimate success on our claims."
A growing anti-vaccine movement has blossomed in the U.S. in recent years as parents question the safety or effectiveness of immunizations, often linking them to autism or other health issues.
The skepticism has grown despite repeated warnings from medical professionals and authorities that vaccines are safe.
Lawmakers eliminated the religious exemption provision in June, joining four other states in doing so, as the measles outbreak reached historic proportions. The epidemic was the worst the U.S. has experienced in decades and led city officials to declare a public health emergency and fine parents of unvaccinated children $1,000 for not complying with the order.
https://www.nydailynews.com/news/politics/ny-judge-vaccine-lawsuit-robert-kennedy-mandate-schoolchildren-20190712-ibxohznwkzfsrhigrbdpgn5hga-story.html
..