..

By QUINT FORGEY
01/15/2021 08:52 AM EST
The lawyer for the "QAnon shaman" who was part of the deadly siege of the Capitol last week publicly petitioned President Donald Trump on Thursday to pardon his client.
In an interview on CNN, attorney Albert Watkins said his client, Jacob Chansley, "felt like he was answering the call of our president" when he stormed the nation's seat of government last Wednesday during a riot that resulted in the deaths of at least five people.
Chansley, a 33-year-old man from Phoenix also known as Jake Angeli, was one of the most recognizable perpetrators of the Capitol siege. He carried a spear, wore a furry horned headdress and painted his face in shades of red, white and blue.
On Tuesday, Chansley became one of the first three people indicted by federal prosecutors in connection with the violence at the Capitol. He was charged with a felony violation of the Federal Anti-Riot Act, as well as obstruction of Congress and other offenses.
In a filing on Thursday, prosecutors said Chansley was as "an active participant in" and "the most prominent symbol of" what they described as a "violent insurrection." Prosecutors also said Chansley had expressed his intention of returning to Washington, D.C., for President-elect Joe Biden's inauguration next week.
The language in the filing suggests more severe charges, such as sedition or insurrection, could be coming for those involved in the siege.
Watkins, Chansley's attorney, said on Thursday that his client, "like a lot of other disenfranchised people in our country, felt very, very, very solidly in sync" with the president — suggesting Chansley was incited to storm the Capitol in Trump's name.
"He felt like his voice was, for the first time, being heard," Watkins said. "And what ended up happening, over the course of the lead-up to the election, over the course of the period from the election to Jan. 6 — it was a driving force by a man he hung his hat on, he hitched his wagon to. He loved Trump. Every word, he listens to him."
Prior to the Capitol siege, the president, his family members and his political allies riled up his supporters at a rally on the White House Ellipse. When it was his turn to speak, Trump urged those in attendance to march on the Capitol amid Congress' certification of Biden's Electoral College victory.
https://www.politico.com/news/2021/01/15/attorney-qanon-shaman-trump-pardon-459608
..
..
BY CAMERON JENKINS – 01/14/21 08:51 PM EST
A man who donned fur, horns and red, white and blue face paint while storming the Capitol last week is now requesting a pardon from President Trump.
Jacob Anthony Chansley, who also goes by the name "QAnon Shaman", turned himself into authorities on Saturday after he traveled to Washington, D.C., at Trump's call for "patriots" to take a stand against the election results.
His attorney Albert Watkins is now making a plea for a pardon, stating that Chansley was not involved in Wednesday's violence and surrendered peacefully.
"My client had heard the oft-repeated words of President Trump," Watkins said, according to local CBS station KMOV4. "The words and invitation of a president are supposed to mean something. Given the peaceful and compliant fashion in which Mr. Chansley comported himself, it would be appropriate and honorable for the president to pardon Mr. Chansley and other like-minded, peaceful individuals who accepted the president's invitation with honorable intentions."
Chansley is currently facing charges including knowingly entering or remaining in any restricted building or grounds without lawful authority, and violent entry and disorderly conduct on Capitol grounds.
https://thehill.com/homenews/news/534363-man-known-as-qanon-shaman-asks-trump-for-pardon-after-storming-capitol
..
A well-known QAnon influencer dubbed the 'Q Shaman' played a highly visible role in the Capitol siege
Rachel E. Greenspan
Thu, January 7, 2021, 7:03 AM GMT+8
A leader in the QAnon conspiracy-theory movement was one of the rioters storming the US Capitol during Wednesday's attempted coup in Washington, DC.
The "Q Shaman" took photos on the Senate dais and marched through the Capitol with a megaphone.
QAnon's presence at the riot comes after the conspiracy-theory community has been feeding voter-fraud claims to President Donald Trump for months.
As supporters of President Donald Trump stormed the US Capitol Building in a riot on Wednesday, one figure stood out among the mob: the "Q Shaman," aka Jake Angeli.
Angeli, known for wearing red, white, and blue face paint and a horned helmet, has become a notable figure in the QAnon conspiracy-theory movement, popping up at far-right rallies in Arizona in the past year, The Arizona Republic reported.
On Wednesday, Angeli took photos on the Senate dais and marched through the Capitol with a megaphone.
Angeli's presence at the riot, along with others wearing QAnon paraphernalia, comes as the conspiracy-theory movement has been responsible for the popularization of Trump's voter-fraud conspiracy theories.
Angeli told Globe and Mail correspondent Adrian Morrow that police "politely asked him to leave" after they reportedly let him into the building.
QAnon is a far-right conspiracy theory baselessly alleging that Trump is fighting a "deep-state cabal" of pedophiles and human traffickers. The movement behind it has played a massive role in organizing nationwide "Stop the Steal" protests in the two months since President-elect Joe Biden won the 2020 election.
The "Q Shaman" is one of many figures in the world of QAnon whose actions inspire and influence the movement. QAnon originated with an anonymous figure called "Q" who writes cryptic messages on the fringe message board 8kun (previously known as 8chan). As Q has become increasingly hands-off, giving fewer and fewer messages to his devotees, QAnon leaders like Angeli have gained fame and power in the movement.
For more:

https://news.yahoo.com/well-known-qanon-influencer-dubbed-230306934.html
..
..
..
..
..
BBC
Capitol riots: Who broke into the building?
By Reality Check team and BBC MonitoringBBC News
Some were carrying symbols and flags strongly associated with particular ideas and factions, but in practice many of the members and their causes overlap.
QAnon among the protesters
Images show individuals associated with a range of extreme and far-right groups and supporters of fringe online conspiracy theories, many of whom have long been active online and at pro-Trump rallies.
One of the most startling images, quickly shared across social media, shows a man dressed with a painted face, fur hat and horns, holding an American flag.
He's been identified as Jake Angeli, a well-known supporter of the baseless conspiracy theory QAnon . He calls himself the QAnon Shaman.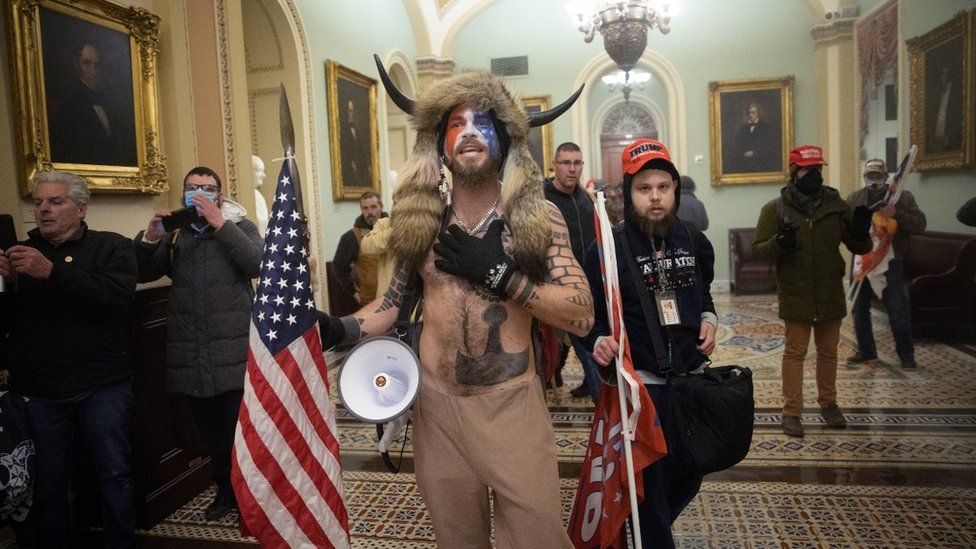 His social media presence shows him attending multiple QAnon events and posting YouTube videos about deep state conspiracies.
He was pictured in November making a speech in Phoenix, Arizona, about unproven claims the election was fraudulent.
His personal Facebook page is filled with images and memes relating to all sorts of extreme ideas and conspiracy theories.
For more:

https://www.bbc.co.uk/news/amp/55572805?__twitter_impression=true
..
..
..
..
..