—
ACCIDENTS AND INCIDENTS IN MALAYSIA 1
…
22 May 2017
..
Meanwhile on DUKE, someone is bored with his Ferrari & felt like upgrading. Of course, kena claim insurance first lah.
.
..
TheSunDaily – Foreign student crashes Ferrari in Dukehighway
PETALING JAYA: A foreign student crashed his Ferrari after losing control of it along the Duta Ulu-Kelang Expressway (Duke) today.
Photos of the red sports car which turned turtle and was badly damaged, in the middle of the three lane highway, went viral on social media.
A spokesman from the Fire and Rescue Department of Kuala Lumpur said the incident occurred at 1.30pm along Duke near Sentul market here.
"A 21-year-old South African student was driving the Ferrari.
"A team of eight firemen were despatched to the scene," he said.
The victim suffered injuries on his head and was sent to the Kuala Lumpur Hospital (HKL) for treatment.
http://www.thesundaily.my/news/2017/05/22/foreign-student-crashes-ferrari-duke-highway?utm_source=feedburner&utm_medium=twitter&utm_campaign=Feed%3A+thesundaily%2FBuwK+%28theSundaily.my+Local+News%29
…
30 June 2016
…
By EMBUN MAJID – 30 June 2016 @ 1:19 PM
JITRA: A 29-year-old man died when a car he was driving plunged into a river at Jalan Lana Bulu Kampung Tandop here.
.
Lim Keat Seong's body was found trapped in the car when the Kedah Fire and Rescue Services Department pulled the vehicle out of the river at 7.55am today.
"The villagers heard a loud noise but did not see anything. Our team's scuba unit conducted a search at 4.11am," she said.
.
She said a Mercedes Benz car was found at the bottom of the four-metre deep river and had to be winched out.
.
—
7 April 2016
…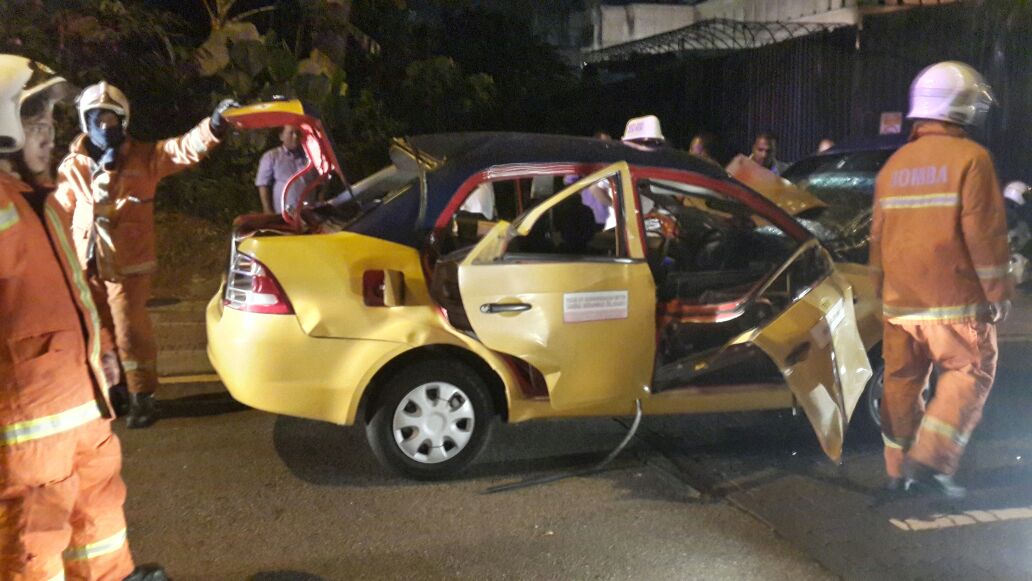 …
By HANI SHAMIRA SHAHRUDIN
KUALA LUMPUR : A suspected NGV tank leak in a taxi led to an explosion at Jalan Bukit Ceylon earlier today. City Fire and Rescue Department assistant director (operations) Azizan Ismail said no casualties were reported in the 8.20pm incident.
.
"The gas tank did not explode in the incident, only the leaked gas. "The taxi driver managed to exit the car, assisted by the public.
.
…